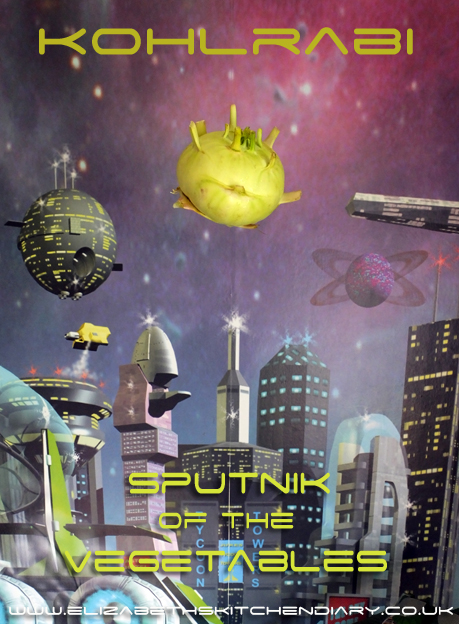 Who says you can't play with your food?
This week's Alphabet Photo Challenge by PODcast was a little bit tricky. The letter K… possibilities for me included kiss, kittens, Kergord, kale…. and in a moment of inspiration: kohlrabi!
Sitting there in my near empty post-holiday fridge (stocked only by the contents of the vegetable box we'd received from Transition Turriefield the day after we returned from our holidays) was a lonely little green vegetable: a kohlrabi; the sputnik of the vegetable world.
It's really a rather odd looking, neglected vegetable tasting halfway between a cabbage and a broccoli stem.
"Dear husband, can you hang this kohlrabi from the ceiling for me, please?" True words I have spoken this week. My husband doesn't bat an eyelid these days at these random requests. He dutifully hung the kohlrabi from my eldest son's ceiling so I could use his space themed wallpaper mural as a backdrop for the photograph. I think it turned out rather well.
I was introduced to kohlrabi only last year via my veg box. In fact, when it first arrived I had no idea what it was. I had to tweet a photo asking for identification. I made a lovely raw kohlrabi and apple salad from it, and from every kohlrabi I've received since. I need to be more creative this this vegetable.
How do you eat your kohlrabi?