Part one of two of my long bank holiday weekend bike ride to the most northerly tip of Britain.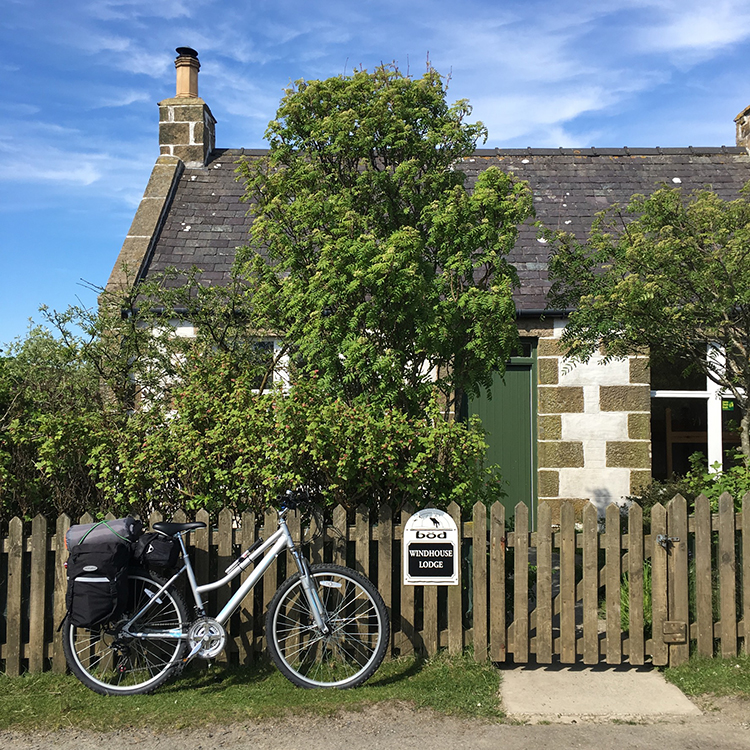 Regular readers will, by now, be well aware that I am planning an epic 250 mile mountain bike cycle from my home on Shetland to Fort William, where I'll be climbing Ben Nevis – all part of my #40before40 list.
Recently we had a long bank holiday weekend and the weather was predicted to be fantastic – full sun and very little wind. My husband had the Monday off work and even the kids were off school on an occasional holiday, so I suggested that, perhaps, we head up to Britain's most northern isles Yell and Unst for a bit of exploration. I quite fancied staying at the Windhouse Lodge Camping Böd, budget self-catering accomodation in the gatehouse of Shetland's most haunted house – Windhouse, in Mid Yell, built in 1707.
"Um…. is there wifi?" they asked.
True story.
There wasn't, so they chose to stay home instead.
Fair enough. I used this opportunity to load up a borrowed set of panniers (I'm waiting for my new ones to arrive via courier – ie: they've been sitting in some warehouse in Lerwick for a week while they wait to deliver to us rural folk) and fix them to the brand new pannier rack my husband had installed on my bike, bungee cord my brand new Vango Venom 400 sleeping bag to the top and squeeze my camera bag into the space under the seat – a practise run on a weekend cycling trip with loaded panniers.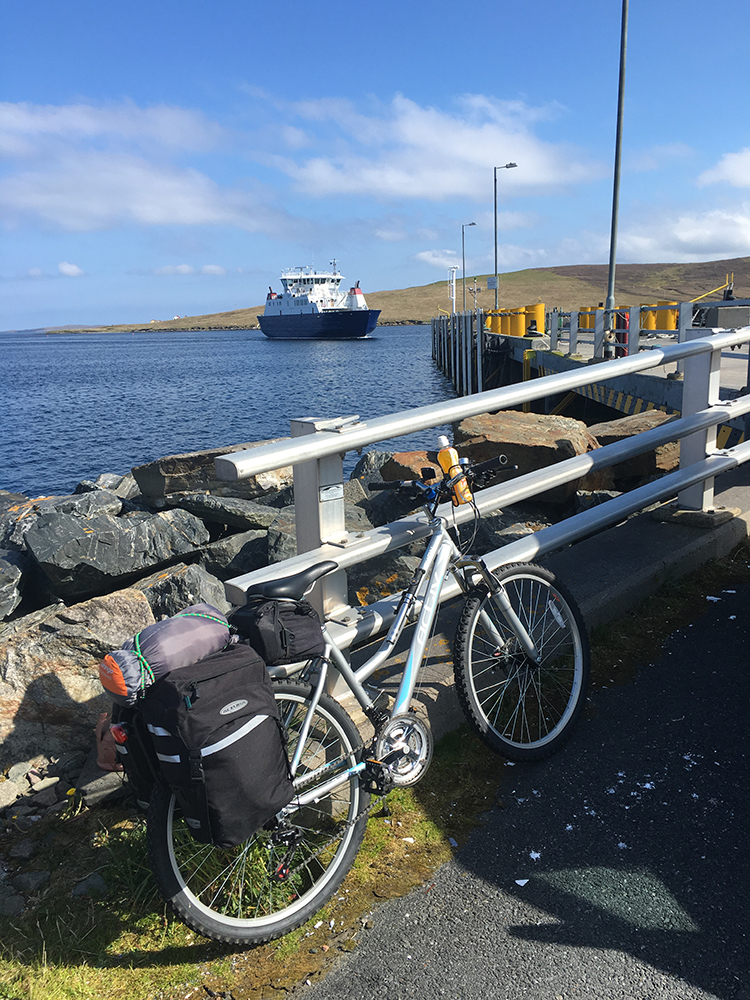 The Shetland Islands are part of the North Sea Cycle Route – a 6000 km stretch of road along the coastline of the North Sea, starting at the tip of the island of Unst and finishing in Bergen, Norway. I'm daydreaming of covering this route one bit at a time.
All I had left of the Shetland leg of this route was to cycle from the village of Voe in the middle of the Shetland mainland to the top of Unst, Britain's most northerly inhabited island. So, on the Saturday morning I dropped my bike off at a friend's house near the Toft ferry terminal to Yell, as I didn't quite fancy cycling across the Alps, a particularly hilly stretch of road from my house to Voe, with loaded panniers when I've already covered that road at least 20 times now. I was going to collect my bike later that day and head north.
But let's rewind a bit.
After dropping off my bike and attending my morning kettle bell exercise class I was on the hunt for dark brown sugar for a recipe and a roll of duct tape for my highlands trip. Apparently duct tape is a must have for extended cycling tours – just in case. Our local village shop was out of said sugar, and I checked no fewer than four other village shops before I found it. I needed to detour to check the other village shops so I ended up on a stretch of road I hadn't intended on being on.
There was a hitchiker on the road, thumb extended.
As someone whose sole method of travel back in rural Canada was through hitch hiking I always pick up hitch hikers if I have room. So I pulled over.
She was from Paris and it turned out that she was heading to the Yell ferry terminal, and that she was staying in the Windhouse Lodge Camping Böd that night! What were the chances? As you do, I brought her home, fed her lunch and we headed up to the ferry together later that day. She was a WWOOFer – a volunteer traveling the world organic farm to organic farm, working in exchange for room and board. She had, in fact, picked and bagged the very organic salad leaves I fed her for her lunch! Small world, eh?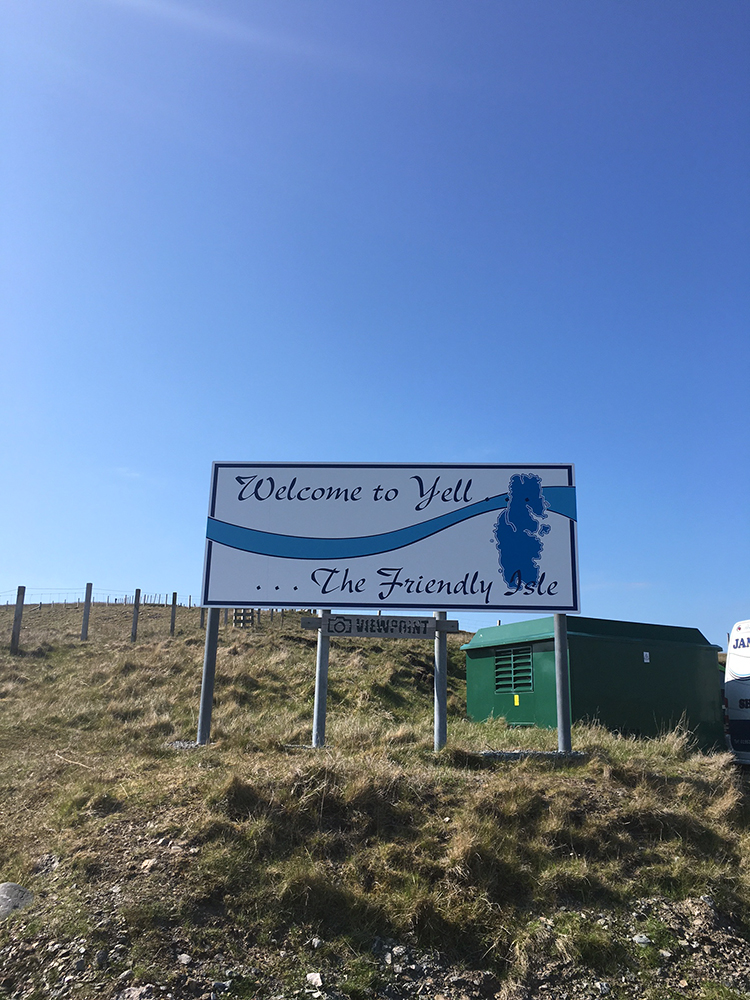 So yes, one short ferry ride later the Parisian lass has caught a lift with a fellow in a hire car and I'm all by myself on the road, slogging up this long hill rather slowly wondering why, exactly, I'd brought so much Lucosade with me (and a 750 ml box of red wine I'd impulse bought in the Ulsta Shop by the ferry terminal. I had visions of sipping red wine by the fire that evening in the lodge).
Something on the road caught my eye.
Did the tarmac just read 'Pixie'?!
I stopped and had a closer look. Yes, indeed, the word Pixie was embedded in the road in red stones. Who or what was Pixie, I wondered, and why is its name immortalised on the road? The things you don't see when you're in a car, eh?
The cycle up the long, relatively flat road to Mid Yell was not taxing, despite my heavy liquid luggage. There was very little traffic, except for every half an hour or so when three to five cars would pass me after having arrived on the next ferry.
The only sounds were those of the birds in the peat hills on either side of the road. Some observations on Shetland birds: oyster catchers sound like squeaky toys, lapwings sound like digital computer birds and larks sound nothing like Vaughan William's Lark Ascending. They're a lot more chattery but watching them fly straight up and then dive back down to the ground is pretty magnificient.
On this road I learned that cycling across cattle grids causes the Lucosade bottle in my ill-placed water bottle holder to jump out and fall in down under the cattle grid. Note – buy new water bottle holder and fix it in a more appropriate location.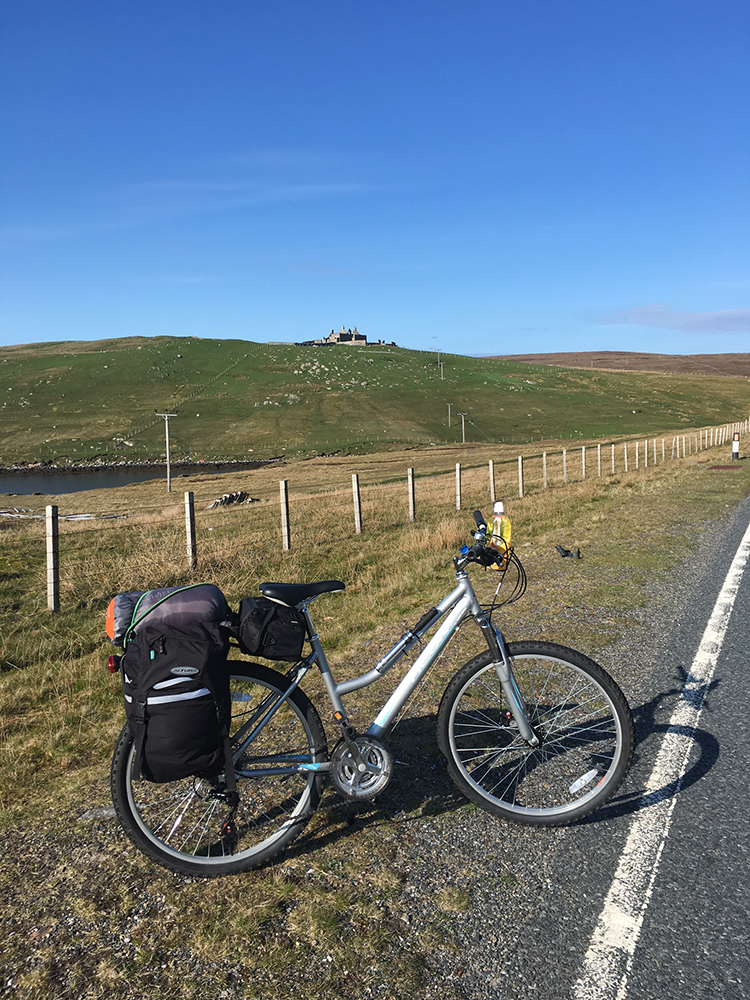 I arrived at the Windhouse Lodge in the late afternoon to find it empty. I knew in advance that another room had been exclusively booked and I'd assumed it was the Parisian lass (Marie) who was in it, but no – there was another couple there who left this note: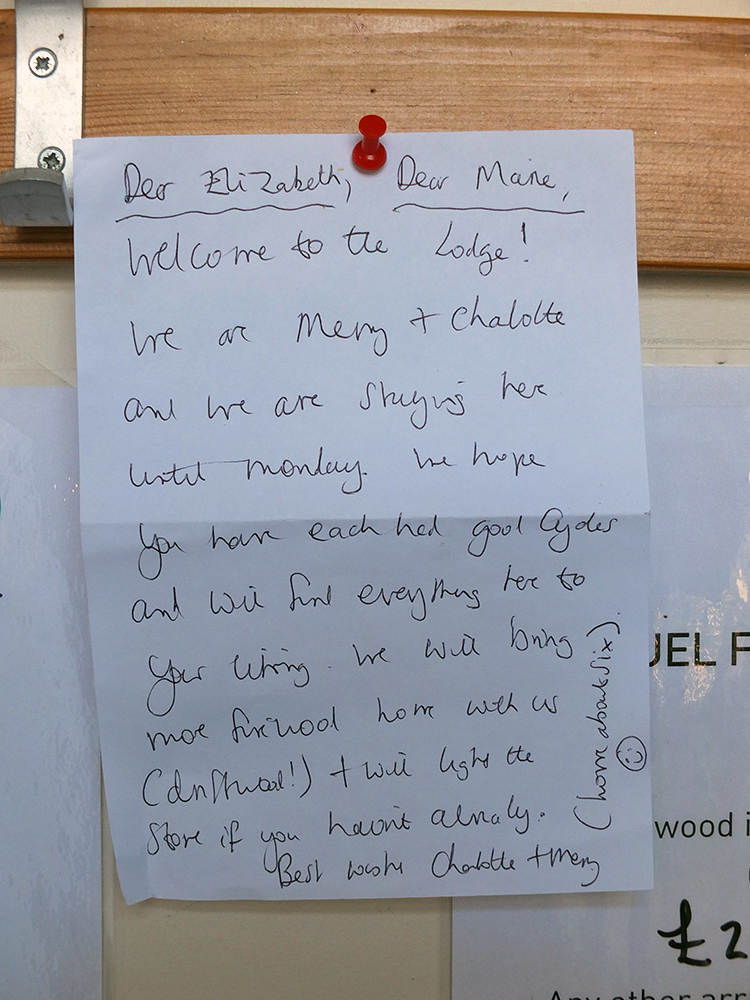 I liked them already! Driftwood fire, awesome!
I had a quick look around the lodge – a rather cosy small stone house with two bedrooms (a small room with one set of bunkbeds and a larger room with two sets of bunkbeds). The living room has a solid fuel stove, a few chairs and another set of bunkbeds.
The kitchen was pretty well provided for – a small fridge, a microwave with two hobs on top, a kettle and a large table with benches. Basic crockery, cutlery, pots and pans are provided. An electricity meter ran on £1 coins.
All that for £10 per bunk, per night. Not bad! You can read more about my stay at the Windhouse Lodge over on my Shetland.org post.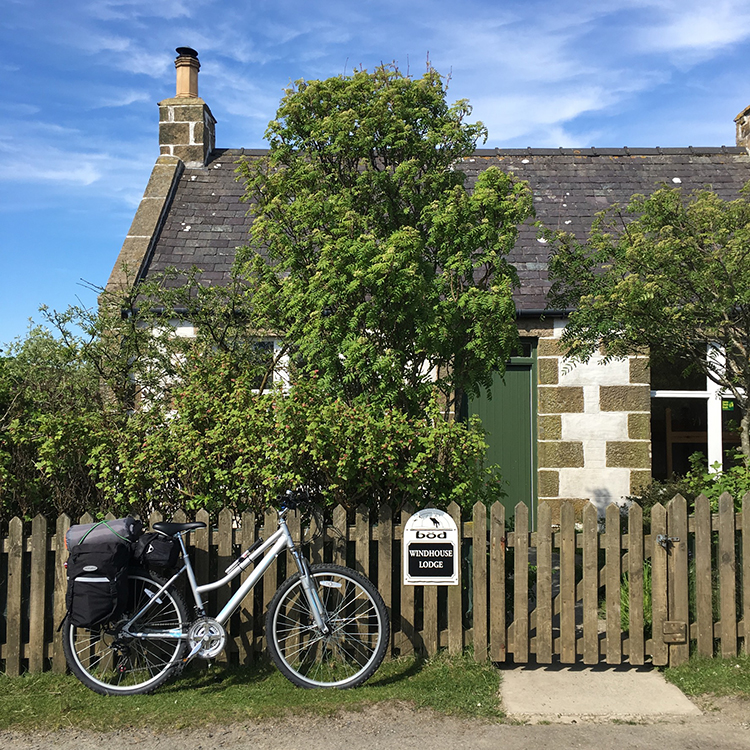 Hidden within the trees in the garden I spied a rather peculiar black structure.
Upon closer inspection it turned out to be a marker for the National Cycle Network Route 1, one of 1000 cast iron Millenium Mileposts along the route funded by The Royal Bank of Scotland. Is this the most northerly one, I wonder?
While researching these I discovered that there Time Trail discs on each one with a secret code. If you find them all you can decode the message and find out the secret of the Time Trail! How fantastic is that! A real life cycle treasure hunt! The thing is, no one can see this milepost from the road. It's hidden behind a stone wall in among the garden trees. This website provides a bit more information on them.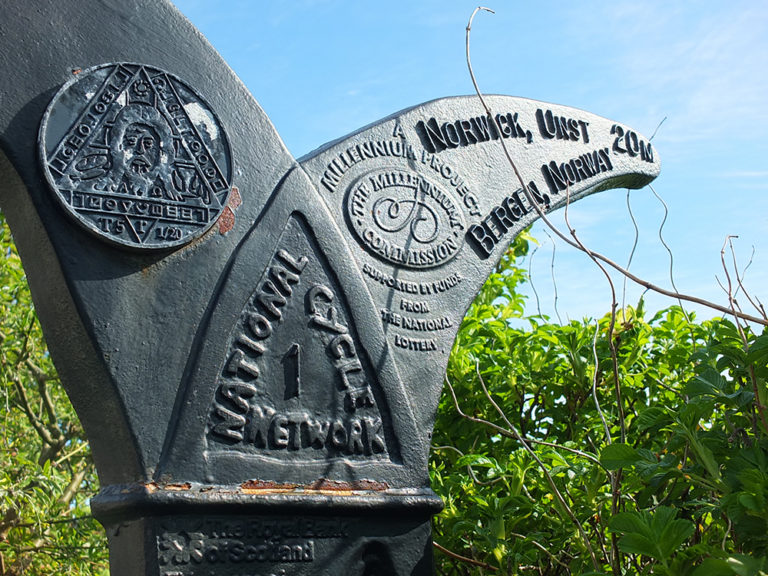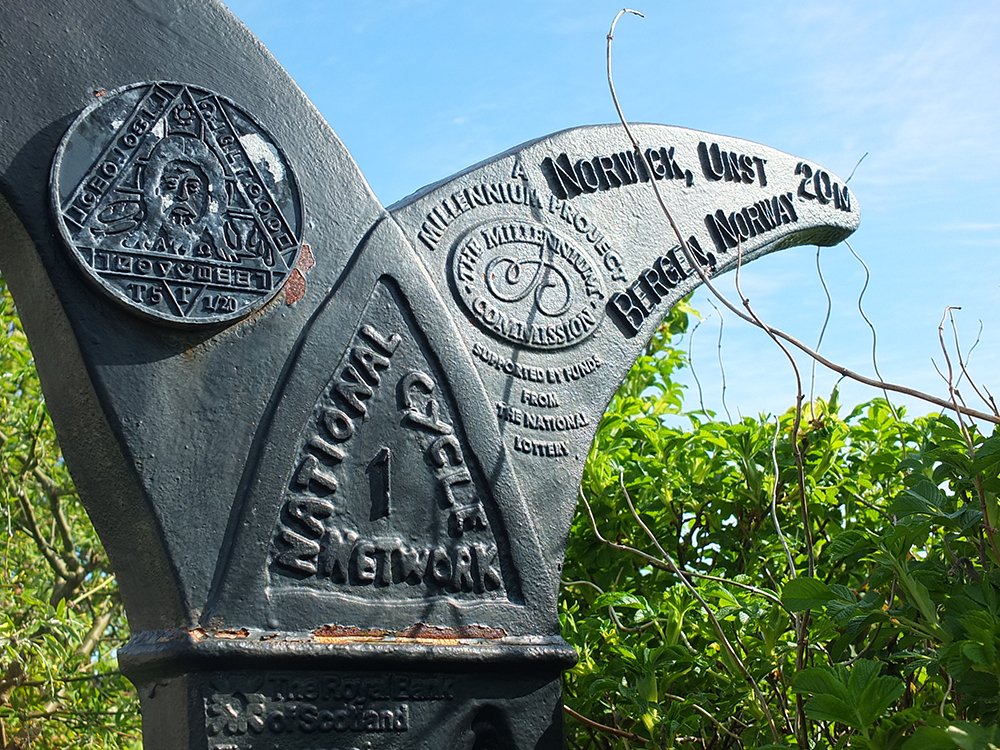 I was rather hungry so I headed out on foot to a nearby pub for some food (and wifi, the sign boasts). The turn off to Mid Yell is just a stone's throw from the Lodge itself. Note – someone's spray painted out the Scottish thistle on the roadsign. That's because Shetland isn't Scotland. It's Shetland. 😉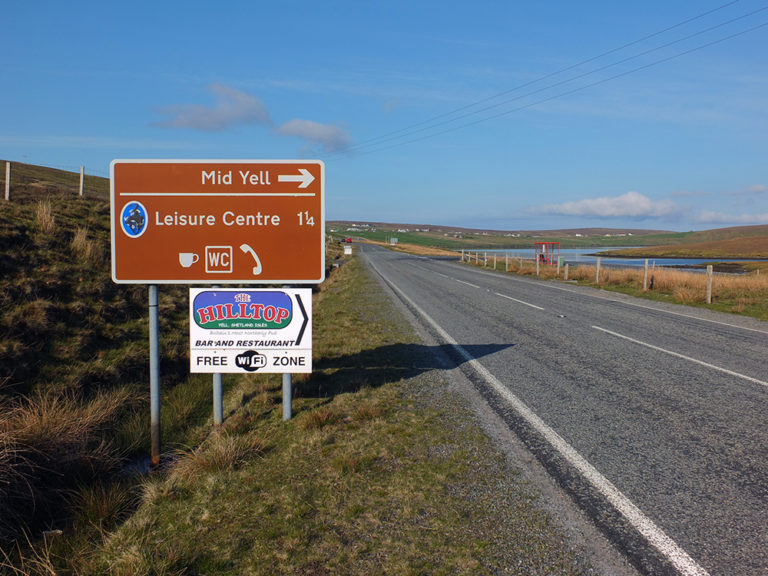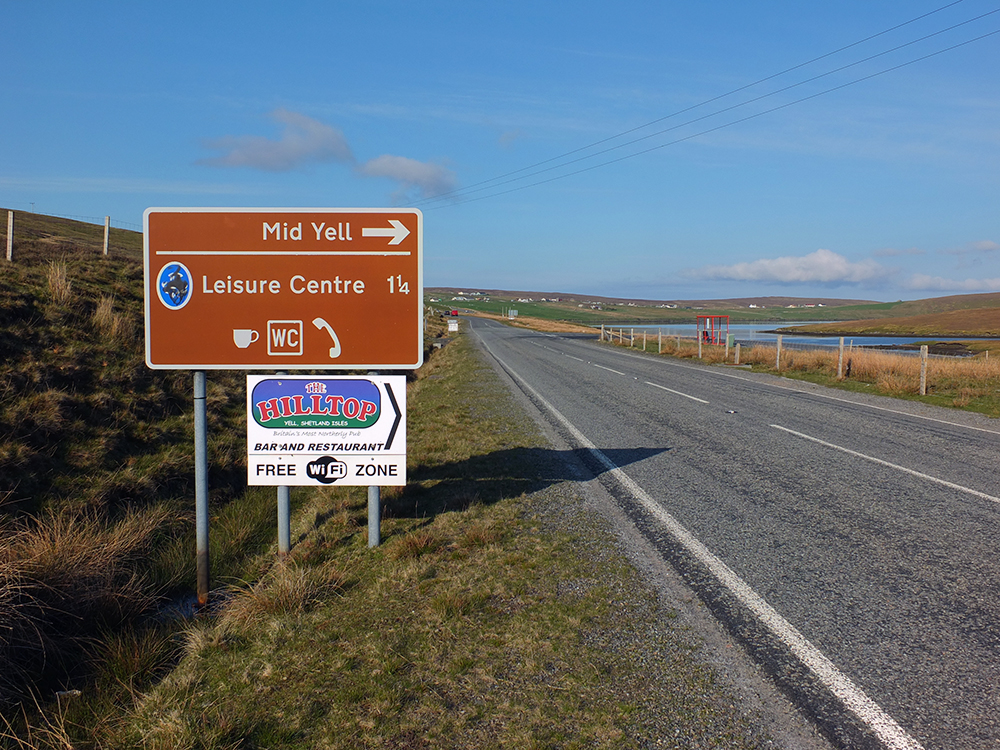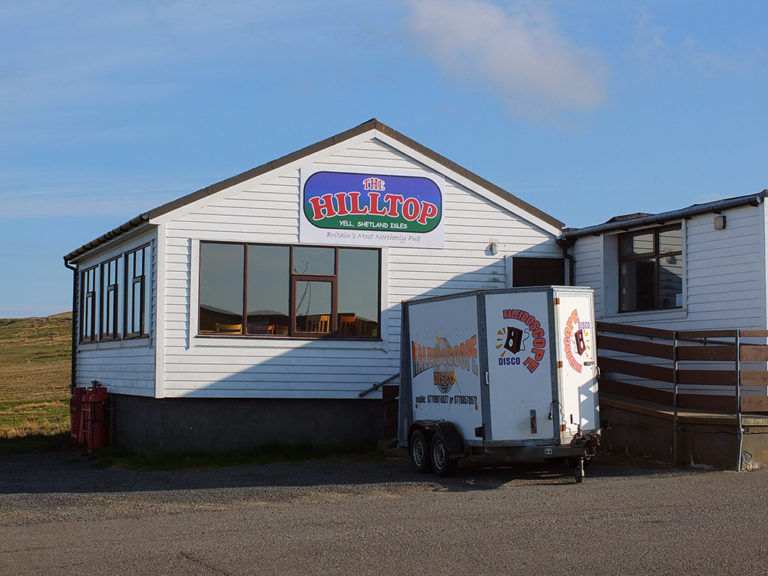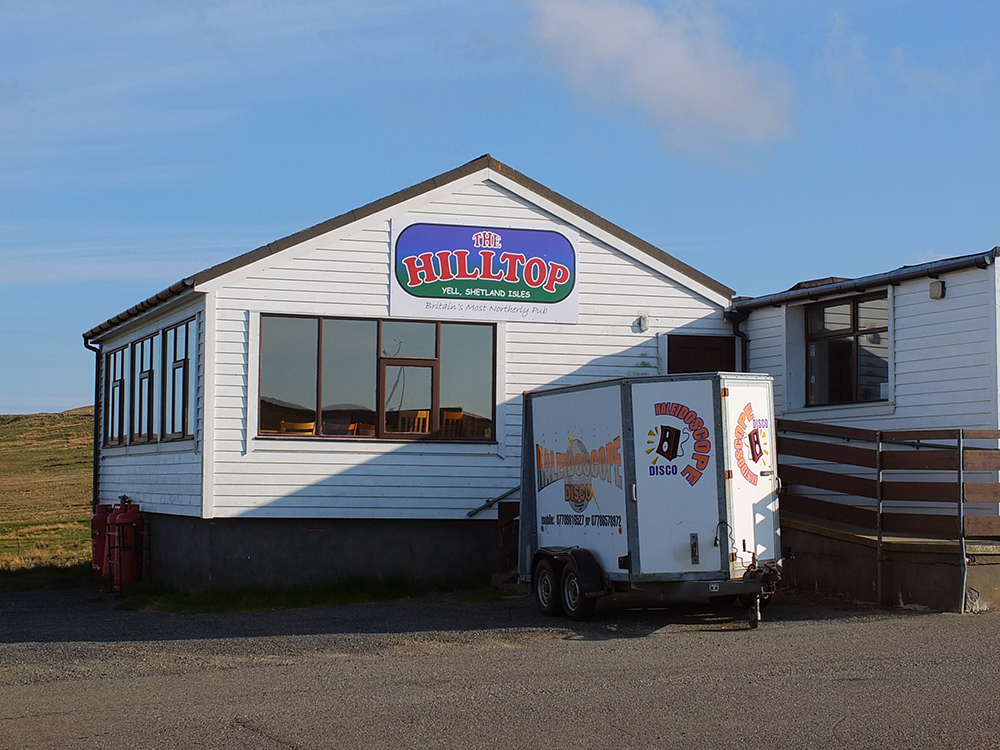 The Hilltop Bar & Restaurant – Britain's most northerly pub – was only 4000 steps away from the Lodge, according to my Fitbit, and they open for food and drink at 6pm. It's not quite a restaurant yet, to be honest, as it's run by a very friendly one man show who pulls the pints and then runs into the kitchen cook with the deep fryer and microwave, but still, it was hot food, and considering I was going to be cycling on a Sunday through some rural, remote islands when everything is closed, I was content. It might be the only hot food I had all weekend as I hadn't brought anything to cook and I'd only stocked up on snack bars at the local shop.
The sun was streaming in through the window while I sat at the bar sipping ice cold Pinot Grigio. I had all of the happy. I was on holiday.
Who should appear, on foot, in the driveway but French Marie!
She joined me for some wine, chicken wings and curly fries. It turns out that Britain's most northerly pub only has two wine glasses, and the bartender said that he'd sold more wine that evening than he had in the last six months. We'd only had a few glasses each, I swear, but we both felt like proper alcoholics! I guess the Yell locals aren't wine drinkers.
The walk home in the sunset (the sun doesn't set until around 10:30 pm this far north at this time of year – plenty of daylight for exploring) was lovely, and Windhouse, Shetland's most haunted house, looked terribly spooky in the orange tinted sea mist that was rolling in.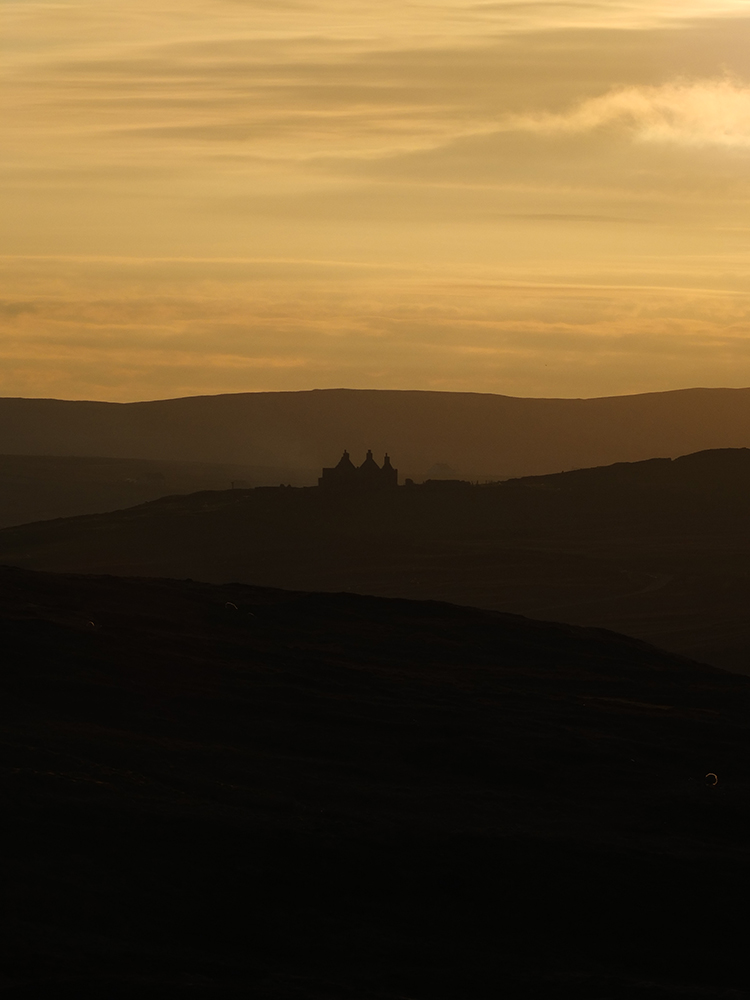 When we got back to the Lodge the fire was roaring and we met our housemates – a lovely couple from the south of England (who had left the note) and another older retired couple from Germany on their electric bikes who were touring Scotland. We shared stories over the fire before retiring for the evening in our respective bunk beds. Marie and I were sharing the bunk bed in the living room and I fell asleep to the crackling noise and warmth of the solid fuel stove. Bliss.
DAY 1 – MOSSBANK TO MID YELL
Miles cycled: 12.7
Glasses of wine consumed: 3
Random French hitch hikers I shared a bunk bed with: 1
Ghosts spotted: 0
You can read Part 2 here: The End of the Road
MY OTHER YELL ADVENTURE POSTS YOU MIGHT LIKE
The Sands of Breckon
The Eigg, Yell, Shetland
With thanks to Vango for the sleeping bag, a full review of which will appear on my blog after my epic 250 mile mountain bike cycle when I've fully tested it wild camping in the highlands of Scotland.