In collaboration with Chippa – the UK's only free-from condiment range.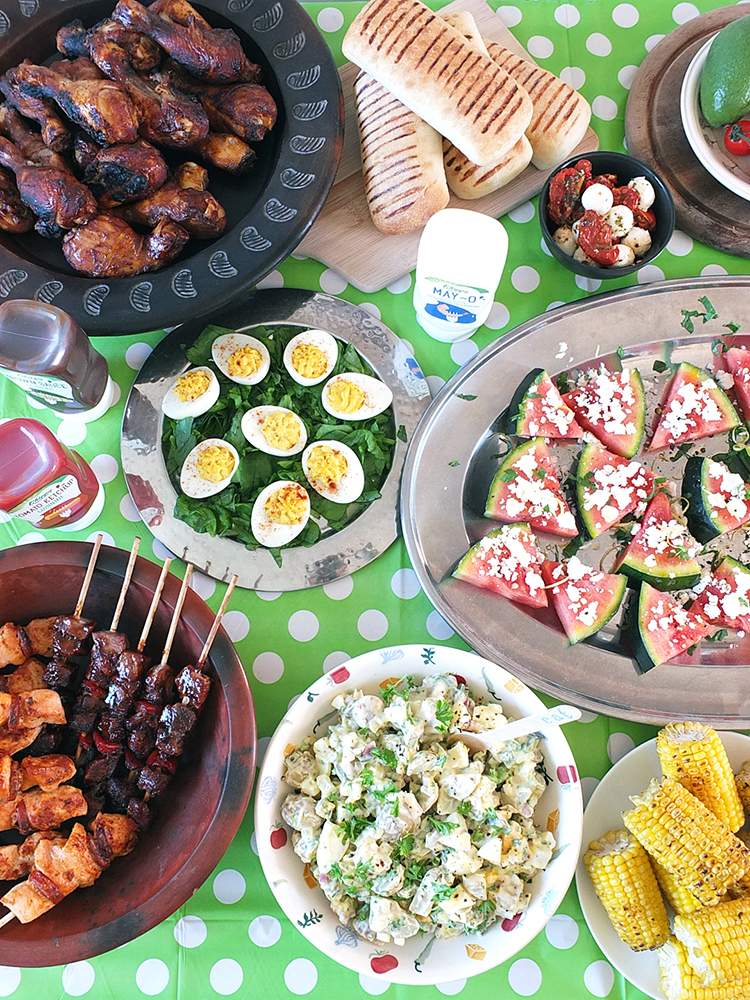 There's something intensely satisfying about a table filled with food, a table so full that there's no room to sit – you all have to stand around the outside of it and pick, graze and nibble until your belly is full. What makes it even better is when you're standing around said table with friends and family. There's nothing that brings people together better than sharing food.
For those with food allergies or intolerance, however, a table filled with food can be a source of frustration as they wonder what, if anything, they can eat from it. Gluten, egg and dairy tend to be hidden ingredients in a lot of foodstuffs these days.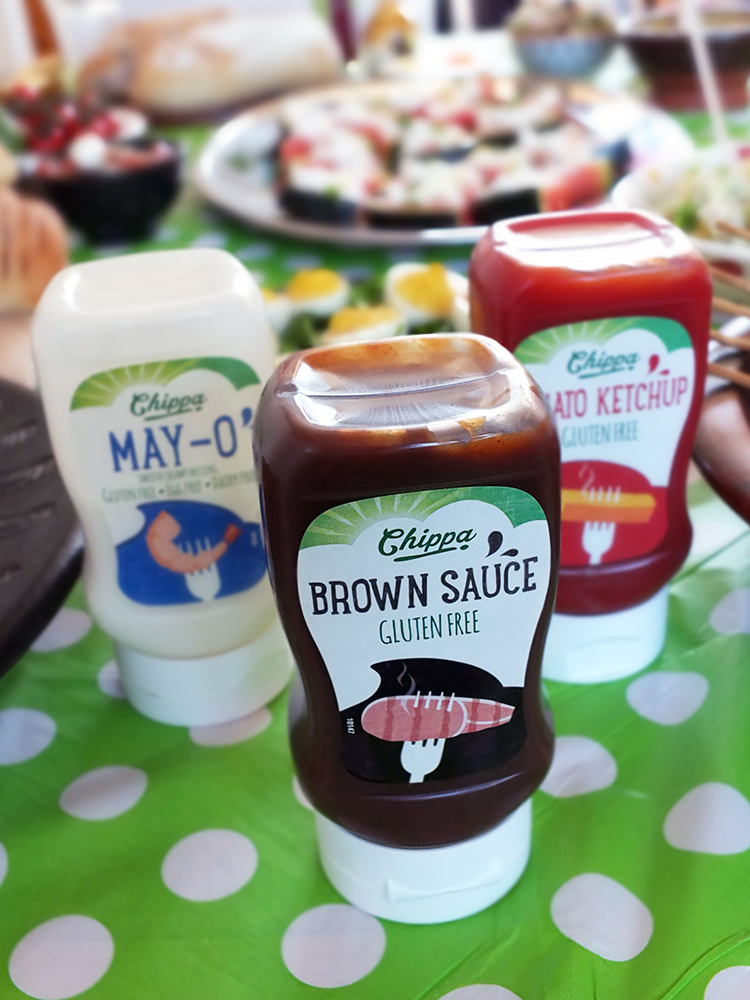 Introducing Chippa – the UK's only free-from condiment range. Launched in 2015 Chippa has quickly become the UK's best-selling range of free-from condiments. They are passionate about showing that a free-from lifestyle needn't stand in the way of full-on flavour.
Their five-strong condiments range consists of; May-O, Tomato Sauce, Brown Sauce, Sweet Chilli and Worcestershire Sauce, with the favourite of the range, May-O, being gluten free, dairy free and egg free so it's great a vegan option.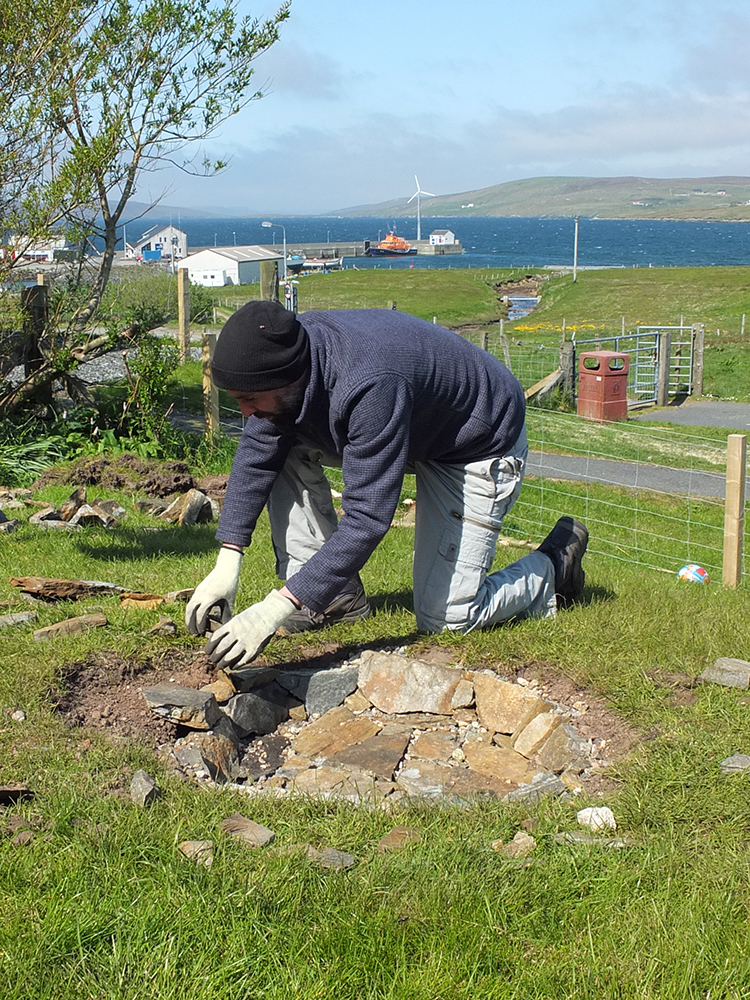 My husband has been very busy this week building a stone fire pit in the garden as we are determined to completely nail this whole barbecue thing this year. We have a fairly exposed front garden space facing the sea and the wind that comes over the hills and across the sea and fields can be quite strong. This week, after a flat calm sunny weekend, it's been a continuous high wind to moderate gale – gale force 6 to 7. You can see the white caps on the voe in the background.
It's June and my husband's out in the garden with his winter toque on!
Nonetheless, he did a fantastic job of creating a deep stone fire pit for dual purpose – a BBQ fits perfectly in the centre of it, and we'll start collecting beach drift wood for fires to roast marshmallows over. We decided to test the fire pit out on Friday night and we invited some friends over for dinner.
I might have gone a bit overboard with the foodstuffs, putting on a big spread of all sorts of things that I like, including our family favourite potato salad.
Sometimes I make this potato salad with half full fat mayo and half soured cream seasoned with a bit of dry mustard powder, garlic, salt and pepper, and sometimes I make it a little bit more healthy with equal parts of low calorie mayo and fat free natural yogurt.
This time I tried out the Chippa May-O, their vegan free-from mayonnaise. It has a more of runny texture compared to traditional mayonnaise made with eggs but it was a rather tasty free-from alternative. Admittedly there are boiled eggs in my potato salad recipe, just because we like them in it, but they'd be easy enough to omit if one of your dinner guests had an egg intolerance.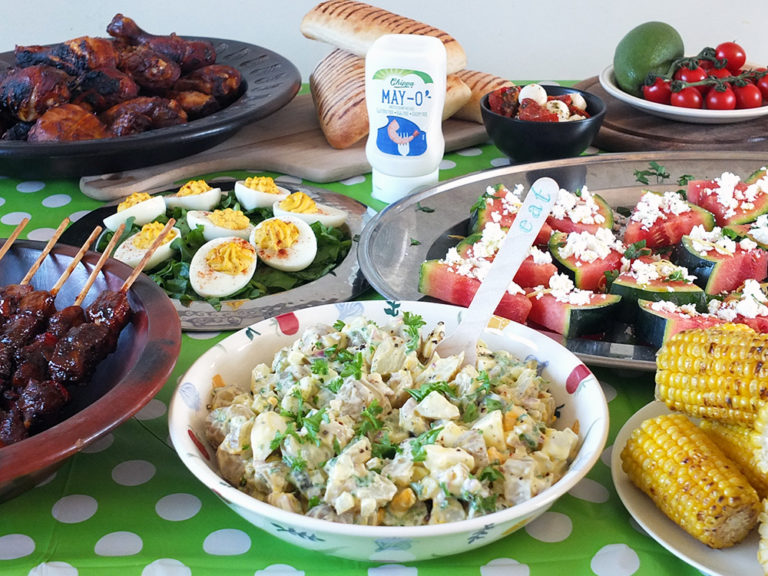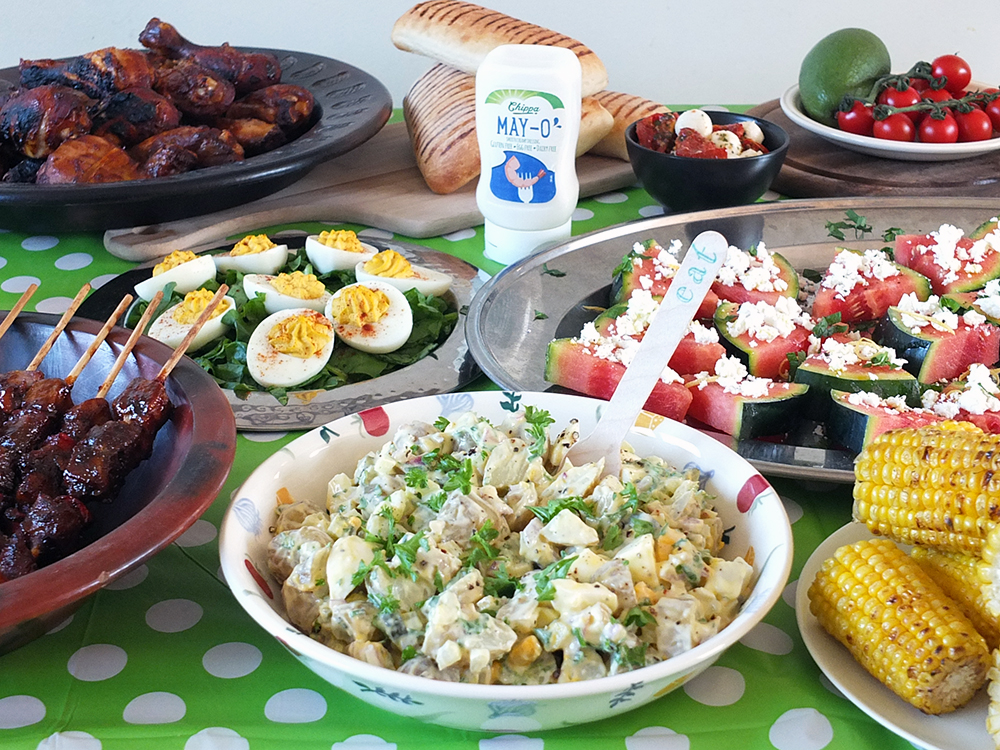 Another new recipe for me was something I spotted in the recent Co-operative magazine – wedges of fresh watermelon sprinkled with crumbled feta cheese, chopped mint and lemon zest. I then drizzled them with a bit of lemon infused olive oil and plenty of black pepper. Delicious! This is something I'll definitely be making again soon – the combination of sweet, sour and salty was divine!
Also – you've got to try corn on the cob on the barbecue. Parboil your sweetcorn and then pop it on the grill to char a bit and eat as is or slathered with salt and butter. It'll become a regular part of your BBQ menu, I promise!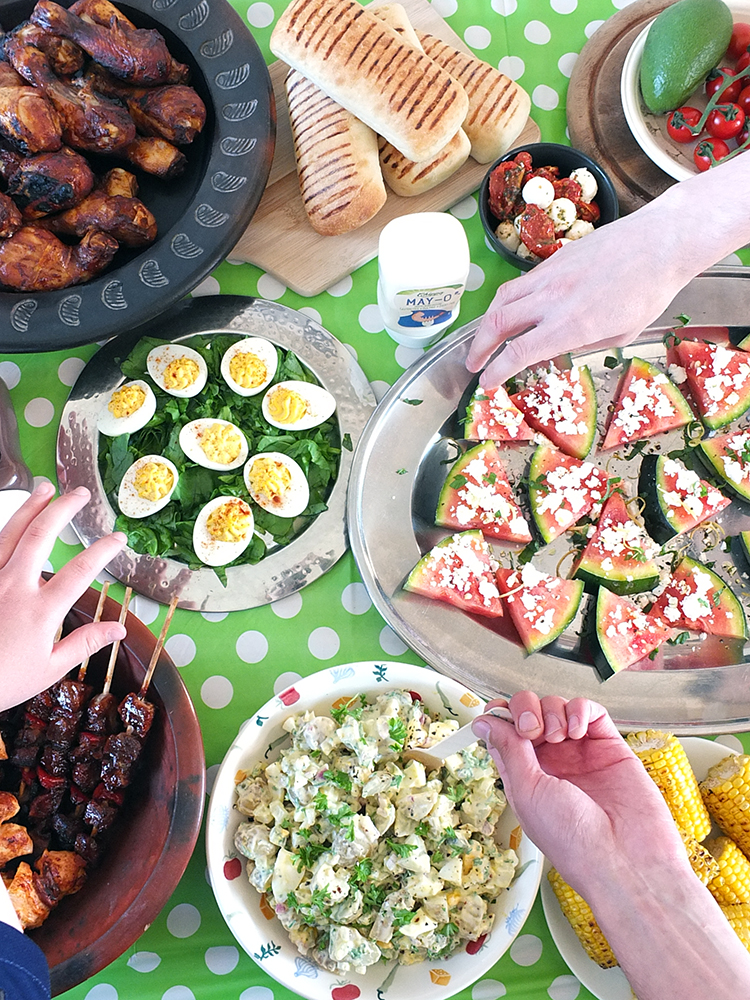 The wind was supposed to die down on the day of our barbecue, but it didn't and it's still National BBQ Week and we persevered. My husband improvised the fire pit by building a wind shield with some more stones and the poor man was standing outside all by himself cooking all the meat (he did a fantastic job!) while we all stayed warm indoors preparing the rest of the feast. The kids ran in the back door and out the front door and when both doors were open, gosh the gale that ran through the house causing the doors all to slam! BBQs in Shetland, eh?!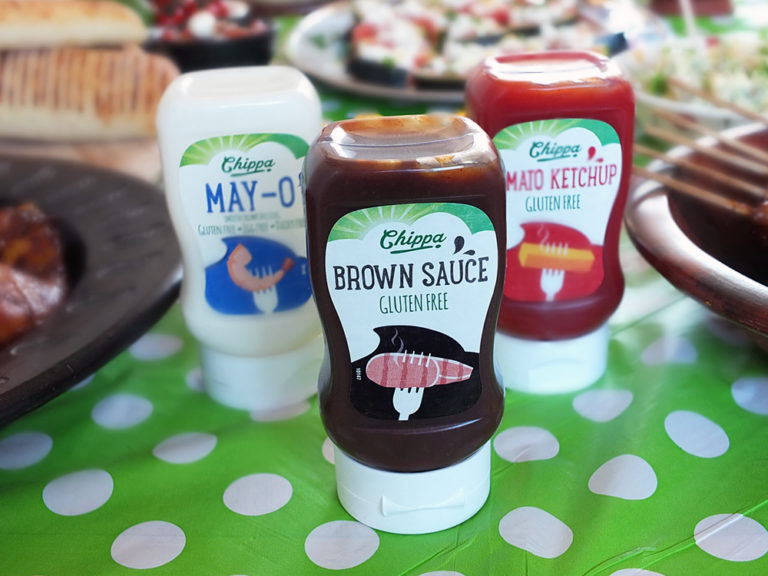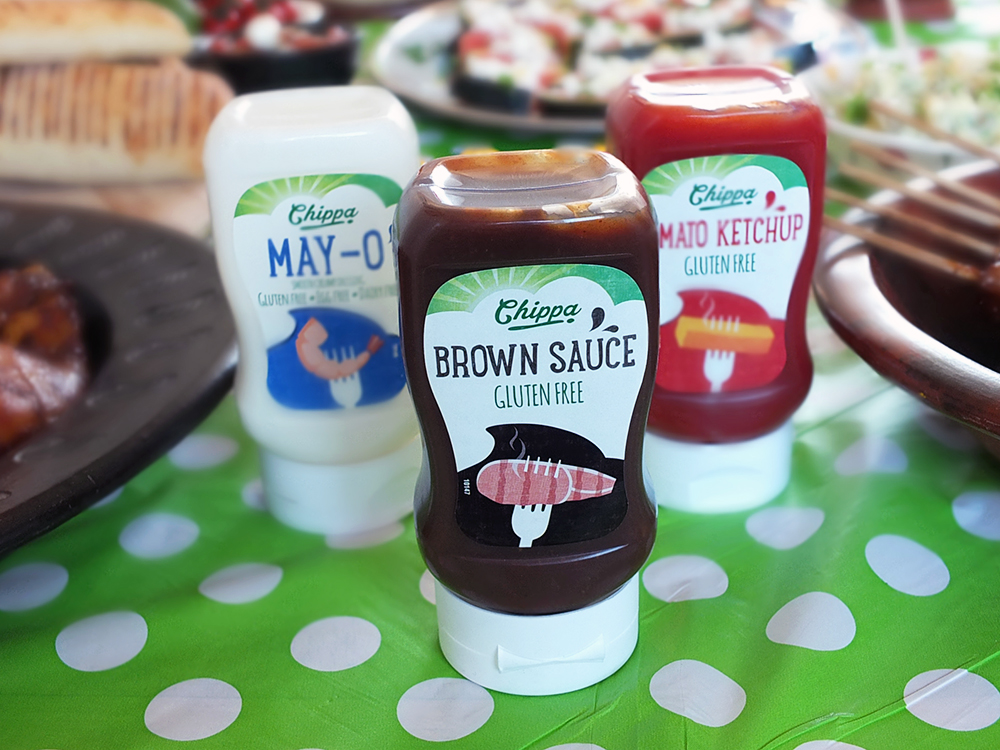 Chippa free-from condiments are not just for those with food allergies and intolerance. They're a great, tasty alternative for everyone. You can find them on Sainsburys and Waitrose supermarket shelves for £1.50 per 300ml bottle. Find out more on the Chippa website.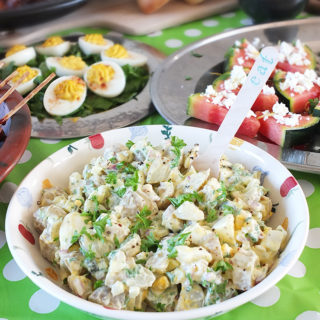 Our Family Favourite Potato Salad Recipe
A simple potato salad recipe that I make time and time again for BBQs.
Print
Rate
Affiliate Links
This recipe card may contain affiliate ingredient and equipment links. As an Amazon Associate I earn from qualifying purchases.
Instructions
In the morning boil the new potatoes for 15-20 minutes in salted water until tender. Drain, cool, and leave in the fridge to chill.

Hard boil the eggs, if using, and cool.

Leave the potato skins on the potatoes, if you wish, and cut the cold potatoes into 1 cm cubes. Cut the eggs into small pieces too, if using.

Add the red onion, gherkins and celery and toss gently to combine.

Combine the May-O, yogurt, mustard powder and garlic together in a small bowl and season well to taste.

Spoon over the potato mixture and toss gently to combine well.

Stir in the chopped herbs, taste again and season to taste (I like a lot of salt and pepper in my potato salad) and chill until needed.
Environmental Information
OTHER POTATO SALAD RECIPES YOU MIGHT LIKE
Creamy Vegan Potato Salad by Tinned Tomatoes
Jersey Royal Potato Salad with Herb Tahini Dressing by Veggie Desserts
Roasted Sweet Potato Salad by Hungry, Healthy, Happy
LINKING UP WITH A FEW BLOGGING CHALLENGES
Eating al Fresco by Munchies & Munchkins
Recipe of the Week by A Mummy Too
Disclaimer: this is a paid post, although all thoughts and opinions expressed are our own.