The first time I've ever tasted a traditional fruity tea loaf was, surprisingly, just last month at the National Theatre of Scotland Ignition finale. I'm not a big fan of Christmas style fruit cakes, so I tend to ignore fruity slices at Sunday Teas, etc, but this time I thought I'd try it and oh my, it was a lovely Shetland homebake! So when I saw Mrs. M's homemade fruity tea loaf recipe I knew I just had to try making my own. Of course, I can't just leave well enough alone and so I made a few adaptations. I noticed her recipe contained no butter or milk and the single egg could easily be replaced by some flax gel, making the recipe vegan. I replaced the light brown sugar with palm sugar, an unrefined sugar which still contains plenty of nutrients, so it's still sort of good for you? That's what I tell myself anyway. It can be used, measure for measure, to replace your usual sugar in recipes, and it imparts a delicious caramel flavour to baking.
Palm Sugar
Flax gel can be used to replace eggs in recipes calling for up to two eggs. To prepare enough flax gel for this recipe, boil together 500 ml water and 2 tbsp whole flax seeds for 20 minutes or so, until it becomes thick like an egg white. Strain out the seeds and leave the gel to cool.
When looking through the OHs massive tea collection (he loves his tea!) I thought Chai would work well since the Indian tea blend contains spices such as cardamom, cinnamon, ginger, cloves, and pepper. I wasn't wrong. This tea loaf is fantastic!
Some slices of this loaf ended up being wrapped in parchment paper and taken along on a picnic adventure to the Sumburgh RSPB Nature Reserve on the south mainland of Shetland. A few days ago puffins started returning from their winter holidays south and we thought we'd take a road-trip and see if we could spot any. Unfortunately we didn't see any puffins, and I didn't take enough decent photographs to warrant writing a separate blog post about Sumburgh (this time) but I thought it should have a mention in this post. Have a look at the Sumburgh puffin cam, you might see some puffins yourself! I don't think photographs really do this nature reserve justice. You have to stand against a wall on the high cliff edge yourself, sea breeze whipping your hair and reddening your cheeks, looking down upon hundreds of nesting seabirds with about 220 degrees of endless sea and sky to the horizon. If you're really lucky you might see a whale or two. It is a magical place and you really do feel like you're on a little rock in the wild North Sea!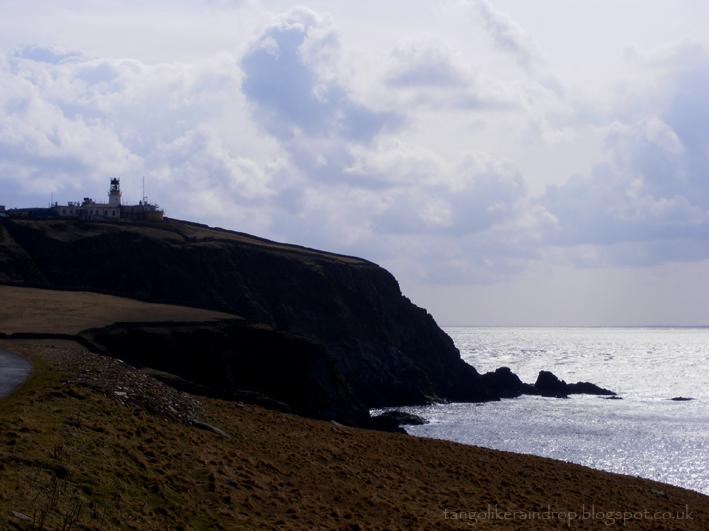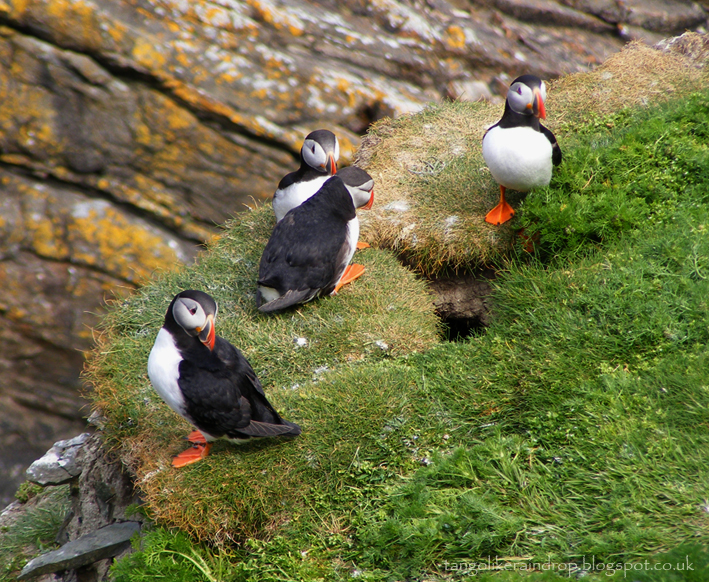 It was quite windy and cool, so we climbed up the hill to the lighthouse, periodically checking over the edges of the stone walls for puffins. We saw plenty of fulmars and guillemots though, and we huddled down against a wall out of the wind to enjoy our picnic lunch in the sun. Just so you're not disappointed, here's a picture of some puffins at Sumburgh Head last summer.
This recipe has been included in Javelin Warrior's from-scratch Made with Love, Mondays recipe round-up.