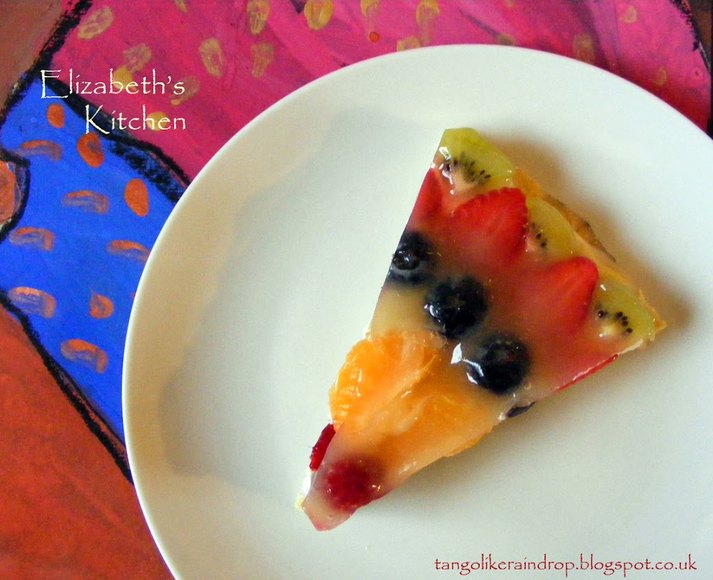 This delicious fruit pizza is another one of the many recipes my father has shared with me. Simple to make and incredibly… mmmmm!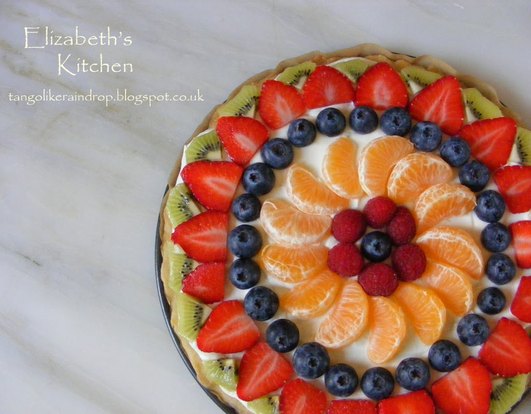 The tartness of the fruit is offset by the sweet shortbread base and the cream cheese filling. The glaze gives it a very 1970s cookery magazine look, I think. This is one of our family favourites.  As this is another made from scratch creation I am including it Javelin Warrior's Made with Love Mondays food round up.
Shortbread crust:
1 cup plain flour
1/2 cup butter
1/4 cup icing sugar
Blitz together in a food processor until the mixture comes together in a clump. Press into a lined and greased 10 inch springform pan. Bake at 180 C for 12-15 minutes. Leave to cool.
Filling:
200g full fat cream cheese
1/3 cup icing sugar
1 tsp vanilla
Cream together until smooth and spread evenly over the top of the cooled shortbread crust.
Topping:
Assorted fruits, sliced if needed. Kiwi, banana, blueberries, strawberries, grapes and raspberries work really well. Tinned fruit also works.
Arrange over the top of the filling in an attractive pattern.
Glaze:
2 tbsp cornflour
scant 1/2 cup caster sugar
3/4 tsp lemon juice
3/4 cup apple juice
Heat together in a small pan. Stir until thickened. Pour evenly over the top of the fruit and allow to chill until serving.