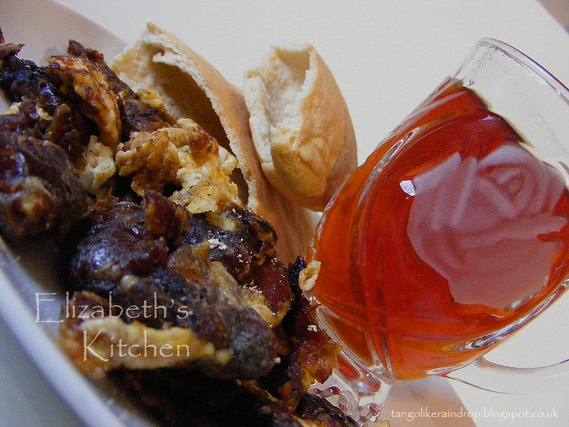 I recently borrowed a copy of Sally Butcher's Veggiestan: a vegetable lover's tour of the middle east and fell in love with it. It's full of so many amazing recipes I am going to have to buy a copy of my very own. One of the recipes which caught the eye of both myself and my partner was that for fried dates with eggs. Fried dates with eggs?? Who would have thought!? We knew we had to try it right away for our lazy Sunday morning breakfast. Delicious!

What a fantastic combination of flavours and textures. It's sweet and savoury and filling and simply wonderful. Served with warm khobez and black tea we were transported from our cold Shetland kitchen far away to the middle east, albeit briefly. We're not used to eating so many dates in one go, so they did start to get a bit sickly sweet after awhile. We think that halving the quantity of dates and doubling the eggs would make a better date:egg ratio, so this is our adaptation of Butcher's recipe.
Fried Dates with Eggs
A perfect combination of sweet and savoury – ideal for breakfast.
Ingredients
25 grams butter
250 grams whole pitted dates
4 eggs
4 green cardamoms
Instructions
1. Remove seeds from the green cardamoms and grind in a mortar and pestle until they are powdered.
2. Heat butter in a frying pan until melted.
3. Add dates to the frying pan and cook, stirring frequently with a wooden spoon. Mash the dates up as they soften.
4. Add the eggs to the pan and continue to stir until they eggs are cooked.
5. Transfer to a serving dish and sprinkle with the ground cardamom.6. Serve immediately with warm bread and black tea.
Details
Prep time: Cook time: Total time: Yield: serves 2
I am submitting this recipe to Fuss Free Flavours' Breakfast Club, hosted this month by Janice from Farmersgirl Kitchen. This food blogger's challenge is a blog hop, so do have a look at what some other foodies are making for breakfast.