In collaboration with the Garda Trentino S.p.A. Tourism Board.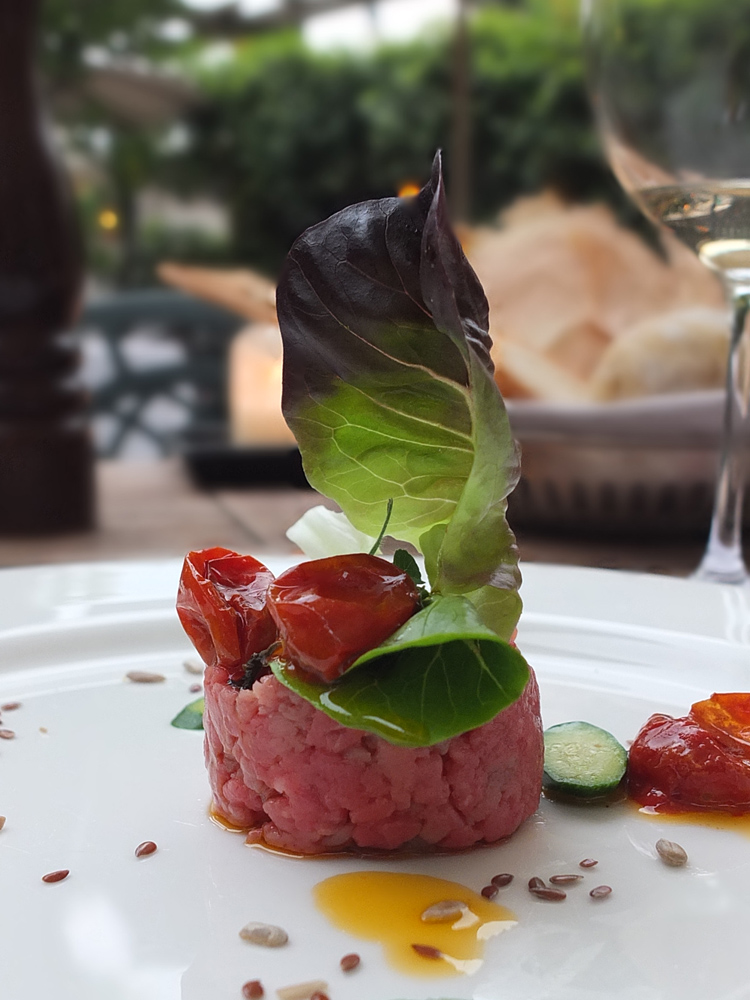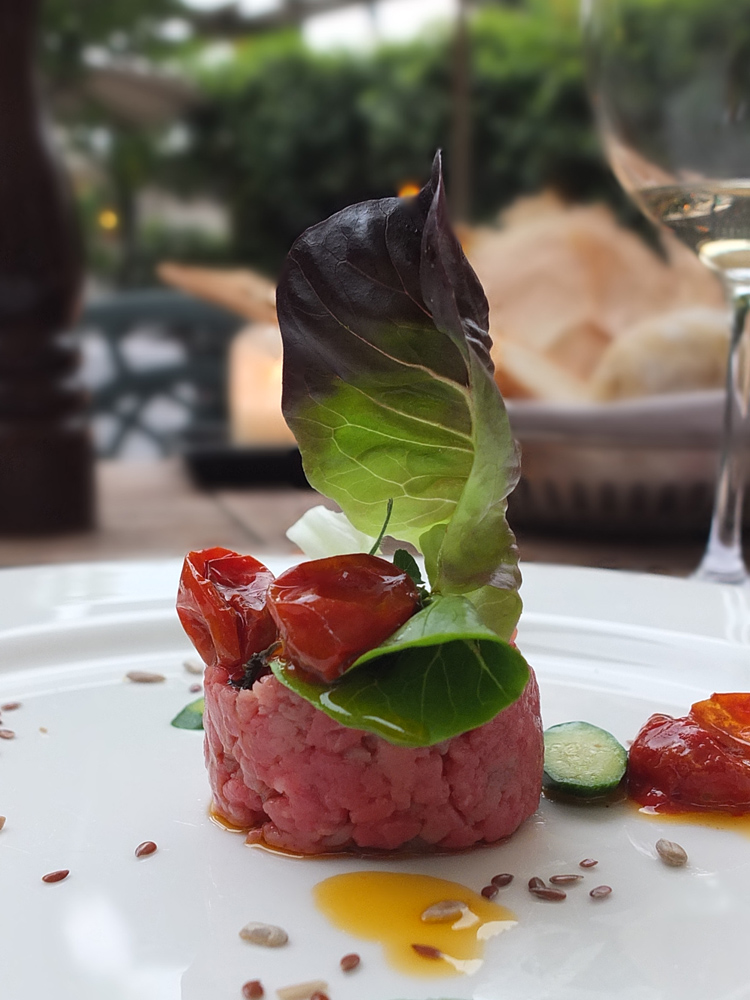 Garda Trentino is a region in Northern Italy encompassing Riva del Garda, on the north shore of Lake Garda, Arco, Tenno, Nago-Torbole, Dro and Drena. It boasts a Mediterranean climate at the foot of the Alps, with plenty of opportunities for outdoor adventuring such as hiking, mountain biking, rock climbing, swimming and sailing.
The cuisine of Garda Trentino is a tasty blend of Mediterranean flavours, rustic mountain cooking and Austrian/German influences. There is an incredible amount of produce grown in this fertile area. Vineyards and winemakers are abundant and, due to its unique geographical features, olives are grown and processed into a variety of quality extra-virgin olive oils.
I spent five glorious days in Garda Trentino last summer, climbing a via ferrata, hiking in through the hills and wining and dining in some of the exquisite restaurants in the region. The one thing all of these restaurants had in common was the use of locally produced ingredients, and a genuine pride of being able to transform raw, local ingredients into creative mouthwatering dishes.
So, make yourself a cuppa, grab a seat and let me take you on a culinary journey through Garda Trentino.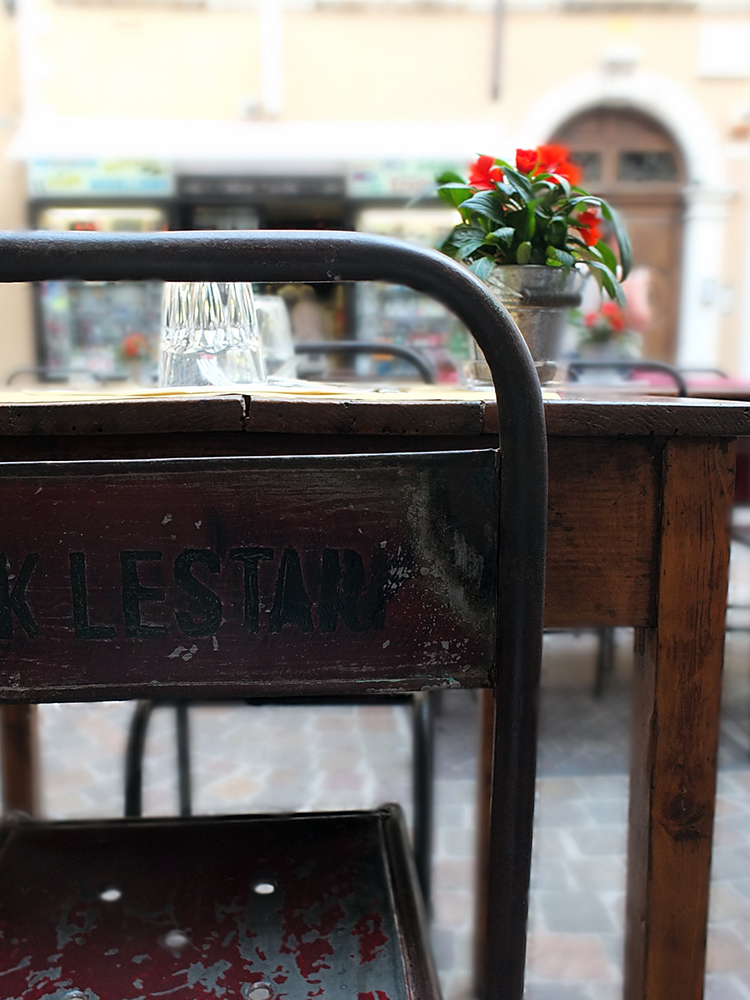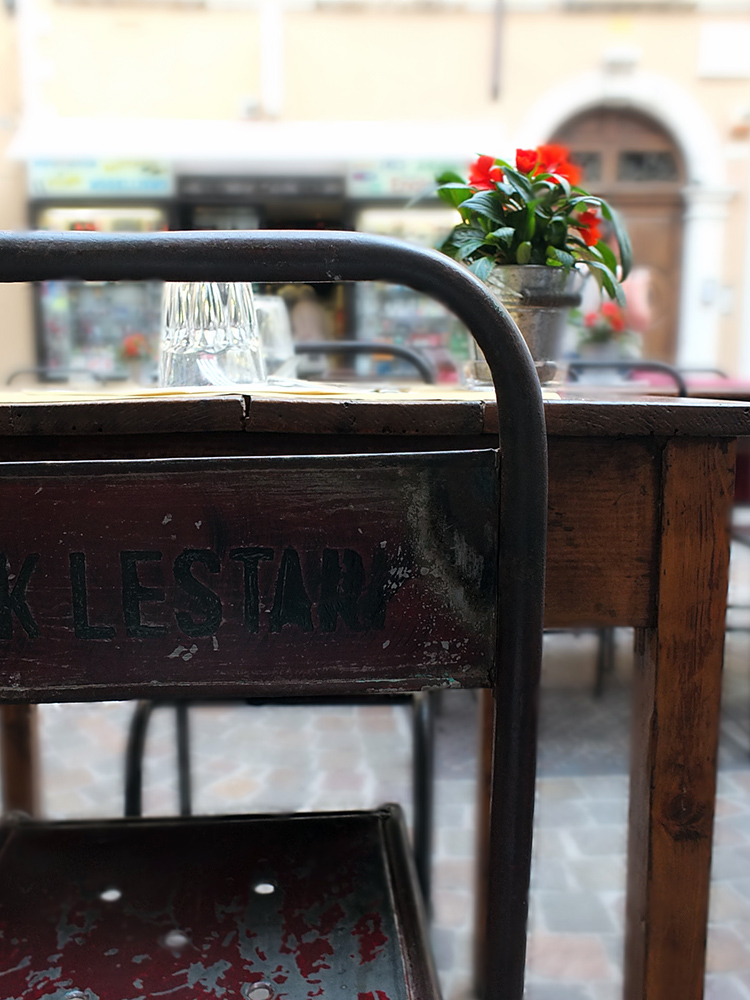 Located in the historic city centre of Riva del Garda on the shores of Lake Garda, this trendy wine bar offers informal indoor or al fresco dining and aperitifs in a cosy, fun atmosphere. There's live music on Thursday nights.
The menu features a mix of Umbrian and Trentino cuisine; flavours of typical Italian cuisine and tradition combined with quality local ingredients boasting very low food miles. It was here I had my first ever taste of carne salada, a particular speciality of the area between Arco, Varone and Tenno. This dish of local veal beef is eaten raw and is served thinly sliced as an appetizer, often served with olive oil. Here it was served with a mixed salad, fresh mushrooms and smoked ricotta cheese.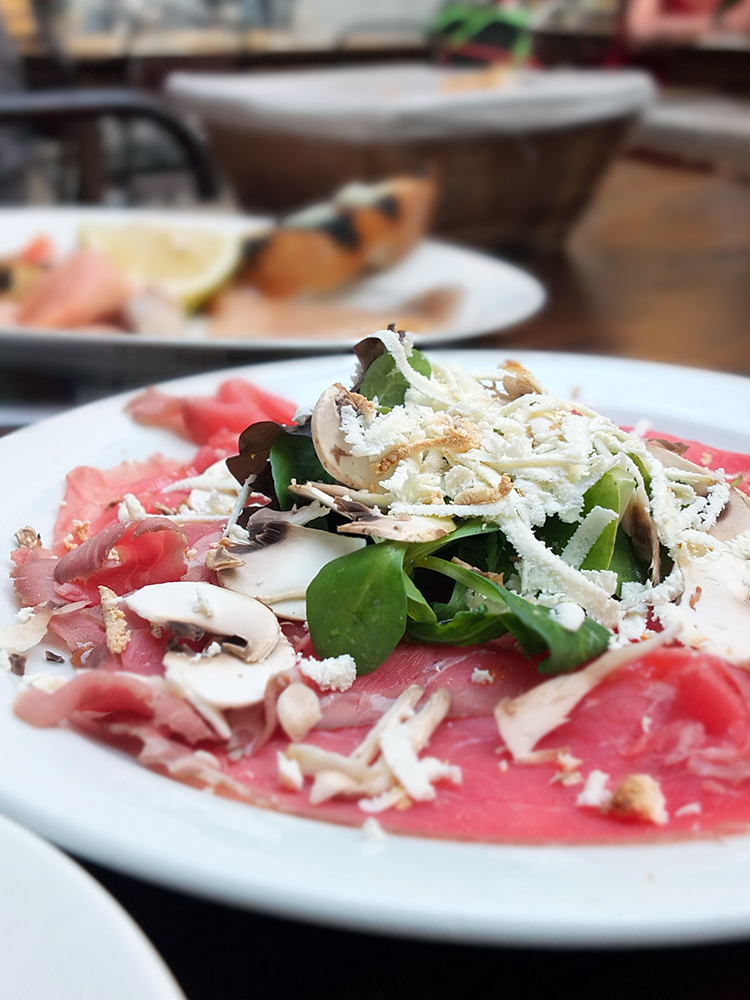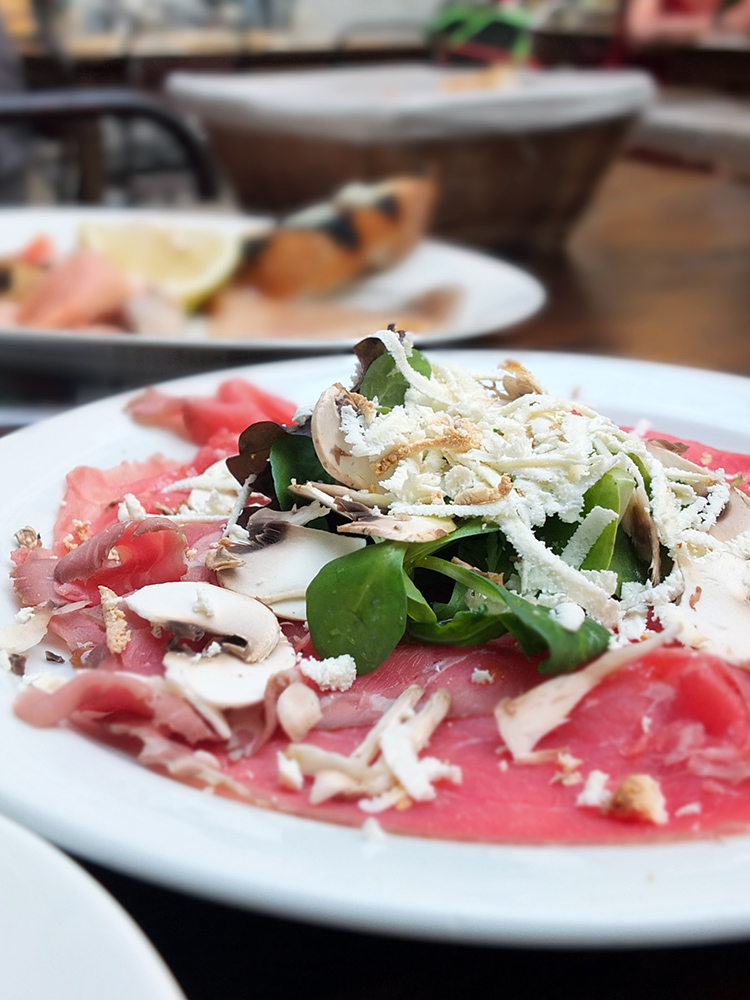 The olive oil served at our table was produced locally by 46° Parallelo from high quality, early-harvest Casaliva olives grown in the northern Italian region of Trentino Alto-Adige. The unique microclimate of this region, with its alpine and Meditteranean combination, means it's the most northerly location where olives can be grown and harvested to produce olive oil.
It was here I first tasted strangolapreti, spinach gnocchi (or bread dumplings) made from stale bread instead of potatoes. The word 'strangolapreti' literally translates as 'strangled priests' and the dish dates back to the mid-1500s when it was forbidden to eat meat on a Friday. Legend has it that the local Trentino priests and clergy enjoyed it so much that they would eat it until they choked, and it's been a popular dish ever since. It is usually served with a brown butter and sage sauce.
Riva del Garda is situated on the northern coast of Lake Garda, fed by the Sarca River, so the restaurant menus often feature local freshwater fish. Such dishes include marinated and smoked river fish 'salmerino trout', and delicious, tender and flaky grilled coregone; a freshwater whitefish found in Lake Garda.
Prices at Nuovo 900 are around €10 for antipasti and first courses, €10-20 for a main course, €5 for sides and desserts.
WINE: try the Nosiola, a white Italian grape variety grown in the Trentino region. With its characteristic toasted hazelnut aromas, it pairs wonderfully with lake fish dishes. It is also excellent as an aperitif.
Nuovo 900 da Lucio: Via Gazzoletti, 8, 38066 Riva del Garda TN tel: + 39 0464 567629 Click here for directions.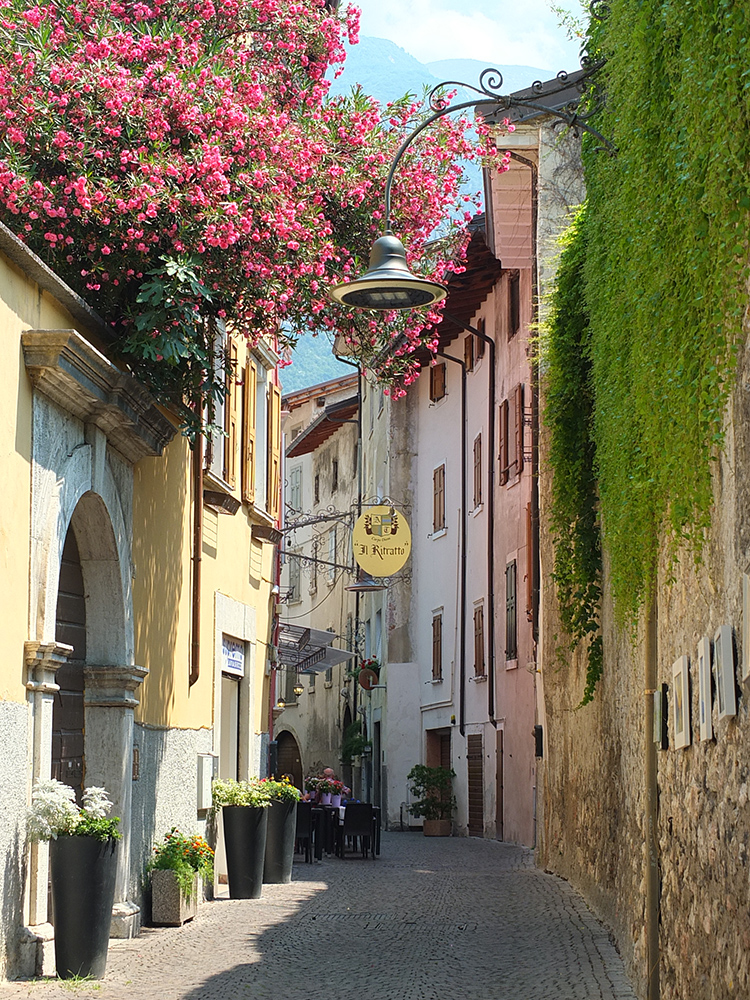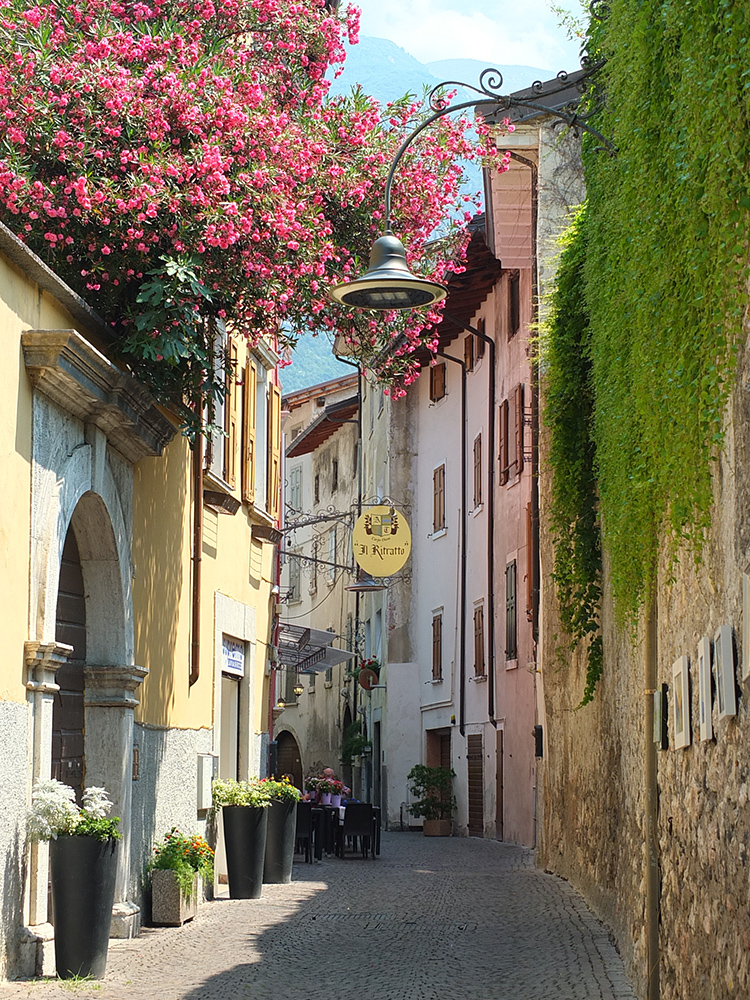 Nestled down a picturesque lane off the main square in Arco, Ristorante Il Ritratto Carpe Diem offers gourmet cuisine prepared with local ingredients in a warm and friendly atmosphere. You can dine indoors or out. For my starter, I enjoyed carne salada with walnut pesto, applesauce, pomegranate and shredded cabbage served in a cornucopia.
My main course was an exquisite dish of lamb chops from the Trentino region slow cooked for hours under a very low heat with a rub of fennel and local olive oil. It was served on a four-inch round potato cake, not unlike a giant gnocchi, stuffed with a stringy, mozzarella/gouda-like unnamed cheese handmade in Riva by an elderly gentleman in small batches.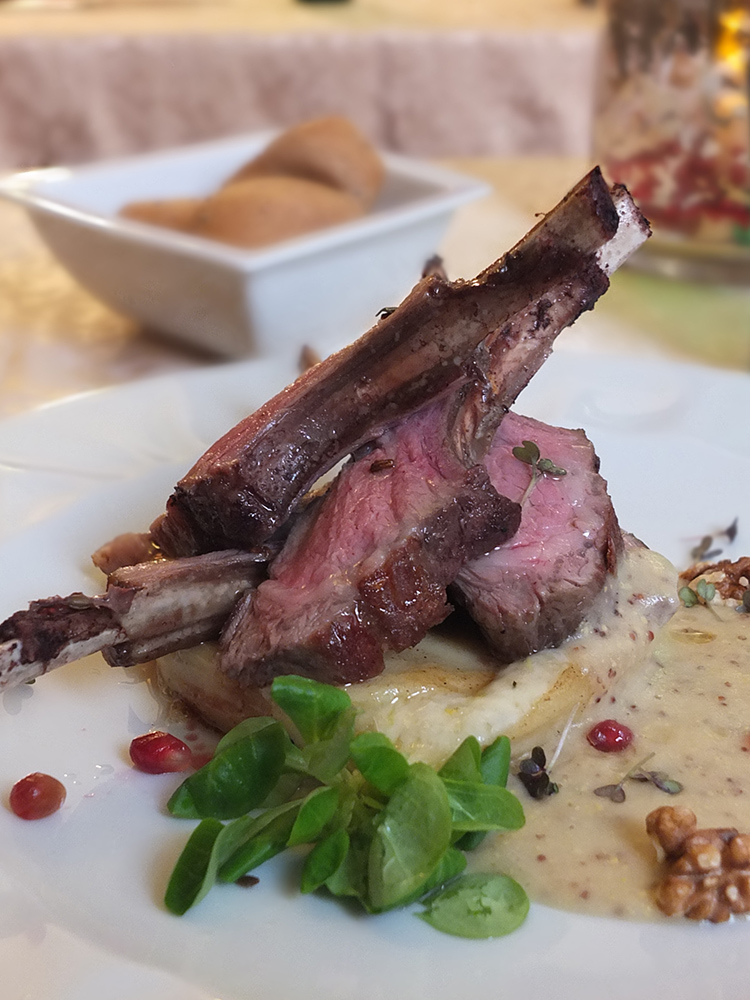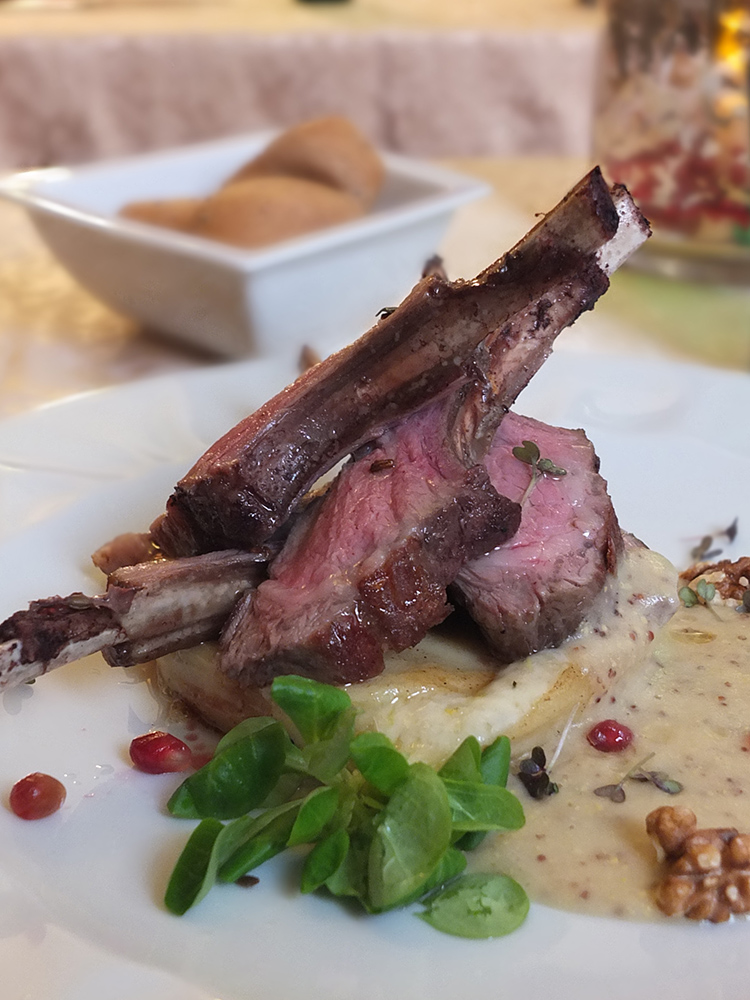 To accompany, mustard-tarragon cream sauce, pomegranate seeds and walnut halves. This was one of the best meals I enjoyed in Garda Trentino. I enjoyed it so much I attempted to recreate it myself at home (see my slow roasted rack of lamb with a creamy mustard tarragon sauce recipe.)
Dessert was a selection of homemade gelato with fruit and cream. It was here I had my first ever taste of grappa; a grape-based pomace brandy popular in Italy – Giovanni Poli Grappa Santa Massenza.
Prices at Il Ritratto are on the higher end, but well worth the experience.
WINE: try the Vino Santo "Arele" dessert wine produced in the heart of Trentino. This prestigious traditional dessert wine has a beautiful deep copper colour and aromas of dried apricots, sultanas and prunes.
Ristorante Il Ritratto, Via Ferrera, 30, 38062, Arco, Italy. Tel: +39 0464 512958 Click here for directions.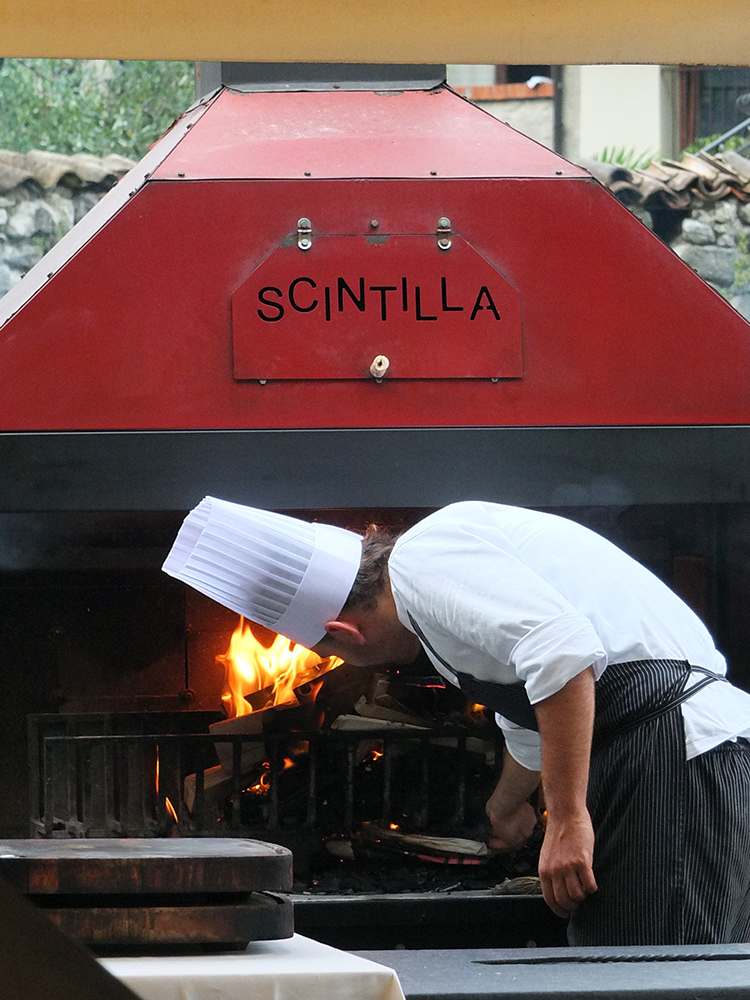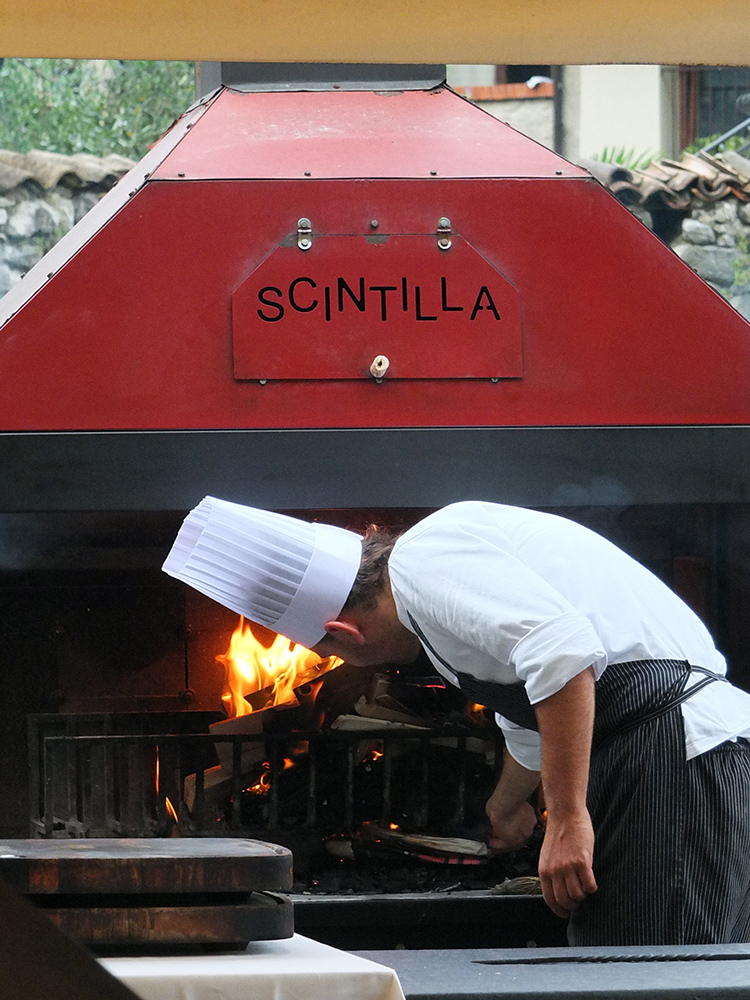 If you are in Riva del Garda you absolutely must try the tasting menu at Villetta Annessa in the Hotel Villa Miravalle – course after course of delicious local produce perfectly prepared and presented by their chef Luca Bombardelli. Dine indoors during the winter in their restaurant with its large wood fuel stove for grilling meats, or, during the warmer months, in their garden terrace with views of the surrounding mountains while enjoying the light breeze off of the lake. The garden features an array of laden citrus fruit trees and while you dine you'll hear the periodic tolling of the historic bell in nearby Torre Ponale.
To begin my tasting menu, the waiter brought me a gift from the chef: Kamut cannoli filled with light and creamy cheese served with an onion balsamic jam. This dish was both sweet and savoury at the same time; rich and delicious. To serve: a tasting of a 2001 dessert wine from Gino Pedrotti.
Villetta Annessa is renowned for their steak, and they have a rather impressive outdoor barbecue grill (photo, above). They encourage diners to try their wild beef reared on sugar beets from Bologna. It was served raw (photo, below) with a tomato confit; local tomatoes cooked in olive oil and sugar. The flavour was incredible; the uncooked meat was sweet and remarkably tender. I enjoyed the same beef later on in the tasting menu, a filet mignon expertly cooked on the outdoor grill and served with a gorgeous helping of mashed potatoes and two sauces.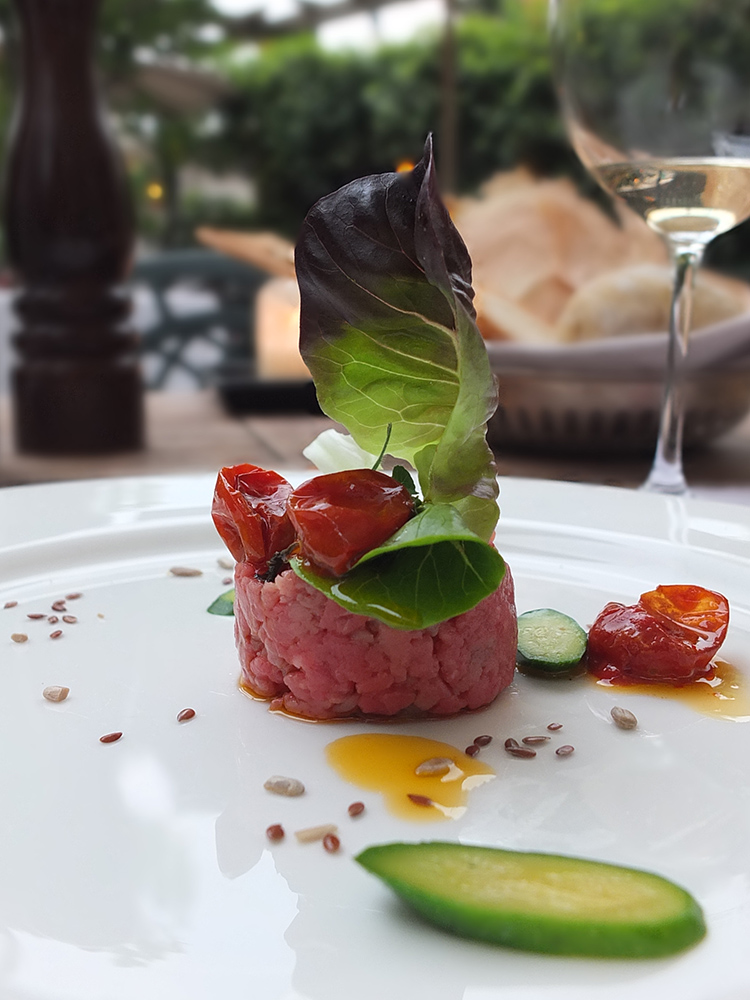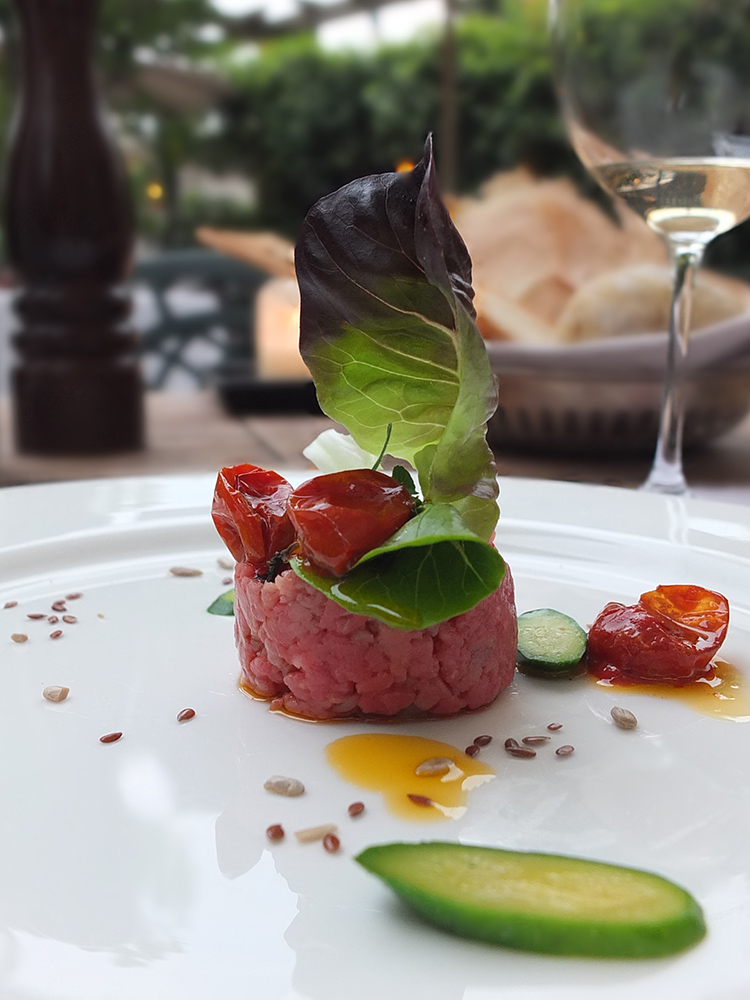 Next, a stunning dish of slow-cooked rabbit loin wrapped in pancetta and fried until crispy and served with a liquid salad (photo, below). I'd visited this restaurant earlier in the day for a private cookery demonstration, and the chef, Luca, kindly gave me the recipe.
This dish is deliberately not served with olive oil. Instead, it was paired with a tasting of Gewurztraminer Selection R. from the German part of Italy. The aromatic finish of the wine is meant to replace that of the olive oil. As an aside, a bottle of extra virgin olive oil DOP Garda Trentino of Agraria Riva del Garda was available on the table as a condiment; perfect for dipping the contents of the bread basket into.
Angelino pasta was next, with aubergine, Datterini tomatoes, dried mint and pasta made on the premises. My waiter, Pietro, explained that this was a real Italian summer pasta; although it has a lot of sauce it is not at all heavy. This was served with a small glass of Vini del Gelso Merlot. This is an organic wine, Pietro also explained, but it doesn't say so on the label. To carry that certification a vineyard has to be registered as organic for thirty years.
Dessert was vanilla ice cream with crystalised simple syrup and raspberry jus to cleanse the palate followed by a small serving of millefeuille; Villetta Annessa's classic dessert. A port-type dessert wine, Merlino Rosso Fortificato 1400, finished off the meal perfectly.
Tasting menus at Villetta Annessa start from €43, not including drinks. Check out their hotel offers for accommodation and dining packages.
Hotel Villa Miravalle: Via Monte Oro, 9, 38066 Riva del Garda. Tel: +39 0464 552335 Click here for directions.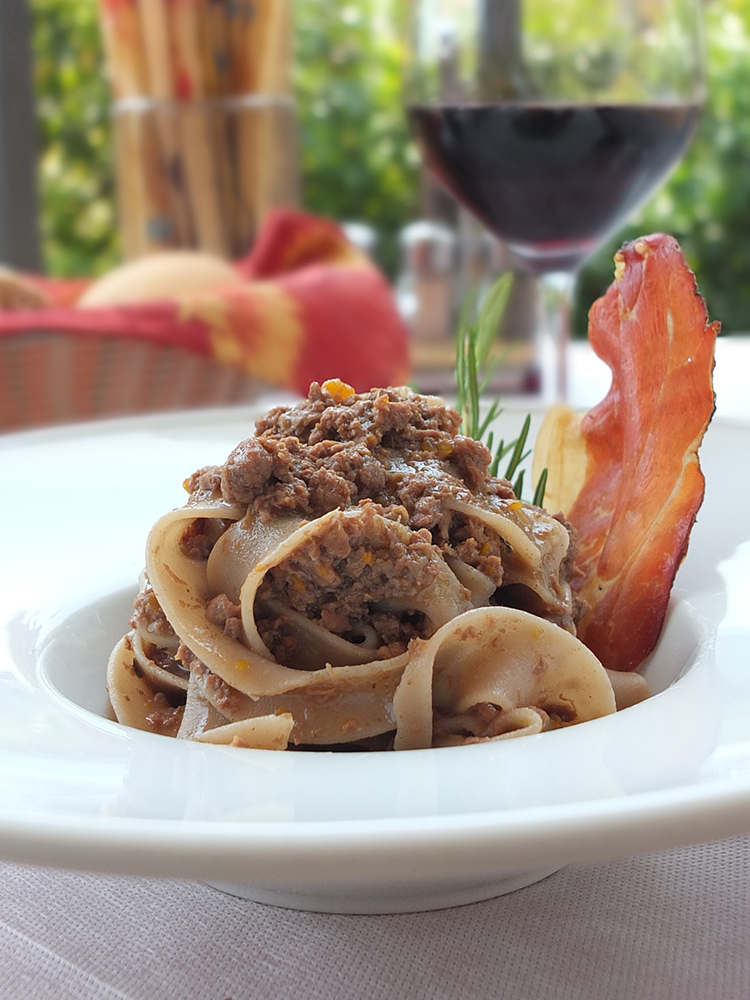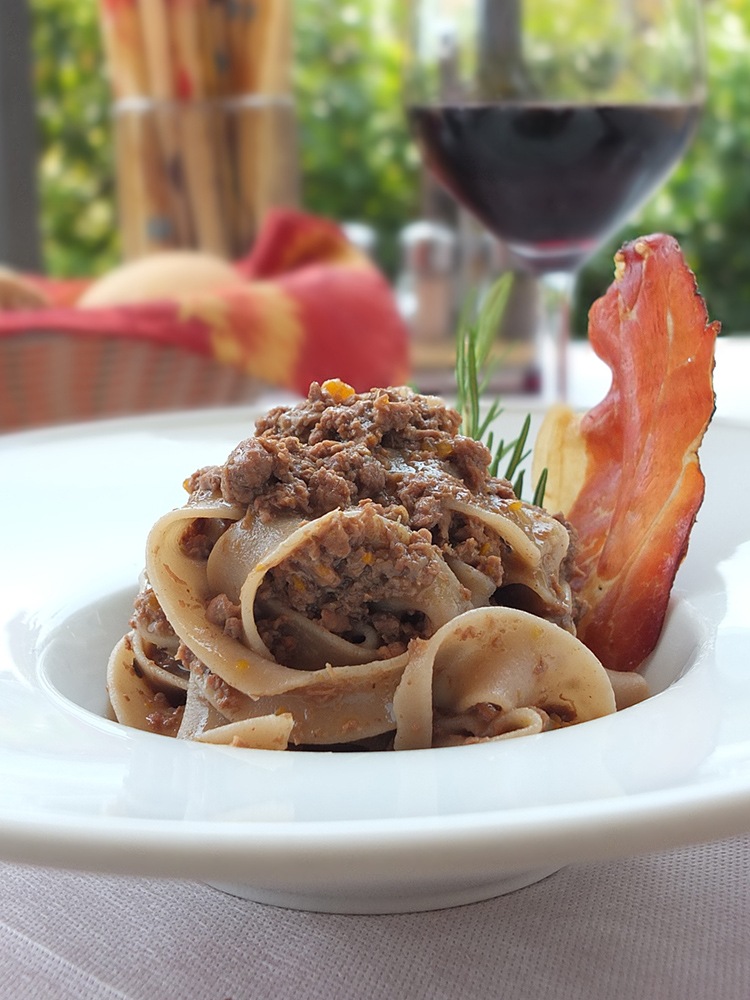 Further North, in the village of Tenno, you'll find Antica Croce, a hotel and restaurant just next to Tenno Castle, a 13th-century fortress.
Good food and wine are the passion of chef Ettore, and his son Lorenzo, who together manage the kitchen in Antica Croce. Their menu features a wide variety of local delicacies, including their famous carne salada; recipes which have been passed down for four generations.
All of their produce is sourced locally; meat from Trentino, fish from their spring waters, mushrooms and black truffles from the forest and vegetables from their own garden. Dine indoors in their restaurant or out in the garden with a view of the castle and surrounding forest.
I began my meal with a local cheese platter featuring Trentino Parmesan, Tremosine cheese, Verda Misone cheese and a herbal cheese from Fiavè served with red onion mustard and pear chutney. A basket of bread rolls and a glass of fine white wine accompanied.
This was followed by the second course of homemade red wine pappardelle with venison and rosemary and a perfectly paired glass of red wine. Made with local venison this dish was rich and hearty, just what was needed after a morning spent trekking from Tenno Lake. This was followed by a dessert of homemade amaretto semifreddo and a coffee from local coffee roasters Omkafe.
Set meals start at €35 per person, not including drinks. They also offer wine tastings in the recently renovated old cellar that lies just beneath the restaurant.
Antica Croce, Via dei Laghi, 1, 38060 Tenno. Tel: +39 0464 500620 Click here for directions.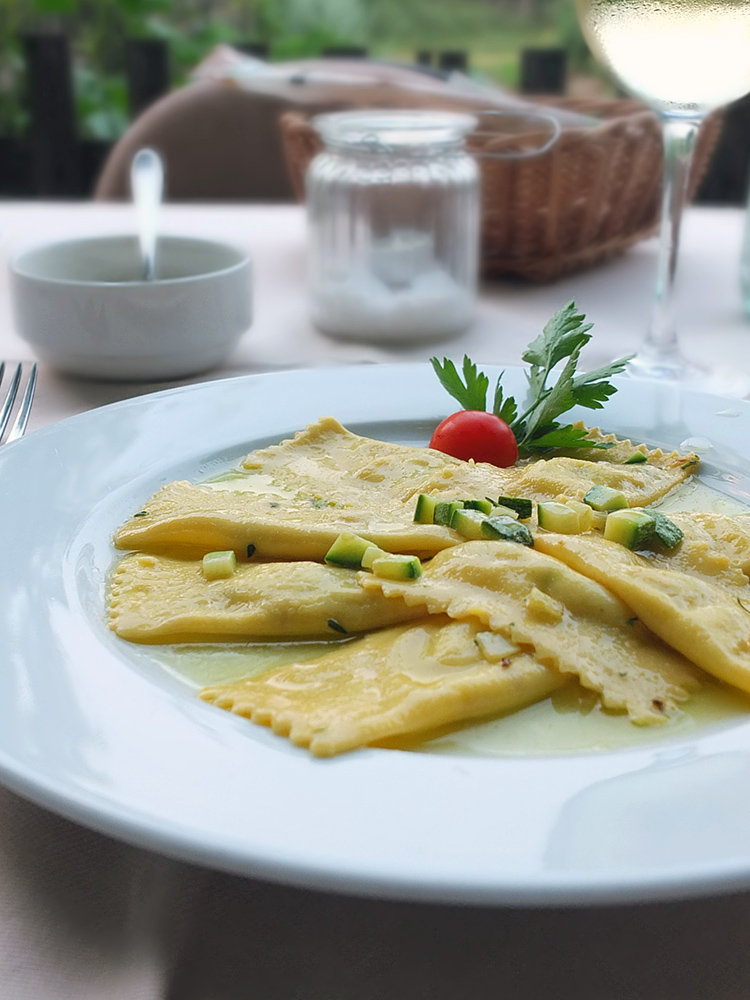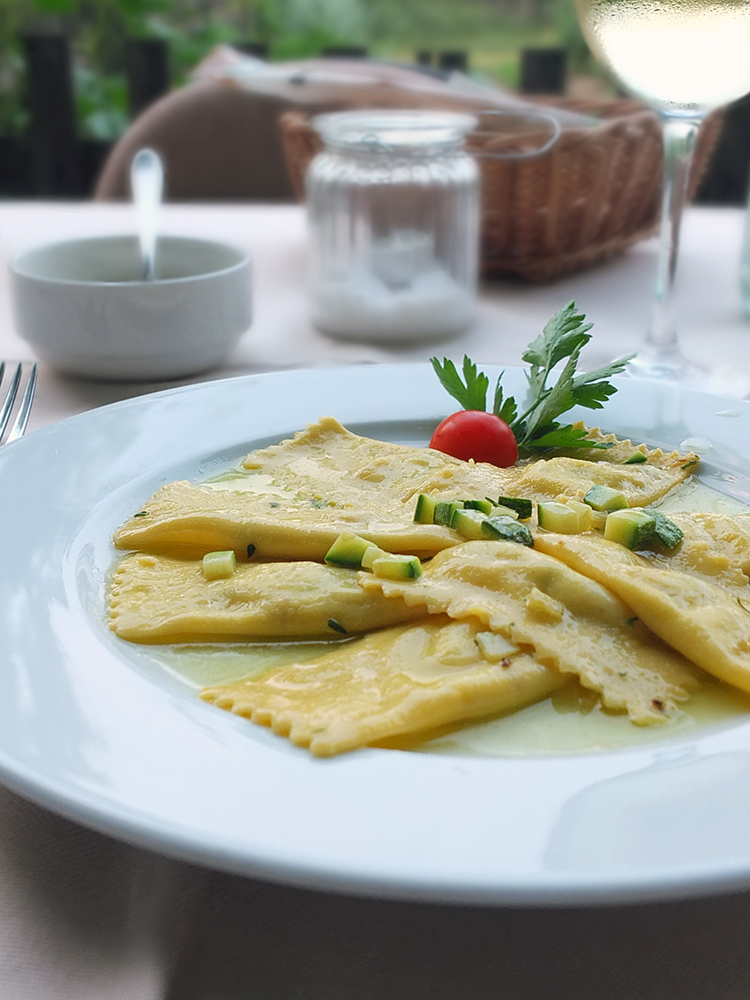 Osteria provides the opportunity for diners to enjoy different, and sometimes forgotten, local dishes. The restaurant is located just north of Lake Garda, between Riva and Arco, in the heart of vineyard territory. Enjoy dinner indoors, in cosy rustic surroundings, or outdoors in the garden under a grapevine canopy overlooking a vast vineyard.
Chef Alessandro Manzana and his colleagues welcome their guests with meats such as beef and horse, and cheeses, local freshwater fish, homemade fresh pasta, enticing desserts and a cellar with more than 500 labels. We began our meal with an aperitif of Pojer & Sandri Cuvee Extra Brut, a sparkling wine grown in Trentino.
It was here I enjoyed homemade ravioli filled with ricotta and served beautifully with local olive oil and courgettes from their garden. A glass of Pravis Le Frate Nosiola accompanied. This wine is the pride of Pravis, made with Nosiola grapes grown on the steep slopes above the lakes of Toblino and Cavedine. This was followed by a tender and flaky grilled char and creamy polenta with a glass of Pravis Stravino di Stravino.
For dessert, mint semifreddo and a tasting of 2003 Trentino DOC Vino Santo "Della Valle dei Laghi"; produced locally by Pisoni in small batches since the mediaeval times.
A three-course meal costs approximately €35, not including drinks. The atmosphere here is wonderful; dining outdoors under the grape leaf canopy eating delicious food and sipping good wine is just what you imagine life is like in Italy; the kind of slow meal that lasts for hours.
Le Servite, Osteria, Cellar and Apartments – Via Passirone No. 68 – 38062 S. Giorgio Arco. Tel: +39 0464 557411. Click here for directions.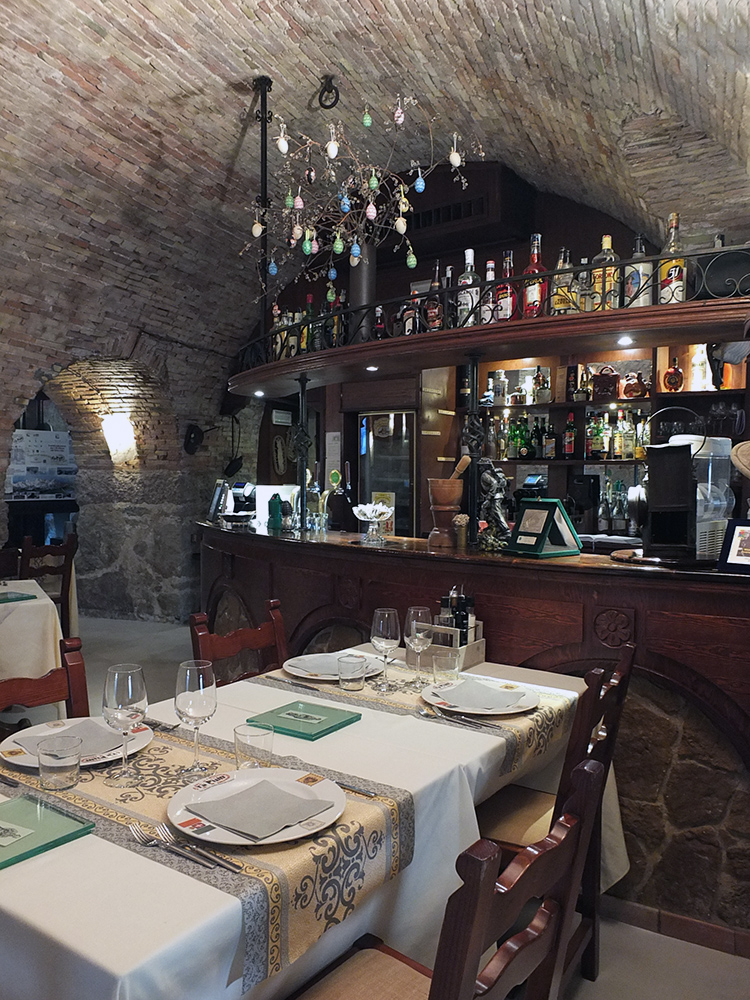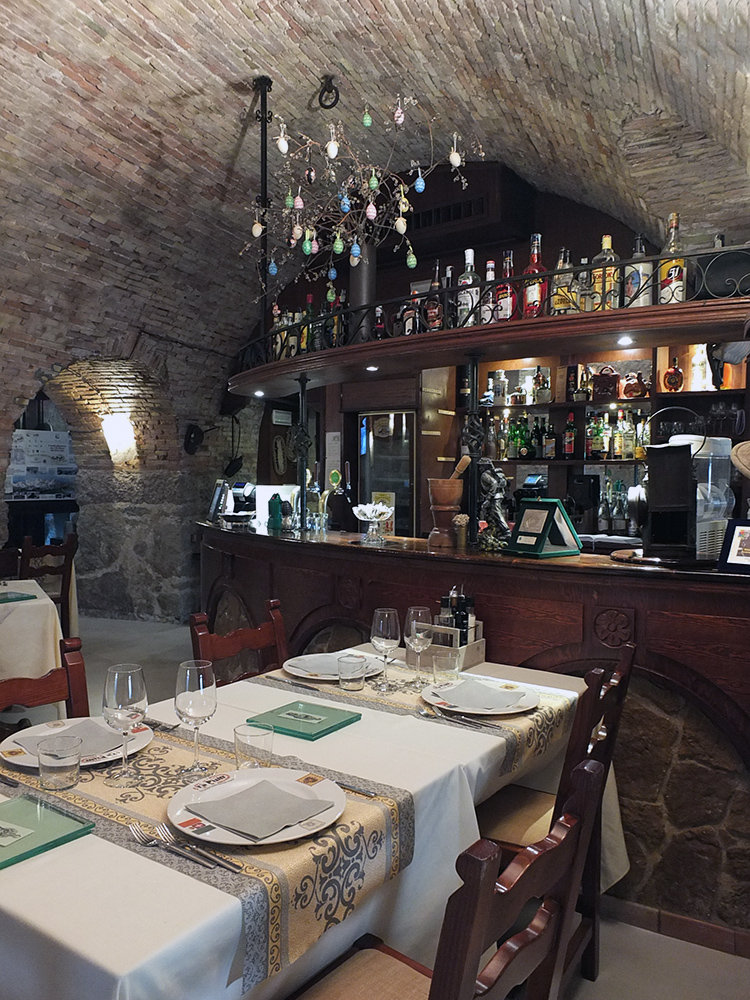 Dating back to the Great War, Ristorante Al Fortino is situated in a perfectly preserved Austro-Hungarian military fort from 1863. In it, you can enjoy the taste of typical cuisine of the alpine region served on the terrace overlooking Lake Garda, Nago-Torbole and Riva del Garda, or eat in one of the two dining rooms with interiors which will remind you of the Great War.
As the fort was originally Austrian you will find Austrian produce and dishes featuring among the more traditional northern Italian menu.
For my antipasto, I enjoyed alpine trout in saor sauce and toasted cornmeal mush from Storo. Saor sauce is made from onions cooked in vinegar and oil. For my first course, Kipfler mashed potatoes and lake sardines in garlic and PDO Garda olive oil. For my second course, I thoroughly enjoyed a delicious fillet of alpine salmon trout with almonds and parsley potatoes. Their side dish of crispy salted deep-fried potato skins is an absolute must. Apologies for the lack of photos, but my low-light evening photography is still not the greatest, and my images do not do the meals justice.
A three-course meal here will set you back €30, and the portions are very generous. Bread and service charges are included in this price.
WINE: Try the Rottensteiner Gewurztraminer Sudtirol from the Trentino-Alto Adige region.
Ristorante il Fortino, Via Europa, 3, 38069 Nago-torbole. Tel: +39 0464 505508 Click here for directions.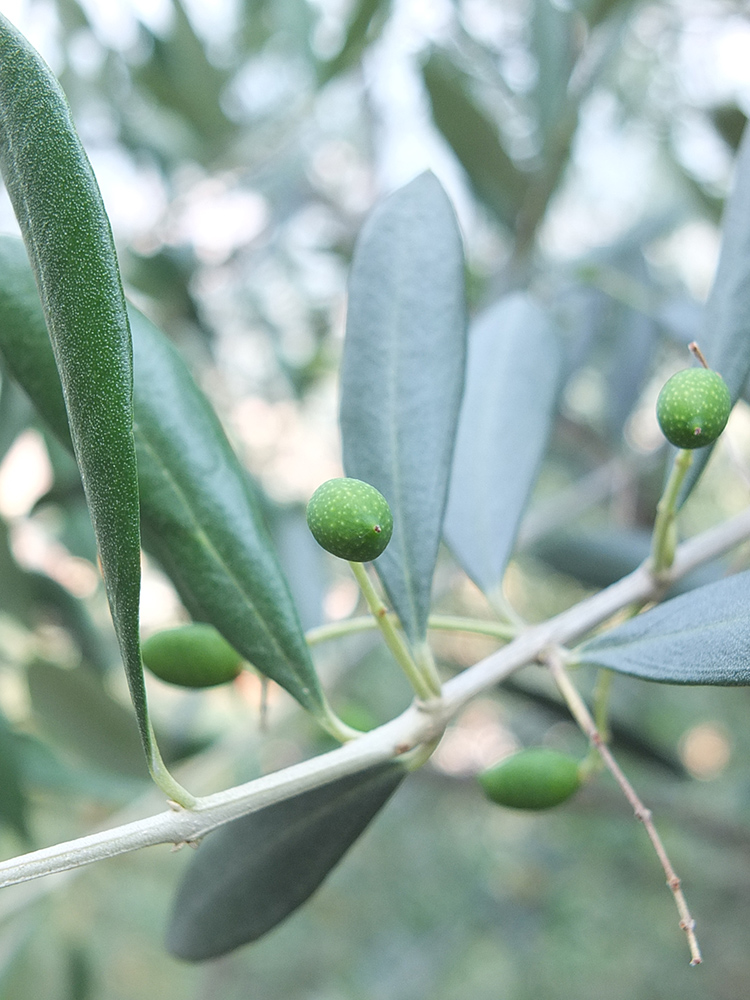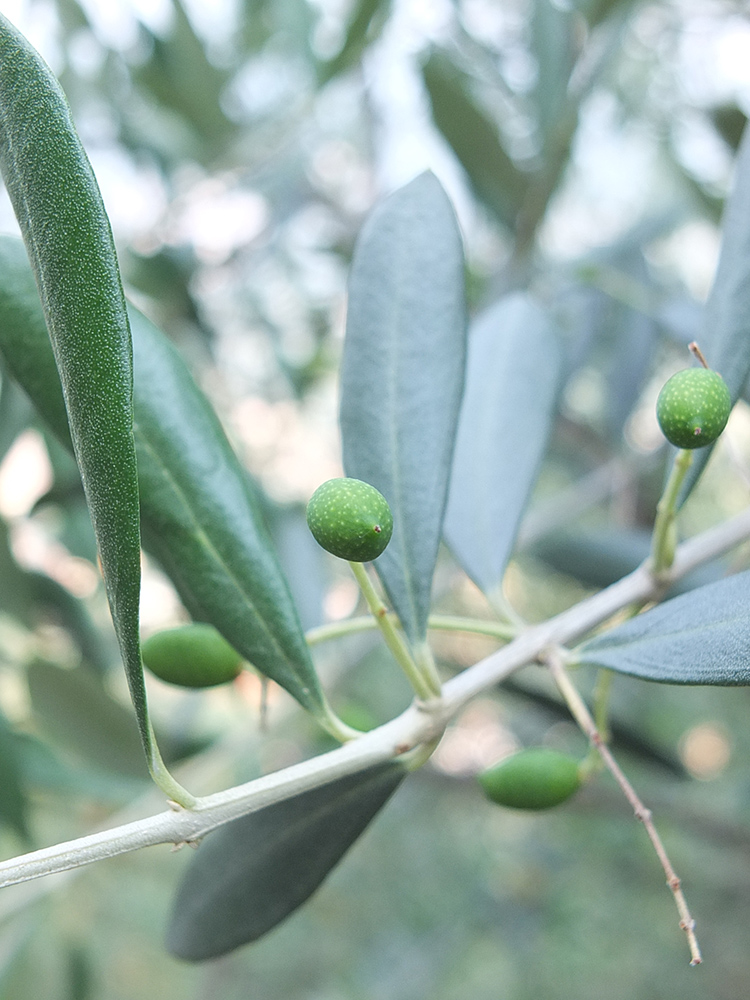 OlioCRU – Free Olive Oil Tasting
Did you know that most olive oils are prepared from the whole olive? That means the olive pit gets mashed up in with the fruit, which has an effect on the flavour of the final product. Experimental research has shown that pitted olives result in a higher quality olive oil, so that's what the team at OlioCRU in Arco do.
The olive pit is full of nutrition as well, so they've developed a rather clever way to use this resource by drying them and turning them into a crunchy topping for yogurt or soup.
Visit their premises just south of the historic centre of Arco for a taste test (just like you would with wine) to discover the difference pitted olives makes on the final product, and how the flavour differs depending on the olive used.
OlioCRU Shop Piazza III Novembre, 6/A, 38062 Arco. Tel: +39 0464 517607 Click here for directions.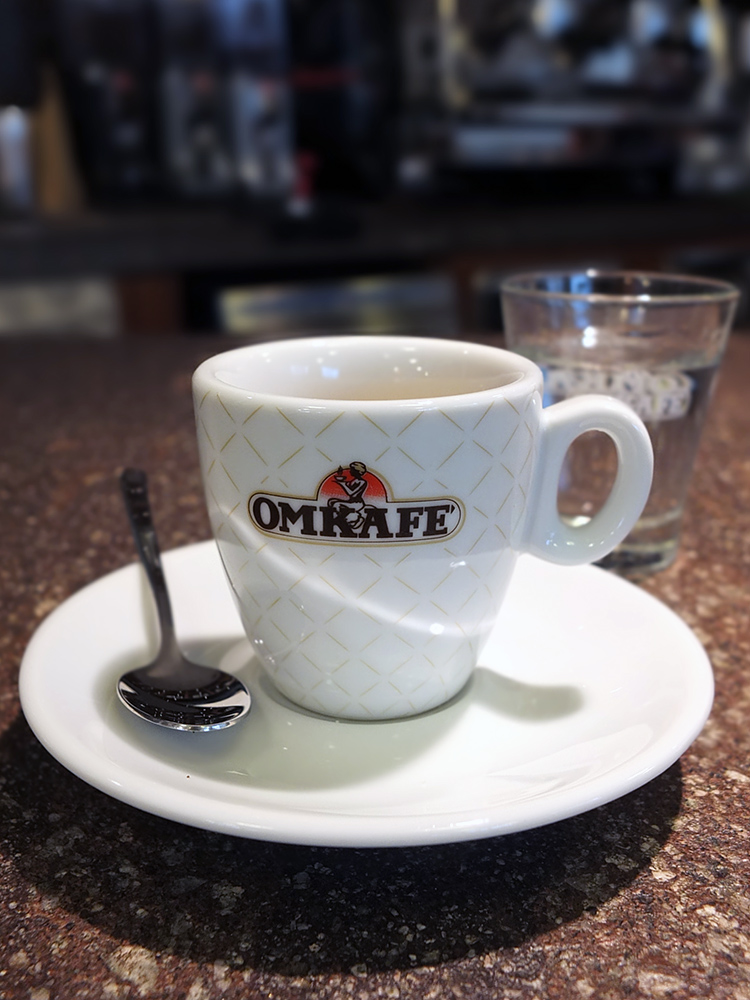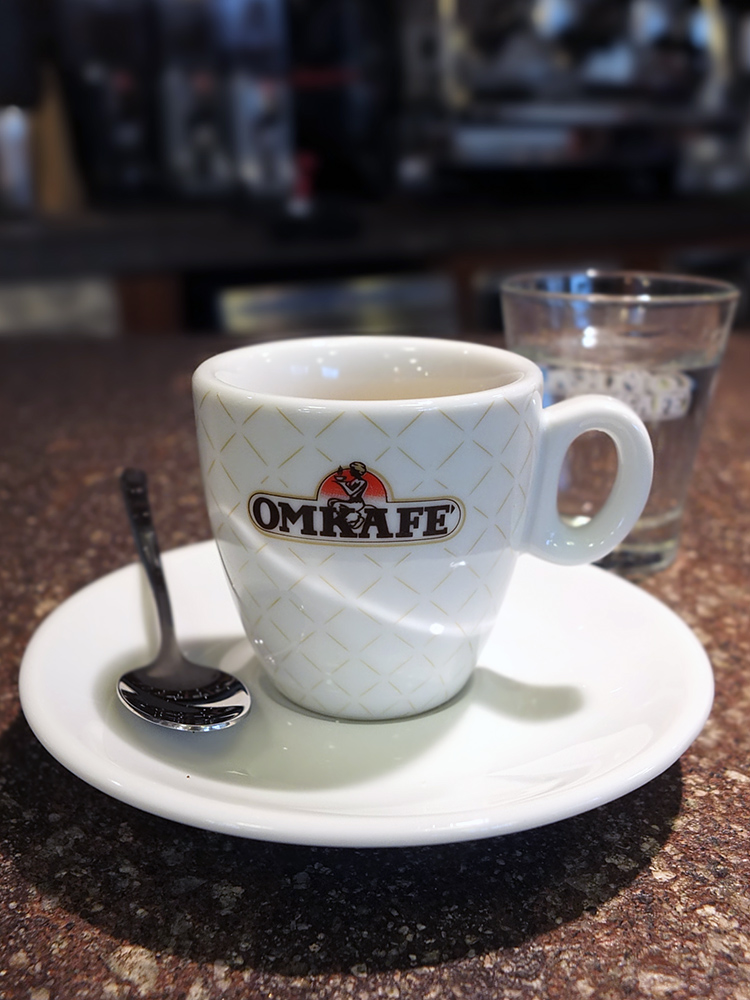 Omkafè was founded in 1947 by Ottorino Martinelli and his wife Maria. Their original coffee house was in downtown Riva del Garda., where, in the back room, Mr. Martinelli created and roasted his own blends, delivering his coffee to nearby towns and valleys on his bicycle.
Now, more than 70 years later, Omkafè is still a solid family-owned company and you'll see their coffee served at many restaurants and cafes in the Trentino region. They've since moved their premises to Arco, but you can visit them for a tour and a visit to their coffee museum. Alternatively, sign up for one of their courses: the secrets of professional coffee making, art in the coffee bar or the espresso sommelier. Visit their Facebook events page to see what's on!
Omkafè, Via Aldo Moro 7, 38062 Arco. Tel: +39 0464 552761 Click here for directions.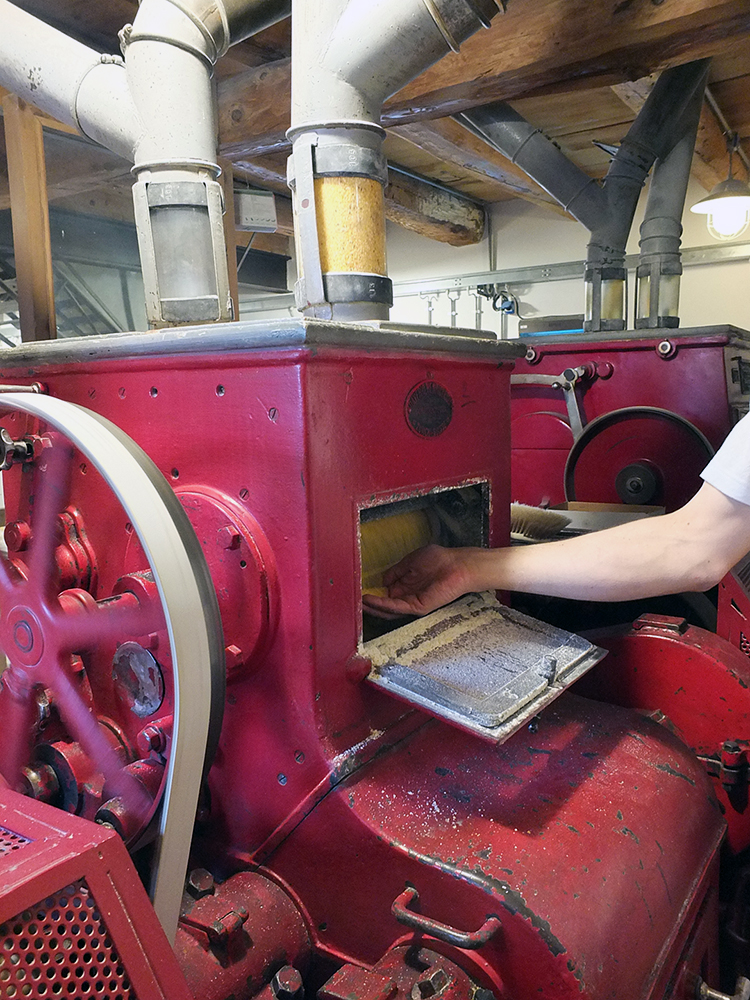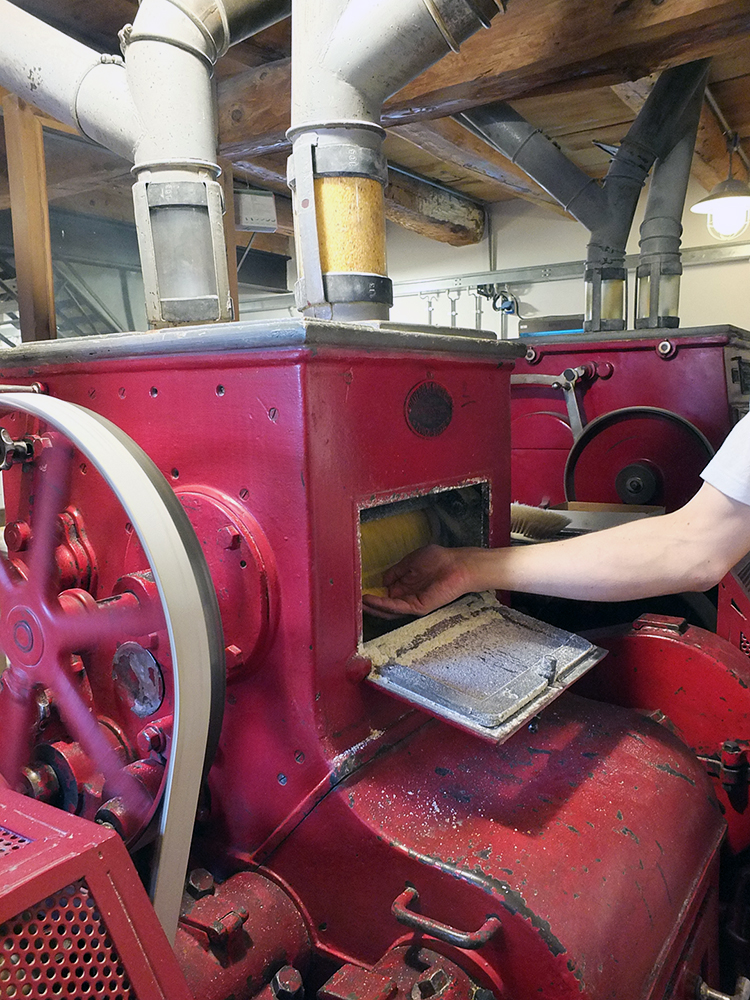 Alberto and Silvia's family have had over 100 years of history in milling corn and buckwheat. A visit to their mill in Varone is an absolute must if you're in the area, if only to see the equipment they use which date back to the late 1800s. They offer sensory and educational tours of their mill, where you can touch, feel, smell and taste the different stages of production.
I previously blogged about my visit there and shared a recipe they gave me for torta sbrisolona, a traditional almond dessert from the region.
Molino Pellegrini. Via Varoncello, 27, 38066 Riva del Garda tel: +39 0464 521323 Click here for directions.
Visit Garda Trentino!
I hope this blog post has whetted your appetite to visit Garda Trentino. There is so much to see, do, explore and taste there, and this blog post just covers a few examples. You might be interested in their Degusta Nago e Torbole foodie festival in the summer, or perhaps their Rustico Medioevo festival in the mediaeval village of Canale. This summertime mediaeval reenactment experience features theatre, dance, markets and the chance to taste the typical local cuisine.
Alternatively, the annual Garda con Gusto Gourmet Event in November is a wonderful way to experience the finest of Garda Trentino cuisine. Visit the Garda Trentino website for more information.
Have you ever been to Garda Trentino? Where did you eat while you were there? Share your foodie stories in the comments!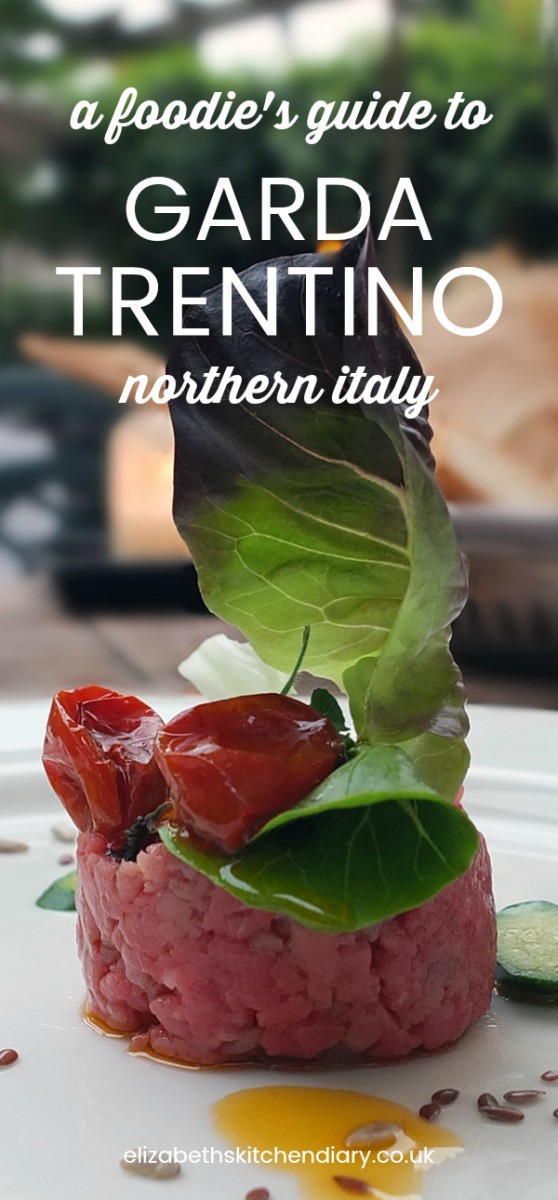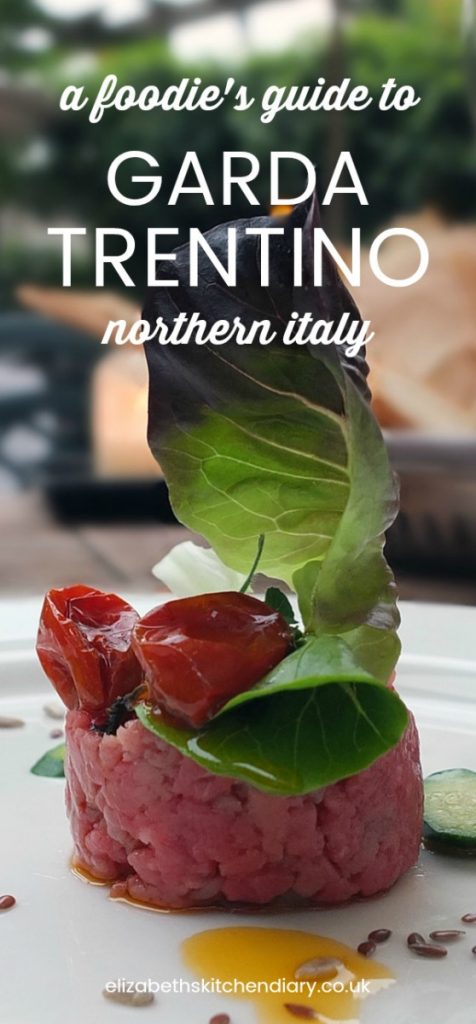 Elizabeth's Kitchen Diary was a guest of the Garda Trentino S.p.A. Tourism Board. All thoughts and opinions expressed are our own.