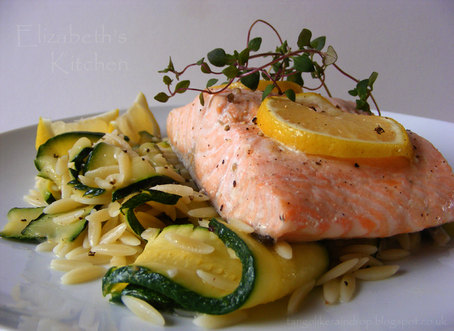 In February of this year Vanesther at Bangers & Mash started a new food blogging challenge 'Recipes for Life' to help out a charity that operates just down the road from her.
The SWALLOW charity, Vanesther says, "supports adults with learning disabilities to lead more independent lives. It runs a wide range of programmes for its members, empowering them with the skills and experiences to live their lives to the full, from therapeutic art courses and drama groups to domestic and work-based training."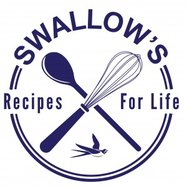 "As part of its Fit for Life programme, SWALLOW runs cookery courses, helping members learn to prepare simple, inexpensive and nutritious meals. SWALLOW is looking for new recipes for its members to cook on the course, and ultimately to include in its cookbook, that don't require a lengthy list of ingredients and aren't incredibly complicated to make."
Each month Vanesther gives us three ingredients to work with to come up with a recipe. This month those ingredients are salmon, pasta and courgettes.
I may be biased, but I think Shetland produces the best salmon out there. I've used local salmon in this dish, but I'm sure it would be lovely with whatever local produce you have available. I'm quite pleased at how well this dish turned out, seeing as how I had an idea in my mind it came out the way I intended. The courgette ribbons make this meal look like a quite sophisticated dish and it really only requires a minimum of effort. A cheese slice makes short work of cutting the courgette into the required size, I've discovered. The whole meal only takes half an hour to make, start to finish.
My partner commented that he would have happily paid a great deal of money to be served this meal in a restaurant. I might have been a little bit chuffed. 🙂
I've also sent this recipe over to Karen at Lavender and Lovage for her Cooking with Herbs food blogging challenge (previously known as Herbs on Saturday), a challenge I have been entering nearly every month since I started food blogging back in December 2011!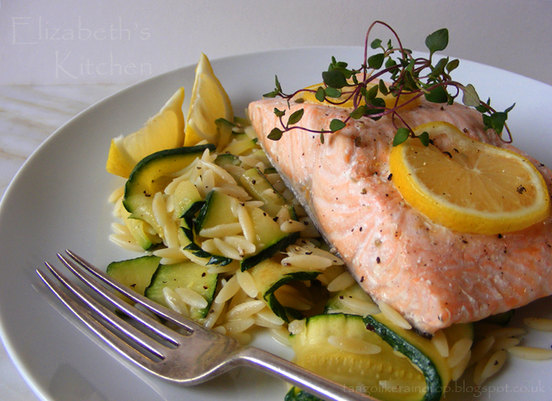 Foil-baked Shetland Salmon with Orzo & Courgette Ribbons
Succulent salmon delicately flavoured with lemon and thyme and served over orzo pasta and courgette ribbons.
Ingredients
2 Shetland salmon fillets
4 fresh thyme sprigs
1 lemon
2 tbsp olive oil, divided
50 ml white wine
2 large courgettes
1 garlic clove, finely chopped
100 grams orzo pasta
25 grams grana padano cheese
sea salt and freshly ground black pepper
Instructions
1. Preheat oven to 200 C.
2. Tear off two large pieces of strong tin foil, big enough to cover the salmon and then some.
3. Place one sheet on a baking tray and curve up the edges to make a 'bowl' so that the liquid won't escape.
4. Brush the bottom of this foil bowl with 1 tbsp olive oil and place the salmon fillets on it. Place a slice or two of lemon on each salmon fillet, sprinkle over the thyme leaves, pour over the white wine and season with salt and pepper.
5. Cover with the remaining piece of foil, pinching the edges together so that the steam can't escape. Set aside.
6. Prepare courgettes by cutting them lengthwise, into strips 1/8 inch thick. A cheese slice makes short work of this. Set aside.
7. Bring a pot of salted water to the boil.
8. Bake the salmon in the preheated oven for 20 minutes.
9. Meanwhile, boil the orzo in boiling salted water for 13 minutes.
10. Heat the remaining 1 tbsp of olive oil in a large skillet.
11. Saute the finely chopped garlic for 30 seconds in the hot oil and then add the courgettes. Saute for 5-7 minutes, until the courgettes soften.
12. Drain the pasta, add the courgettes and grated grana padano cheese. Season well with salt and pepper.
13. When the salmon is cooked, transfer to a plate while you pour the juices into the pasta & courgettes.
14. Divide the orzo and courgettes between two plates and top with a fillet of foil-baked salmon.
15. Serve with the remaining lemon, cut into wedges.
Details
Prep time: Cook time: Total time: Yield: Serves 2