Breathing new life into an old set of stairs in collaboration with Wayfair.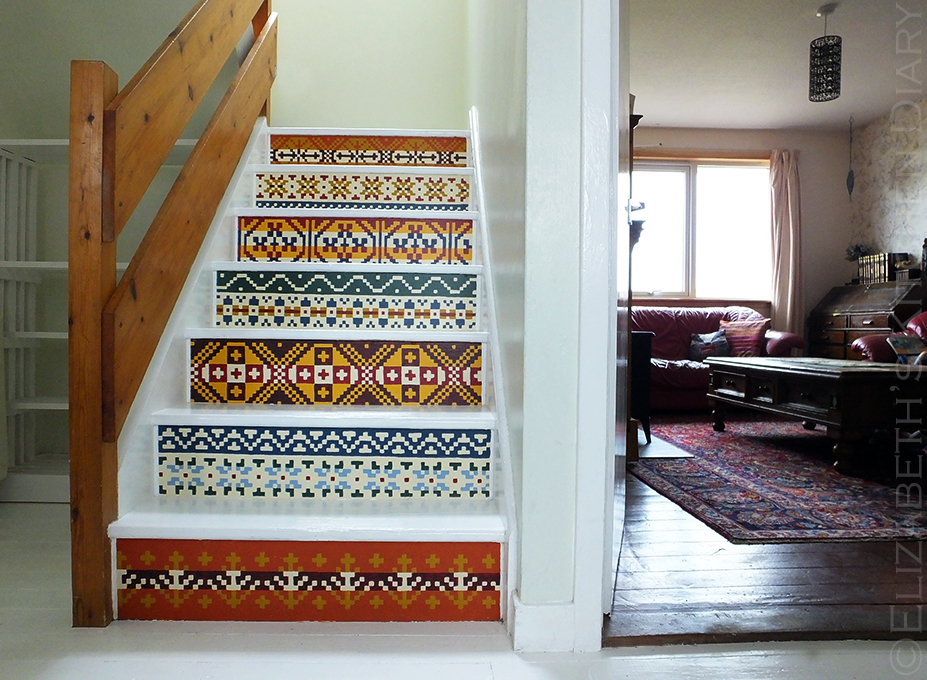 This Spring I had the pleasure of traveling the length of breadth of my Shetland Islands home for a magazine feature I was researching for 60 North, a quarterly magazine celebrating all that is Shetland.
I was on the Shetland Craft Trail, a collection of artists and craft makers around the islands. You can download the magazine, for free, from the Shetland.org website when the Autumn issue comes out (that's my name there on the front cover!), or, if you can't wait you could buy a print copy. 
While on the Shetland Craft Trail I was constantly amazed and inspired by who I met and what I saw. Visiting knitwear artist Mati Ventrillon on Fair Isle was one of the highlights of the trip. You can read all about my adventures in Fair Isle in my blog post here.
When I returned home after my traveling I realised my house was in need of major redecoration. I like to think I'm a bit of a crafty person, and my home wasn't reflecting this craftiness. Something needed to be done.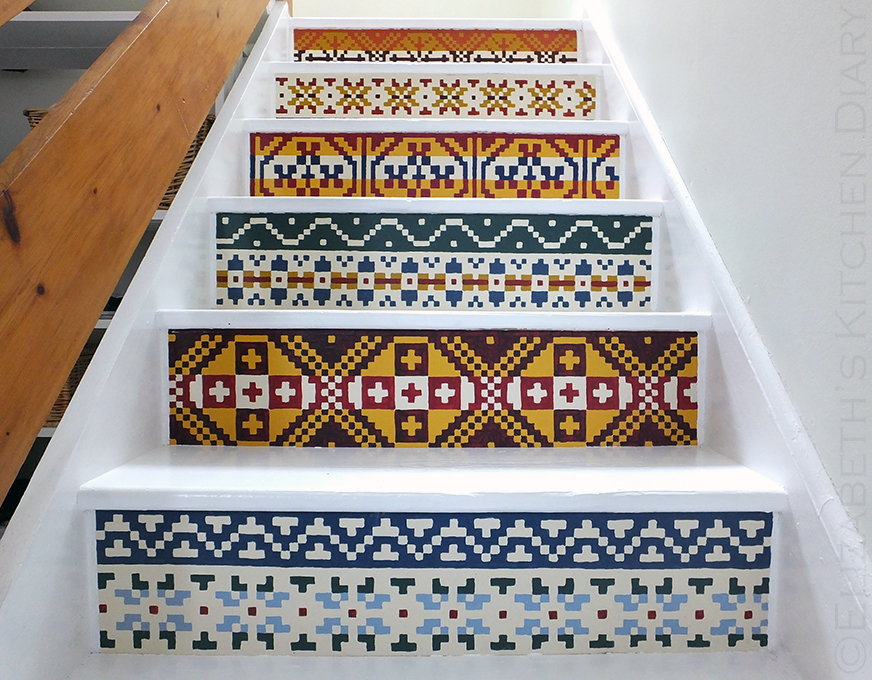 Inspired by a visit to local painter James B. Thomason while on the Craft Trail and observing his gorgeous collection of Persian carpets, I tore up my old living room carpet and found a bargain antique Persian rug off eBay. The living room walls were given a fresh coat of paint, and my husband hung a feature paper wall for me using a Navigator Neutral wallpaper by Art House.
The stairs and hallway in my house were a disgrace. Our cat, Izzy (a feral cat's protection rescue we've had since she was three weeks old!) had shredded the carpet on the bottom step, and the kids had missed the toilet one too many times when it came to seasonal spewwy bugs (how is it that they can run all the way through the house and then throw up just outside the bathroom?). The carpet had to go, but I wasn't wanting to lay down another carpet to suffer the same fate.
I stripped the stairs down, sanded, and pondered ideas.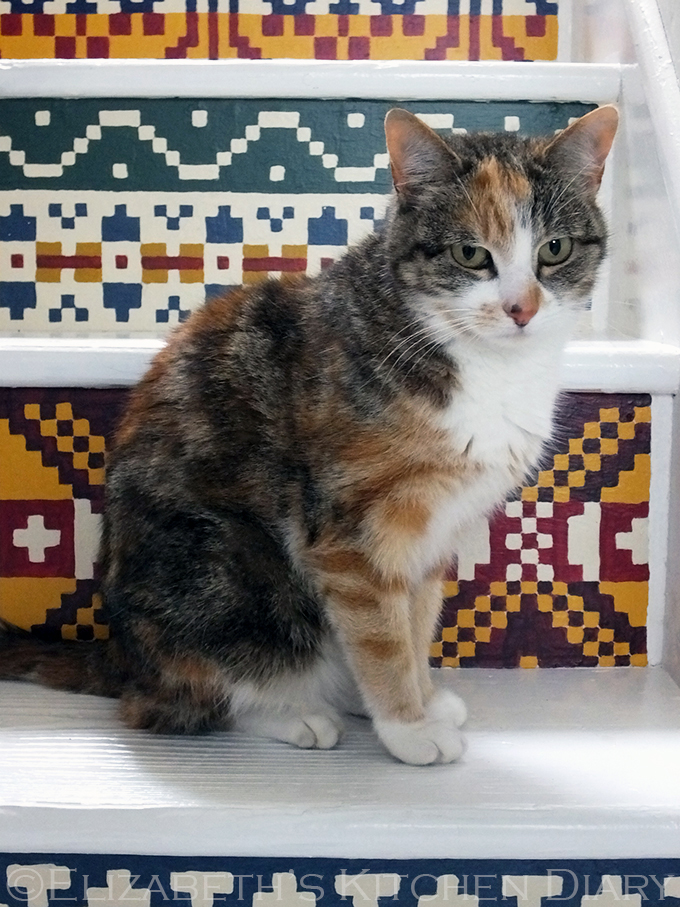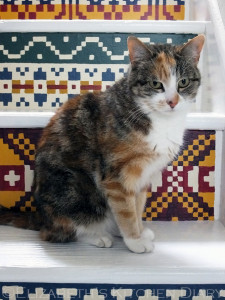 It was around this point that Wayfair, the online destination for all things home, contacted me. They really liked my ice lolly recipe. Could they use it in a round up and link back to me? Fill yer boots! said I.
They sent me the link to the summer ice lolly round up and said: "Please let me know if you might be interested in future collaborations and if there is anything I can do for you." A light bulb went on. Well – I just happened to be redecorating, and they were a homewares site. How could we make this a mutually beneficial relationship?
So the next thing I know I'm working on a DIY tutorial for the Wayfair website in exchange for credit to spend on their website. Win-win!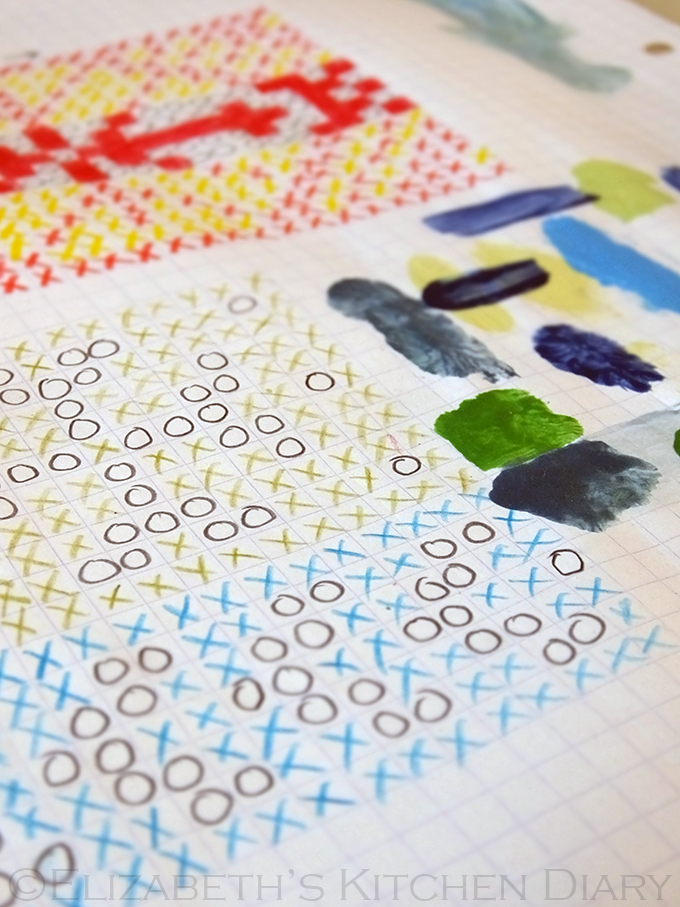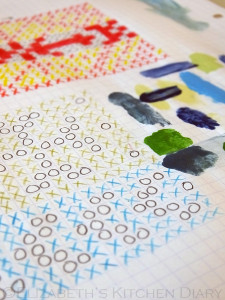 When I was a child, stencilling was all the rage. My mother loved it and many walls and floors in her house were covered in some sort of floral stencilled decoration. It was a little bit like living in a gingerbread house, but that was her thing.
I reckoned that I could apply this stencilling theory to my stairs. My initial plan was to go freestyle in a Picasso/abstract sort of fashion, but you know what – I'm not that creative. I like patterns. Organization. The idea of using Fair Isle knitwear patterns sprang to mind, so I let Mati know my idea. She loved it and sent over a file filled with images of her designs, which I sifted through and transferred to graph paper, picking out acrylic paints to match her colourwork.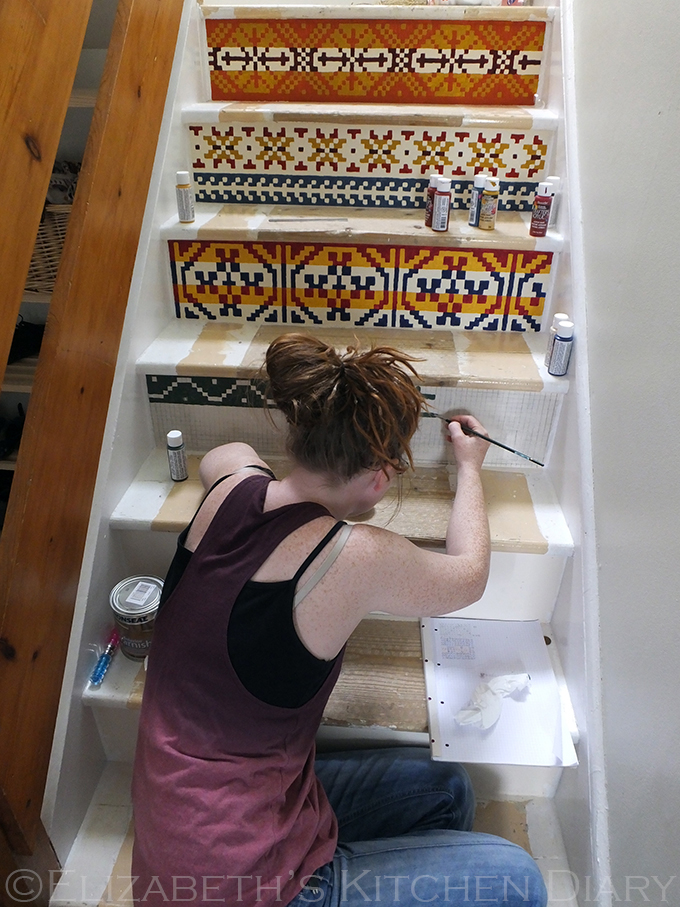 Hand painting these stairs was a time-consuming, painstaking process. I had no idea when I started how just how long it would take, but I think the effort was worth it.
It took me about a month, painting on and off. If I did nothing else I could get the first coat of one step done per day, but life doesn't really allow you to do one thing at a time, so juggling family, work and freelance commitments meant I painted when I got the chance (or I was procrastinating something else!). There was a whole lot of dead arm going on too – trying to keep my painting hand steady by balancing it on my other arm or the edge of the step meant I had to stop painting every few minutes and shake it off!
That bottom step – that was painted while lying on my stomach!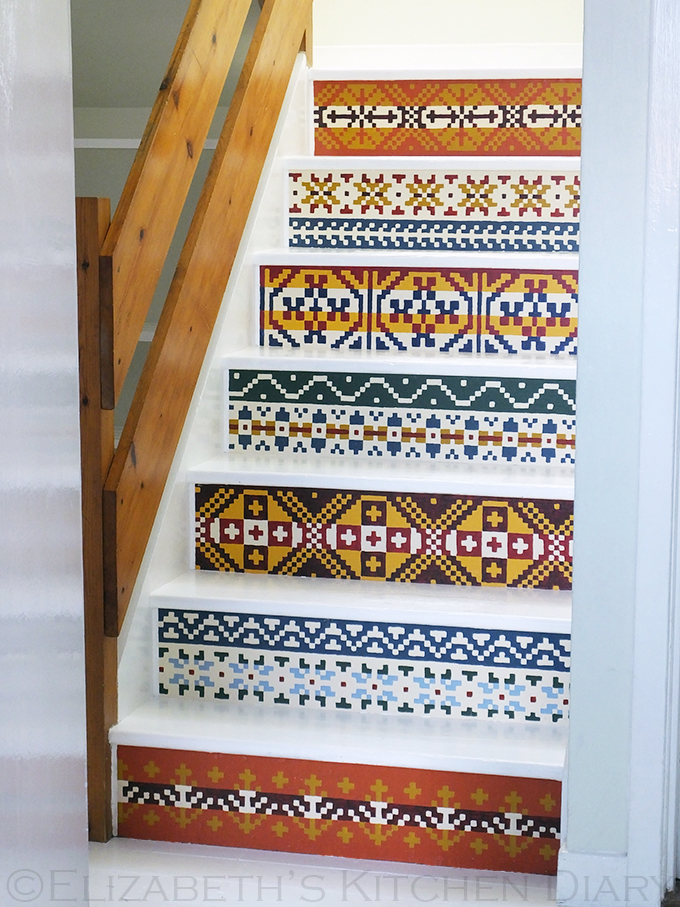 A couple of coats of matt varnish and a few licks of white floor paint later and we have a new, crafty, set of stairs! I sanded down and painted the floorboards white too and I'm looking for a hallway runner carpet to fill the area. Something like this one from Wayfair, when they get it back in stock again.
I also made a custom fitted shoe rack. There are five of us in our family – that's a lot of shoes. Our old shoe rack was broken, so I built a new one made from bits of scrap wood discarded by the builders which have been working on our house since mid-January (regular readers will remember the occasional post about them – they're still here!). I painted it with the same white gloss I've used to paint my doors and skirting boards, and it fits perfectly into the space available.
If you're in the London area and you're looking for custom fitted storage solutions like this, Urban Wardrobes provide a bespoke service. It's well worth checking out their services if you don't have a supply of discarded wood on its way to the skip to sift through yourself! Check out their Pinterest boards for inspiration!
So what did I buy with my credit on the Wayfair website? It took me a long time to settle on something as there was so much to choose from! I initially debated getting some of this gorgeous Navigator Newton Wallpaper for my living room, but it was a bit too dark for my colour scheme. I'm going to do something with the sample I was sent though as it's so lovely!
I thought about getting some wall hangings for the living room, or some cushion covers, or even one of these really nifty wooden playhouses for the kids.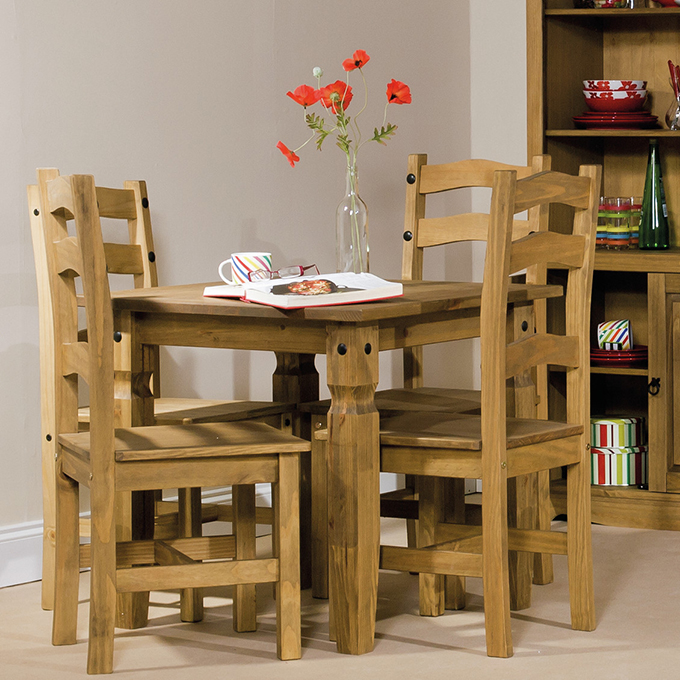 I ended up buying a set of six Corona solid pine dining room chairs because – kids and cat! Our cat had used all of the fabric coverings on our old chairs as claw sharpeners, and kids – they just trash everything, don't they.
These chairs are fantastic! They are very solid, so I don't think even the kids will be able to break them. They each took about 45 minutes to assemble as my lovely husband was very thorough and used wood glue on all the joins to reinforce them. We didn't add the optional studs on the back either, as we liked them without. They're very rustic which means the more the kids trash them the more rustic they'll look. Win-win!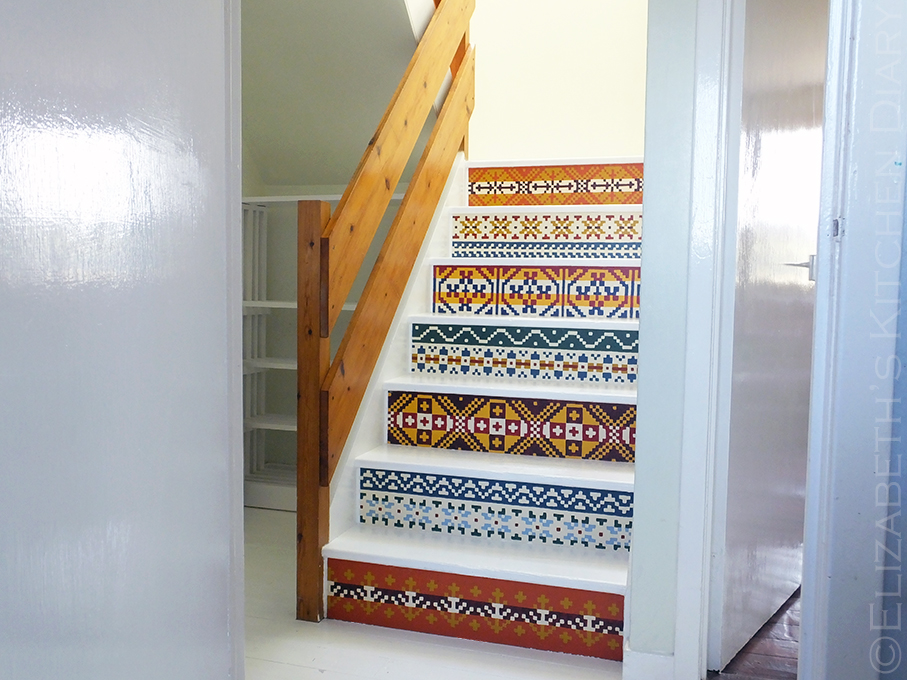 So yes, now I have new lovely chairs to match our solid wood kitchen table (kitchen is needing to be renovated too – hence no photo!), and a lovely new set of steps. These are the first thing you see when you enter our house, and they're quite the talking point!
There is another set of stairs leading to the bedrooms upstairs, and the kids and I are working on a different theme for that set. Watch this space!
For a step-by-step tutorial on how I renovated my stairs, visit the Wayfair website!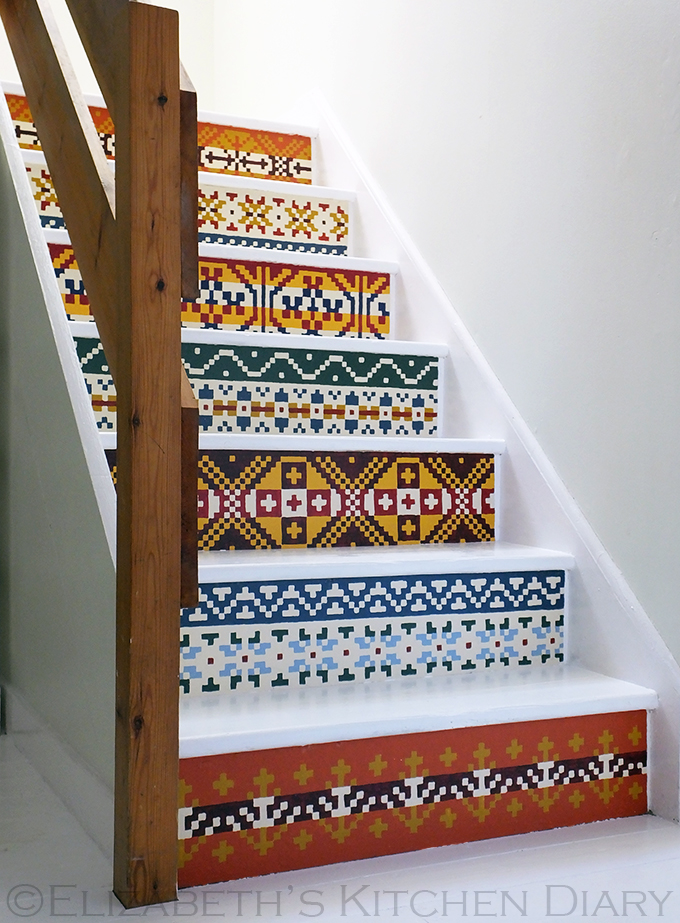 Follow Elizabeth's Kitchen Diary's board Home Decorating Ideas on Pinterest.
If you want to be kept up to date on my recipes, occasional craft tutorials, adventure stories and giveaways then please subscribe to my weekly newsletter; it gets sent out every Monday morning if there is new content. Your email address won't be passed on to anyone, you will never be spammed and you are free to unsubscribe at any time, no questions asked. Make sure you confirm your subscription or you won't receive the newsletter – if it hasn't arrived check your junk mail folder.
[wysija_form id="1″]
Elizabeth's Kitchen Diary received payment for this post from Urban Wardrobes and goods as payment in kind from Wayfair. All thoughts and opinions expressed are our own.