The Eufy BodySense Smart Scale tracks multiple aspects of your health to provide you with a holistic insight into your well-being. Simply switch on, sync via BlueTooth with your device and instantly learn 12 insightful measurements of your body's health including weight, body fat, BMI, bone mass, muscle mass, and more.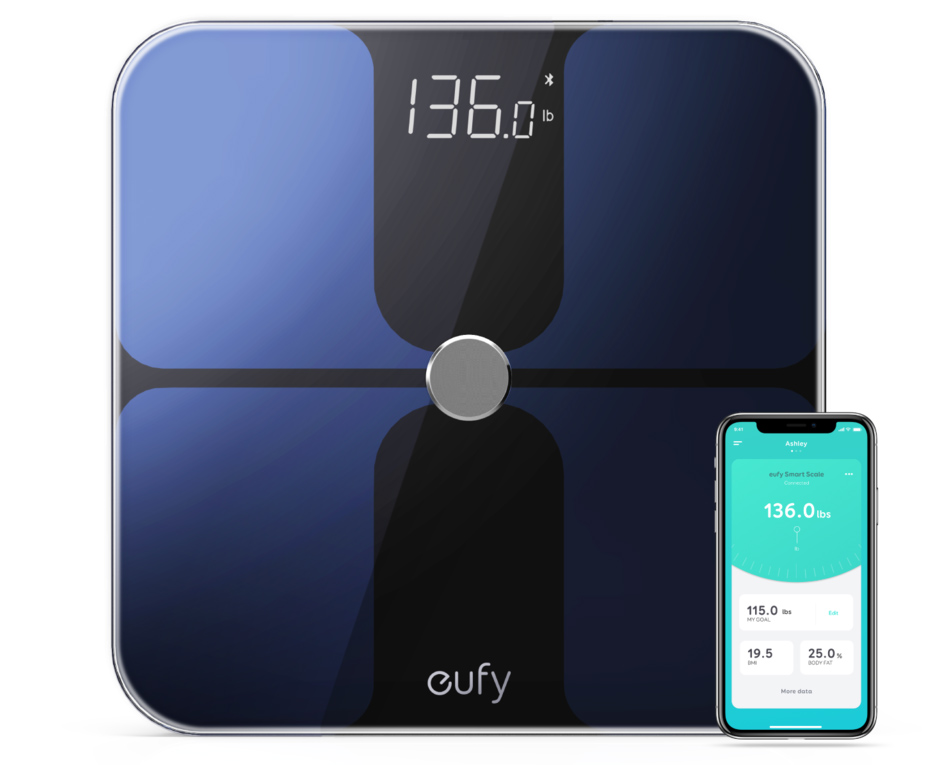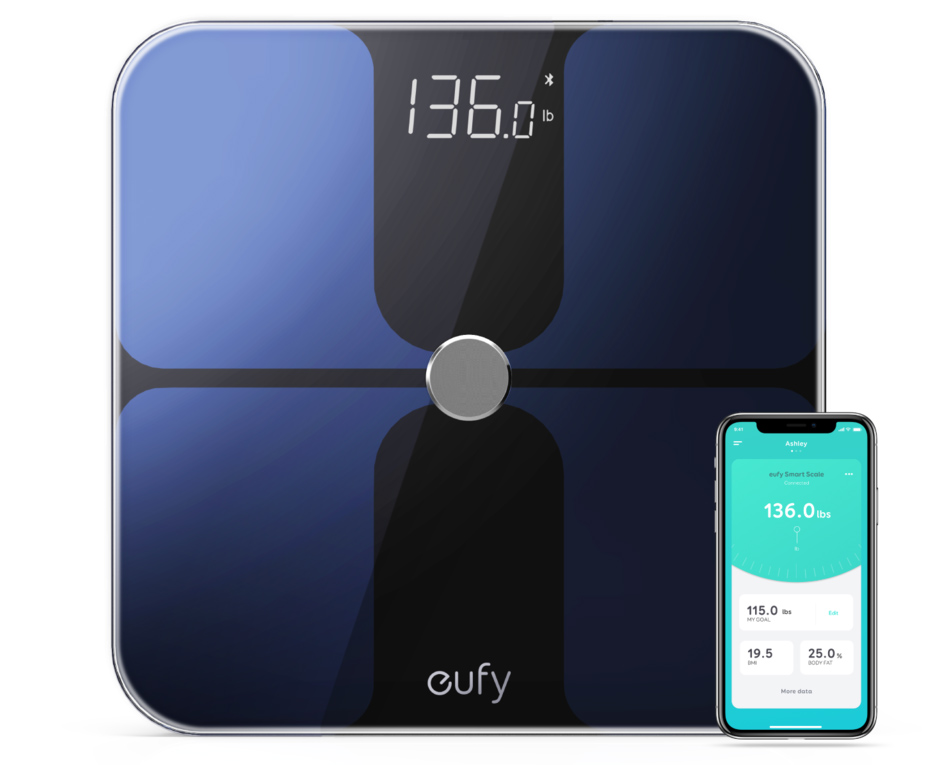 I'm so excited to be telling you about the latest addition to our smart home: the Eufy BodySense Smart Scale.
Regular readers will know that I like to look after my health & fitness, regularly embarking on various fitness challenges. It helps, when setting fitness goals, to be able to accurately measure progress, other than how well my jeans are fitting.
I confess I do like to collect data and see progress graphs reflecting my hard work (or lack thereof). I've been tracking my weight with FitBit since the 3rd of January 2015.
Now, in addition to tracking weight, I can track muscle mass and body fat, which I'm silly excited about (ok, yea, I need to get out more…).


HOW EASY IS IT TO SET UP THE EUFY SMART SCALE?
Truth be told, I'm not that techy. I haven't got the time or inclination to learn how to use new gadgets and apps, so I was really pleased with how simple it was to set up the Eufy BodySense Smart Scale. Simply unpack, pop in the batteries (included), download the free EufyLife app onto your compatible device (devices running iOS 8.0+ and Android 4.3+) and sync the scales with the device via BlueTooth 4.0.
Input your details (height, age, gender) and whether you want to see your weight in lbs, kgs or st.
That's it.
Done.
HOW TO USE THE EUFY BODYSENSE SMART SCALE
To use the Eufy BodySense Smart Scale, simply stand on it with bare feet to the left and right of the centre metallic circle. Your weight will be displayed on the Super-Clear LED Display.
Wait a few moments longer while the scales analyse your body composition, and that's it.
All your details will be sent, via BlueTooth, to your device.
OTHER FEATURES OF THE EUFY BODYSENSE SMART SCALE
Accurately measures weight from: 11lbs – 397lbs || 0st 11lbs – 28st 5lbs || 5kg – 180kg.
Two pairs of super-sensitive sensors, plus an ITO layer, ensure precise and correct measurements.
Rounded corners, an all-glass top plate, and a 1.25" super-clear display are integrated into a modern form.
Track the health trends of multiple users (the whole family!) on up to 20 accounts.
Comes with a worry-free 15-month warranty.
Available in black or white colours.
Only costs £39.99!
[amazon_link asins='B01MFAABKO,B071ZPW19Q' template='ProductCarousel' store='elizskitcdiar-21′ marketplace='UK' link_id='01bfa8aa-0ff6-11e9-af14-59a83c87948c']
WHAT WE THINK OF THE EUFY BODYSENSE SMART SCALE
I love it.
It's really stylish and lightweight, and super easy to use. I do already own another set of digital scales with the ability to read body fat levels, but I've never used that feature as it was cumbersome to set up. These scales, on the other hand, work effortlessly and send the data straight to my phone.
I've got the app synced with FitBit (and subsequently My Fitness Pal) to help me keep track of my fitness goals/progress. If you're like me and you get easily frustrated with slow progress, it can be reassuring to see that even if the weight number on the scales isn't changing as fast as you'd like it, that body composition is. I'm loving seeing my body fat percentage decrease while my muscle mass increases. It's the little things.
These scales have joined the Eufy RoboVac 11 in our Smart Home. Next, the light bulbs!
[amazon_link asins='B01M5BCRJR,B07BFP9TNH,B07DDDB34D,B07HCWVTNC,B0769G8BC2′ template='ProductCarousel' store='elizskitcdiar-21′ marketplace='UK' link_id='abe4c271-0ff9-11e9-a8c3-29ab5328b6cb']
EUFY NEW YEAR GIVEAWAY!
Eufy are offering a rather fab selection of prizes to ring in the new year!
Simply enter your email address in the Gleam widget below to take part in their giveaway; get more entries by entering and sharing links every day. The more entries you get, the greater your chances of winning a prize. Note – this giveaway is run by Eufy, and not Elizabeth's Kitchen Diary. We are simply helping to promote it.
Prizes include: 1 RoboVac 30C; 10 eufy Genie + Smart Bulb – White + Smart Plug; 10 eufy Genie + Lumos Smart Bulb – Tunable White + Smart Plug; 10 eufy Genie + Lumos Smart Bulb – White & Color + Smart Plug. Only 1 winner will receive the RoboVac 30C + 1 eufy Genie + Lumos Smart Bulb – White + Smart Plug.
[amazon_link asins='B07DDDB34D,B075FSZF98,B075J92B39,B07B8XDZ6L,B0769G8BC2,B01M5BCRJR' template='ProductCarousel' store='elizskitcdiar-21′ marketplace='UK' link_id='f7e98724-0ffd-11e9-92da-e16f2db5f441′]
Winners can only win one prize package.
This giveaway ends January 10th, 2019, and the winners will be notified by Eufy via email before January 18th, 2019.
Giveaway open to UK residents only.
Eufy reserves the right of final explanation of this promotion.
By submitting your email you agree to the eufy Privacy Policy.
This is not a paid post. Elizabeth's Kitchen Diary received a Eufy BodySense Smart Scale for review purposes, and all thoughts and opinions expressed are our own. This post contains Amazon affiliate links, which means if you click through and make any subsequent purchase within 24 hours we will earn a small commission.