You'll never need another banana bread recipe after trying this one!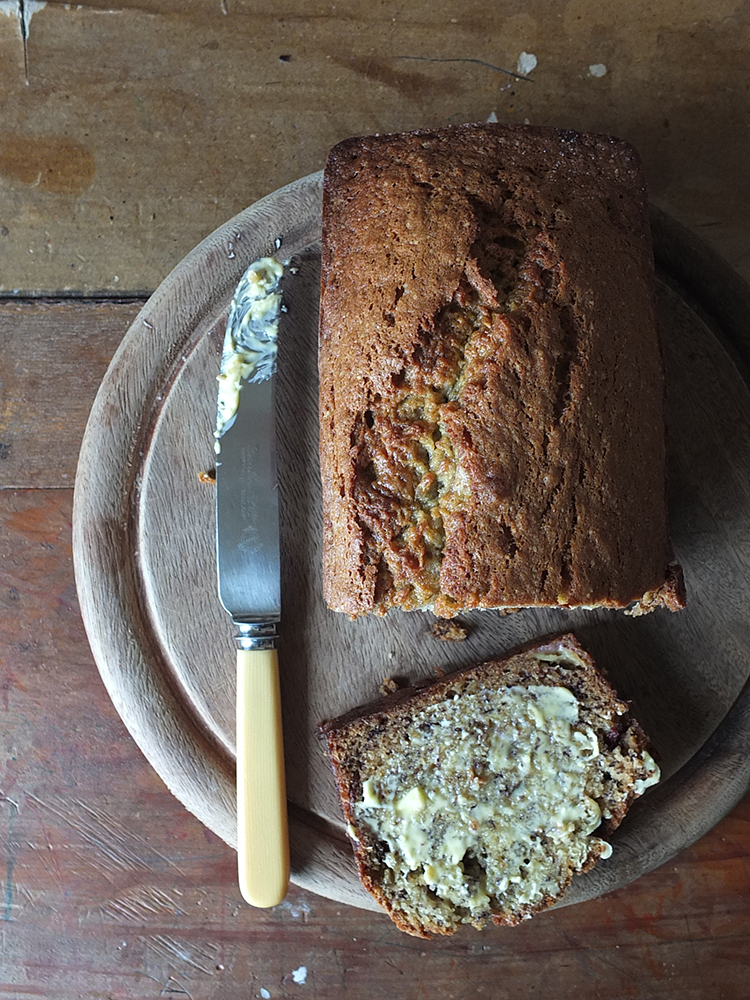 Every family has their own favourite banana bread recipe, right? This one is ours. I've been making this recipe now since my eldest was just a baby and had started on solids, and he'll be 17 on his next birthday. I'd tweaked the original recipe (I have no idea where it came from) to be a reduced sugar, reduced-fat option and it just sort of stuck.
In all honesty, I'd never had banana bread until I'd moved to the UK. For some reason, it wasn't something served in homes in rural Eastern Canada.
In fact, I don't even remember eating bananas when I was a child! Wild apples and other wild-harvested fruits, yes, but not bananas, so there were no brown spotty bananas needing to be used up.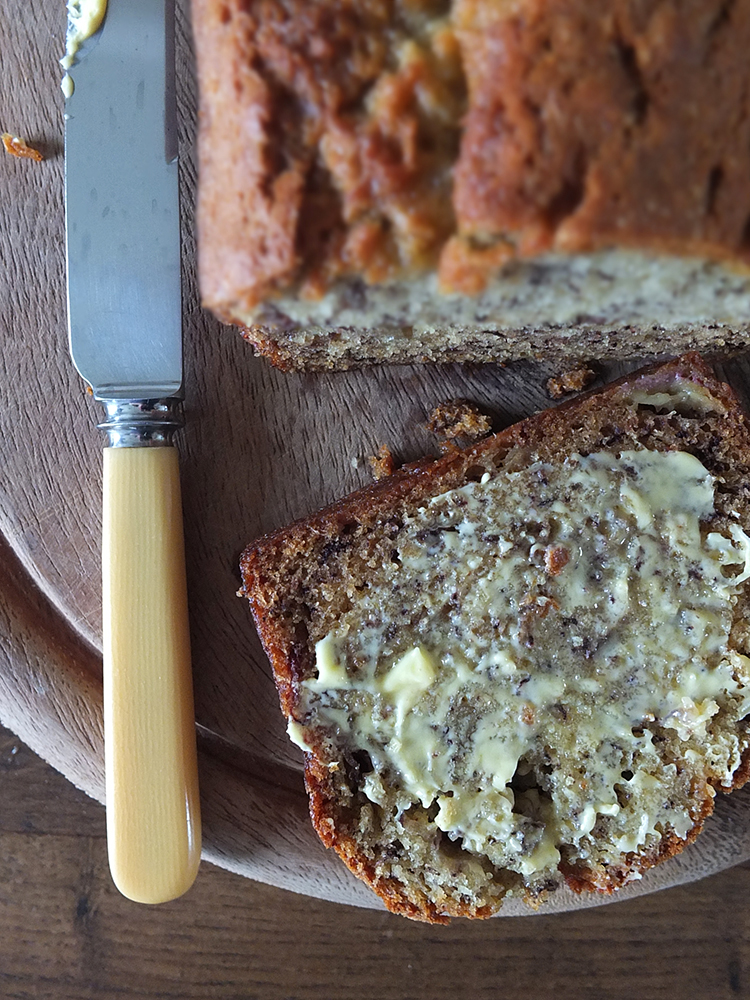 Spotty bananas make the best banana bread. In fact, if you have completely forgotten about those bananas in the fruit bowl and they turn pitch black entirely, those ones are even better.
Defrosted banana segments work too.
I've made many variations of this recipe over the years, experimenting with different fruits and nuts.
Sometimes I throw in a handful of raisins, sometimes I'll make a banana chip loaf by adding some coarsely chopped dark chocolate.
White chocolate works too.
Sometimes I'll add chopped nuts and dried apples, sometimes I'll sprinkle the top of the loaf with ground almonds before baking. It gives it a really lovely crumbly nutty topping when baked.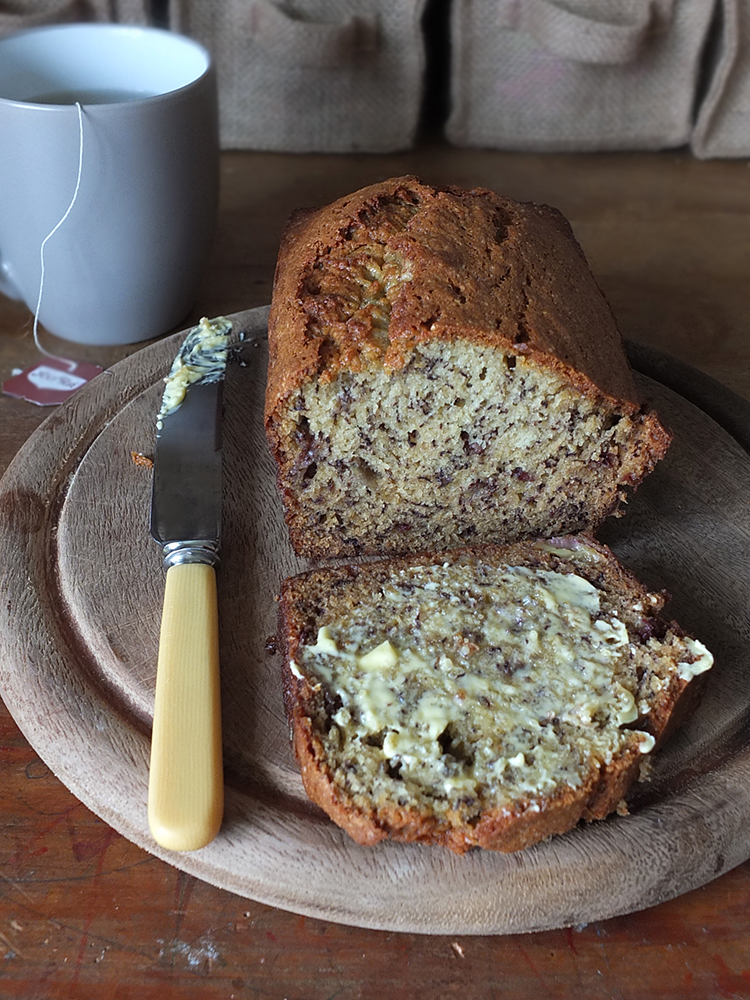 One thing I do know is that this banana bread is utterly delicious, still slightly warm, with butter and a cup of tea.
I can't believe I've been making this recipe for over 15 years now and it's not yet appeared on the blog!
My husband and I were busy working on a recipe video last week and while we were waiting for the dish we were filming to bake and so I was killing time by playing around with my camera and the light on my flip-top craft desk, taking photographs of the banana bread that had recently come out of the oven.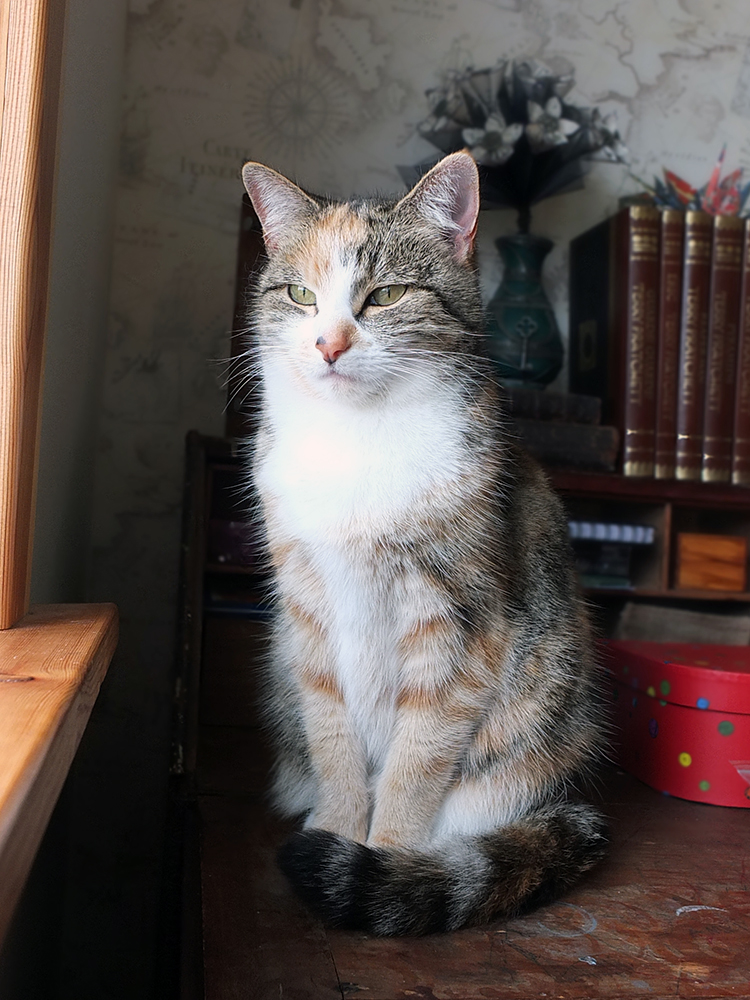 Said craft desk has recently become prime bird-watching territory by our Cat's Protection rescue cat Izzy.
I really rather like how the photographs have turned out; dark and moody. Usually, my food photographs are taken by the kitchen window where the best afternoon light comes in, but these were taken on the other side of the house. I'm definitely going to be taking more pictures there from now on.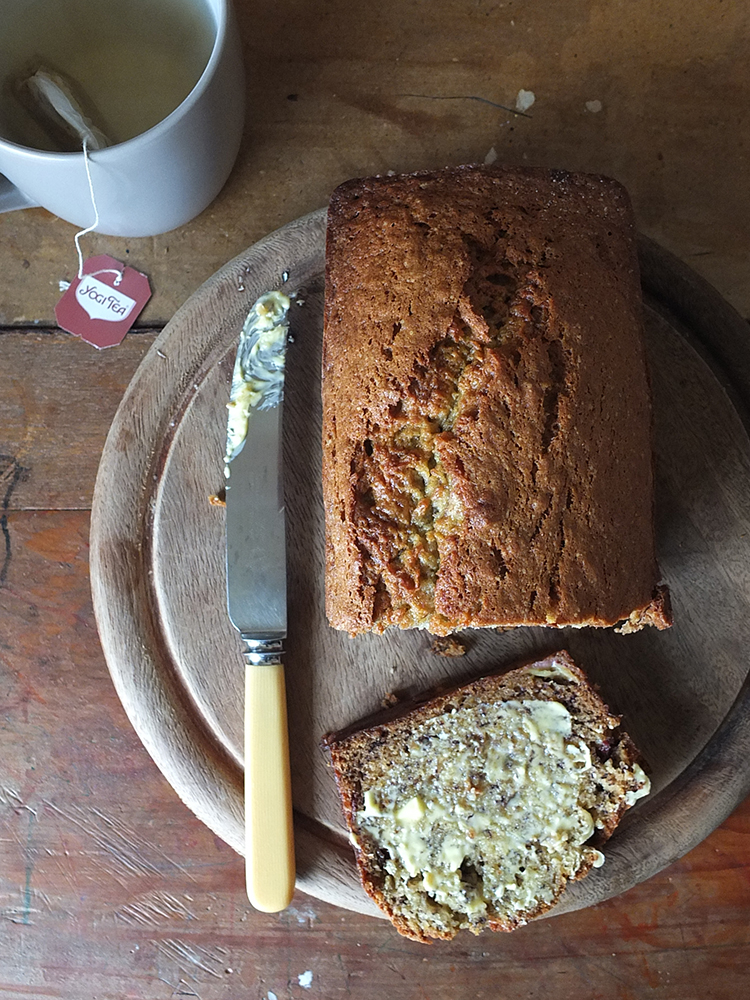 So yes, after nearly five years of blogging I am finally sharing with you our family favourite banana bread recipe.
Over the years I've tried all sorts of other recipes, but this is the one I keep coming back to time and time again. The kids love a slice or two when they come home from school ravenous.
As for using up overripe bananas, I've also been eyeing up Bintu's Akara recipe, aka banana fritters.
How do you make your banana bread? Any tips or tricks to share to use up overripe bananas? Let me know in the comments!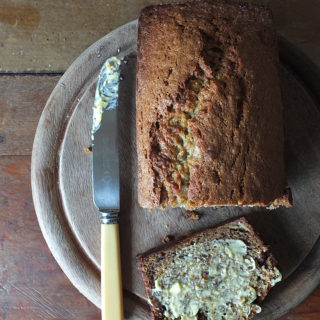 Elizabeth's Classic Banana Bread Recipe
Our family favourite banana bread recipe with several variations.
Print
Rate
Affiliate Links
This recipe card may contain affiliate ingredient and equipment links. As an Amazon Associate I earn from qualifying purchases.
Instructions
Preheat oven to a moderate heat 190 C/ 170 fan and lightly butter a bread tin. Alternatively, place paper baking cases into a 12 hole muffin tin.

Cream together the butter and sugar until light and fluffy. Add the egg and beat well.

Stir in the mashed bananas, sift over the flour and bicarbonate of soda and combine well with a wooden spoon.

If using any of the variations listed below, fold in your extra ingredients now.

Spoon into the prepared tin or paper cases and bake for 50-60 minutes (for the loaf) or 25-30 minutes for the cupcakes.

Leave to cool for 15 minutes before transferring to a wire rack to cool completely. Stores well in an airtight container for several days and it freezes well too.
Notes
Variations:
• Replace 15 grams of the plain flour with some wheat germ for some extra fibre.
• Stir in 75 grams dried fruit such as raisins, sultanas, apricots, apples, dried star fruit or even dried bananas
• Stir in 50 grams of chopped nuts (walnuts are good)
• Add a handful of cracked flax seed for extra fibre
• Make it vegan by replacing the egg with flax gel (simmer 2 cups of water with 2 tbsp flax seed for 10-20 minutes. Strain and discard the seeds. Use 1/2 cup of the gel to replace the egg in this recipe.) and replacing the butter with fruit butter (ie: Suma pear & apple spread).
• Sprinkle the top with ground hazelnuts or almonds before baking. This makes a nice crumbling topping.
• Stir in 50 grams of coarsely chopped dark chocolate.
Environmental Information
OTHER BANANA BREAD RECIPES YOU MIGHT LIKE
Banana Bread with Streusel Topping – Refined sugar free! from Family, Friends, Food
Quick Banana & Rum Soaked Raisin Bundt by Tin & Thyme
Healthy Banana Bread by Little Sunny Kitchen
Gooey Delicious Banana Cake by Kavey Eats
Coconut Banana Bread Bites by Simply.Food
Leon Hidden Banana Cake by Maison Cupcake
Banana Bread with a Sourdough Twist by Heidi Roberts Kitchen Talk
[color-box]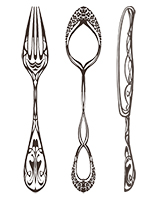 Have you made this recipe?
Take a photo and tag @tangoraindrop or use the hashtag #elizabethskitchendiary and share on Instagram and Twitter. It would make my day to see your creations!
[/color-box]