This week saw another birthday celebration in Elizabeth's Kitchen. I wanted to make something a little extra special for my significant other, seeing as how this was the first time in four years I've actually been home for his birthday. My weeks at Open University summer residential schools always seemed to coincide with his birthday, unfortunately. I could have planned it better, I suppose, but I was always really keen and wanted to register for the first week of the summer school to get it done and over with and give me more time to write up the final reports on our scientific findings.
So, since I was home I wanted to make up for past neglect and abandonment and make an extraordinary cake for an extraordinary person. After much pondering about the logistics of making a Dairy Queen-esque multilayer ice cream cake with chocolate fudge sauce and crushed biscuit crumbs I decided to postpone the ice cream cake, perhaps for my own birthday later in the year as I've always wanted a Dairy Queen ice cream cake! For my UK readers, Dairy Queen is a North American ice cream/ fast food restaurant chain who make the most awesome ice cream cakes. I settled instead on my tried and tested rich chocolate cake recipe with whipped cream and fresh cherries. Except, I first stewed the fresh cherries in brandy and sugar and left them for a few days to develop in flavour.
This is not strictly a true Black Forest cake in that it doesn't include Kirsch and it is not decorated with maraschino cherries, but it's my own improvisation using the ingredients I had on hand.
You may have noticed the unusual shape of the cake edge in the photos. I thought I would use this opportunity to play with the new 'I Heart Cake' silicone cake mould I'd been sent by the lovely people at Mustard to review.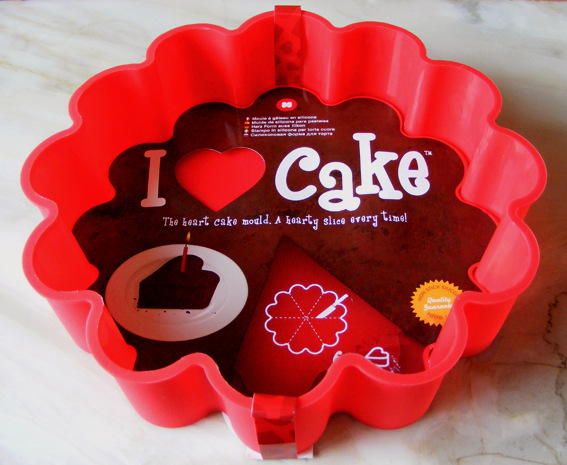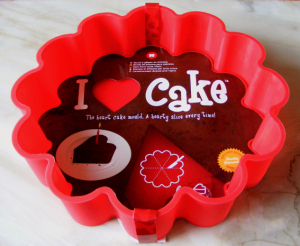 I've recently fallen in love with silicone cake moulds after amassing quite a collection of them as a gift from someone who knew I liked to bake, so when I was approached by Mustard about this mould I simply had to say yes please!
The unique shape of the cake mould means that you can cut your cake into six heart shaped slices, sharing them, should you desire, with six people you might love. The cake mould itself is quite large, nearly 10 inches in diameter, meaning that if you make a three layer cake like I did those slices are going to be hearty indeed! That is fine for those with an appetite to match but I think this mould might be more suited to a thinner cake recipe which could be served in larger sized heart-shaped slices.
I will be experimenting again, as the children were very disappointed they didn't get a heart shaped slice of Daddy's birthday cake! Also, as it is a large mould I'd recommend placing it on a baking sheet before baking, so it doesn't crack when you take it out of the oven. All in all I'm really happy with the mould and I am looking forward to playing with it further.
I have shared this recipe with Tea Time Treats, a food blogging challenge co-hosted by Karen from Lavender and Lovage and Kate from What Kate Baked. This month Karen has challenged to share our tea time treat creations made using fresh fruit. This recipe is made using fresh cherries and the chocolate cake recipe is one I often make for birthdays and celebrations, a recipe I have adapted from one found in Reader's Digest The Cook's Scrapbook (1995). It last appeared on my blog as a Halo Reach birthday cake for our teenage son.
I also shared a good portion of this cake with my fellow RNLI lifeboatmen, much to their delight, during our evening first aid training course (with permission, of course. It was a large cake and needed eating up before the cream went off). Is that a terrible thing to do with one's partner's birthday cake? I did bring home the leftovers! 🙂
I've also shared this post with the Alphabakes food blogging challenge co-hosted by Caroline of Caroline Makes and The More Than Occasional Baker. This month Caroline has challenged us to bake something involving the letter F, and this Black Forest Cake certainly fits that bill!