In collaboration with P&O Ferries.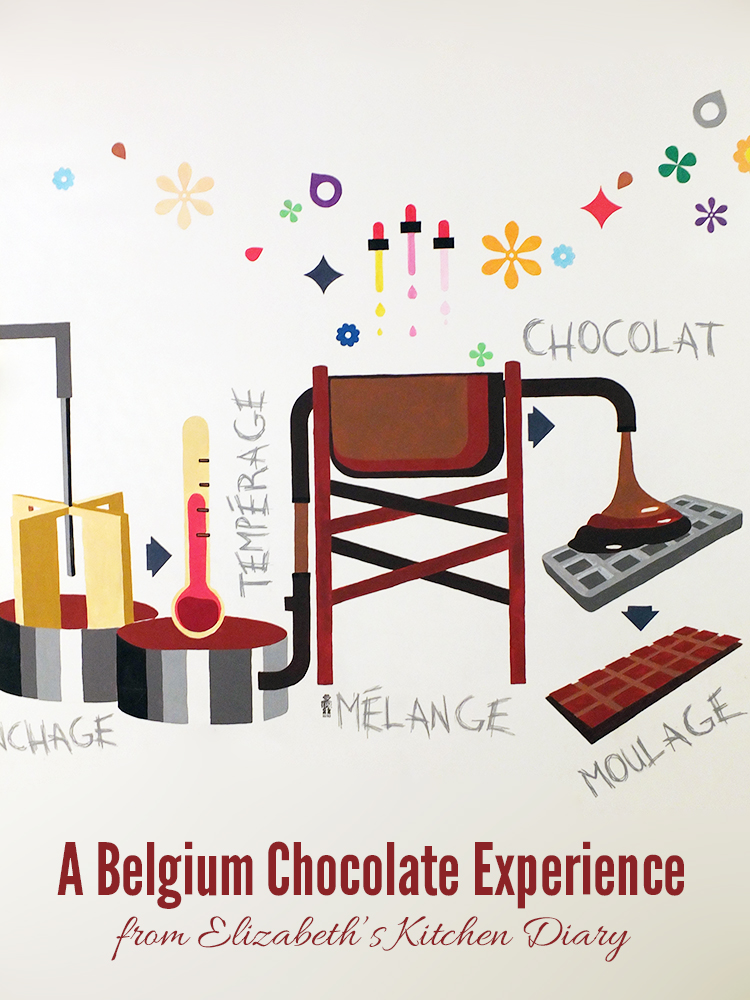 It's World Chocolate Day! The day we get to celebrate all things chocolate and wonderful, so let me take this opportunity to tell you about the Belgium Chocolate Experience we had the privilege of enjoying last week.
As a family we travelled, old school, via ferries and trains from our remote Shetland Island home south through the UK and across to the Netherlands where we caught the train to Brussels, Belgium – where the best chocolatiers in the world can be found, and where chocolate, as we now know it, was created.
Our Belgium Chocolate Experience began with a three hour long Brussels Chocolate Tour from Brussels City Tours. Our tour started at the Galeries Royales Saint-Hubert in the city centre, a stunning 19th century shopping arcade dating back to 1849 filled with the most extraordinary chocolatiers.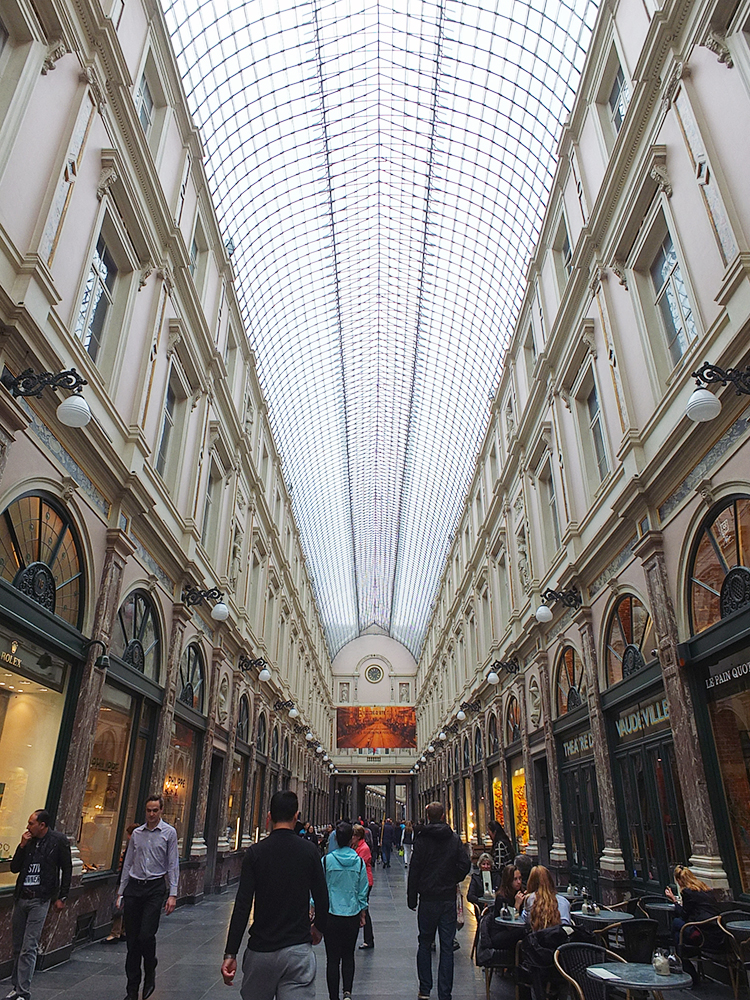 Our guide, Jasmine, was a delightful woman passionate about her city, chocolate and the Belgium royalty. She told us about the history of many of the chocolatiers in the arcade and we got to peek into the shop windows of some of the world's leading chocolatiers – Godiva, Corné Port Royal, Pierre Marcolini, Leonidas, Mary and, last but not least, Neuhaus, creators of the first praline.
In 1857 the pharmacist Jean Neuhaus used to coat medicines with chocolate to make them more palatable, and, in 1912, his son replaced the medicine with fresh cream and invented the filled chocolate confection we enjoy now.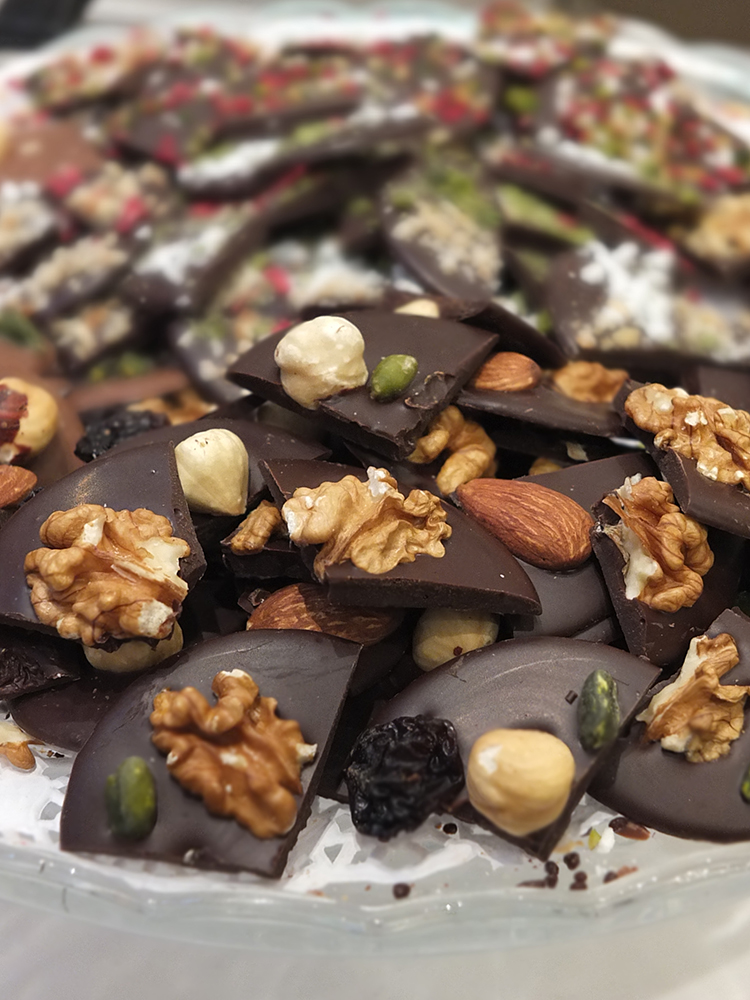 In the Neuhaus Chocolatier, with its gorgeous silky smooth chocolate mousses (we each had a taste test), shelves of ribbon wrapped boxes and rich history, the children had the opportunity to tuck in and make their own chocolates; a most enjoyable experience for everyone. The chocolates lasted all of about thirty seconds once they had been packaged up and the kids got outside with them!
After the chocolate workshop we boarded a mini bus where Jasmine showed us the beautiful Cinquantenaire Parc with its Triumphal Arch (I might have played the tourist role here taking loads of snaps through the bus window!), a drive through the European District of Brussels with its gorgeous Art Nouveau style houses and onwards to the Royal Palace (the king was in!) and Sablon Square.
This was the first time I'd ever been on a bus tour and I have to admit that it was a really great way to get the lay of the city and learn about the history of the place. While walking around the city the following day we recognised many of the places that had been pointed out.
The Brussels Chocolate Tour costs €30 per adult and €15 per child and lasts for three hours, operating from 2pm on a Tuesday, Thursday and Saturday. They offer hotel pick up/drop off too, which is rather handy!
The following morning, after a peaceful night's sleep in the Leopold Hotel, we set out again into the heart of the city centre, a short hop skip and jump away, for a visit to the Museum of Cocoa and Chocolate.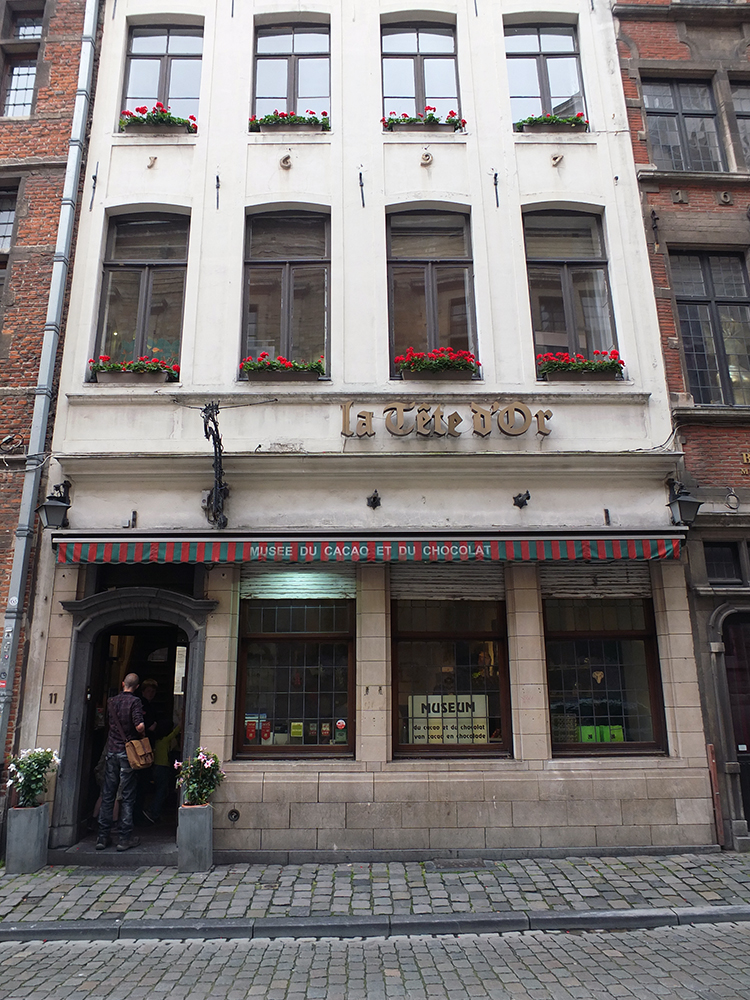 The museum spreads over three stories with a narrow wooden stairway joining them, and it covers the entire history of chocolate starting with the Olmecs, Mayans and Aztecs, the first to cultivate cocoa trees in Central and South America. Cocoa beans were used as currency then, and they were also made into a very bitter drink called 'Xocoatl'. The Aztecs believed that Quetzalcoatl, a god who appeared in the form of a feathered snake, brought the cocoa tree to earth.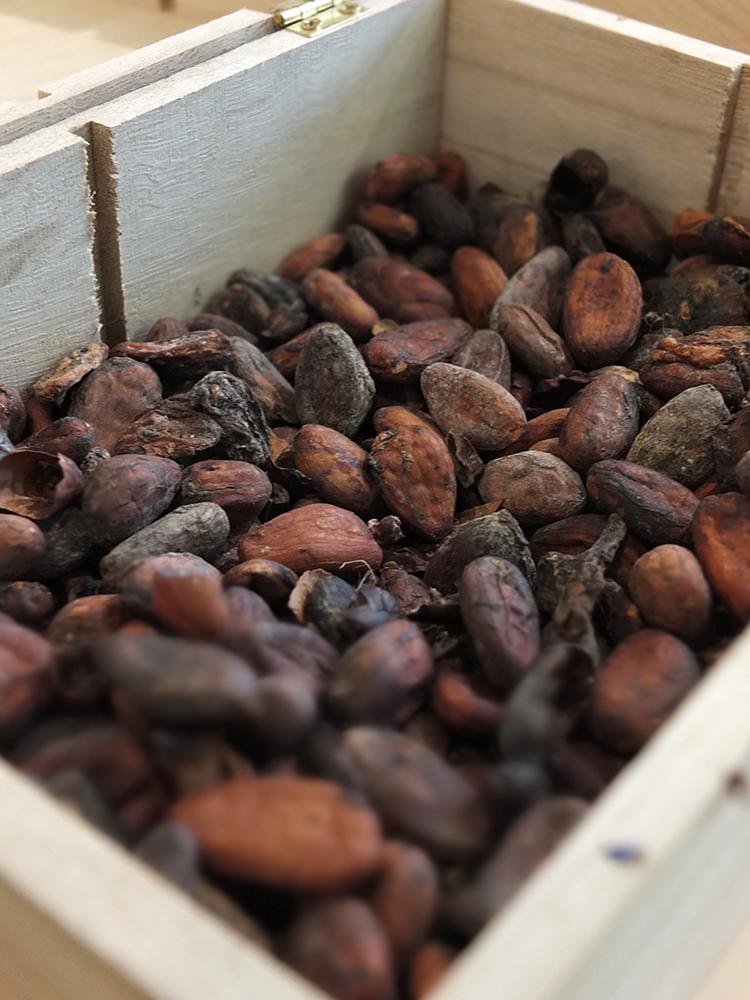 We're brought through the history of Europeans first making an appearance in South America. Christopher Columbus first discovered cocoa pods but didn't realise their importance, so they largely went unrecognized in Europe. It wasn't until 1528 when Hernando Cortez brought cocoa beans back to Spain along with the knowledge and equipment of how to make it palatable that chocolate really caught on in Europe, and we haven't looked back.
We learned how chocolate is currently made, through the process of harvesting, roasting, breaking the beans from the shells and exposing the cocoa nibs and successive grinding into cocoa mass. This mass is put through a high temperature, separating the cocoa powder from the cocoa butter, and then kneaded for hours in a conch with cocoa butter, vanilla, lecithin and sugar (and milk powder, depending on the type of chocolate) being added to make the final chocolate which will be delivered to artisan chocolatiers.
There was also much juvenile chuckling over a chocolate version of the Manneken Pis, a famous Brussels landmark.
After sampling some delicious melted Belgian chocolate poured onto a speculoos biscuit (my first ever taste of speculoos!) we were treated to a chocolate demonstration, with the chocolatier showing us how pralines are made. We got to sample some of them afterwards too, each delicous morsel better than the last.
Entry to the Museum of Cocoa and Chocolate costs €6 for an adult, and €3.50 for students. Children under six are free when accompanied by an adult. You can also hire a tour guide for an additional €60 to take you through the musuem, if you wish.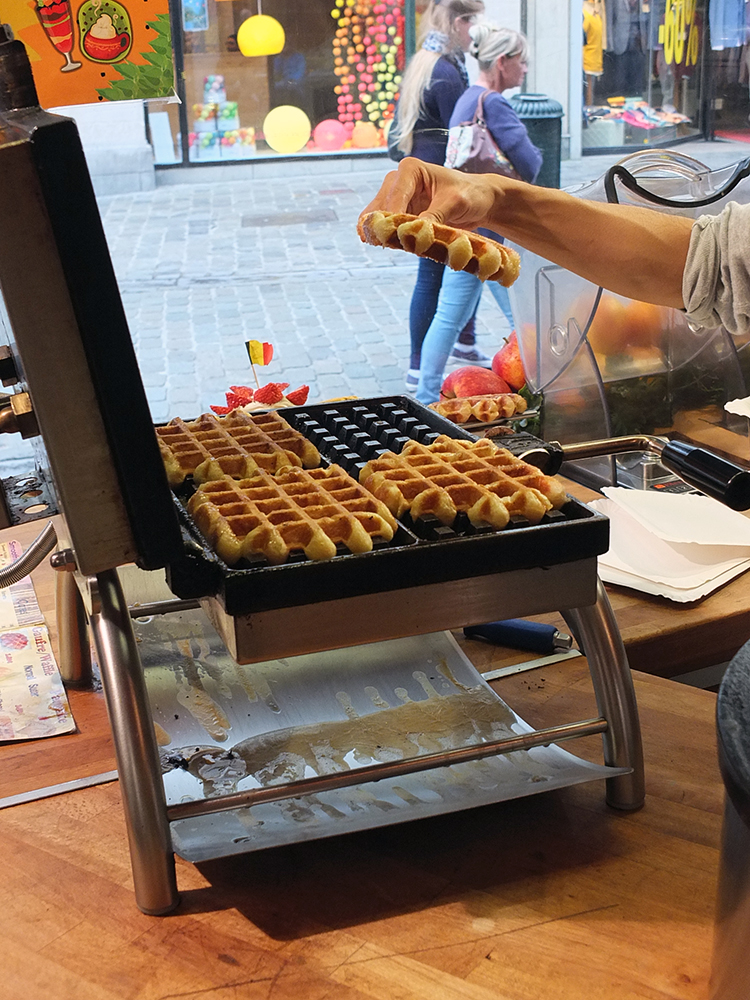 If that wasn't yet enough chocolate, we treated ourselves to Belgium waffles for lunch, topped with nutella and icing sugar and heaped with strawberries, whipped cream and chocolate sauce.
When in Belgium it's got to be done, right?
Last but not least, our most favourite stop on our Belgium Chocolate Experience: a chocolate workshop at the Zaabär Chocolatier. Here we were given a short video lecture on the origins and history of chocolate (things the children had learned that morning at the Museum of Cocoa and Chocolate and they did us proud by answering all of the questions correctly and even coming up with their own geniune questions).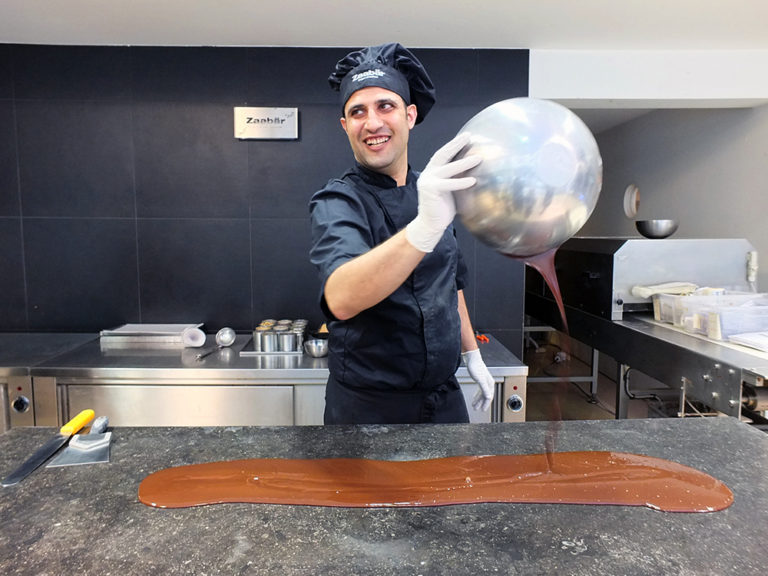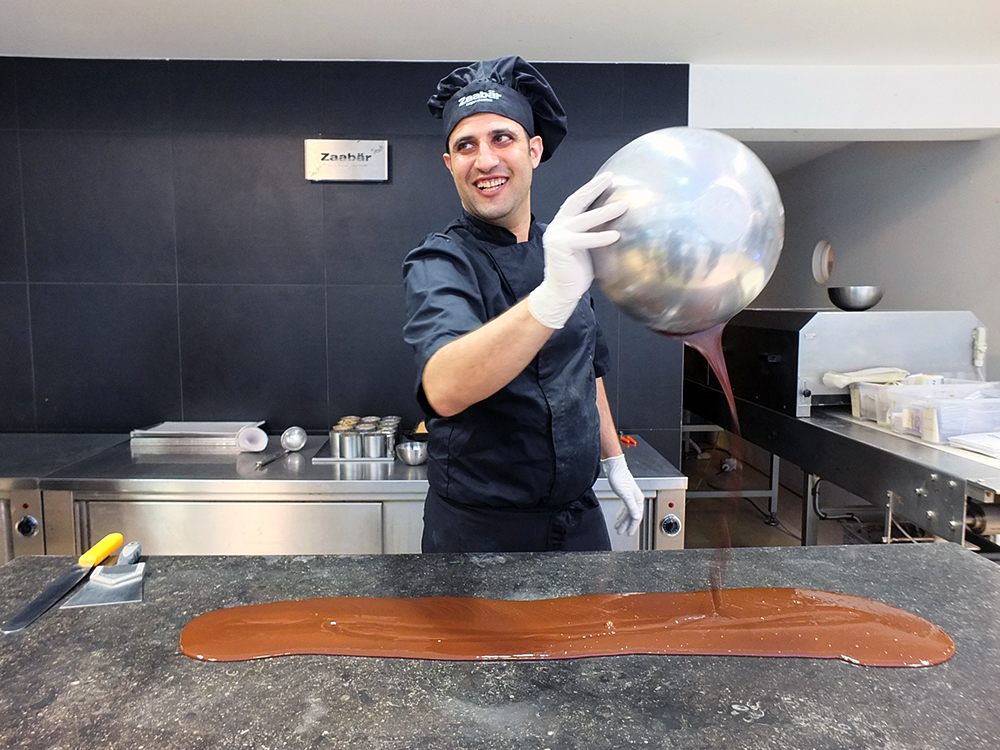 We learned about the tempering process and how chocolate must be heated and cooled to a specific temperature in order to develop the shine and texture we are used to (28°C for white chocolate, 30°C for milk chocolate and between 31-32°C for dark chocolate). As the temperature of the human body is around 37°C, warmer than the chocolate needs to be, the traditional way to tell if the chocolate is at the right temperature is to test it on your lip. Hot liquid chocolate is first poured onto a marble slab and worked with a paddle to cool it down to the right temperature and then it's ready to be made into chocolates and pralines.
We then donned aprons and hair nets and had the opportunity to create our own chocolate bars with spices (I chose pink peppercorn and cinnamon), mendiants (bites of chocolate sprinkled with nuts and dried fruits) and spiced truffles.
Our youngest has a particular fondness for white chocolate, and not the dark chocolate that the chocolatier had prepared for us, and he had no qualms about expressing said desire. He must have impressed the chocolatier with his chocolate knowledge as our guide said he had never seen the chocolatier prepare another variety of chocolate separately for someone before. Our youngest was most pleased and he went on to create some really fantastic chocolates.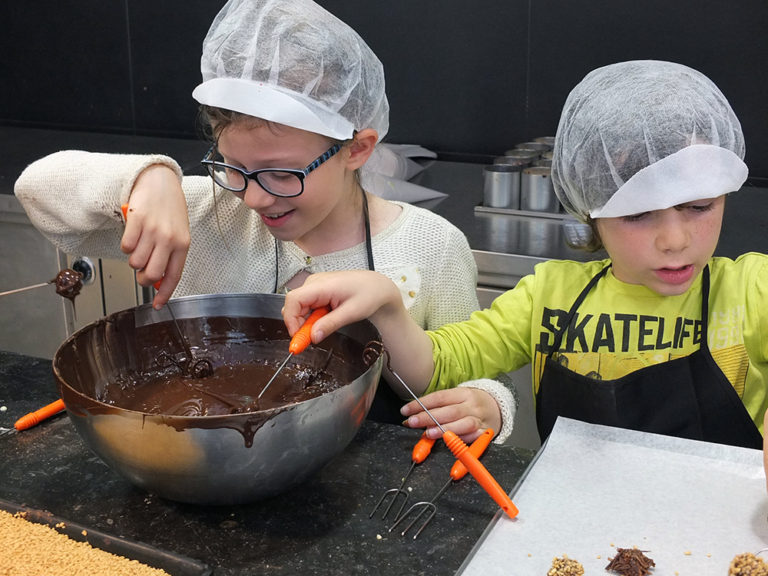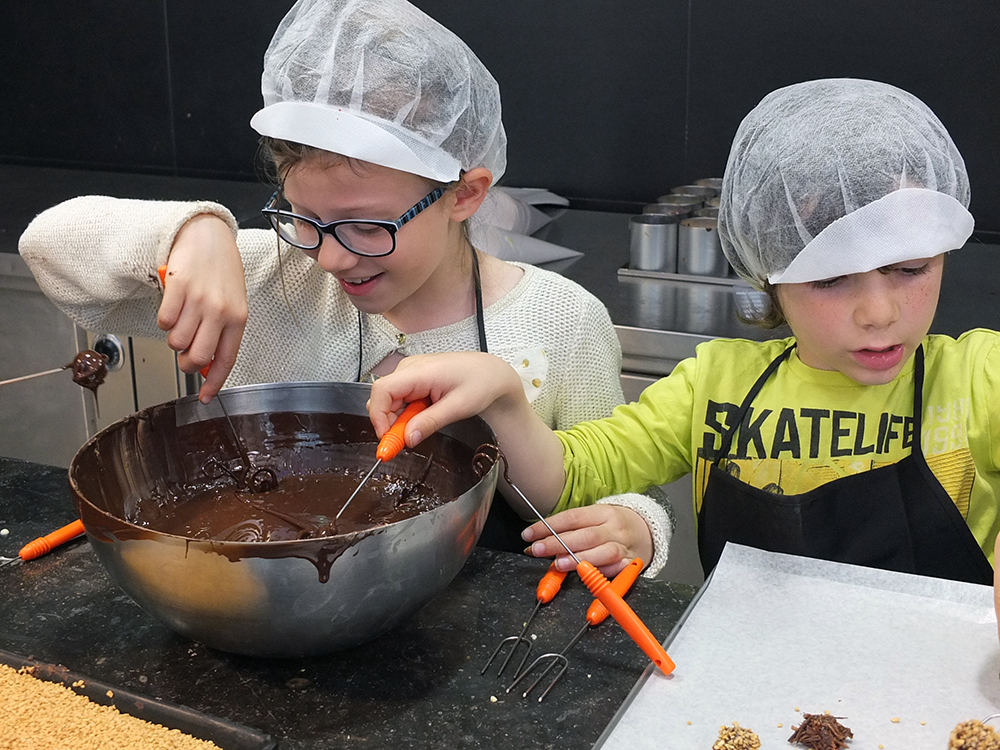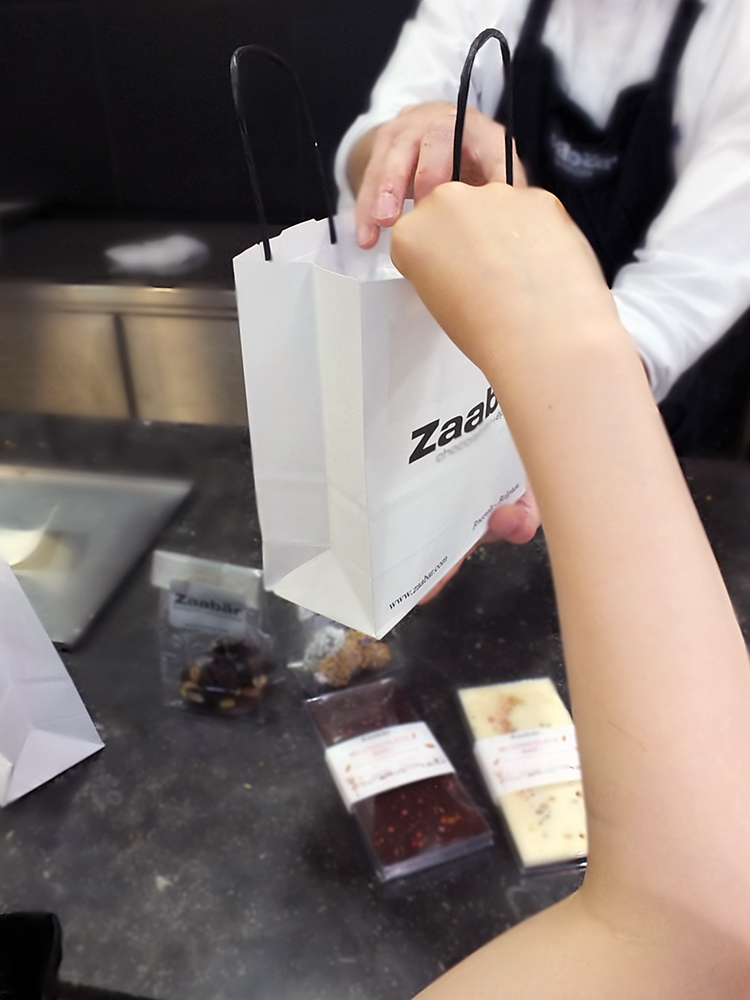 We got to keep our chocolate creations, as well as our aprons (it's now my home kitchen apron of choice!), and we left with chocolate smiles upon our faces.
Public chocolate workshops at the Zaabär Chocolatier cost €25 per person for groups up to 10 and these are run on a Saturday afternoon at 2:30pm. This is a definite must-do for any chocolate lover visiting Brussels.
We barely scratched the surface of all the chocolate related activities there are to do in Brussels and places you can go for taste testings and to buy Belgian chocolate. If you ever visit the city do seek them out – it's well worth it!
Have you ever been to Brussels? What are your chocolate recommendations? Let me know in the comments below!
We are incredibly indebted to P&O Ferries who sponsored us for this Brussels Chocolate Experience family holiday of a lifetime. We travelled from Hull to Europoort on the P&O ferry Pride of Hull, and a blog post describing this fantastic trip will appear on the blog very soon. Although this trip was sponsored by P&O all thoughts and opinions expressed are our own. For more things to do while visiting Brussels visit the P&O Ferries travel guide.