The August 2015 #NoWasteFoodChallenge Round Up!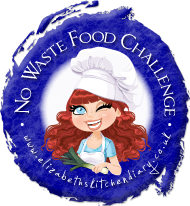 Did you know that more than 15 million tonnes of food is wasted in UK homes every year, most of which is still perfectly edible?
In the No Waste Food Challenge food bloggers from around the world are asked to share their recipes where they help prevent food waste, using up that last little bit of cream, how to rescue seized chocolate, what to do with those bits and bobs left lurking in the bottom of the fridge or in the back of the cupboard.
I am constantly inspired by the variety of recipes which appear in this round up each month, you guys are all awesome!
A great big thank you to everyone who linked up last month. Guest hosts will be taking over this challenge for the rest of the year, and this month Claire over at Foodie Quine is holding down the fort! You can find the current challenge HERE.
1. 
Stuffed Jacket Potatoes
by Onions & Paper
2. 
Jamaican Spiced Plantain and Tofu Skewers
by The Taste Space
3. 
Omelettey Frittataey THING
by Onions & Paper
4. 
Tips on Using Leftover Food
by Fun as a Gran
5. 
Raspberryade Ice Pops
by Coffee & Vanilla
6. 
White Currant Jam-Jelly
by Farmersgirl Kitchen
7. Lemonade Scones by Allotment 2 Kitchen
8. Potato Gnocchi by Mint Custard
9. Nutella Chocolate Milkshake Bundt Cake by I'd Much Rather Bake Than…
10. Freekeh Tabouleh by Samphire & Chardonnay
11. Easy Roasted Celeriac Soup by Fab Food 4 All
12. Chocolate and Pear Tart by Lancashire Food
13. Chorizo and Cheese Lunchtime Tartlets by Stephanie Jane
14. Courgette and Ginger Jam by Tales from the Kitchen Shed
15. Cauliflower Leaf and Sweet Potato Curry by Veggie Desserts
16. A Rather Virtuous & Moreish Vegan Banana Cake by Le Tout Coeur Limosin
17. Spiced Blackberry Pulled Pork by Le Tout Coeur Limosin
18. Bacon, Blue Cheese & Polenta Muffins by The More Than Occasional Baker
19. Cherry Almond Crumble Cake by Elizabeth's Kitchen Diary
20. Courgette Brownies from Tales from the Kitchen Shed
21. Healthy Chocolate Raspberry Fudgsicles by Kellie's Food to Glow
22. Blueberry & White Chocolate Mini Muffins by Baking in Franglais
23. Lemon Meringue Roulade by The Gluten Free Alchemist
24. Roasted Tomato Passata by Eco-Gites of Lenault
25. Zucchini and Orange Marmalade Muffins with Cranberry and Pecans by The More Than Occasional Baker
26. Blackcurrant Vinegar by Tin & Thyme
27. Caribbean Sweet Potato – Coconut Milk Oat Slice by Allotment 2 Kitchen
28. Baked Greek Feta with Barbecued Red Pepper, Tomatoes & Mountain Oregano by The Gluten Free Alchemist
29. Vegan Banana French Toast by Green Gourmet Giraffe
30. Dark Chocolate Nutella Truffles – How to Rescue Seized Chocolate by I'd Much Rather Bake Than…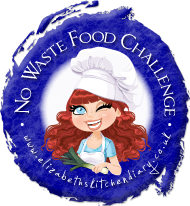 Follow Elizabeth's Kitchen Diary's board No Waste Food Challenge on Pinterest.


If you want to be kept up to date on my recipes, occasional craft tutorials, adventure stories and giveaways then please subscribe to my weekly newsletter; it gets sent out every Monday morning if there is new content. Your email address won't be passed on to anyone, you will never be spammed and you are free to unsubscribe at any time, no questions asked. Make sure you confirm your subscription or you won't receive the newsletter – if it hasn't arrived check your junk mail folder.
[wysija_form id="1″]