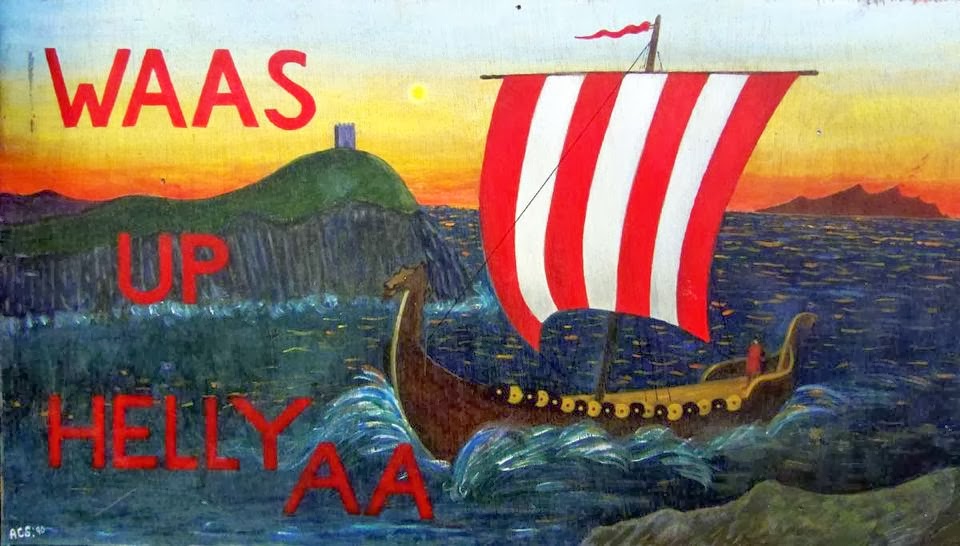 Up Helly Aa is an annual fire festival celebrated here in Shetland, marking the end of the Yule season and the return of the light after the long, dark winter. The main festival is held in Lerwick, the island's capital, on the last Tuesday of January every year, but there are smaller Up Helly Aa celebrations held throughout the islands. Each celebration is led by a Jarl Squad, dressed in full Viking splendour, who spend the day marching and visiting before leading a torch lit procession through the streets. A replica galley is part of this procession and the march ends with the burning of the galley.
One of the smaller, junior, Up Helly Aa celebrations is held in Walls (pronounced Waas), a village on the west side of Shetland, but this Up Helly Aa is a Shetland fire festival with a difference. You won't find burly bearded men leading this celebration, as each year the squads alternate between the local Scouts and Girl Guides with no member older than 14 years old. This year it was the girls' turn to shine, and oh my they certainly did!

Donning wooden spears and painted shields the Guizer Jarl, Marissa Henry (age 8), led her squad of Burland Bruizers through the festivities of the evening, singing and dancing and entertaining the packed venues at the village hall and kirk. Other squads put on shows too, in true Up Helly Aa fashion, with visiting acts from other local Scouts and Guides chapters. We were treated to a song by the Northmavine Jarl Squad and there was plenty of dancing through the night to live music.
Unfortunately the burning of the galley was postponed due to inclement weather. Sleety hail showers coupled with high winds made for a very painful sky, so I will update this post with photos once the burning itself has occurred. In the meantime, you can view a taster of the hall events in the video below!
The Jamieson's wool mill in Sandness, on the west side of Shetland, grade, scour and dye their fleece before colour blending, carding, spinning, twisting and balling to produce their 100% pure Shetland yarn. This is then woven on their premises into an extensive range of genuine Shetland Tweeds and blankets. Their high quality product is in demand, worldwide, so imagine my delight when I was told I could do whatever I wanted with the leftover scraps from making the cloaks!As a parent of one of the junior Jarl Squad members with a sewing machine I was asked if I could make the Viking cloaks. I happily agreed; I'm all for a challenge, me! 9.5 metres of the finest Jamieson's 100% Shetland wool fabric was delivered to my house and I set to work: one cloak in red Shetland wool for the 8 year old Guizer Jarl herself and nineteen blue cloaks for her Burland Bruizer squad members, all fastened with a vintage pewter effect clasp.
With the scraps I made a small pillow as a memento for the Guizer Jarl herself (pictured in the bottom centre, below), a solid red Shetland wool pillow for raffling in the hall during the Up Helly Aa celebrations, two blue pillows with red heart appliqué motifs and two sets of bunting, one to be raffled and the other…. to be won, along with the two large blue Shetland wool pillows by one of my lucky readers!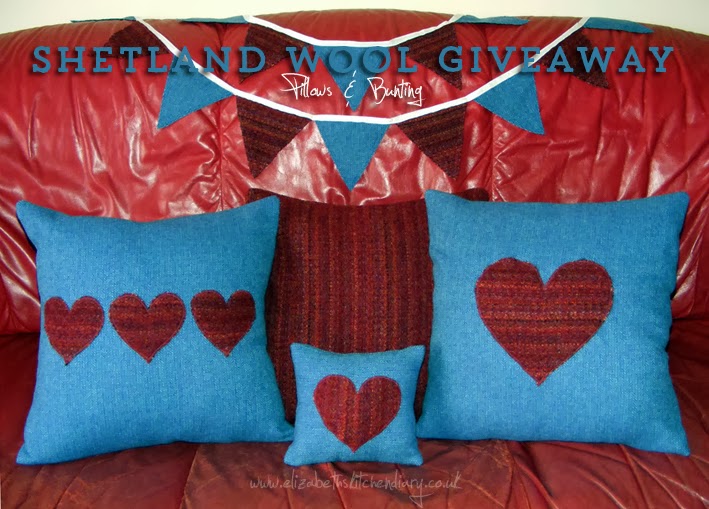 How to Enter
For your chance to win the two large handmade blue heart motif pillows (pictured left and right above) and one set of handmade ten flag bunting enter using the Rafflecopter below. Come back and tweet about the Giveaway every day for more chances to win!
Cat allergy sufferers: Please note that these items were made in a cat loving environment, and although every care was taken to keep Izzy off the ironing board while I was sewing I cannot guarantee she didn't have a little nosy while I wasn't looking.
Terms & Conditions
This giveaway is open to worldwide entries. Entrants must be age 18 or over. Winners will need to respond with their choice of prize within 72 hours of being contacted. Failure to do this may result in another winner being selected.
The prize is offered and provided by Elizabeth's Kitchen Diary. The prize is the two 100% Shetland wool pillows with heart appliqués, pictured above, and one set of bunting. There is no cash alternative and the prize is not transferable.
If you need some help using Rafflecopter, here's a quick clip to show you how. Rafflecopter will pick the winner at random from the entries received. I will be verifying entries and any automated entries will be disqualified.
Closing date is midnight on Sunday 13 April 2014 and the winner will be announced that day.
a Rafflecopter giveaway

As our shy daughter was such a star as one of the Burland Bruizers participating with great cheer in her first ever Up Helly Aa I am linking up with Ethan's Escapades and her Small Steps Amazing Achievements linky, the Magic Moments linky over at Oliver's Madhouse and the BritMums My Best Post of the Week.