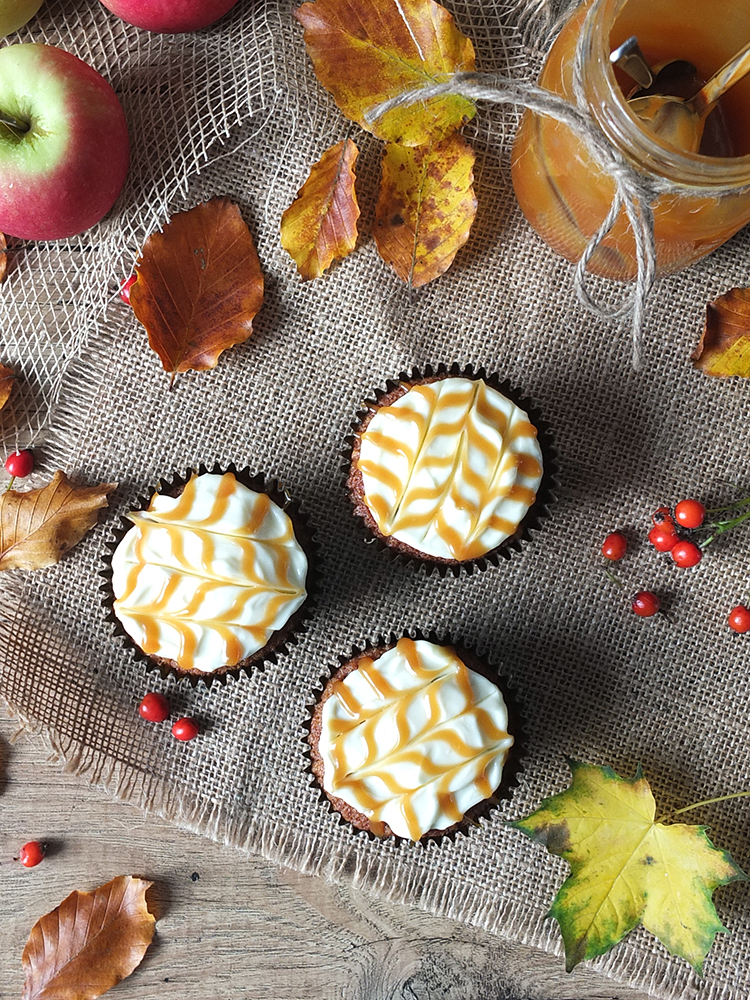 These cupcakes came into existence because my husband buys too many pears.
I'm pretty sure no one eats pears in our house, and there's been a bag of pears lurking in the fridge for well over a month now and lo, a few days ago yet another bag of fresh pears somehow appeared in the fridge!
In a bid to use up ingredients I spent the day pottering about the kitchen preparing a nice meal for the family, thoroughly enjoying myself and having a day off from deadlines. I slow roasted a wedge of organic pumpkin from my veg box and mixed the puree with the last of the Grana Padano, some chopped fresh sage, an egg yolk, smoked sea salt, freshly ground black pepper and some freshly made breadcrumbs from the heels of the loaf made the day before to make a home made ravioli filling.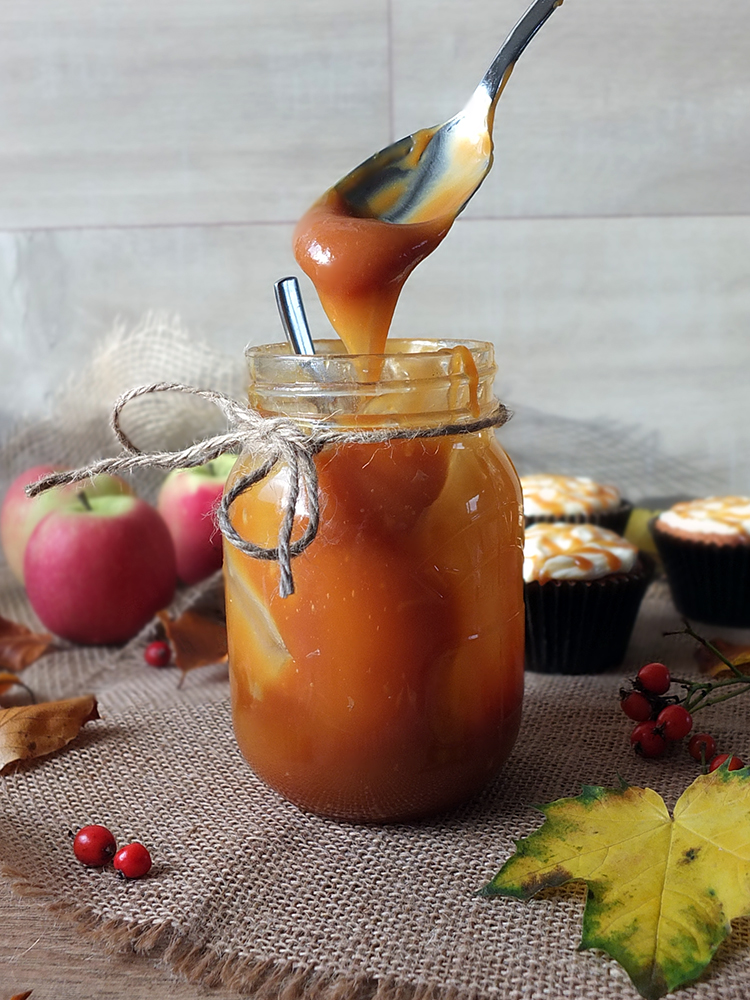 The cooked ravioli was drizzled with a white truffle infused olive oil and sprinkled with fried sage; something simple. A loaf of home made rosemary and smoked sea salt focaccia was made to accompany, and for afters I defrosted a packed of puff pastry that had been sitting in the freezer for way too long.
The still firm pears were sauteed in butter and cinnamon and arranged over the centre of the puff pastry. The edges of the pastry were brushed with beaten egg and sprinkled with demerara sugar before baking: my first ever pear galette.
To finish –  a salted caramel sauce (pictured above) and a scoop of vanilla ice cream; a rather lovely pudding for a dreary day Shetland winter's evening.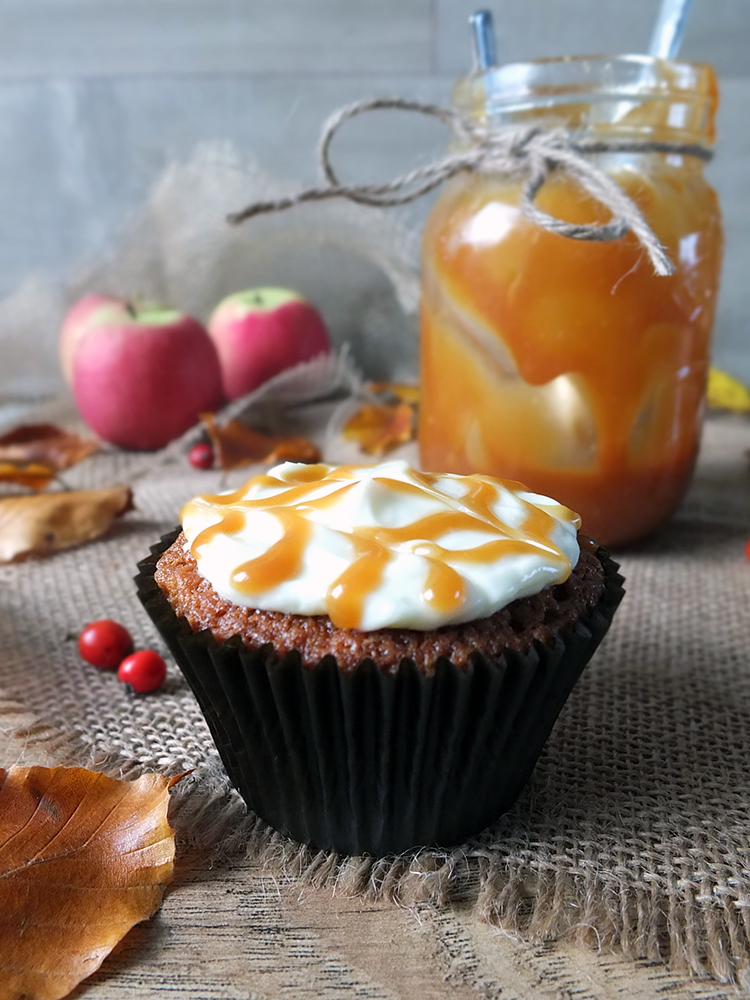 So this morning there was most of a jar of salted caramel sauce staring at me in the fridge saying, "Please, just eat me with a spoon. You know you want to. Go on!"
Something had to be done.
Cake had to be made just to showcase this gorgeous salted caramel.
While I waited for the cinnamon scented apple cakes to cool I took a walk in a nearby wooded area. I've just adopted two geocaches there and I wanted to collect them before the woods close for the season. The caches are currently disabled and will reappear fresh and new in the Spring.
While walking through the autumn trees I collected some fallen leaves for blog photo props, just in case my experimental cake recipe turned out.
It did!
I'd just finished frosting the last one when my husband came home from work. He ate three of these beauties in quick succession for his lunch.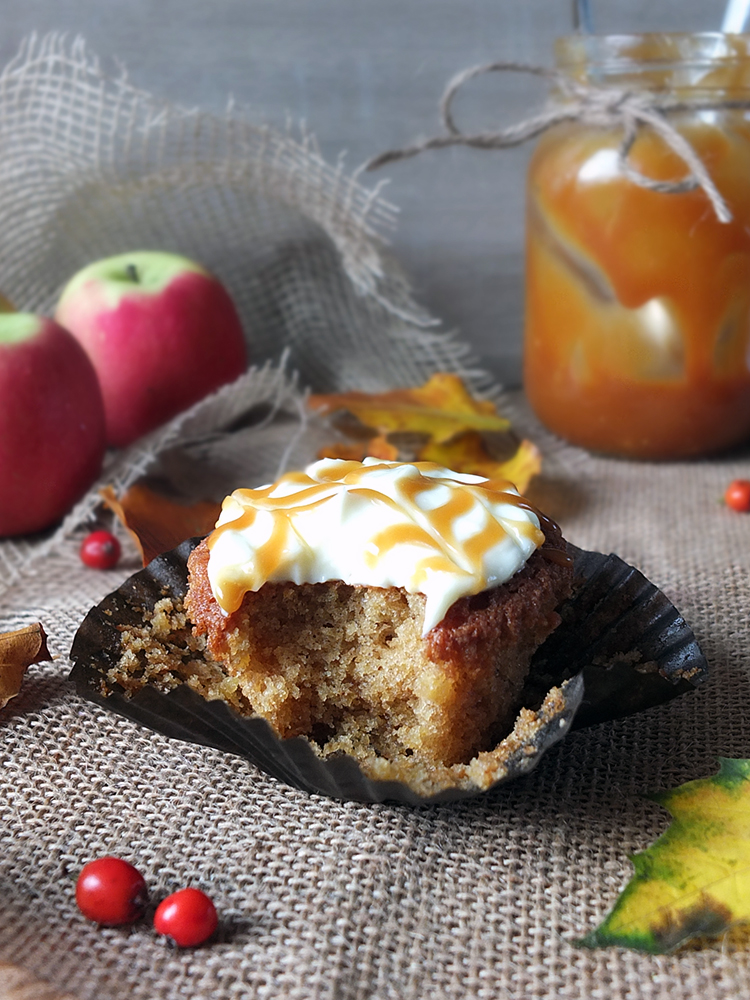 In this recipe, chopped apples are sauteed with a bit of sugar and water until they begin to soften but still retain some of their texture. A spoonful of salted caramel sauce is added to coat the apples, which are then finely chopped and folded into a cinnamon and freshly ground clove infused cake batter.
The resulting cakes are deliciously moist and autumnal with a not-too-sweet cream cheese frosting drizzled with salted caramel. I have Lekue Decomax, a little silicone tub with a detachable nozzle, which made it very easy to pipe lines of room temperature salted caramel across the top of the frosted cupcakes. To make the pattern, draw a toothpick across the lines of salted caramel at a 90 degree angle, changing direction for each line.
Now, the rest of this salted caramel is calling to be used to fill some dark chocolates….!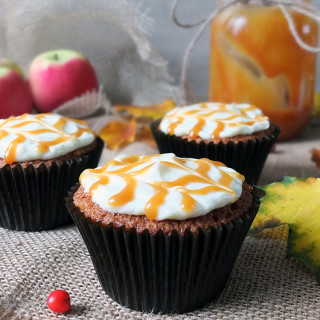 Salted Caramel Apple Cupcakes
A moist cinnamon and clove spiced apple cake topped with cream cheese frosting and a drizzle of salted caramel.
Print
Rate
Ingredients
For the salted caramel sauce
Affiliate Links
This recipe card may contain affiliate ingredient and equipment links. As an Amazon Associate I earn from qualifying purchases.
Instructions
To prepare the salted caramel sauce, place the granulated sugar in a large saucepan over a medium high heat.

Using the handle of a wooden spoon, draw small circles in the sugar, so that the sugar keeps moving across the pan.

Eventually the sugar will start to melt and turn brown.

When the sugar is a nice caramel golden colour (take care not to overcook or it will burn!) add the butter and stir for a few minutes until it has melted and is well combined with the sugar.

Slowly pour in the double cream, stirring constantly, and allow to boil for a minute or two, until it thickens up nicely.

Sprinkle over the salt and stir well. Set aside to cool until room temperature. Leftovers can be kept for up to two weeks if stored covered in the fridge.

To prepare the cupcakes, place the chopped apple in a small saucepan with the water and granulated sugar.

Bring to a simmer and cook the apples until they begin to soften, but still retain some of their texture.

Add the salted caramel and combine well. When the apples have softened, mash with a potato masher or back of a spoon. Set aside to cool.

Preheat your oven to 180 C/ 160 C fan/ 350 F. Line a 12 hole muffin tin with large American size cupcake cases.

Cream the butter and sugar together until light and fluffy, and then add the eggs, one at a time, with a spoonful of the flour.

Add the vanilla and sift over the dry ingredients, combining well.

Fold in the cooled, chopped apple mixture and spoon into the prepared baking cases.

Bake for 30-35 minutes until golden and springy to the touch. Cool on a wire rack.

To prepare the frosting, gently mix the cream cheese, sieved icing sugar and double cream together.

Spread the frosting over the cupcakes and drizzle with salted caramel sauce.
Environmental Information
LINKING UP WITH A FEW FOOD BLOGGING CHALLENGES
Treat Petite by Cakeyboi and The Baking Explorer
Recipe of the Week by A Mummy Too
Tasty Tuesdays by Honest Mum
OTHER SALTED CARAMEL RECIPES YOU MIGHT LIKE
Salted Caramel Crunchie Ice Cream by Fab Food 4 All
Easy Fudgy Brownies with Toasted Pecans and Salted Caramel by Kerry Cooks
Salted Caramel Peanut Crunch Bars by Celery and Cupcakes
Cookie Dough Salted Caramel Shortbread by Kerry Cooks
If you want to be kept up to date on my recipes, occasional craft tutorials, adventure stories and giveaways then please subscribe to my weekly newsletter; it gets sent out every Monday morning if there is new content. Your email address won't be passed on to anyone, you will never be spammed and you are free to unsubscribe at any time, no questions asked. Make sure you confirm your subscription or you won't receive the newsletter – if it hasn't arrived check your junk mail folder.
[wysija_form id="1″]
This post contains an Amazon affiliate link, highlighted in orange, which means if you click through and make any purchase at all via Amazon we will get a small commission and you will be helping to support our family.