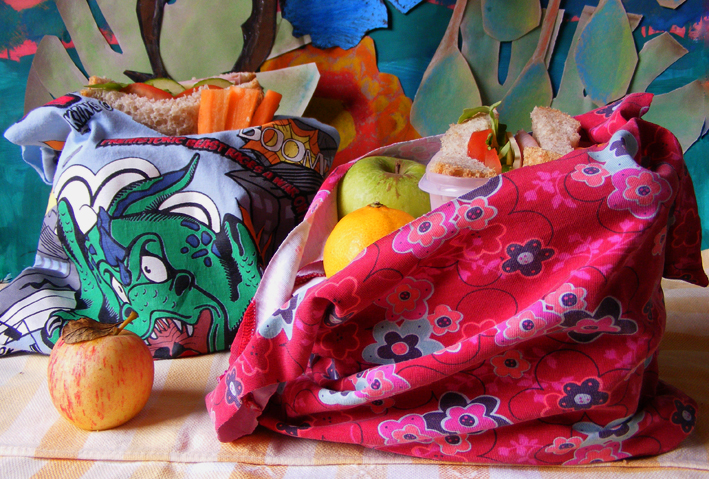 My friend Julia over at Jaydee's Ramblings is super clever. She makes all sorts of things out of recycled materials (her baskets made from reclaimed beach rope are stunning!) and her latest clever thing is getting her class of children (she's an auxiliary teacher) to make bags out of recycled t-shirts as a school fundraiser.
She was telling us all about this venture at our last fortnightly Craft Group. These recycled recycled t-shirts can be used as shopping bags, clothes peg bags, storage bags and even, if made from itty bitty t-shirts, lunch bags! All you do is cut the neck and arms off the t-shirts, turn inside out and stitch the bottom shut.
However, I can't just leave well enough alone and I've improvised the main idea a bit, seeing as how dear daughter had a flowery long sleeve t-shirt with some extra arm fabric which no longer fit her. You can make a base out of one of the arms! The remaining fabric could be made into embellishments, like flowers, if you so desired.
My children love their new lunch bags made from t-shirts which no longer fit them. Our youngest (4) fills his with toy cars and carries it around the house with him.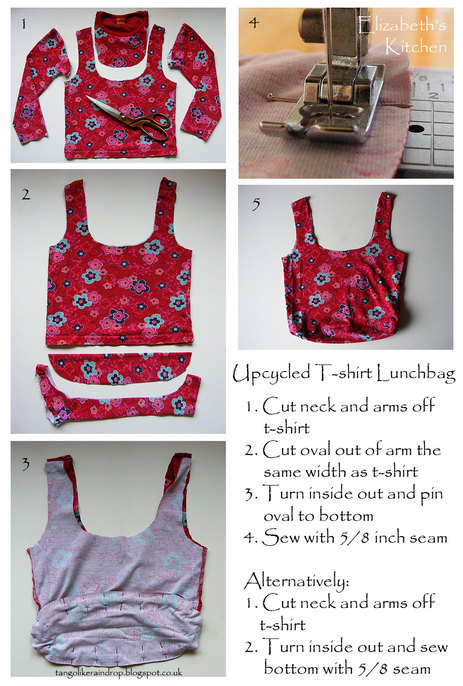 Upcycled T-Shirt Lunchbag
Made from your child's favourite too-small t-shirt, this lunchbag is sure to impress!
Supplies
1 long-sleeve or short-sleeve t-shirt
thread
sewing machine or needle
embellishments, if desired
Instructions
1. Cut the neck and arms off the t-shirt
2. If the t-shirt if long-sleeved you can cut a piece of fabric from the sleeve to make a base. Cut an oval the same width as the base of the t-shirt
3. Pin the oval to the base of the t-shirt. Don't worry if there is overlap as you can cut off the excess later.
4. Sew a 5/8 inch seam around the edge. Cut off excess, if required and zigzag stitch around the edges.
5. If your t-shirt is short-sleeved just turn inside out and sew along the bottom edge.
6. Turn right side out, embellish as desired and fill with goodies!
Details
Prep time: