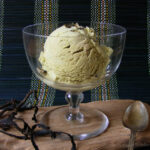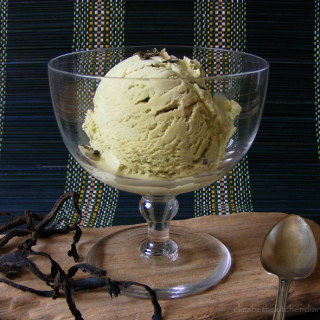 Print Recipe
Green Tea & Shetland Seaweed Ice Cream
Matcha green tea powder and Shetland seaweed are combined to make this unusual, refreshing, ice cream.
Heat milk in a medium sized saucepan until it reaches boiling point.

Whisk egg yolks and caster sugar together in a medium sized bowl until light and creamy.

Remove hot milk from heat and pour over the egg mixture, stirring constantly.

Return milk to the pan and stir constantly until the mixture forms a film on the back of a wooden spoon. A finger dragged across the back of the spoon will leave a trail.

Add the green tea powder and seaweed to the warm milk mixture, stirring until well incorporated.

Cool in the refrigerator for several hours.

Stir double cream and lemon juice into the green tea milk mixture and churn in an ice cream maker.

Transfer to a freezer proof container to harden for a few more hours in the freezer. Allow to soften slightly before serving.