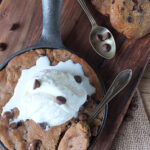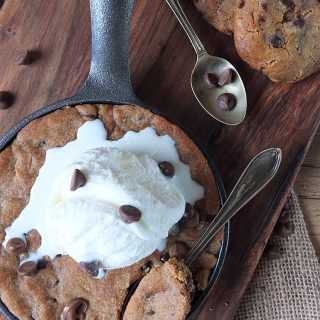 Print Recipe
Chocolate Chip Skillet Cookie for Two
Ready in under 20 minutes this chocolate chip skillet cookie recipe hits the spot when you get that craving for warm, homemade chocolate chip cookies.
Preheat oven to 170 C fan/ 190 C/ 375 F/ Gas mark 5. Lightly grease a five inch mini cast iron skillet with a little vegetable fat.

Mix together the flour, bicarbonate of soda and brown sugar.

Add the softened butter (half melted works fine - just pop it onto the hob after you've boiled a kettle for a cup of tea for a minute to two while you're preparing the dry ingredients), the vanilla and the golden syrup.

Using a fork, combine the ingredients until they form a dough.

Add the chocolate chips and, using your hands, smoosh it together to form a chocolate chip cookie dough ball. If it looks a bit too moist (ie: you melted all of the butter instead of just melting half and leaving the other half really soft) pop it into the fridge for ten minutes or so.

Press the dough into the prepared skillet and bake in the centre of the oven for 12-15 minutes, until the edges of the cookie are golden.

Leave the cookie to cool in the skillet until it's warm enough to touch, and then serve with a scoop of vanilla ice cream, extra chocolate chips, chocolate syrup, oh, whatever takes your fancy. Share with someone else (or not!).