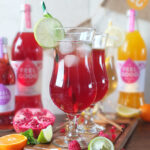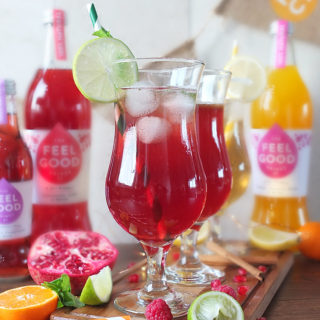 Print Recipe
Three Feel Good Mocktails #SpreadFeelGoodness
Three delicious alcohol-free cocktails, perfect for designated drivers over the holiday season.
To prepare The Do Gooder: moisten the rim of a cocktail glass with some water and dip it into a plate of sugar. Pour the Apple and Elderflower Feel Good, the ginger ale and the lemon juice into a glass of ice. Garnish with a lemon peel.

To prepare The Hand Warmer: Add the Cranberry and Pomegranate Feel Good, the orange juice and cinnamon sticks and gently warm over a low heat. Pour into a glass and garnish with an orange slice.

To prepare The Marvellous Mojito: Put the mint into a glass with some ice. Pour over the Cranberry and Lime Feel Good juice, squeeze in the lime juice and garnish with the lime wedges and the raspberries.