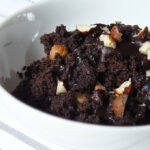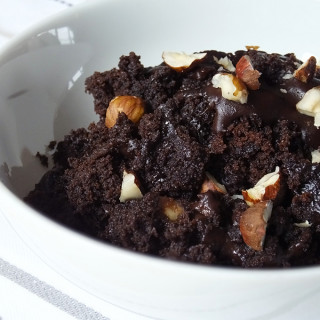 Print Recipe
Chocolate Hazelnut Hot Fudge Pudding Cake
A rich chocolate cake with chocolate hot fudge pudding sauce made in the Redmond Multicooker!
Place the cubed butter and the chocolate pieces into the bowl of the multicooker.

Select the Multi-Cook program, set the temperature for 40 C and the time for 5 minutes. Press Start and leave the chocolate and butter to melt.

If the chocolate and butter needs a little bit more time to melt after five minutes the keep warm setting will finish the job.

Add the flour and 25 grams of cocoa powder to the melted chocolate mixture.

Add the milk and vanilla.

Stir well with a wooden spoon until thoroughly combined.

Mix the remaining cocoa powder and granulated sugar together and sprinkle evenly over the top of the cake batter.

Sprinkle the chopped hazelnuts evenly over the surface.

Carefully pour the boiling water over the top. DO NOT STIR!

Select the Cake setting and set the timer for 45 minutes. Close the lid.

After 45 minutes the cake will be baked and the chocolate pudding will be lovely and bubbling when you open the lid. Serve immediately using a non-metal spoon to remove the cake from the bowl (so you don't damage the non-stick coating).

Serve with plenty of double cream or a generous scoop of ice cream, if desired.