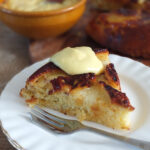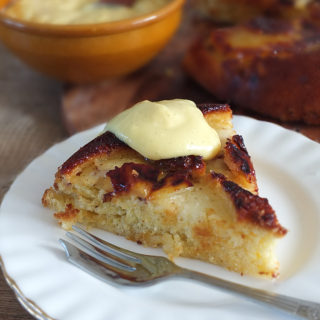 Print Recipe
Pineapple Upside Down Cake & Homemade Vanilla Custard
Thick and creamy delicious custard ready in under 15 minutes, served over a slice of warm pineapple upside down cake.
for the pineapple upside down cake
for the vanilla custard
Whisk together the egg yolks, sugar, corn flour and vanilla until thick and creamy.

Pour milk into MULTICOOKER bowl and select MULTICOOK > 15 minutes > 100 C.

Allow the milk to heat up until it nearly reaches boiling point (when the timer says 14 minutes).

Spoon in the egg mixture and stir, continuously, until it thickens. Persevere, it will thicken eventually.

Remove from heat and serve immediately, or place in the refrigerator to chill. If serving cold place a piece of greaseproof paper or cling film over the top of the custard so that it doesn't form a skin.
for the cake
Pour syrup into the bowl of the MULTICOOKER and select MULTICOOK > 40 C > 5 minutes to allow the syrup to melt.

Arrange the drained pineapple slices on top of the syrup and place a glace cherry in the centre of each circle. Sprinkle with the chopped hazelnuts, if using.

Prepare the batter by creaming the butter and sugar together until light and fluffy.

Add the egg and beat well.

Add the flour and milk, alternately, until a soft batter forms. You may not need to use all of the milk.

Spoon the batter over the pineapple slices and smooth over the top.

Select CAKE > 30 minutes. Close the lid and allow the cake to bake.

Serve warm with the custard.