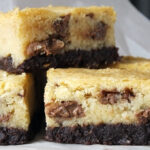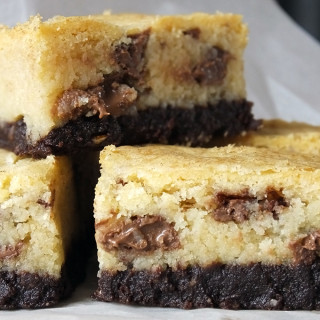 Print Recipe
Chocolate Chip Cookie Brownie Bars
It's an ooey gooey brownie base topped with chocolate chip cookie dough!
for the chocolate chip cookie dough
Preheat oven to 180 C/ 160 fan/ Gas Mark 4. Grease and line an 8 inch square baking tin, or use a silicone baking mould.

To prepare the base, pour the melted butter into the brownie crumbs and combine well. Press into the bottom of the baking tin.

To prepare the cookie dough, beat the butter, sugar, sweetened condensed milk and vanilla together until light and creamy.

Sift in the flour and stir with a wooden spoon until combined.

Fold in the chocolate chunks and spoon the mixture over the brownie base.

Using clean fingers, gently but evenly spread the cookie dough over the top of the brownie base.

Bake in the lower third of the oven for 30 - 40 minutes, or until the top is golden and springy.

Leave to cool completely before removing from the baking tin. Cut into rectangles or squares and store in an airtight container.