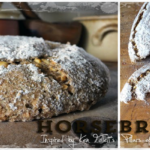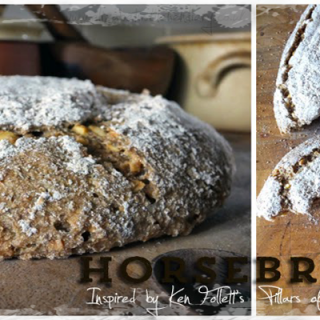 Print Recipe
Mediaeval Horsebread
A replica Middle Ages peasant bread recipe made with heritage wheat and legumes. Inspired by Ken Follett's Pillars of the Earth.
Wash dried yellow split peas and place them in a medium sized bowl. Cover with water and leave overnight to soak.

Take sourdough starter out of the fridge and leave overnight to get to room temperature.

The next morning, mix together the starter, flours, seaweed (or salt) and water until a thick wet dough forms. Leave, covered, in the bowl for 3 hours or more.

Meanwhile, drain and dry split peas. Coarsely chop them and set aside.

Turn dough out onto a floured board, adding extra heritage flour so that a workable dough forms. Knead in the chopped split peas and form into a loaf.

Using extra heritage flour, make sure the sides of the banneton are well coated to prevent sticking. Place loaf in banneton and leave to rise for at least 4 hours.

Place a large baking tray in the oven and heat oven to its highest setting (around 230 C)

When the oven is hot enough, remove tray, sprinkle with more heritage flour and turn loaf out of the banneton.

Score loaf with a sharp knife and bake in the oven for 25 minutes. Turn out on a wire rack to cool.