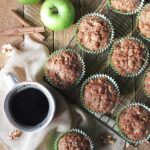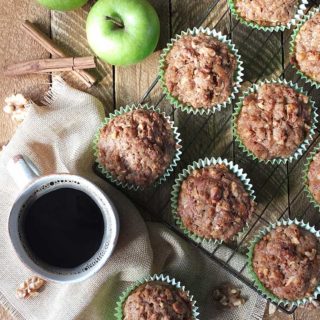 Print Recipe
Apple Muffins with Cinnamon-Walnut Streusel Recipe
This easy apple muffin recipe is made with crisp green apples, walnuts & warming cinnamon and has a delicious cinnamon-walnut streusel topping. Perfect for brunch.
for the cinnamon-walnut streusel topping
Preheat oven to 180 C/ 160 C fan/ Gas Mark 4. Line a 12-hole muffin tin with paper cases.

Peel and core the apples. Cut into 5 mm dice and set aside.

Mix together the flours, sugar, baking powder and cinnamon together in a large bowl.

Melt the butter and mix with the room temperature Barley Cup and eggs. Whisk together.

Pour the wet ingredients into the dry and stir with a wooden spoon until just combined.

Fold in the chopped apple and chopped walnuts and spoon into the prepared baking cases.

To make the topping, rub together the sugar, flour, cinnamon and butter with your fingertips until combined.

Stir in the chopped walnuts and sprinkle on the top of the batter in the muffin cases.

Bake in the centre of the oven for 20-25 minutes, until golden and springy to touch.

Transfer to a wire rack to cool. Eat warm, with butter, or store in an airtight container.