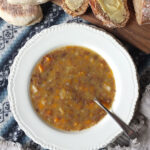 Print Recipe
Shetland Reestit Mutton Soup
Hearty and filling, this traditional soup from the wild and remote Shetland Islands is made from reestit mutton, a salted and brined preserved mutton unique to the islands.
200

grams

reestit mutton

cooked and cooled weight (2 lb uncooked with bone)

25

grams

butter

(optional)

1

onion

finely chopped

200

grams

carrots

(4 medium carrots)

300

grams

potatoes

(about two medium-sized ones)

225

grams

turnip

(half a turnip)

2

pints

water

(I use lamb stock)
To cook the reestit mutton, place it into a large stockpot and cover with cold water. Bring it to the boil and continue to boil for two hours, or until the meat is tender. Remove the meat from the water and reserve a ladleful for the soup.

Meanwhile, chop all of the vegetables into small dice.

Heat butter, if using, in a large soup pot. Saute the onions and carrots over a medium heat for 5-10 minutes or so, until the onions are softened.

Add the remaining vegetables, the water (or lamb stock) and the reserved water from cooking the reestit mutton. Simmer for 20 minutes, or until the vegetables are tender.

Mash some of the vegetables with a potato masher to thicken the broth, leaving some larger pieces for texture. Add the shredded reestit mutton and heat through.

Serve with buttered bread or bannocks.