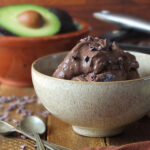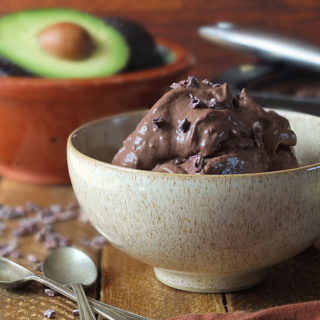 Print Recipe
Sugar Free Vegan Chocolate Avocado Ice Cream
This ice cream is so incredibly rich and indulgent, and it's sugar-free too! Made with coconut milk, cacao, avocados and Hermesetas sweetener, it's a guilt-free treat when that chocolate craving hits.
Dissolve the arrowroot powder in 80 ml of the coconut milk. Set aside.

Place the remaining coconut milk, cocoa powder and Hermesetas granulated sweetener in a medium sized saucepan and whisk to combine. Turn the heat up to medium, and stir constantly until it begins to bubble.

Whisk in the dissolved arrowroot powder and continue to stir until the mixture thickens into a rich chocolate custard consistency.

Pour into a jug and refridgerate, covered, for at least two hours to chill.

When chilled, place the mixture in a blender along with the avocado, vanilla, sea salt and alcohol, if using. Blend until smooth.

Pour into an ice cream maker and churn until frozen, adding the cacao nibs in towards the end.

Serve immediately or spoon into a freezerproof container and freeze until needed. Allow to soften for 20 minutes or so before serving, if freezing for later.