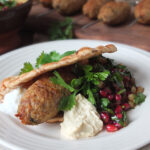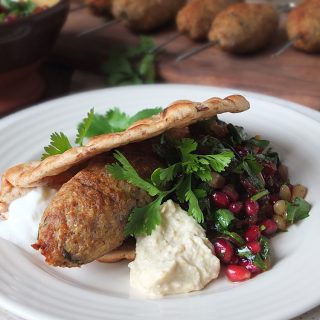 Print Recipe
Grilled Lamb Kibbeh Kebabs
These remarkably easy yet flavoursome kebabs taste great grilled indoors or cooked out over the coals. Serve with flatbread, hummus, plain natural and a side salad.
If using wooden skewers put them on to soak in warm water for 20 minutes.

Cover the bulghar wheat in boiling water to cover and set aside to soak for 20 minutes. When it is soaked, drain well and spread it out onto a clean tea towel to remove the rest of the moisture. Place another tea towel over the top and press down to get out as much liquid as you can.

Toast the cumin and coriander seeds in a dry pan over a medium-high heat until the cumin starts to pop. Remove from the hot pan immediately and leave to cool. Grind in a mortar and pestle. Alternatively, use ready ground coriander and cumin instead.

Place the bulghar wheat in a large bowl with the lamb, spices, minced onion and garlic and the parsley.

Using slightly damp hands, divide the mixture into eight even sized pieces and place on the skewers.

Preheat your grill to high, brush the kebabs with the sunflower oil and grill for 8-10 minutes, turning occasionally. When ready, the juices will run clear and the internal temperature of the meat will be 71 C/ 160 F.

Serve the kebabs with flatbread, hummus, yogurt, lemon wedges and a side salad, as desired.