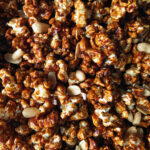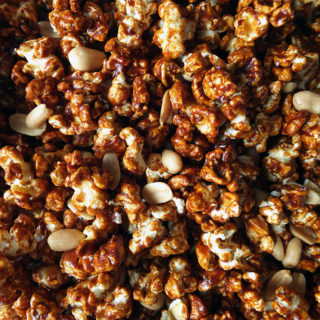 Print Recipe
Toffee Popcorn with Peanuts
Crunchy, chewy toffee popcorn with roasted, salted peanuts. A deliciously moreish snack perfect for Friday night movie nights.
Preheat oven to 120 C/ 250 F.

Combine the butter, sugar, golden syrup and salt in a large, heavy based saucepan and bring to a boil over a medium high heat.

Allow to boil for 3 to 5 minutes without stirring.

Remove from the heat, add the bicarbonate of soda and vanilla and stir well. Add the popcorn and stir to coat.

Spread the toffee covered popcorn out in a single layer on a large baking sheet and bake in the centre of the preheated oven for 60 minutes, stirring every 15 minutes.

Add the peanuts for the final 15 minutes of cooking.

Will keep for a few days if stored in an airtight container (not the fridge!).