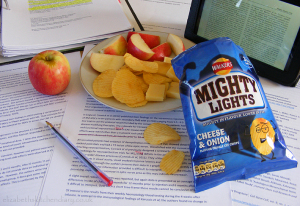 33 more days.
That's it.
I have 33 more days of being an Open University student. My final project module, 5000 words (not including references or the abstract) will soon be sent into the OU headquarters in Milton Keynes and I will no longer be a student. Eight years of part time study will soon come to an end. I've mixed feelings about this; being a student brings with it a certain chaotic lifestyle, but I know I will miss it. The other part of me is going whee!!! I'm soon going to have a BSc (Hons) Life Sciences!
Juggling my study around family life has not been easy, especially when it comes to mealtimes. Most of my studying was done at the kitchen table in between cooking, cleaning, laundry and general child maintenance duties. Tidying up for mealtimes, especially when I was in the study zone, was frustrating. When it came time for my own lunches when an assignment was due, I relied on my favourite dish: a packet of Walkers crisps, an apple (or two) and several thick slabs of extra mature cheddar cheese. No mess, minimal preparation and no need to tidy up beforehand. Perfect!
Cheese and onion crisps are my favourite flavour and they go really well with the apple/ mature cheese combination. Honestly, try it, you'll see! You can scoff and study at the same time with very little mess.
I was delighted when, three months after the release of their Hoops & Crosses, Walkers sent me a new snack range to try out and review: Mighty Lights, a 30% less fat ridged crisp. I love ridged crisps so I was really keen to try these out. I was sent the three flavours available to try out: roast chicken, cheese and onion and lightly salted.
The packaging:
The packaging is strong and colourful with a cute little crisp character on the front flexing his skinny little stick arms. His shadow reveals a very different image, which just goes to show – appearances can be deceiving! These lighter crisps are really packed full of flavour and with the fantastic ridged texture you get a nice chew for a lower in fat snack. You don't feel like you are compromising anything.
The verdict:
Walkers is recommending these snacks as a perfect addition to a child's packed lunch. My children get school meals, but they have enjoyed taking a packet of crisps with them for their break times this week.
The Teenager: "These crisps are great! The crunch and flavour are spot on."
The 6 year old: "They're nice!"
The 4 year old: "These crisps will make me happy and strong!" pointing to the cartoon crisp character on the front of the packaging.
Dad: "I like them. I thought they tasted similar to the Walkers Max range."
Mum: "To be honest, I prefer these over regular crisps. More please!"
Opinions on the healthy elements:
Walkers are marketing these crisps as a lower fat option to regular crisps. I've got a packet of Walkers salt & vinegar crisps in the pantry and I compared the food labels. Mighty Lights are indeed 30% lower in fat, but when you read the fats breakdown they've only got 0.1 grams less saturated fat and 16 fewer calories (16 calories = 2 minutes jogging).
Fat has developed a bad name for itself lately, but healthy fats (mono- and poly-unsaturated) are required for healthy body function. Some fat is good. It's the saturated fats that are the baddies. This NHS site gives some great information if you want to know more. So although these crisps are lower in fat overall, I don't feel they're lower in the fat that matters.
Each packet also contains 1.3 grams of fibre (the same amount of fibre found in a peach), has no artificial colours or preservatives and it is MSG free. They're suitable for vegetarians and they're available to buy in the shops now, nationwide.
The taste is fantastic, and to be honest, I prefer the texture of these compared to Walkers ordinary crisp. I will be buying them in the future!
Disclaimer: All opinions expressed above are my own. I was sent three multi-packs of six of Walkers Mighty Lights to review and I was paid for my time.