Recipe from Outlander Kitchen – the Official Outlander Companion Cookbook.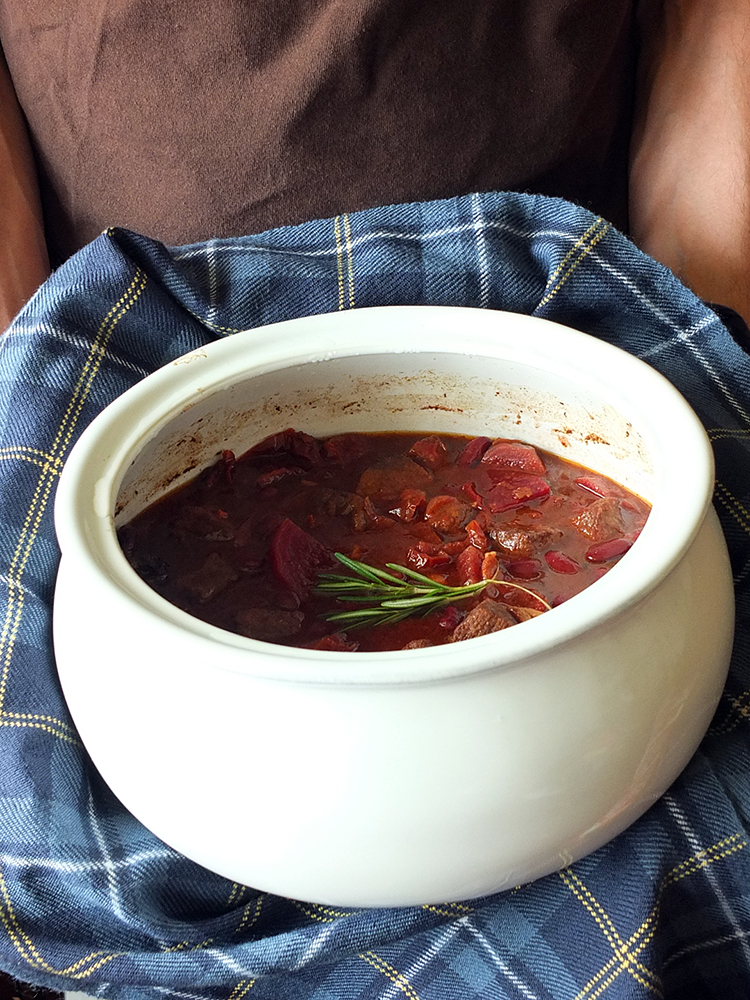 Hands up, who else sobbed their way through the Outlander Series 2 finale yesterday on their device while their husbands were busy watching the football/tennis/Formula 1 on the telly?
Not just me, eh?
I can't even remember why I began watching Outlander – I think I was randomly flicking through the tv shows on Amazon Prime one night after finishing Black Sails and Turn, wanting something set in the same era to watch. It wasn't until Series 2 was released that I began watching, but I was instantly hooked on the romantic tale of WW2, time-travel, kilted Scotsmen and true love. The first half of the first series was, to me, what I imagine a Mills & Boon novel to be like (I've never read one, true story!), but then it got dark, really quickly.
I caught up on the episodes pretty quickly, and then had to wait one week for each new episode to be released. I have to confess, while I was bikepacking through the highlands of Scotland recently it was still there in the back of my mind that I'd have a few episodes to catch up on when I returned!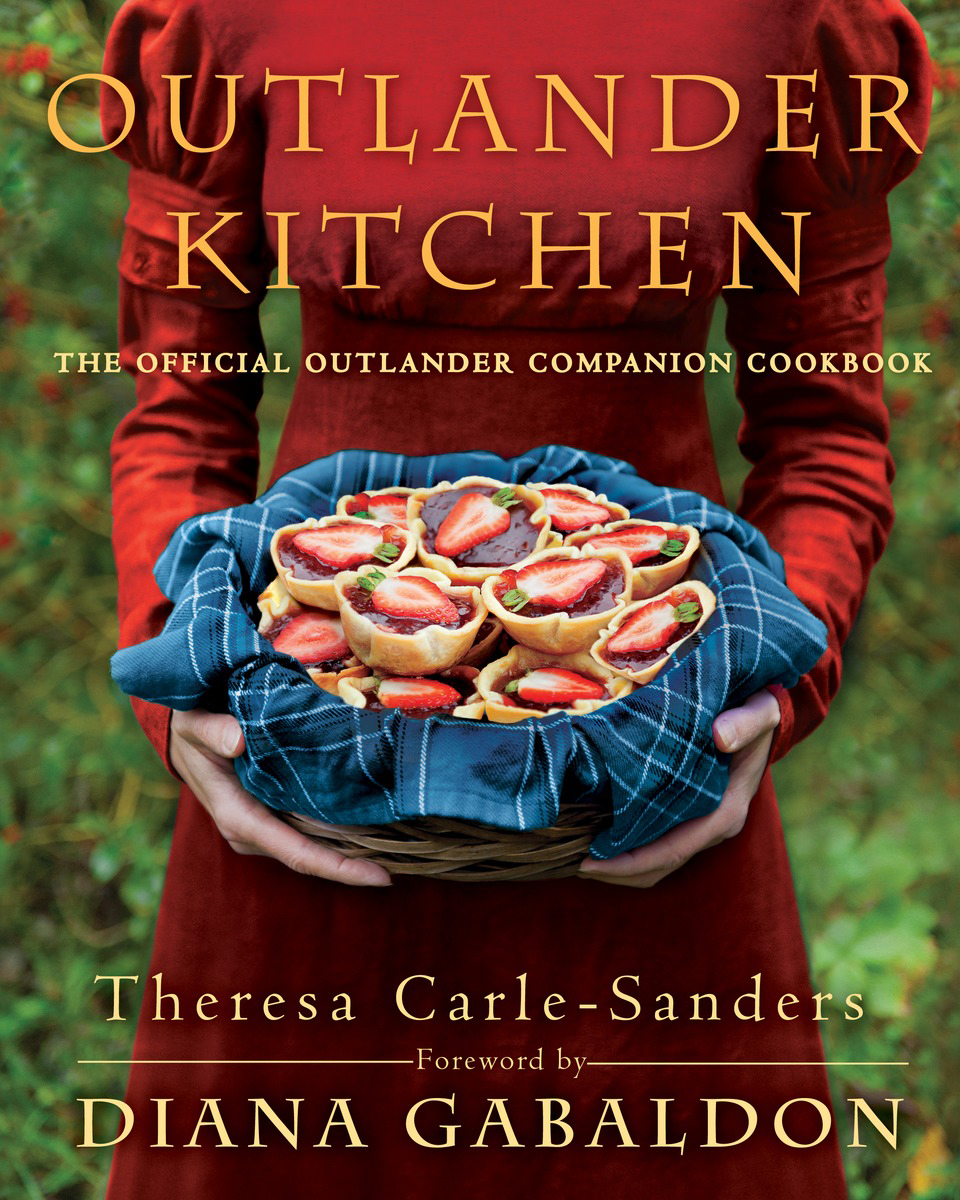 The day after I began my epic bikepacking trip the official Outlander companion cookbook was released, Outlander Kitchen, written by Canadian chef, food writer and unabashed fan of Diana Gabaldon's Outlander book series.
Featuring more than one hundred recipes, Outlander Kitchen retells Claire and Jamie's incredible story through the flavors of the Scottish Highlands, the French Revolution, and beyond. Theresa has drawn on the events and characters contained within the pages of Gabaldon's novels to create mouthwatering and inspiring dishes highlighting local ingredients and traditional cooking techniques, but updated for today's modern kitchens.
There are a wide range of recipes from breakfasts to appetizers, soups to preserves, meat and seafood dishes, sweets and desserts and even drinks and cocktails.
Each recipe comes with an exerpt from the original books from where it was inspired, plus a bit of historical background to really bring it to life.
For my first meal from this book I chose the venison stew with tomatoe-fruits served with Spoon Bread.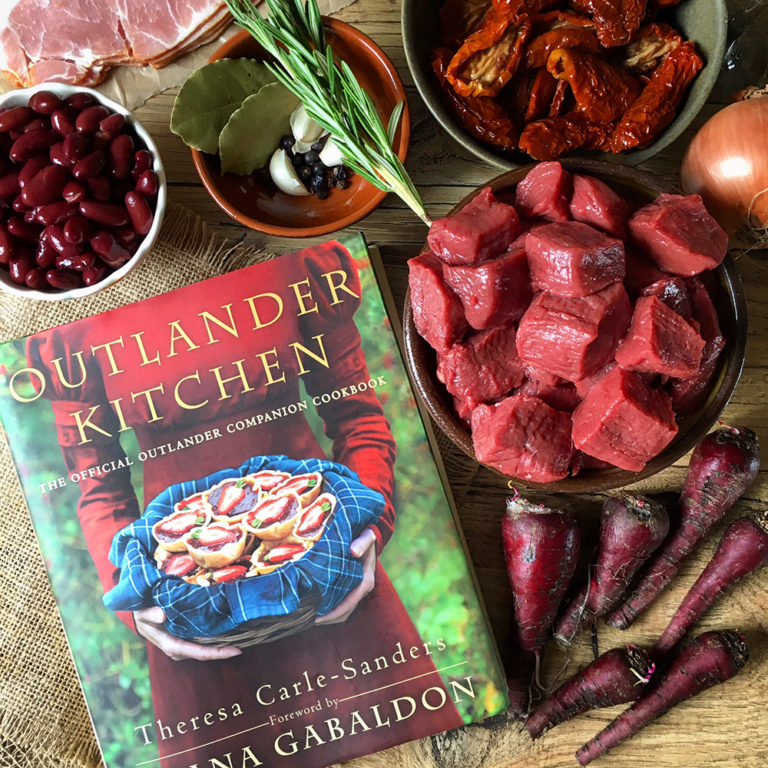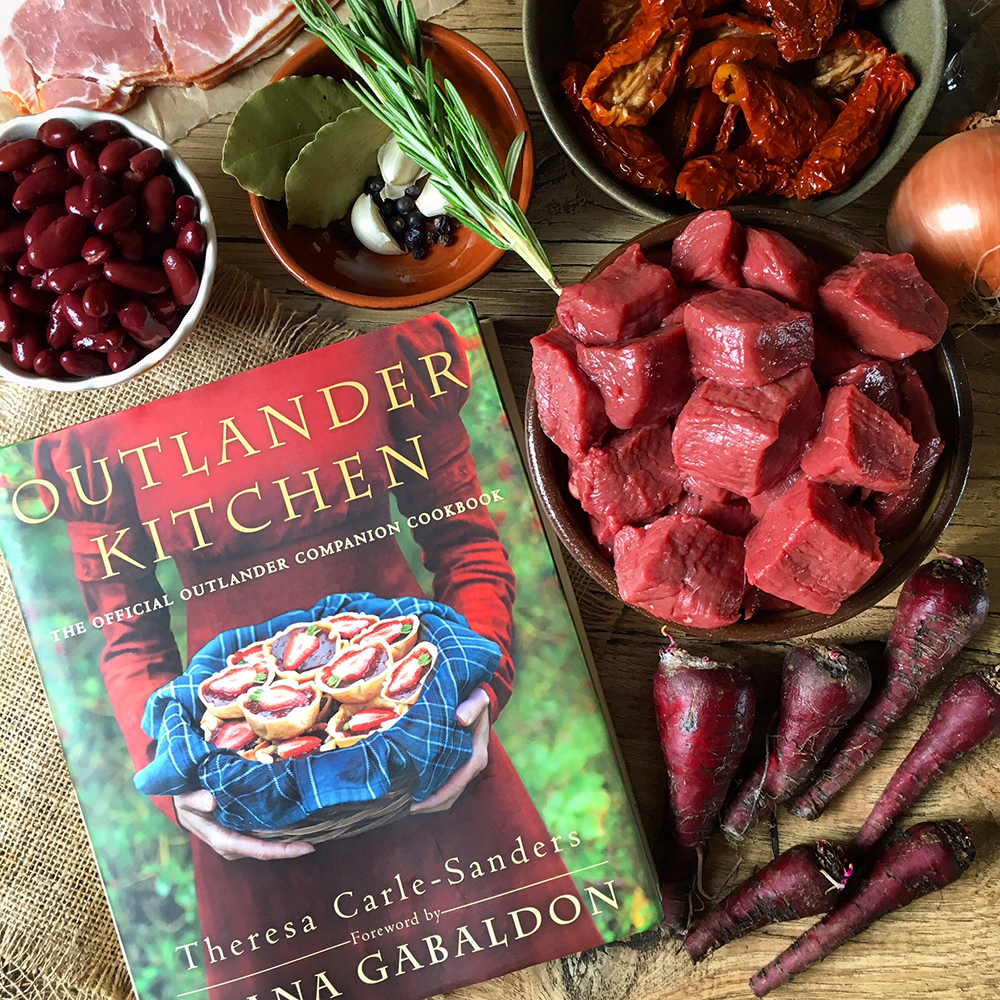 While bikepacking through the highlands of Scotland recently the weather was mostly on our side. Except for one day, one day where the heavens opened from early morning until late afternoon all the way from John o'Groats to Thurso. We were soaked to the bone, with shriveled toes and fingers like we'd spent too long in the bath.
We had intended on cycling all the way from John o'Groats to Bettyhill that day, following the north Scotland coastline (apparently it's really picturesque if you can see the sea – we couldn't), but after passing a rather unusual split stone on the outskirts of Melvich and pausing for a break after cresting a rather steep hill we spotted an inn with a tendril of smoke gently drifting from its chimney.
We were lured inside at the thought of getting warm and dry, and possibly a bite of food. It turns out that they had camping facilities: for only £5 we pitched our tents in the garden, grabbed a wonderful hot shower and propped our soaking wet cycling shoes next to the coal fire in the inn to dry.
Dinner was ordered. A haggis starter and the most gorgeous, succulent venison stew for a main. For this reason I chose to make venison stew from this cookery book, a recipe the publishers have very kindly given me permission to reproduce.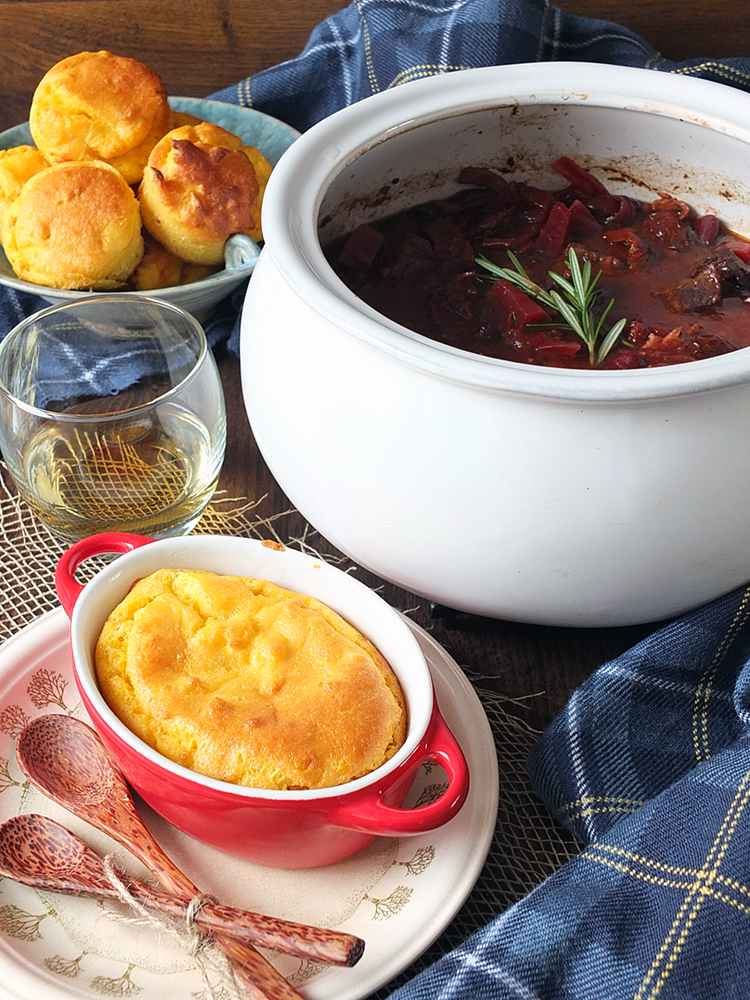 In 18th century Britain venison was only found on the tables of the wealthy – the lords and lairds whose land holdings were large enough to sustain a deer population. Highlanders themselves survived on boiled grains and vegetable stews up until the clearances when they were forced from their homes (we saw many an information board on our cycling travels through the highlands about these clearances) and they began to hunt in the North American forests filled with birds and game.
This recipe is a gorgeously rich, satisfying stew, and served with Spoon Bread (a favourite of George Washington) it made for a rather delicious dinner last night before I watched the Outlander series 2 finale.
I sobbed my way through the last half of the episode, and as soon as it was finished I ordered the first three Outlander series books off Amazon. I can't wait until series 3 comes out, I need to find out what happens!
You can buy a copy of Outlander Kitchen off Amazon for £25. It's also available in Canada for $47 and the United States for $35. For more information (as well a well stocked recipe index!) visit the Outlander Kitchen website.
Are you an Outlander fan? Let me know in the comments below!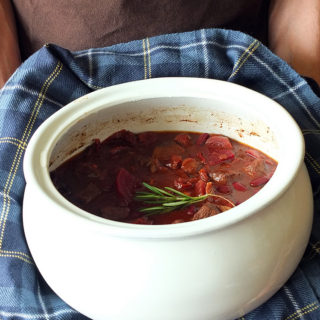 Venison Stew with Tomatoe-Fruits
Beets, red wine and juniper join venison, onions, beans and sun-dried tomatoes to make a rich, satisfying stew. Recipe reprinted with permission from the Outlander Kitchen - The Official Outlander Companion Cookbook by Theresa Carle-Sanders (2016)
Print
Rate
Affiliate Links
This recipe card may contain affiliate ingredient and equipment links. As an Amazon Associate I earn from qualifying purchases.
Instructions
In a small saucepan, cover the kidney beans with 2 inches of cold water. Bring to a boil over medium-high heat and boil for 2 minutes. Remove from the heat, cover, and soak for 1 hour. Drain.

Soak the sun-dried tomatoes in 1 cup boiling water for 1 hour. Drain, reserving the soaking liquid. Chop the tomatoes roughly.

Move a rack to the bottom rung and heat the oven to 325 F/ 160 C.

Mix together the flour, salt, and pepper in a bowl. Pat the venison dry with paper towels, then dredge the pieces in the flour to coat on all sides.

In a Dutch oven or large saucepan, heath the oil over medium-high flame. In batches, brown the venison on all sides, about 2 minutes per side. Rest the browned meat on a plate and repeat with the remaining venison, using additional oil if required.

When the last batch of venison is gone from the pan, reduce the heat to medium and fry the bacon pieces until golden brown. Add the bacon pieces to the venison and pour off all but 1 tablespoon of bacon fat from the pan.

Add the onions to the pan and cook until slightly softened, scraping up the brown bits from the bottom of the pan, 3 to 5 minutes. Deglaze with the red wine and boil 1 minute, stirring constantly. Add the stock, tomato soaking liquid, venison, bacon, beans, tomatoes and beets. Increase the heat to medium-high and bring to a rapid boil.

Meanwhile, make a bouquet garni. Wrap the bay leaves, rosemary, juniper berries and garlic in a square of cheesecloth and tie with string, or enclose the items in a large tea ball.

When the stew is boiling, poke the bouquet garni under the surface and cover the pot. Cook in the oven until the meat, beans and beets are tender, about 90 minutes. Season with salt and pepper to taste.

Serve hot with Spoon Bread (recipe in the book). Refrigerate leftovers for up to 3 days.
Notes
Excerpted from Outlander Kitchen by Theresa Carle-Sanders. Copyright © 2016 by Theresa Carle-Sanders. All rights reserved. No part of this excerpt may be reproduced or reprinted without permission in writing from the publisher.
Environmental Information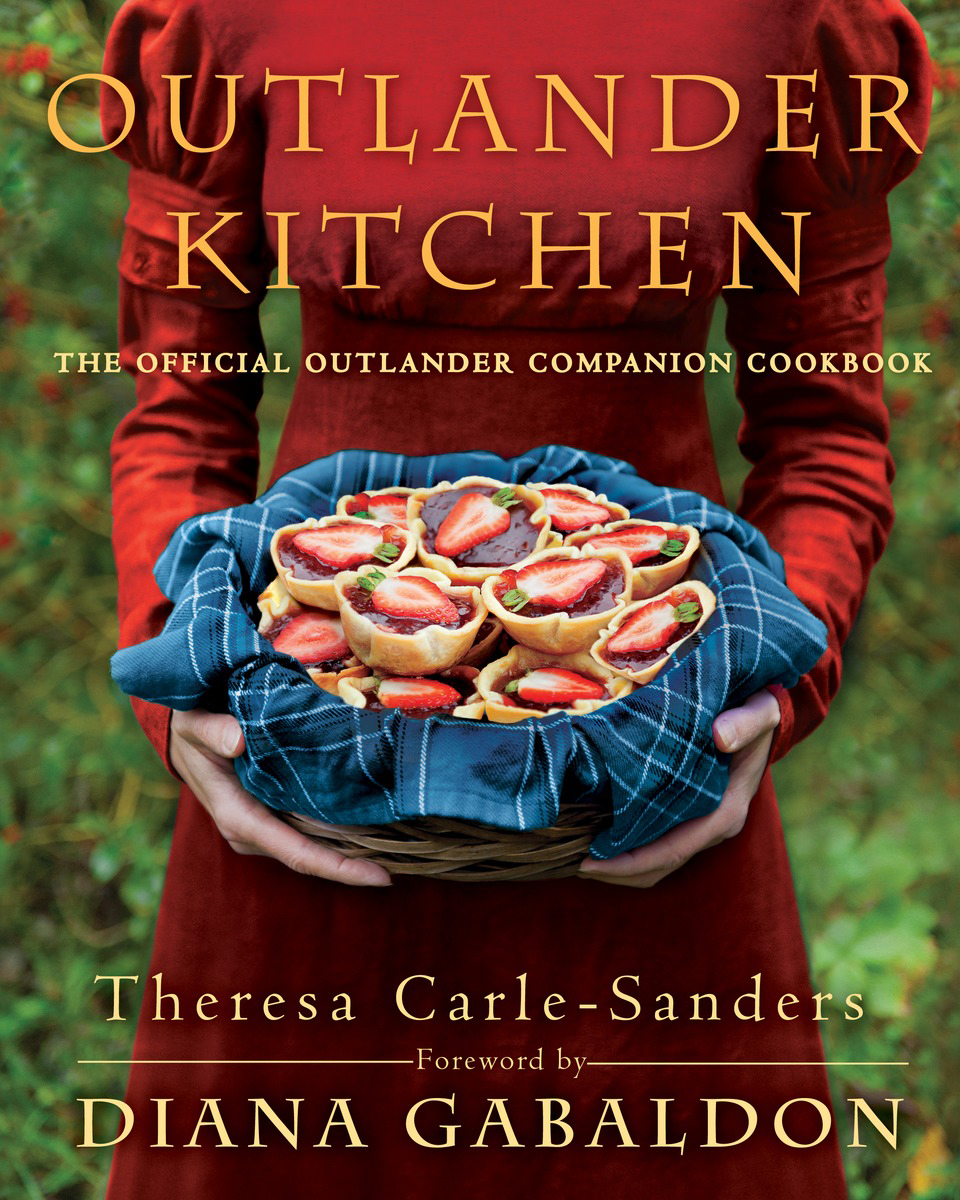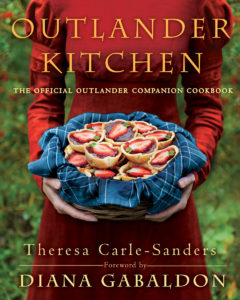 OUTLANDER KITCHEN GIVEAWAY
Penguin Random House have kindly offered a copy of Outlander Kitchen as a giveaway prize for one of my UK readers. To enter, simply fill out the Rafflecopter entry form below!
HOW TO ENTER
For your chance to win a copy of Outlander Kitchen: the official Outlander companion cookbook enter using the Rafflecopter form below. Come back and tweet about the giveaway every day for more chances to win!
TERMS & CONDITIONS
This giveaway is open to UK entries only. Entrants must be age 18 or over. The winners will need to respond within 30 days of being contacted; failure to do this may result in another winner being selected.
The prize is offered and provided by Penguin Random House. The prize is to win a copy of Outlander Kitchen: the official Outlander companion cookbook. There is no cash alternative and the prize is not transferable.
There is no entry fee and no purchase is necessary to enter this giveaway. The promoter (Elizabeth's Kitchen Diary) reserves the right to cancel or amend the giveaway and these terms and conditions without notice.
Entry into our giveaways will be deemed as acceptance of these terms and conditions.
If you need some help using Rafflecopter, here's a quick clip to show you how. Rafflecopter will pick the winners at random from all the entries received. I will be verifying entries and any automated entries or those who have claimed they have made the mandatory blog post comment and really haven't will be disqualified. It's mandatory! Please make sure your comment is eight words or longer or Google views it as spam. >>>>> All entries with comments fewer than the mandatory 8 words will be disqualified. <<<<<
Closing date is midnight (that's 00:00 hours, 12 am on Sunday night/Monday morning) on Monday 25 July 2016 (GMT) and the winner will be announced shortly afterwards.
Elizabeth's Kitchen Diary received a complimentary copy of Outlander Kitchen for review purposes. All thoughts and opinions expressed are our own. This is not a paid post. Recipe excerpted from Outlander Kitchen by Theresa Carle-Sanders. Copyright © 2016 by Theresa Carle-Sanders. All rights reserved. No part of this excerpt may be reproduced or reprinted without permission in writing from the publisher.