a place of honour, glory, or happiness : heaven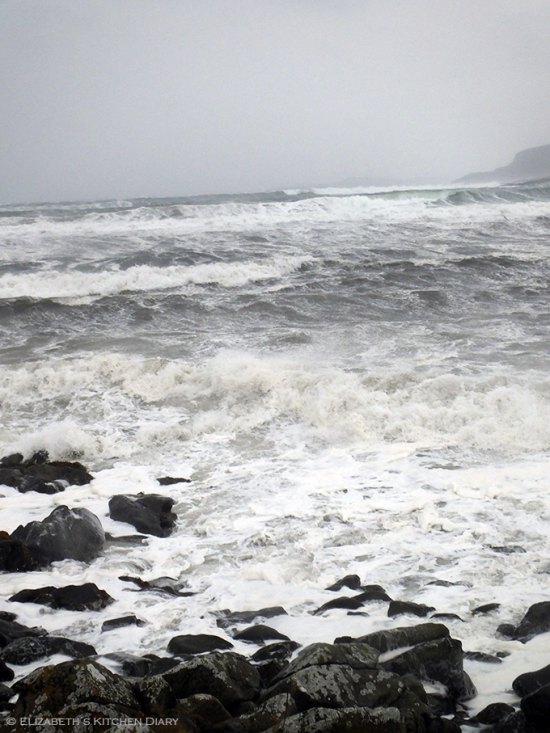 I spent nearly three hours in Valhalla earlier this week. True story.
This week I have been travelling the length and breadth of my island home seeking out foodie stories and photographs for a local magazine piece I am writing. I found myself drinking coffee and chatting with the owner of Britain's most northerly brewery located on the island of Unst: the Valhalla Brewery. I knew high winds were expected later that day but I wasn't prepared for what I faced when I left the brewery in the late afternoon.
Strong gale force 9 winds caused violent waves to crash against the shore, churning up sea foam that flew through the air. It was like a giant swirling sea throwing a massive temper tantrum. I wouldn't have been surprised if Leviathan itself had made an appearance. My camera lens was soon covered in salt sea spray so I only managed to get a few snaps of the sea before the lens became blurry, but you can watch a short video clip on my Instagram feed, should you wish.
I begged in my mind, please, please don't let the ferries be running this evening – I was due to have dinner at a local hotel and catch the late evening ferries back to the mainland, but I really, really didn't want to go out on that churning water.
The high winds ended up knocking me over and I confess, for a fleeting moment, I worried that I would soon meet my maker if a large wave decided to claim me.
Thankfully the ferries were cancelled. A combination of wind and tide meant that docking would prove to be difficult, so I ended up staying the night at the hotel with a bunch of mad bird watchers. I could think of worse places to be stranded and I ended up having a very enjoyable evening.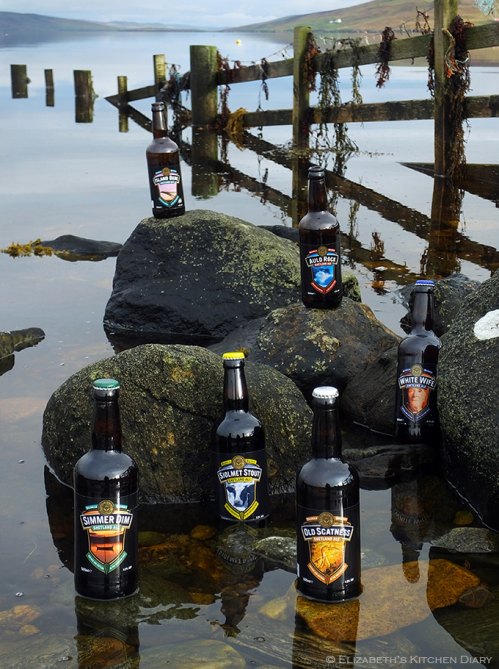 I didn't leave the Valhalla Brewery empty handed – I was gifted a box of one of each of their almighty fine ales which I thought deserved a more creative photograph than one of them sitting on my kitchen counter. This morning, while the seas were calm and skies were bright, I headed down to the shore for a photo, disturbing a grey heron which had quietly been perched at the end of this broken fence. You can see seaweed hanging off the fence, the only sign that four days ago these waters were violently chaotic.
Last summer we holidayed in Unst as a family and went on a tour of the brewery, seeing everything in action. It's a remarkable place producing an outstanding product. This week I spent an afternoon listening to the man behind the business, Sonny, tell me his fantastic stories. One of these days I hope to be able to tell his story to the world. It's amazing what one man can accomplish with an idea and the dedication to see it through.
This week, for the Alphabet Photography Project hosted by PODcast, V is for Valhalla.
A is for… Adventure
B is for… Brave
C is for… Coast
D is for… Derelict
E is for… Education
F is for… Fishing Industry
G is for… Green
H is for… Helicopter
I is for… Iron Age
J is for… Jelly Sweets
K is for… Kohlrabi
L is for… Lynn
M is for… Marmoset
N is for… Noise
O is for… Orangedale
P is for Puffin
Q is for Quarry
R is for… Ruins
S is for Sculpture
T is for… Time
U is for… Up Helly Aa
If you want to be kept up to date on my recipes, occasional craft tutorials, adventure stories and giveaways then please subscribe to my weekly newsletter; it gets sent out every Monday morning if there is new content. Your email address won't be passed on to anyone, you will never be spammed and you are free to unsubscribe at any time, no questions asked. Make sure you confirm your subscription or you won't receive the newsletter – if it hasn't arrived check your junk mail folder.
[wysija_form id="1″]
Elizabeth's Kitchen Diary was gifted a box of Valhalla Ales and was not required to write anything in return. All opinions expressed are our own. This is not a paid post.