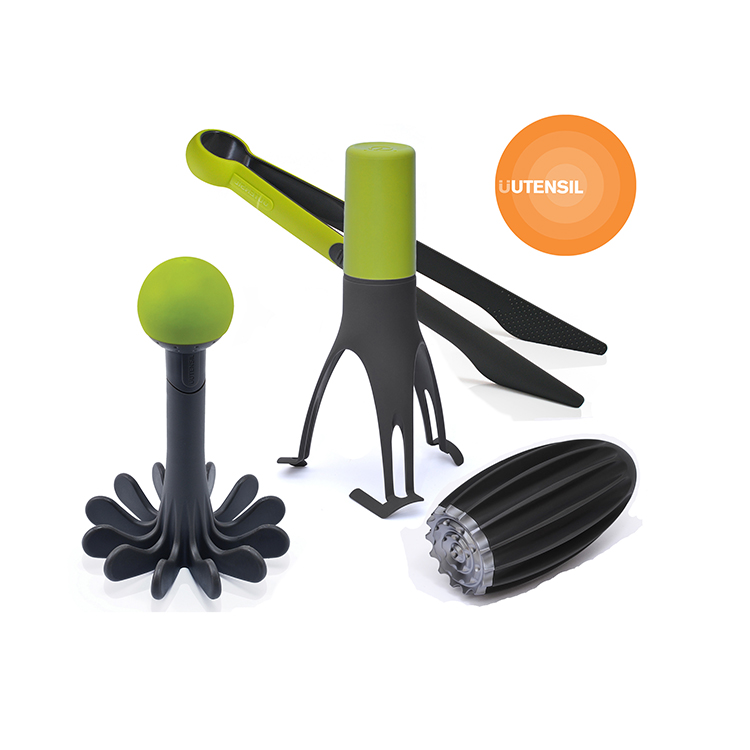 üutensil are a British Design company that make exciting and functionally different kitchen utensils and they hope this will change the way we cook at home. They offer great gift ideas for the foodie that has everything. Their funky kitchen tools and innovative gadgets are great value and make from quality materials and they all come with a 5 year guarantee.
With a wide and expanding range of award-winning utensils and tools that have been exhibited in the Design Museum, üutensil products make our lives just a little bit easier everyday.
SPUDNIK
The Spudnik rewrites the rules of mashing potatoes. The unique flower shape is designed to be rotated in the bowl rather than pounded so that the tines slice through the potatoes at an angle and distribute the force. The result: perfect fluffy mash with less effort and in less time. Plus it's easier to clean and no clogging. Beautiful function led design – now isn't that clever. Oh, and it's dishwasher safe.
RRP £7.99 and available in olive or magenta.
STIRR
Ever fancied another pair of hands in the kitchen? Let stirr take the effort out of cooking! At the push of a button this unique product rotates by itself and travels around your pan stirring sauces, soups, porridge, gravy and lots more perfectly, leaving you free to get on with something else. It has an easy one handed push button operation with 3 speed options. The legs can be easily clicked apart for washing and are dishwasher safe. Cordless battery operation – 4 x AA batteries are required.
RRP £16.99 and available in olive, magenta or grey.
PINCH
Get a grip in the kitchen.
Tongs are an indispensable bit of kitchen kit – great for turning, grabbing and serving. The clever üutensil tongs have a uniquely shaped head that allows the sides to be used for turning and serving and the tips to be used for precision work. Crafted in nylon (heat safe to 200°) rather than silicone as silicone and oil are a slippery combination. Interlocking teeth cover the entire interior faces of the tong heads giving you complete control over your food.
RRP £7.99 and available in olive.
TENDER
Tenderising has never been this easy!
Tender is designed to be gripped in the palm of your hand giving you total control over the force you use and where you put it. But they haven't lost any of the power of a traditional hammer as Tender has a secret weapon – a weight inside. Glass balls roll back and forward on each stroke to deliver a second powerful blow just after the first. Turn Tender sideways and it also works as a serrated roller that tenderises as it stretches and flattens. It is crafted in heavy plastic with internal glass beads and a stainless steel base. It's also dishwasher Safe
RRP £16.99 and available in white or grey.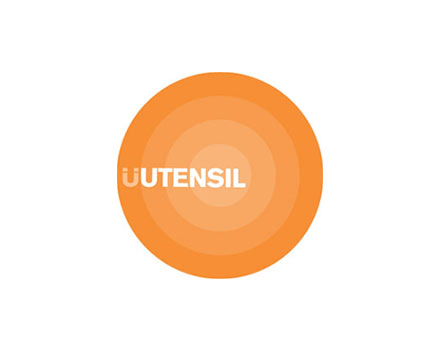 üutensil make a wide range of unique and innovative kitchen gadgets, but don't just take my word for it. The Great British Bake Off's Iain Watter's has created a new spin on the courgette, lemon and ginger cake recipe he made for his first audition for GBBO5 for üutensil – have a look at the recipe video below! The cake is made working almost exclusively with üutensil products: böl, skåler, swoon, squisk, taste, flipp, tilt, strip2, squish and squeeze.
You can find out more on their website, or follow üutensil on Facebook, Twitter, Instagram and YouTube.
The Great British Bake Off's Iain Watters - Courgette/Zucchini, lemon & ginger cake with poppy seed
FATHER'S DAY GIVEAWAY
Win a üutensil kitchen bundle worth £50! To enter, simply fill out the Rafflecopter entry form below!
HOW TO ENTER
For your chance to win a üutensil kitchen bundle worth £50 enter using the Rafflecopter form below. Come back and tweet about the giveaway every day for more chances to win!
TERMS & CONDITIONS
This giveaway is open to UK entries only. Entrants must be age 18 or over. The winner will need to respond within 30 days of being contacted; failure to do this may result in another winner being selected. Please note that I will be cycling through the highlands of Scotland when this giveaway ends, so there may be a delay in announcing the winner. It's all dependent on internet connection!
The prize is offered and provided by üutensil. The prize is to win a üutensil kitchen bundle worth £50. There is no cash alternative and the prize is not transferable.
There is no entry fee and no purchase is necessary to enter this giveaway. The promoter (Elizabeth's Kitchen Diary) reserves the right to cancel or amend the giveaway and these terms and conditions without notice.
Entry into our giveaways will be deemed as acceptance of these terms and conditions.
If you need some help using Rafflecopter, here's a quick clip to show you how. Rafflecopter will pick the winners at random from all the entries received. I will be verifying entries and any automated entries or those who have claimed they have made the mandatory blog post comment and really haven't will be disqualified. It's mandatory! Please make sure your comment is eight words or longer or Google views it as spam. >>>>> All entries with comments fewer than the mandatory 8 words will be disqualified. <<<<<
Closing date is midnight (that's 00:00 hours, 12 am on Sunday night/Monday morning) on Monday 20 June 2016 (GMT) and the winner will be announced shortly afterwards.
Disclosure – this is not a paid post, although I will be working with this brand upon my return from my mountain bike cycle this month.