A two-hour lazy Sunday afternoon craft project.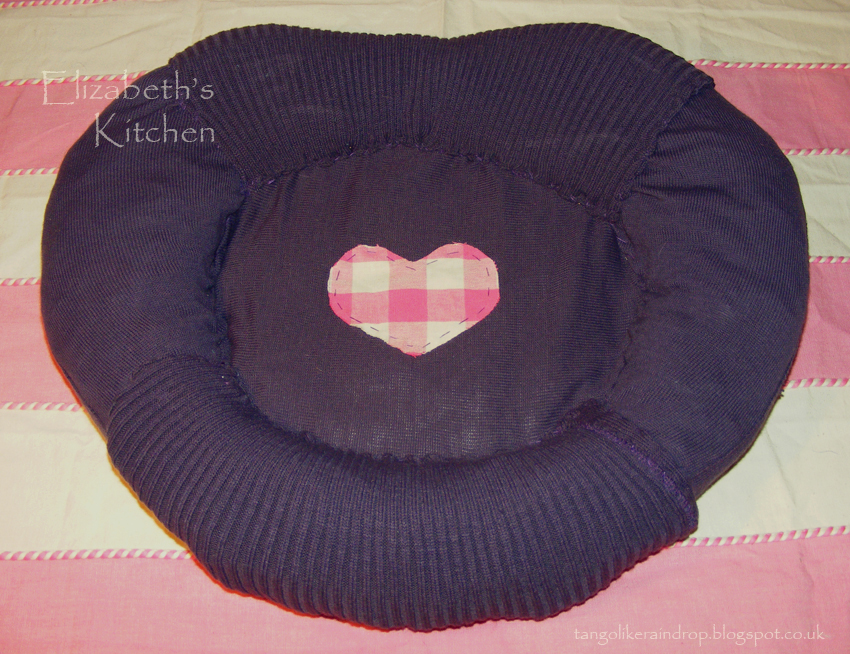 I'd like to say that this is my idea, but it's not. I saw a photo on Facebook suggesting that unwanted sweaters could be made into pet beds and I immediately thought of the ugliest purple 1980s sweater I'd picked up for £2 in the charity shop several months ago.
I didn't buy it to wear – it had 9 lovely great big purple buttons on it, and £2 for 9 large purple buttons is a bargain, in my mind. Buttons are expensive if you buy them brand new!

MAKE YOUR OWN SWEATER CAT BED
So this hideous purple jumper has been languishing in my fabric scrap bag for months and months along with some old chair covers that our cat, Izzy, ripped to shreds when she was just a kitten. I can't throw anything away, honestly, not when I think that it might get repurposed/upcycled sometime down the road.
Izzy, our darling cat, came to us at the tender age of three weeks old as a feral Cat's Protection rescue. She was destined, along with her two brothers and sister, to be drowned unless the Cat's Protection collected them immediately. They did and I ended up with all four of them. They were so adorable – their eyes were still blue and they had to be fed milk every few hours out of a little syringe. When feeding their little ears would wiggle. Aaah, fond memories. Three out of the four cats were rehomed as they got older, and we kept Izzy (short for Isadora). You'd never know she was feral as she's such a housecat, preferring to lounge away indoors all day.
Shop bought cat beds are expensive too. We've talked about getting one but there always seemed to be something more important to spend the pennies on. When I saw the Facebook picture I knew what I needed to do with that hideous jumper and I set to work.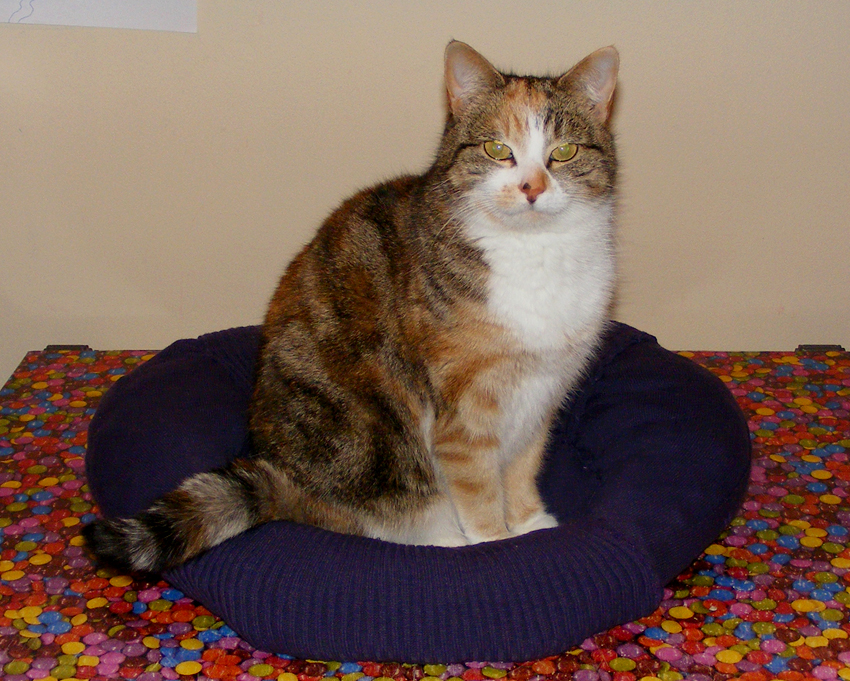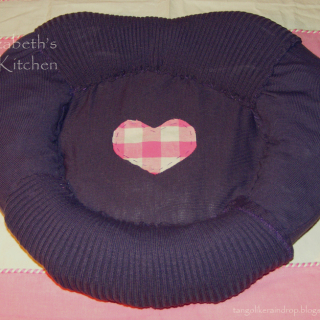 Upcycled Sweater Cat Bed
Turn that hideous sweater lurking in your closet into a cat bed for your pet! Includes step-by-step instructions with little sewing skills required.
Print
Rate
Ingredients
1

unwanted sweater

2

unused terry towels

or dish cloths/bath towels

scraps of cotton

for stuffing

strong cotton thread

wool

needles
Affiliate Links
This recipe card may contain affiliate ingredient and equipment links. As an Amazon Associate I earn from qualifying purchases.
Instructions
Cut your stuffing fabric into small pieces.

Fold towels so that they are nearly the size you want the base of your pet bed.

Layer with scrap stuffing if required.

Baste the layers together in a rough oval shape.

Turn over the edges towards the inside of the circle and loosely sew in place.

Place inside the body of the jumper.

Sew in place using some thick wool.

Stuff the arms and neck area with scraps or cotton.

Arrange in a circular shape around the base area.

Using a thread and needle, sew into place. If you use a matching thread you don't have to worry about how perfect your stitches are.

Embellish as desired!
Update (December 2013):  The cat bed is still going strong and Izzy still loves it very, very much. Her bed used to sit on top of the tumble drier but we revamped the pantry with some new shelves this year and we relocated her to the top shelf, away from the pesky children. Of course, she needs steps to get up there (she's not Super Cat!) so my husband fixed some onto the wall. Another idea for you cat lovers, perhaps? 🙂
I see I am getting quite a lot of traffic to this humble blog post of mine, and I truly thank you for visiting. I'd love to hear where you are visiting from – if you have the time do drop me a comment and let me know!
Other upcycled craft ideas you might like:
Much love! xx