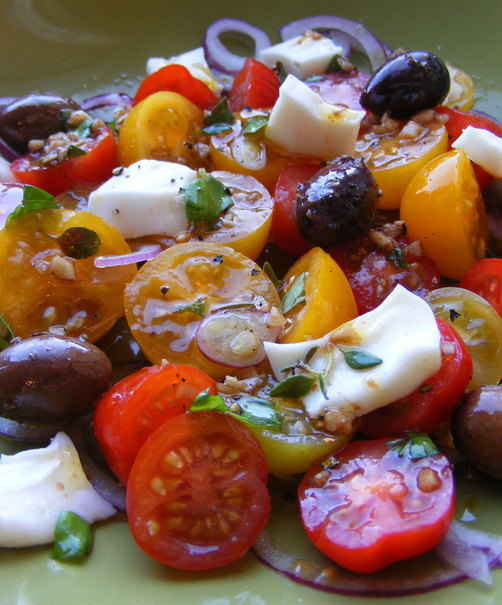 It's officially Spring, and what a better Spring-time lunch is there than a lovely tomato, red onion and goats cheese salad? Make sure your tomatoes are at their peak of ripeness and at room temperature for optimum taste sensation.
Serves 1
large handful of ripe tomatoes, I used a mix of cherry and baby plum tomatoes in delicious red and yellow colours, halved or thickly sliced if you're using large tomatoes
5 kalamata olives, whole
30 g goats cheese, I used Gevrik cornish goats cheese, cubed
1 small red onion, sliced finely
salt & freshly ground black pepper
Dressing:
1 tbsp balsamic vinegar
3 tbsp olive oil
a few torn fresh basil leaves
1 sprig of fresh thyme, leaves only (discard the stalk)
1 small clove garlic, chopped finely
salt & freshly ground black pepper
Prepare dressing by whisking all the ingredients together until blended. Refrigerate until needed. Arrange salad ingredients on plate and drizzle with dressing. Enjoy!