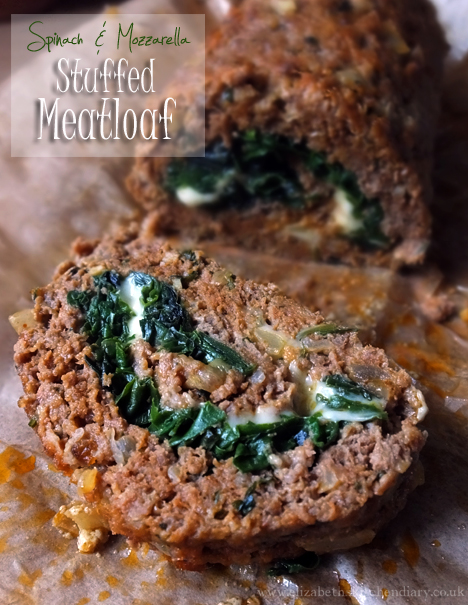 Meatloaf isn't pretty, is it. There's no way to possibly photograph meatloaf to make it look like an enticing appetising food, but I have to say, despite its appearance, this meatloaf is awesome! I've been making this meatloaf recipe for years now and my family love it. Even the children, and when it comes to getting kids to eat meatloaf all parents know that can be a tricky affair.
The original recipe is one I've adapted from the Dairy Book of British Food (1988) but I've upped it a notch by stuffing it with spinach and mozzarella cheese. My initial plan was to fill it with Shetland Cheese reeky jack, a local smoked Monterey Jack cheese, but I haven't seen that cheese in my village shop for awhile, so I've used mozzarella instead for the purposes of sharing the recipe. Any gooey lovely melting cheese could be used.
The first time I'd ever had a stuffed meatloaf was while visiting my father on the west coast of Canada. He made a meatloaf from the minced wild moose meat given to him by a friend and he stuffed it with spinach, cheese and pine mushrooms we'd harvested that day from the forest behind his house. It was heavenly! I don't have a photograph of the meatloaf (this was before I started religiously photographing my food!) but I do have a photo of the mushrooms and of him picking them.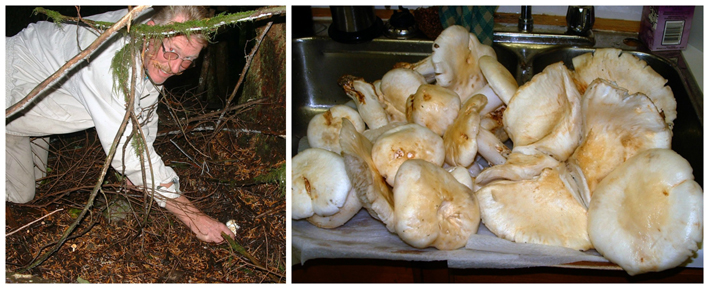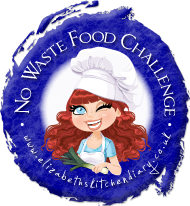 As the mozzarella cheese I used for this recipe was on its best-before date, and the spinach was starting to wilt in my fridge and needed using up I am sharing this recipe with the No Waste Food Challenge hosted this month by the lovely Michelle over at Utterly Scrummy. If I had mushrooms I would have thrown them in too.
I'm also linking up to a new food blogging challenge on the block by #Bibs2014 Food Finalist Lucy over at Supergoldenbakes: #CookBlogShare. Each Monday she'll put up a new linky for folk to share their recipes with. Do pop over for a look!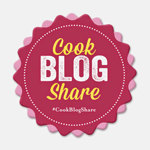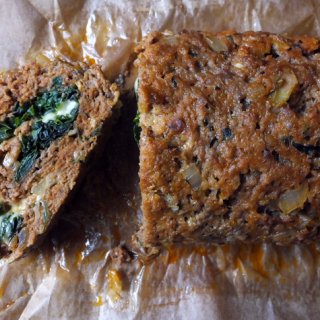 Spinach & Mozzarella Stuffed Meatloaf
A delicious, moist Italian style meatloaf stuffed with spinach and cheese.
Print
Rate
Ingredients
For the meatloaf
15

grams

butter

1

onion

finely chopped

1

tsp

smoked paprika

500

grams

lean steak mince

75

grams

fresh breadcrumbs

1

garlic clove

crushed

4

tbsp

tomato puree

handful

fresh chopped herbs

parsley, marjoram, basil, etc

1

free-range egg

beaten
Affiliate Links
This recipe card may contain affiliate ingredient and equipment links. As an Amazon Associate I earn from qualifying purchases.
Instructions
Preheat oven to 180 C / 350 F. Line a 2 litre bread pan with baking paper. Set aside.

Melt butter in a skillet and sauté onion until softened (a few minutes). Add paprika and sauté a further minute.

Mix beef, breadcrumbs, garlic, tomato purée, herbs, egg and onion mixture together in a large bowl using your hands to combine thoroughly. Season well with salt and pepper.

Wash and chop the spinach, removing any tough stalks. Cook in a dry pan until wilted. Drain excess liquid if required.

Lay out a sheet of greaseproof paper on your work surface.

Press meat out into a rectangle the length of you bread pan and 1/2 inch thick.

Sprinkle with a layer of chopped cooked spinach and then with a layer of torn mozzarella cheese.

Using the greaseproof paper to help. start rolling along the short side of the rectangle. Press into shape as you roll.

Close both ends of the meatloaf by firmly pressing the edges together.

Place the meatloaf in the bread pan and cover tightly with tin foil so that no moisture can escape.

Place tin in a large casserole pan filled with 1 inch of water.

Bake for 90 minutes. Remove the foil and broil for a few minutes under a high heat if you want to crisp up the top.

Serve with creamed potatoes and extra veg. Leftovers (if there are any!) freeze very well.
Environmental Information