A Scandinavian celebration cake with layers of sponge, cream and fruit.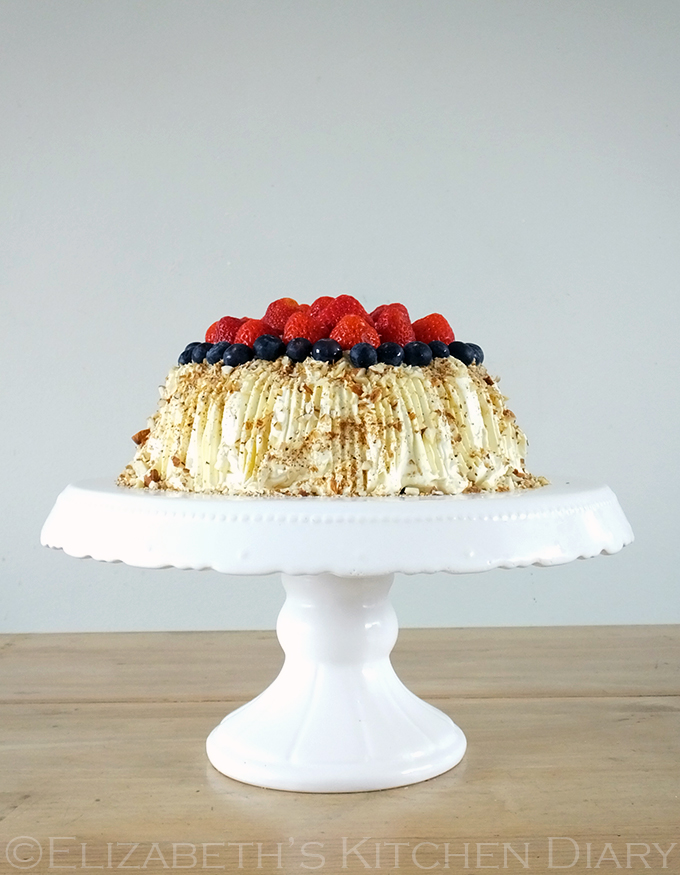 I feel I must apologize for the recipe blogging silence of late. Regular readers will be aware that back in February I took on a part time job in our local village shop – a little something to get me out of the house a couple of afternoons a week. Being self-employed from home can be a rather unsociable affair, so taking a part time job meant I could get out of the house, speak with folk, do something non-blog related and earn a small steady income.
The boss has been away on her much needed and deserved summer holidays over the last 2.5 weeks. I agreed to take on a few extra shifts to help ease the workload on one of my work colleagues who was taking over the boss' job while she was away. It's been a very rewarding, but exhausting two weeks! In the first week I did 95,000 steps – 40 miles – in a tiny village shop! I don't know how people who work full time for someone else do it. How is there time and energy for hobbies, for passions, for doing anything when you get home except collapsing in a heap on the couch and not moving until morning?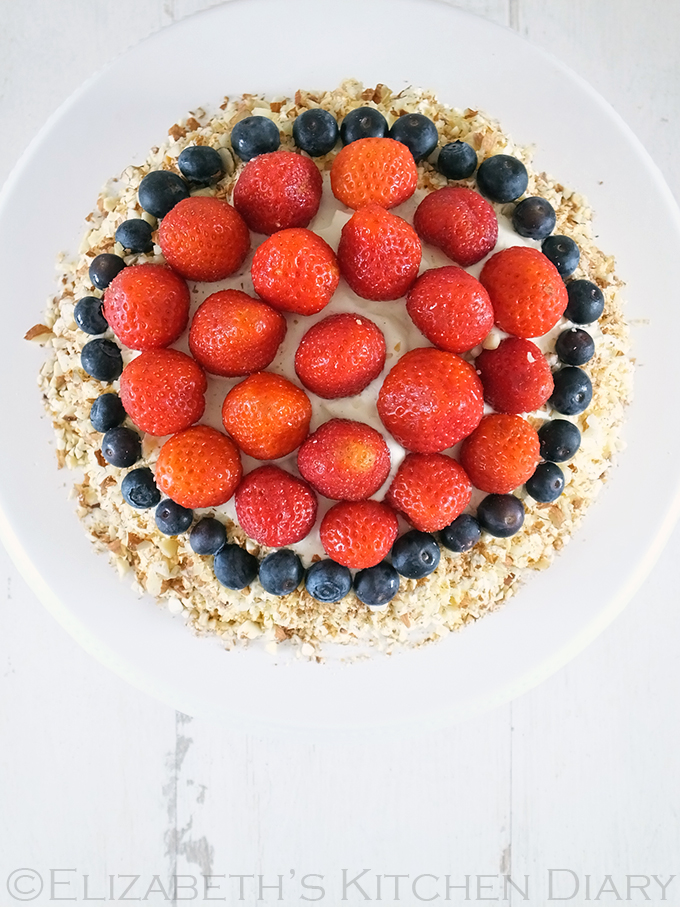 This morning is the first day I have had off in two weeks. It's also the last full day of Bestemor's visit – Bestemor (Norwegian for grandmother – beste: best  mor: mother) has been visiting us from Norway for these last two weeks, and it's been fantastic having her here. Besides the chance the children have to actually have someone related to them be nearby (being a migrant Canadian/Norwegian family our families are spread all over the world) she's happily taken over all the cooking and cleaning jobs in the house.
We've been absolutely spoiled rotten with good food over this last fortnight and I've taken plenty of photographs and been given recipes and stories to share. I will be blogging these over the coming days/weeks.
My husband's birthday occurred during these two weeks – the big twenty-eighteen! To celebrate, Bestemor made him a birthday cake, a recipe he remembers fondly from his childhood.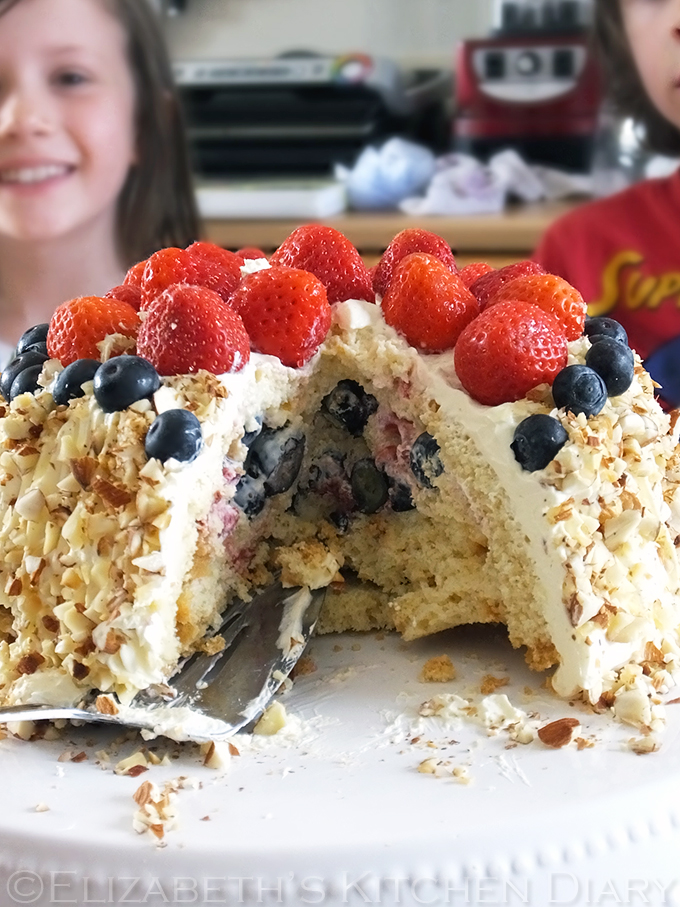 This sockerkaka – sponge cake, is a traditional Scandinavian celebration cake, a recipe passed on to Bestemor from her Swedish great-grandmother who ran a small hotel on the west coast of Sweden back in the 1930s. Their customers included a lot of workers from a nearby lumber yard, but because of the Depression they had to shut down.
This recipe consists of a delicious sponge cake, baked the day before, and then thinly sliced and layered with freshly whipped cream and fruit into a round bowl. The mixture is pressed down and left overnight to chill, and the next day it's turned out onto a serving platter, decorated with cream, fruit and nuts and served.
This is such a visually impressive, and incredibly delicious cake! The domed shape is rather unusual and intriguing, while the layers of cake, cream and fruit are positively moreish. The toasted and chopped nuts, usually hazelnuts (but in this case we had almonds because there were no hazelnuts to be had in the village shop!) add a fantastic nutty crunch.
I was working a split shift on my husband's birthday, so I came home from lunch and enjoyed cake and an afternoon walk with the family before heading back to work. The weather was so cold, for July, but at least the sun was shining. We donned our toques and headed to a nearby beach.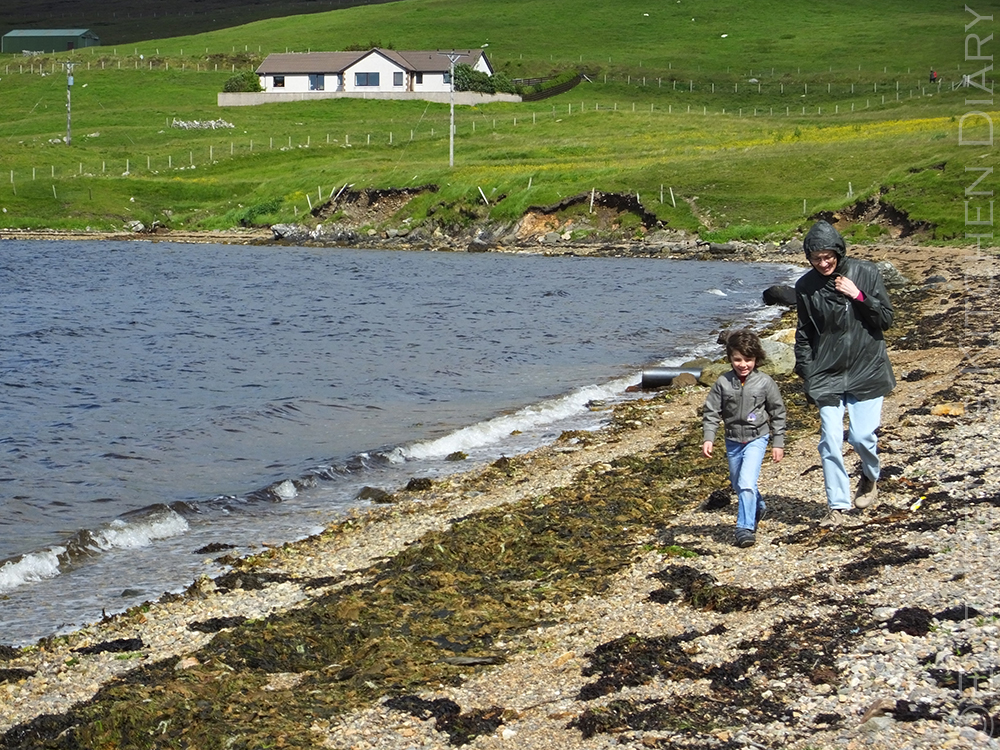 It's not the most remarkable beach in Shetland by any means, but there is always something to investigate on it. This time of year there are plenty of wildflowers growing along the shoreline, especially in that area you can see crumbling into the sea.
A strange high-pitched noise could be heard from the sea; a noise I'd never heard before. It definitely wasn't a bird. I scanned the water. There, just a matter of metres before us two otters were swimming across the voe! By the time I thought to grab my camera they were well out into the water, but one of them slowed down as it caught a fish. I am rather pleased with these photos – my first two proper photos of an elusive Shetland otter!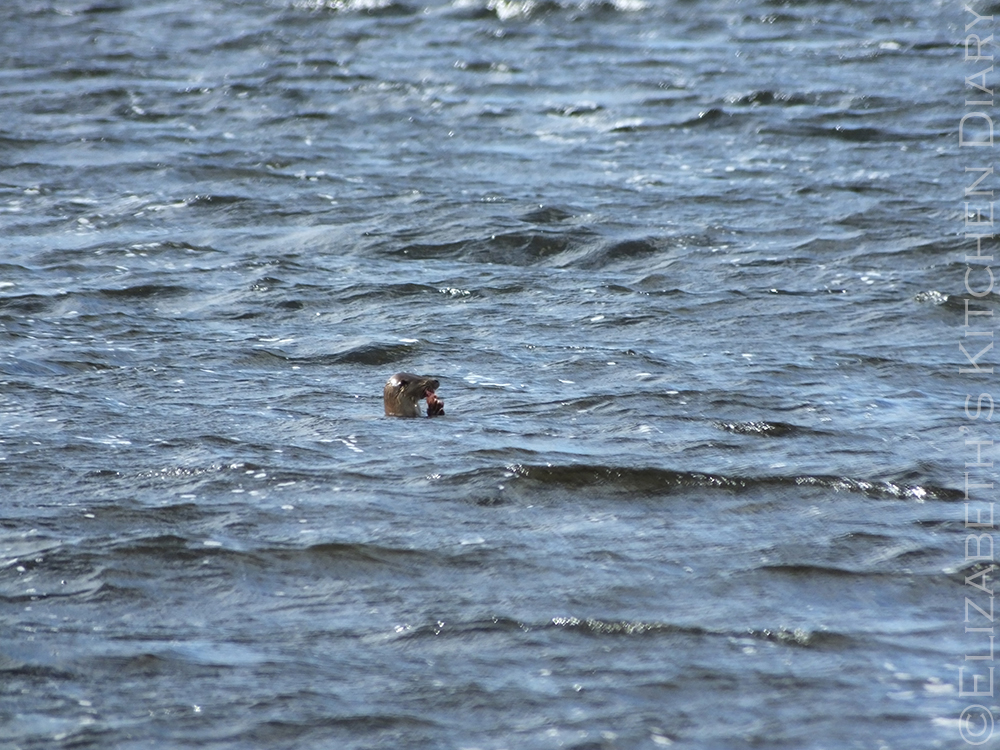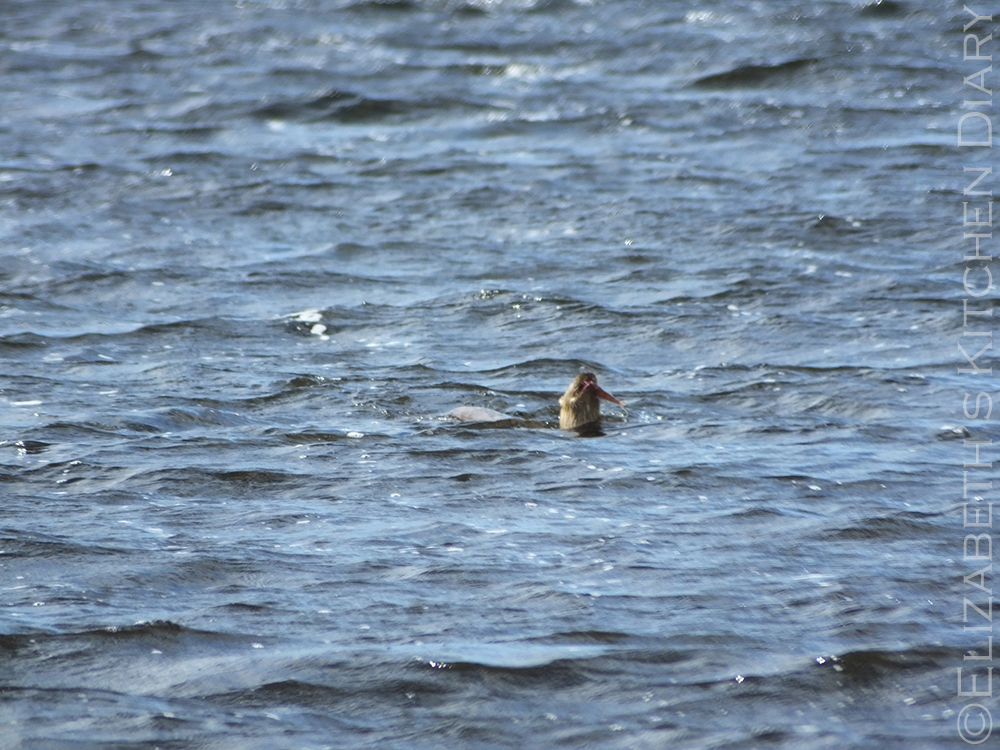 All in all it was a pretty fantastic day. Cake, sun, wildlife, family – followed by ice creams on the picnic bench outside the village shop before I had to start my second shift.
Bestemor says that if you don't have time to do the whole slicing and layering thing overnight, you can always bake the cakes in two sandwich tins and slice them each horizontally into two layers, making a four layer cake in total. Sandwich together with cream and berries, finish off with the rest of the cream and sprinkle with toasted chopped nuts.
Enjoy!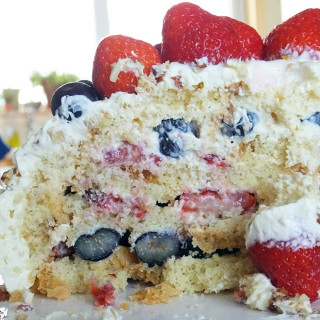 Sockerkaka - Great Grandmother's Sponge Cake
A Swedish recipe with layers of delicious sponge cake, fresh cream and berries. Perfect for celebrations!
Print
Rate
Ingredients
to assemble and decorate
0.5

cups

orange juice

1.5

cups

whipping cream

whipped

0.5

cups

strawberries

0.5

cups

blueberries

0.5

cups

hazelnuts

(or almonds), toasted and coarsely chopped
Instructions
Prepare the sponge cake two days in advance for the best results. Grease and line a 24 cm springform cake pan and set aside. Preheat oven to 200 C/ 170 C fan.

Whisk the eggs and caster sugar together in a large bowl until they are light and fluffy.

Sieve the plain flour, potato flour and baking powder together in another bowl and gradually add to the egg mixture along with the vanilla.

Gently mix in 1/4 - 1/2 cup of warm water.

Spoon into the prepared cake tin and bake for 30 minutes until a skewer, inserted into the centre, comes out clean.

Leave the cake until the next day (ideally) as it is easier to slice.

Option 1: slice the cake into 3 or 4 layers, sprinkling each layer with fresh orange juice before sandwiching together with freshly whipped whipping cream and fruit. Finish with a layer of cream and sprinkle the chopped nuts over the top.

Option 2: Slice the cake from top to bottom into 1 cm thick slices.

Line a 2 litre bowl with slices of the cake and sprinkle liberally with fresh orange juice.

Spread a layer of whipped cream over the cake slices and sprinkle with some fresh fruit.

Fill up the bowl with layers of cake slices, sprinkled with orange juice, whipping cream and fruit.

Finish off with a layer of cake slices and press the whole thing firmly down in the bowl. Place a heavy plate on the top of the cake and leave in the fridge overnight.

The next day, turn the cake out onto a cake stand or plate.

Cover with whipping cream. Decorate the sides with the toasted chopped nuts and arrange fresh fruit on the top.

LINKING UP WITH A FEW FOOD BLOGGING CHALLENGES
Cake Club by Kerry Cooks
Love Cake by Jibber Jabber UK (theme: cakes from around the world)
Tasty Tuesdays by Honest Mum
Recipe of the Week by A Mummy Too
OTHER CELEBRATION CAKES YOU MIGHT LIKE
Kransekake by Elizabeth's Kitchen Diary
My Favourite Chocolatey Chocolate Cake by Recipes from a Pantry
If you want to be kept up to date on my recipes, occasional craft tutorials, adventure stories and giveaways then please subscribe to my weekly newsletter; it gets sent out every Monday morning if there is new content. Your email address won't be passed on to anyone, you will never be spammed and you are free to unsubscribe at any time, no questions asked. Make sure you confirm your subscription or you won't receive the newsletter – if it hasn't arrived check your junk mail folder.
[wysija_form id="1″]