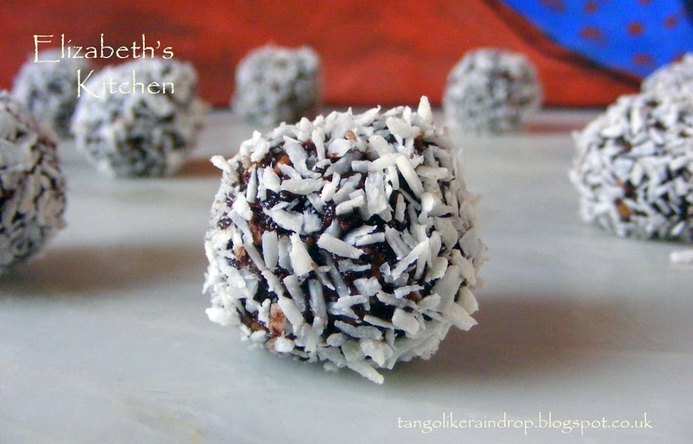 The OH fondly remembers these sweets from his childhood in Norway (when they didn't have as politically correct a name!) We're quite fond of them too and they whip up in no time at all. No cooking required.
100g butter
1 dl sugar (about 95g, but reduce if you don't want them as sweet)
3 tbsp cocoa powder
3 dl porridge oats (about 118g)
3 tbsp strong, cold coffee
sugar or desiccated coconut, to roll
Mix together butter, sugar, cocoa powder, porridge oats and coffee together until well blended. I find using my hands works best. Roll into balls about 2-3 cm in diameter and roll in sugar or coconut. Leave to chill for half an hour in the refrigerator. Enjoy!
I am entering these in December's Tea Time Treats food bloggers challenge alternately hosted by Lavendar & Lovage and What Kate Baked. This month What Kate Baked is tasking us with the theme of chocolate tea time treats.
Variation:
100g butter
80g caster sugar
3 tbsp cherry flavoured cocoa powder
118g porridge oats
1 tsp vanilla
2 tbsp milk
coconut or sugar, to roll
I was sent a bag of cherry flavoured cocoa powder by Sugar & Crumbs to sample and thought I'd try it out with this recipe. The cherry flavour is really quite pleasant and works well with this recipe.