The classic ham & pea combination gets a festive makeover with these super easy to make Sizzling SPAM® Star Crostini. This recipe is in collaboration with SPAM® Chopped Pork and Ham.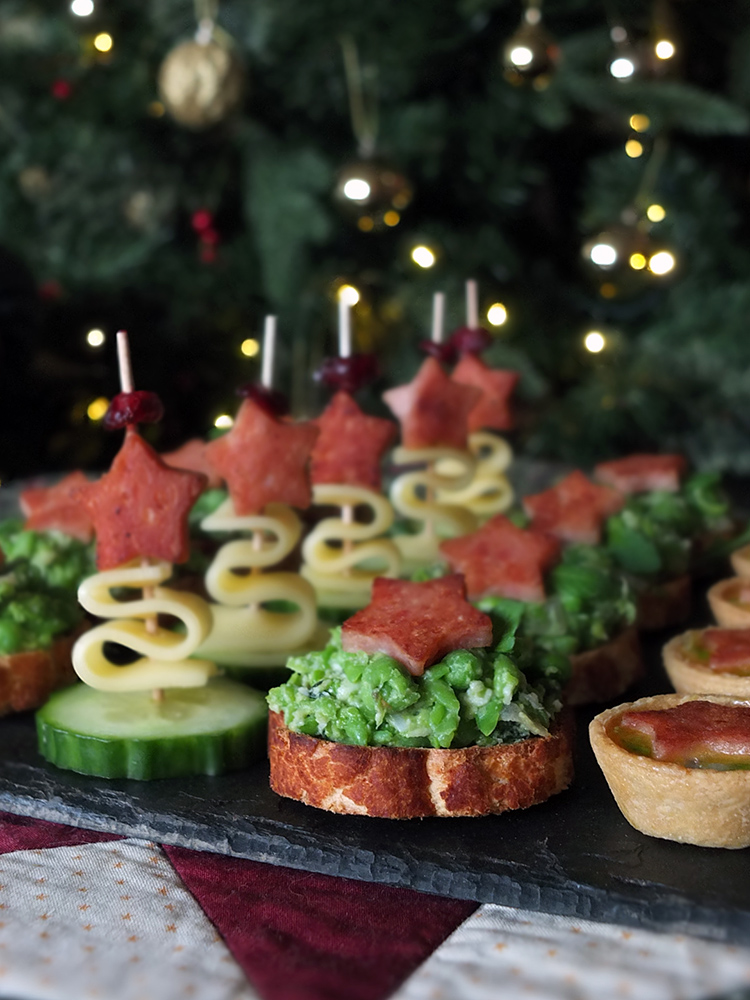 How is it already one week until Christmas!? 2018 seems to have flown by even faster than the previous years for some reason. It's been a year to remember, that's for sure, and now I'm looking forward to relaxing a bit over the holidays and eating more than my fair share of the Christmas food!
If you're entertaining this festive season, you might like these quick and easy canapes – Sizzling SPAM® Star Crostini! They're super quick to make, and the star of the show is the Sizzling SPAM® stars decorating the tops of each morsel!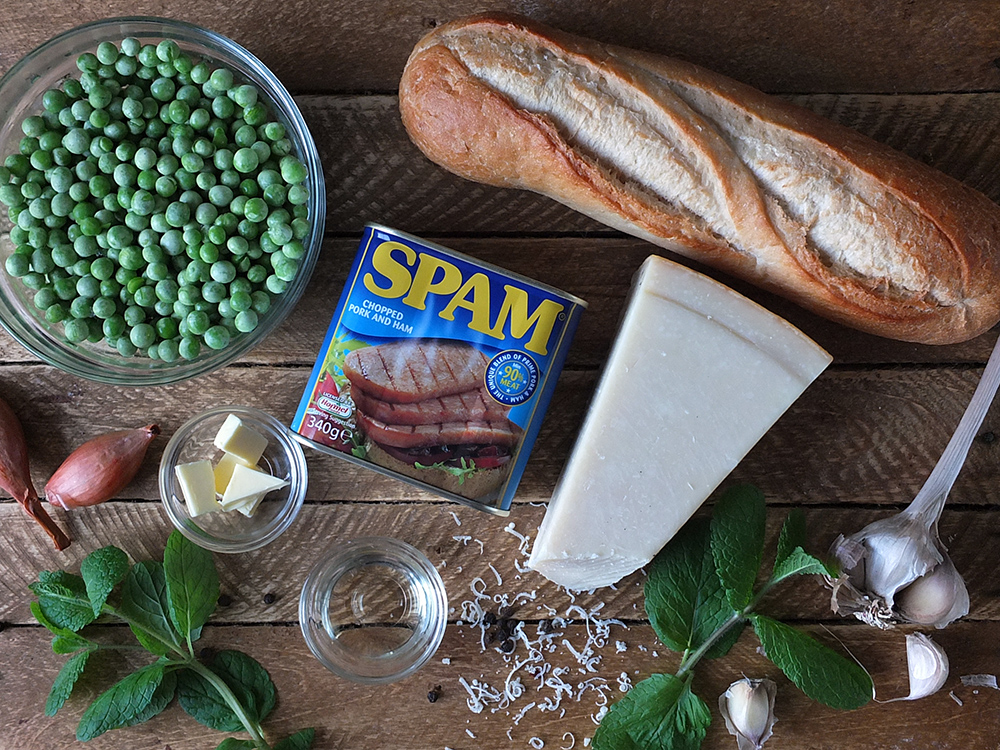 INGREDIENTS NEEDED FOR THESE Sizzling SPAM® Star Crostini
SPAM® Chopped Pork and Ham – a 340-gram tin cut into 5 mm slices perfect for cutting out with a star-shaped cookie cutter
frozen peas
shallots, or a small white onion
garlic clove
Parmesan cheese, or other hard cheese
fresh mint
French baguette
butter
sunflower oil
freshly ground black pepper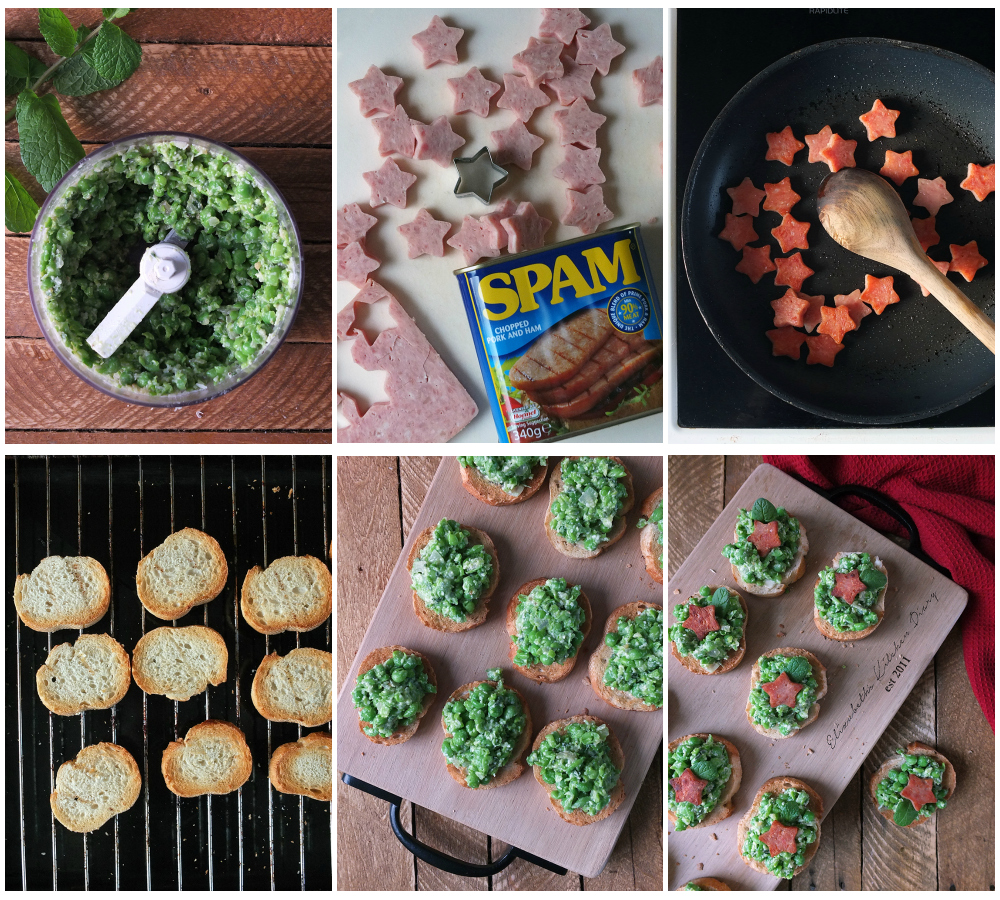 How to make Sizzling SPAM® Star Crostini
Step 1: Quickly cook the frozen peas and process in a mini food processor along with some sauteed shallots and garlic, some grated Parmesan cheese and a handful of fresh mint leaves. Season well with black pepper. You can do this step in advance, up to a day or two before.
Step 2: Cut SPAM® Chopped Pork and Ham into 5 mm thick slices, lengthwise, and then use a 1-inch star-shaped cookie cutter to cut out star shapes.
Step 3: Dry fry the SPAM® Chopped Pork and Ham until browned and crispy on both sides.
Step 4: Slice some day-old baguette into 1-cm thick slices. Toast under a grill on both sides and then butter.
Step 5: Top with the crushed pea mixture.
Step 6: Finish off with a SPAM® Chopped Pork and Ham star and a tiny mint leaf.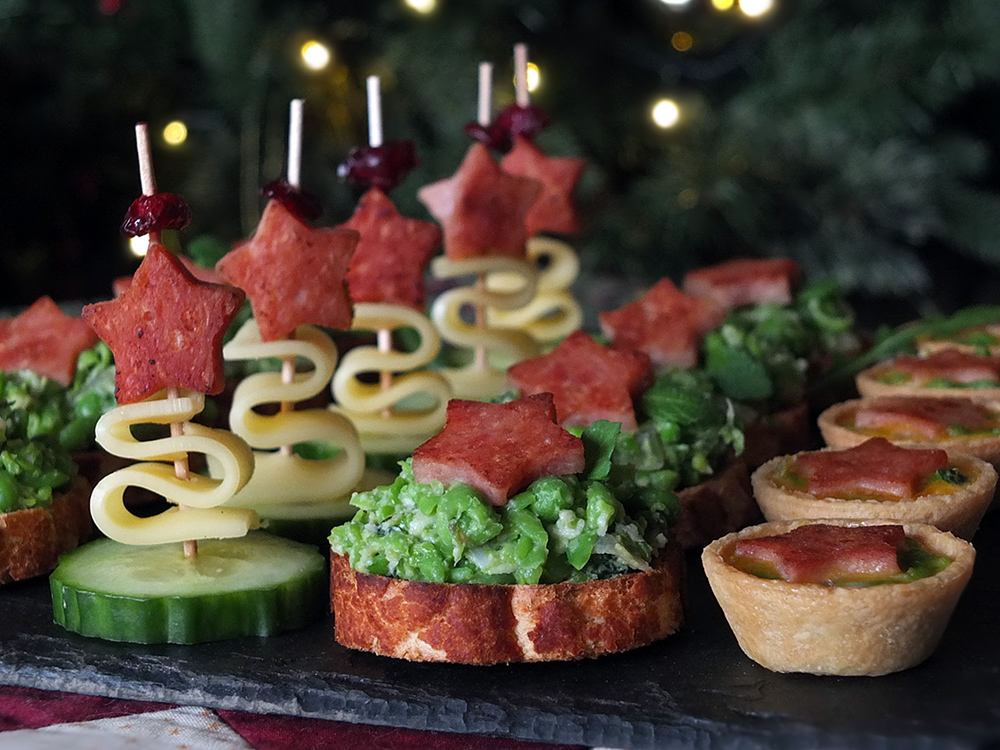 TWO OTHER FESTIVE SPAMAPES YOU COULD MAKE
Place a small spoonful of the crostini topping into six small ready-made tart shells. Mix one egg yolk with 1 tbsp of milk and spoon over the top. Place a Sizzling SPAM® Star on the top and bake at 170 C for 6-8 minutes, until set.
Thread one dried cranberry, a Sizzling SPAM® Star and a slice of your favourite cheese onto a cocktail stick and stick into a slice of cucumber.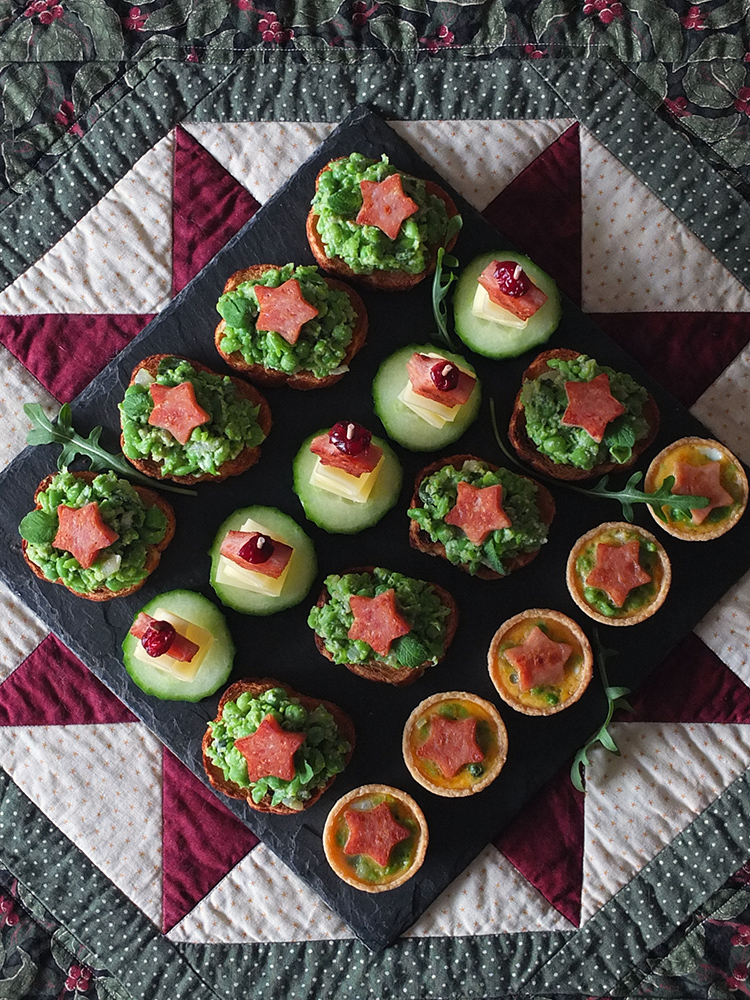 SPAM® CHOPPED PORK AND HAM
SPAM® Chopped Pork and Ham came to our UK kitchens in 1941 during the war as an alternative to corned beef. It rose quickly in popularity, selling its one billionth can in the 1950s. In the 1960s SPAM® Chopped Pork and Ham fritters regularly appeared on British school menus.
This iconic product is originally from the US when, in 1937, the Hormel Food Company of Minnesota dealt with a problem they had of too much pork shoulder. The idea to grind the pork shoulder and mix it with ham, cooking it in a tin to create a long life product was born, and now, over 80 years later, it's still going strong!
An incredibly versatile ingredient, SPAM® Chopped Pork and Ham is made from a minimum of 90% shoulder pork and leg ham. The 200g tub is currently available in the UK from Tesco and Asda while 200g and 340g cans are available from all major UK supermarkets. Visit the SPAM® Chopped Pork and Ham website for more recipe inspiration!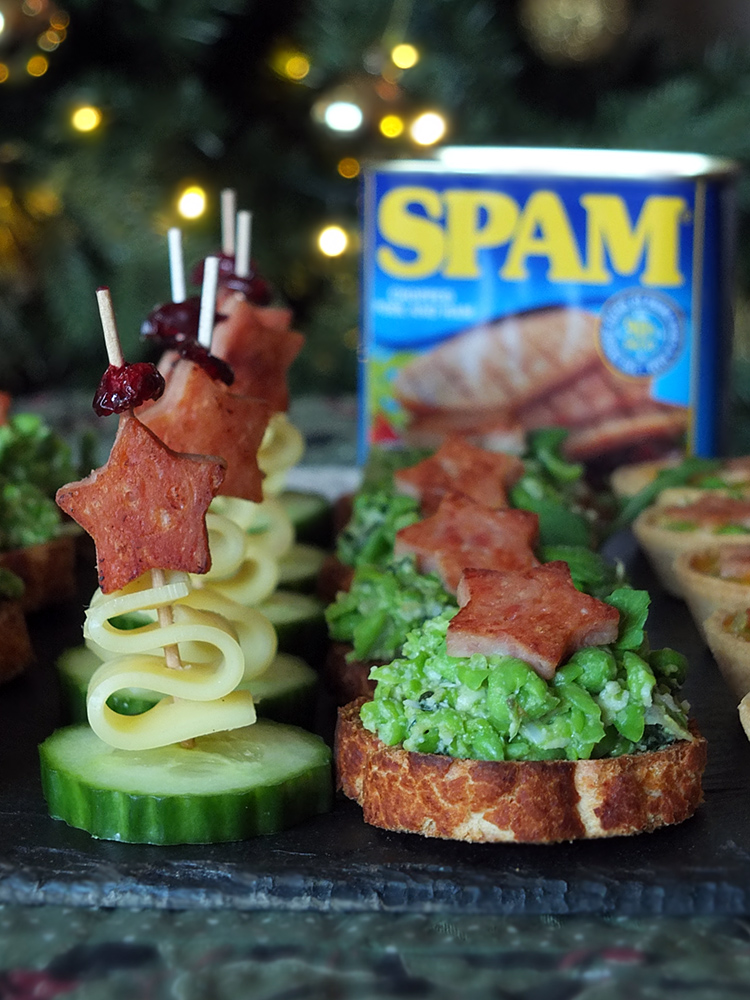 Don't throw away those leftover bits of SPAM® Chopped Pork and Ham after cutting out your star shapes with a cookie cutter. Leftovers will keep up to two days, covered, in the fridge, and you can whip up some mini quiches with them, or add them to some scrambled eggs for a quick and easy breakfast the day after your Christmas party!
Do you cook with SPAM® Chopped Pork and Ham? Let me know what you make in the comments!
PIN THESE FESTIVE CHRISTMAS CANAPES FOR LATER!
[color-box]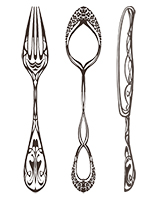 Have you made this recipe?
Take a photo and tag @tangoraindrop or use the hashtag #elizabethskitchendiary and share on Instagram and Twitter. It would make my day to see your creations!
[/color-box]
This is a sponsored recipe post in collaboration with SPAM® Chopped Pork and Ham. All thoughts and opinions expressed are our own. Thank you for supporting the brands who make it possible for me to do what I love: mess up my kitchen and share recipe stories.