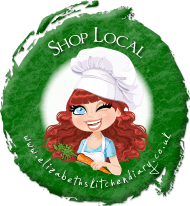 Welcome to the May 2014 Shop Local food blogging challenge round up! We've got some fantastic recipes to share with you this month from all across the UK and as far away as the USA, Australia and Italy!
So get cosy with your cuppa and enjoy your read!
First up we have Choclette over at Chocolate Log Blog with her Jammy Flapjacks. Instead of using the traditional golden syrup to hold her oats together Choclette used some home made fig, apple and pomegranate jam. So clever! Her flapjacks are made from oats from her local health shop and they won her a £20 voucher where she lives in Cornwall for shopping locally!

Johanna temps us all the way from Australia with this gorgeous rhubarb cake, made from rhubarb sourced from her local Flemington Farmer's Market. Don't you just want to dive into that photo and start eating? Johanna makes this cake with a combination of plain and wholemeal flours, so it's got a little added goodness into it as well as being delicious!

Kate, the Gluten Free Alchemist combines seasonal locally grown asparagus from Owen's Court Farm just up the road from her with Stilton cheese into this delicious gluten free scone. Aren't they beautiful and a great way to incorporate the flavours of spring into a bake. Stunning!

Lucia over at Tortadirose combines fresh peas grown in the beautiful Italian countryside with quadrelli pasta to make her mother's Quadrelli di pasta all-uovo con piselli recipe. Doesn't it look stunning! Pasta, fresh peas, beef mince, vegetables and Parmesan all in one fantastic dish.

Spinach Artichoke Pesto by Family Friends Food
Helen over at Family Friends Food combines spinach from her local veg box in Norfolk with some artichokes, basil and garlic to make this gorgeous spinach artichoke pesto sauce for pasta. I love all of the flavours in this dish! What a great way to cook with spinach.

Broccoli Rabe and Pasta Toss by Inhabited Kitchen
Anne over at Inhabited Kitchen includes some delicious spring broccoli rabe from her New York Farmer's Market in a pasta dish: Broccoli Rabe and Pasta Toss. I'm a big fan of spring greens mixed into pasta dishes – now, where can I get ahold of some broccoli rabe! Looks divine!

Stoneground flour from the finest English wheat ground by the Stainsby Mill in Derbyshire was used by Ness over at JibberjabberUK to make a gorgeous set of wholegrain loaves. Her post is the ideal Shop Local post, detailing the history behind the flour she used. You have to pop over for a very informative, historical read!

Corin over at ProWare Kitchen dishes up some succulent seared scallops with her Thai Red Curry Soup, made using pak choi from her local veg box. I'm new to scallops, having only tried them for the first time a few weeks ago, but I am officially hooked! I think this would be a fantastic way to eat them.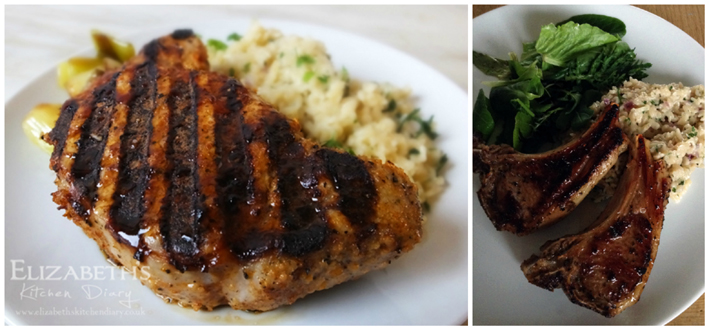 My own entry into this month's challenge is a recipe for grown up alphabet pasta which I always serve with grilled peppered pork grills or minted lamb chops from the local Shetland Scalloway Meat Company. This lovely local produce is available in our village shop and I think they taste fantastic with the cheesy alphabet pasta. I might be a little bit addicted to them!

Back to Italy again where Lucia has made a beautiful Swiss chard and pink pepper cake using Swiss chard from her friend's garden. A beautiful cake with very intriguing flavours – I have to try this!

Alexandra, The Lass in the Apron (who is writing her own cookbook!) uses some local butter she picked up at her Pennsylvania Farmer's Market in these gorgeous everyday double chocolate cookies. Oh… my… goodness… I am craving chocolate cookies now!

Lastly, Laura over at I'd Much Rather Bake Than… shares these mouthwatering honey and chocolate chip cupcakes made using locally sourced Yorkshire honey. She's kept the recipe simple to allow the wonderful flavours of the honey to shine through – and they're little beauties to boot!

The Shop Local food blogging challenge is open to bloggers around the world. If you want to join in simply add your recipe link below! Please include a link in your post back to the original challenge page too and include the badge too, if you fancy. For the full rules see the Shop Local home page. Happy eating! 🙂