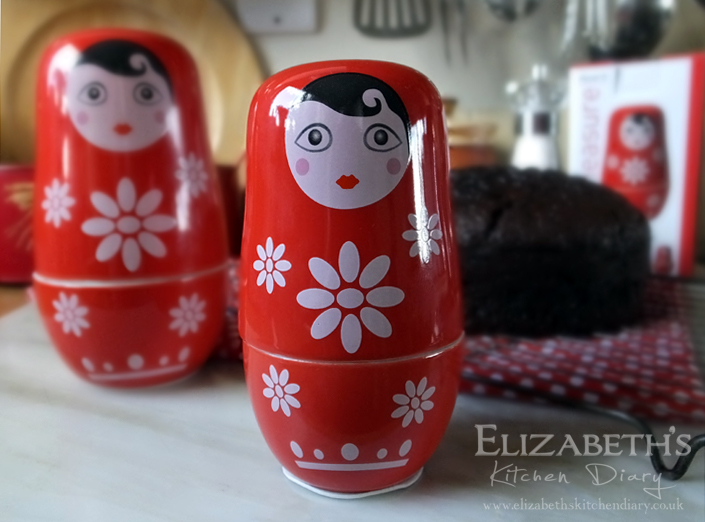 My regular readers will know I am an ex-pat Canadian. I immigrated to the UK in 1999 and one of the few things I brought with me was battered old handwritten notebook of recipes. Canadian cooking units are in cups, so it was a big transition for me to start cooking in grams and mls. Over the years I've become a gram/ml convert and I've blogged many of my old recipes, converting the originals into UK measures, but I still have a trusty set of measuring cups on hand.
The standard North American cup measure is 227 ml. How do I know this? It says so on the inside of this adorable ceramic Russian doll measuring cup set by Red Candy!
This colourful ceramic measuring cup set contains four cup measures, 1/4, 1/3, 1/2 and 1 cup, with a handy little line measure on the inside of each. This line marks cups, fluid ounces and mls, making for easy recipe conversion. The cups are sturdy and are painted in a gorgeous red colour with a traditional red Russian doll face and flowers decorating the front.
The cups fit together nicely so they can be left on display in the kitchen when not in use. They do look rather fetching on my home made wooden spice rack! They retail at £18 for the set and would make a lovely creative gift for any home cook.
The cups are ceramic, so they are very fragile, meaning for people like me who are incredibly clumsy they'll break right away. Given the number of times my old plastic measuring cup set has bounced across the kitchen counter and floor I'd give these cups a week at most in my kitchen before I broke them! So, I've given my review set to a cooking friend of mine who is less clumsy than I (although I do love them so!).
My only complaint about the measuring cups is that there are only four. My old plastic set has six which include 2/3 and 3/4 cup measures. However, I understand the thickness of the ceramic makes a six cup set impractical.
Overall I am very impressed with these measuring cups and I think they'd look fantastic in any modern kitchen.
Elizabeth's Kitchen Diary was sent a complimentary set of Swift Russian Doll Ceramic Measuring cups for review. All opinions expressed are our own and we were not required to write a positive review. This is not a paid post.