Pasta is a remarkably versatile dish. You can do so many different things with it and it all starts with some flour and eggs. Homemade pasta can't be beat. If you haven't tried making your own I insist you absolutely must. Once you do it once you'll never go back to dried shop bought pasta.
We're desperately needing to do a supermarket shop. The kitchen cupboards are looking a bit old-mother-hubbard-y and there's only a sad looking celery with only one stalk left on it, a couple of lemons and some old carrots left in the vegetable crisper. A quick glance at the nearly empty fruit bowl revealed a solitary butternut squash which probably should have been eaten a few weeks ago.
What could I make to feed my family of five with a butternut squash and store cupboard items? I fancied making a pasta dish to enter into Pasta Please, a monthly food blogging challenge by Jacqueline from Tinned Tomatoes. This month Karen from Lavender and Lovage is hosting and she has challenged us to share a pasta dish involving nuts.


I keep a good supply of nuts in my store cupboard. Almonds, cashews, pecans and walnuts are all purchased in bulk, as are bags of mixed nuts. I reckoned walnuts would work well with butternut squash in a ravioli and a quick Google of 'butternut squash with walnut cream sauce' came up with this recipe and this recipe, which I combined and tweaked into the following recipe. Both original recipes involved sage, but I detest sage so I omitted it.
There's something really satisfying in preparing your own pasta from scratch. My children love it because they get to help turn the handle on the pasta machine and they get to play with any leftover scraps which keeps them entertained (and blissfully quiet!) until dinner is ready.
Making homemade pasta is not a difficult process, once you get used to it. Pop 100 grams of 00 pasta flour per large egg into a food processor, blitz for 30 seconds until the dough clumps together, knead by hand for two minutes until the dough is smooth and silky and then wrap it in cling film and chill for at least an hour. This part is important. Something magical happens to the dough while it is resting and if you don't let it rest long enough the pasta will not roll out properly (trust me, I speak from experience here!).
A pasta machine makes short work of rolling the dough out. I was fortunate enough to pick mine up at a charity shop outside Glasgow about ten years ago for only £5, but there are plenty modern models available. If you don't have a machine use a rolling pin and roll out the dough as thin as you can possibly get it, and then try to get it even thinner. I usually use coarse cornmeal to roll the dough out on, but a generous dusting of 00 flour will also work to keep it from sticking to the table.
This dish was fantastic, my partner and I thought. The children, on the other hand, poked and prodded at their meals with scepticism and disdain. We grown-ups think the savoury roasted butternut squash filling perfectly compliments the sweet and savoury sauce and the contrast of the walnuts with texture and flavour, yes, it works very well indeed. Plus, I think it looks pretty attractive. I served this as a main course, but it was getting to be a bit rich by the end, so we think it would make an ideal appetiser (but not for fussy children!).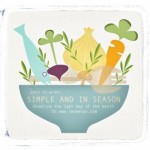 I know it may be pushing the limits a bit, but I've also submitted this recipe to Ren Behan's Simple and in Season recipe round-up featuring seasonal ingredients. Butternut squash isn't in season just now, but the parsley and red onion in the recipe both are, as are the chive flowers in the photographs. I was out collecting some parsley from my own herb garden for the filling when I saw the chives in flower and I've used them for no other reason other than that they are very pretty.
Wouldn't you agree?
I've also shared this recipe with Javelin Warrior's Made with Love Mondays from-scratch recipe round-up.