In collaboration with Virgin Trains East Coast.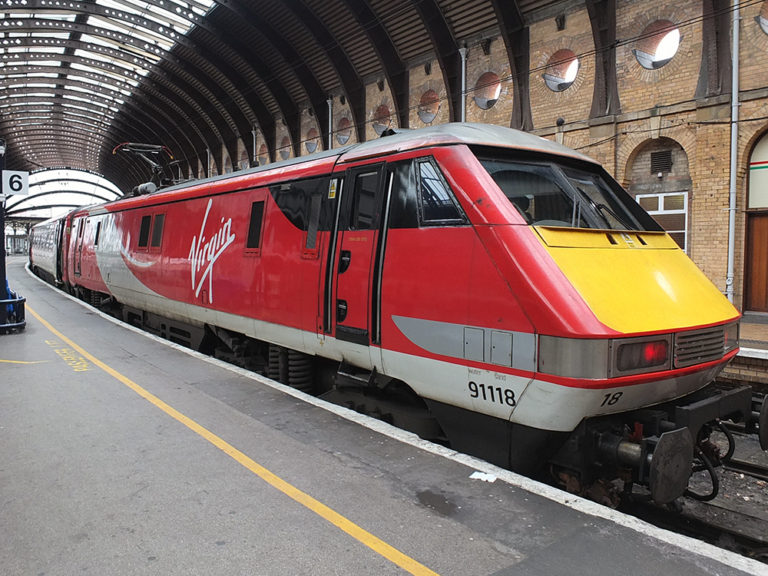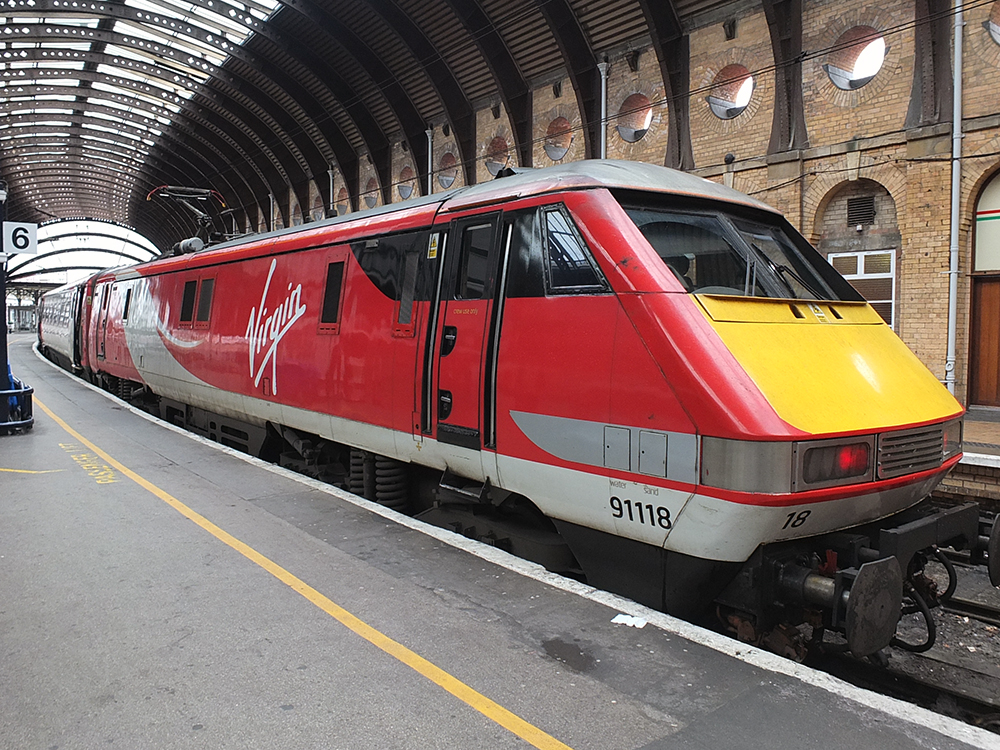 I grew up in a tiny village on the east coast of Canada, a village that was only there because it was an optimum spot to place an Inter-colonial Railway Station way back in 1886 (positively ancient by Canadian standards).
My first summer job, at the tender age of 14, was as a tour guide at that railway station. The sound of the train whistle is a fond memory from my childhood and trains still hold a special place in my heart.
Now I live on an island with no trains. We have to head south to the mainland of Scotland for such things. Would you believe that the first train my youngest two had ever travelled on was a steam train? I don't think there are many children who can make that claim these days! We were on a family holiday in the Lake District and we took the Lakeside & Haverthwaite Railway for a day trip. They loved it!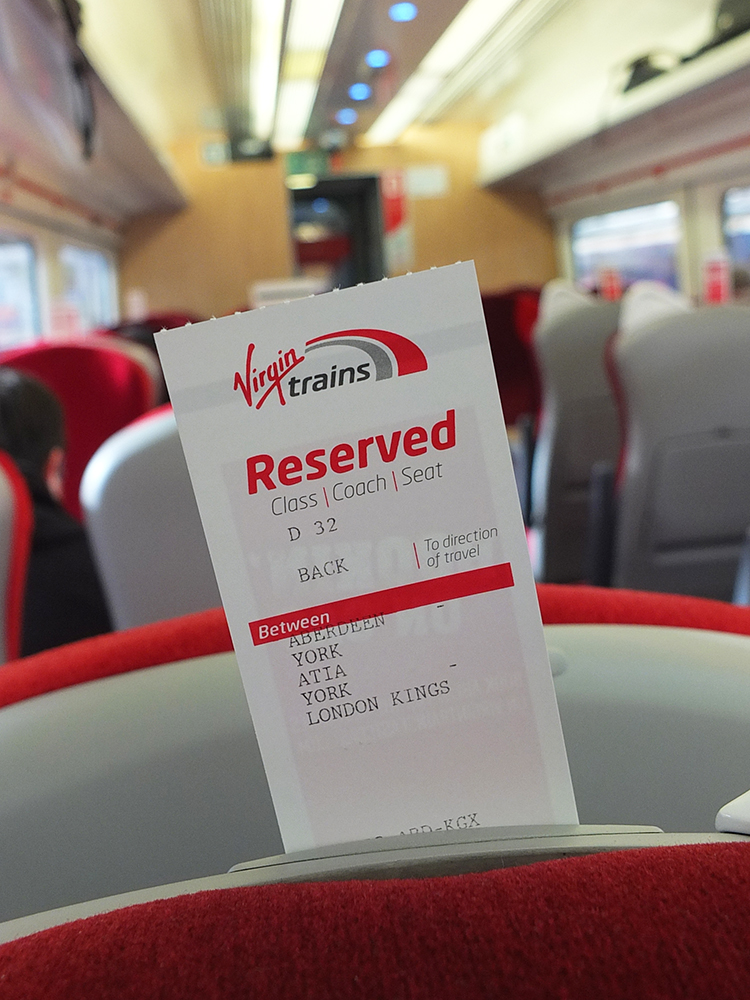 But this post isn't about steam trains. It's about the Virgin Trains East Coast line that we, as a family, had the pleasure of travelling on this summer. This was the third time our younger two children had ever been on a train.
Virgin Trains East Coast run from Inverness and Aberdeen in Scotland all the way down the picturesque east coast of Britain with a final stop in London. They have invested over £40 million to improve their current fleet with upgrades including new carpets and fittings, luxurious leather seats and mood lighting in First Class and some rather snazzy red cloth seats in Standard.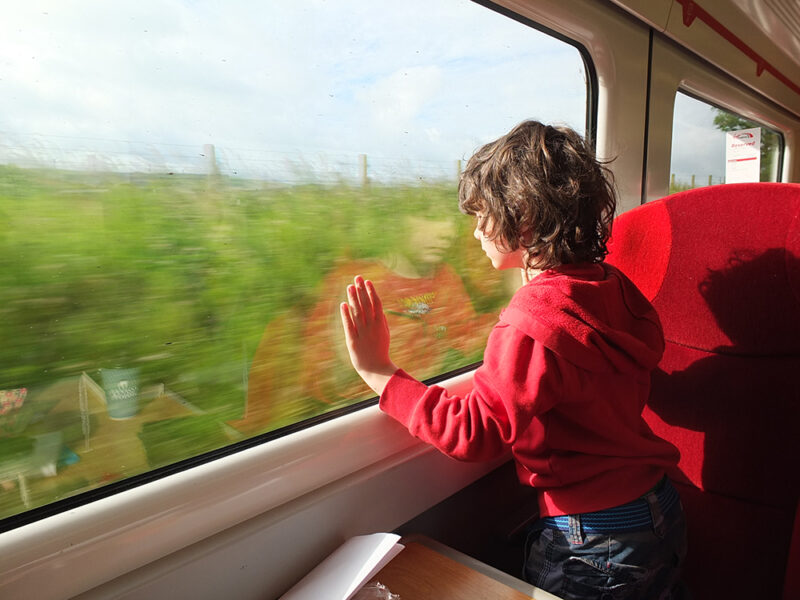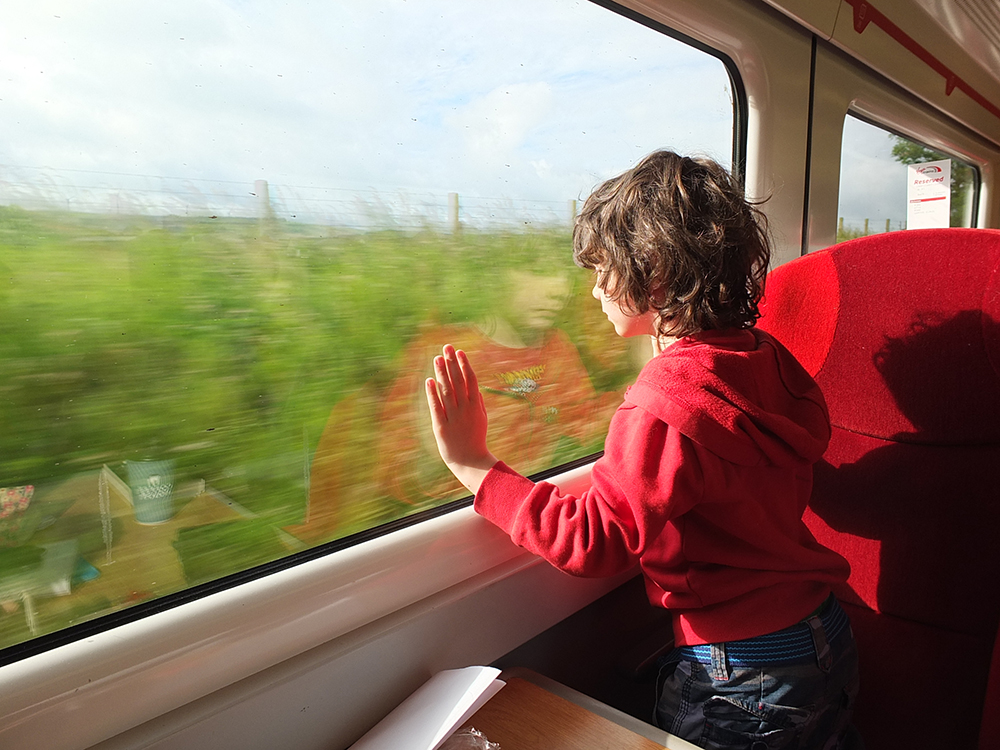 The train station is Aberdeen is fortunately just a few minutes' walk from the ferry terminal, so after arriving on the mainland at 7 am after the overnight sailing we caught an early morning train to York, en route to Hull to catch another ferry to the Netherlands, and yet another train to Brussels for a weekend Belgium Chocolate Experience.
It's a long round about way to get to a place, true, but travelling is not all about the destination. It's about the journey too, isn't it. On this particular holiday away we took no fewer than eight different trains, and I have to say that this first Virgin East Coast Train line trip is now the standard we have set to rate all other train journeys by, and not just because the voice of our train guard, Peter Simpson (pictured below, right) had us bursting into laughter each time he spoke over the tannoy. We think he should tell stories or character voice overs for Disney animations – he has a fantastic tannoy voice! If there's a train award for best tannoy voice he has to be the winner. You'll have to travel the Scottish leg of this train line to hear his voice though, I'm afraid.
On the outward leg of our journey we had table seating, which we were very thankful for. It takes five hours to get from Aberdeen to York on the train. Five hours of trying to keep the children entertained.
There was a lot of UNO played!
There was plenty of room on the table to eat – the Foodbar is located in one of the train carriages offering rather tasty cheesy toasties and other sandwiches, drinks and treats but at 95 pence for a chocolate bar and £1.95 for a cup of tea it's rather pricey – and room to play. Our train attendant kindly came with two copies of the Big Book of Fun, a colouring/activity book with crayons with a rather fun Train Window Bingo game. You've got to cross off items like tree, church, pylon, etc. when you see them outside.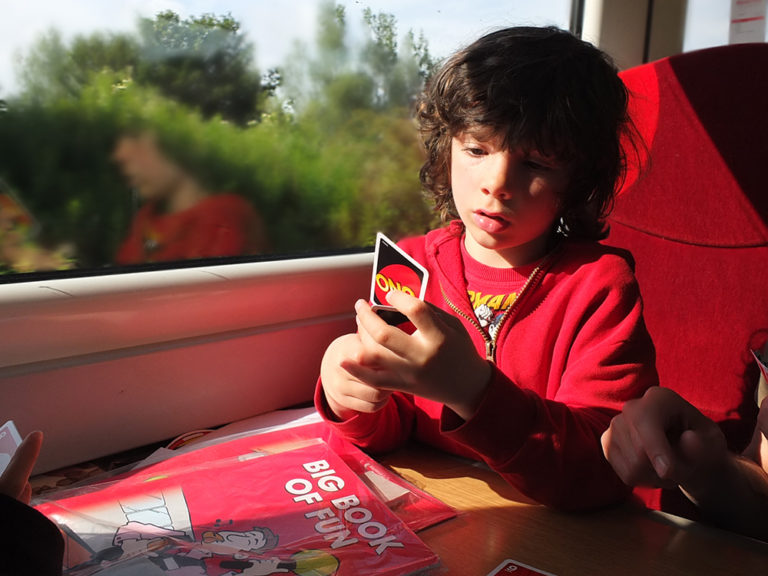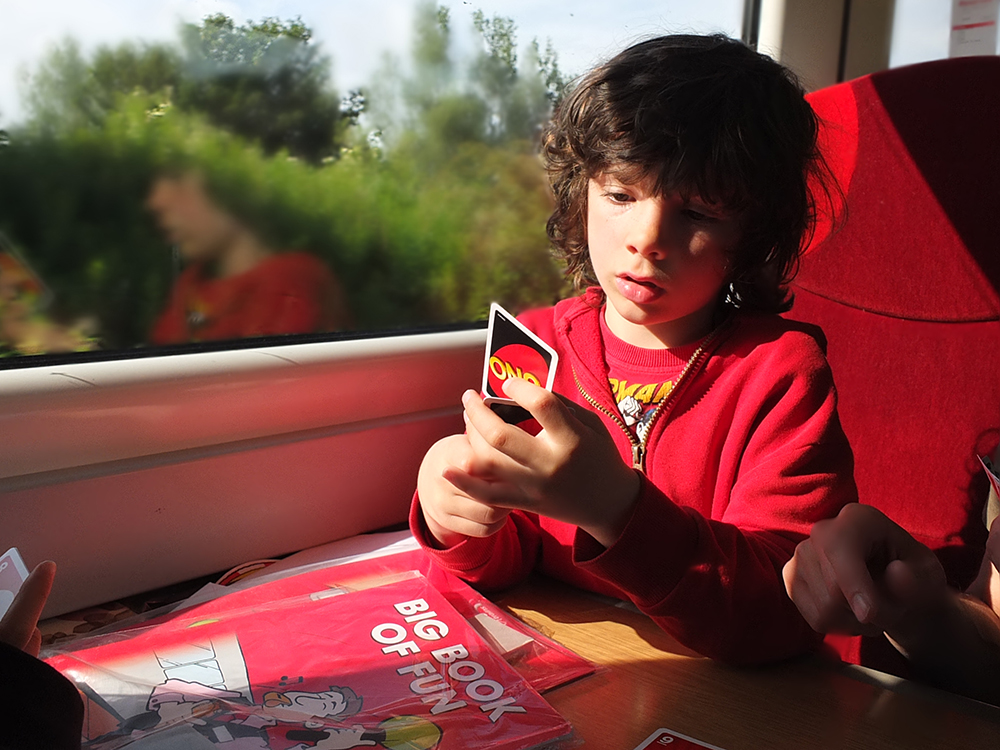 There is free wifi in Standard for 15 minutes only. After that it's £5 for 10 hours, but the signal isn't really strong enough to do anything with it. I ended up switching over to 3G after the 15 minutes was up when we passed through towns and cities so I could reply to work emails and keep up with social media.
There are power sockets by each seat too so you can charge up your device (but not your toaster or hair dryer, the sign says!), if needed.
The views along the east coast of Britain are quite spectacular. There are sea views all the way from Aberdeen to Stonehaven and we spotted castle ruins in Arbroath, a great number of swans outside Dundee, fantastic bridges and coastal ruins crossing into Edinburgh and on the return journey we were wowed by the Angel of the North in the distance just outside Newcastle and the spire on the church in Montrose.
On the outward leg the sun was streaming through the window and we were feeling rather relaxed with the warmth and the gentle rolling of the train.
Our youngest decided to wear the Foodbar bag on his head as a hat. One thing led to another…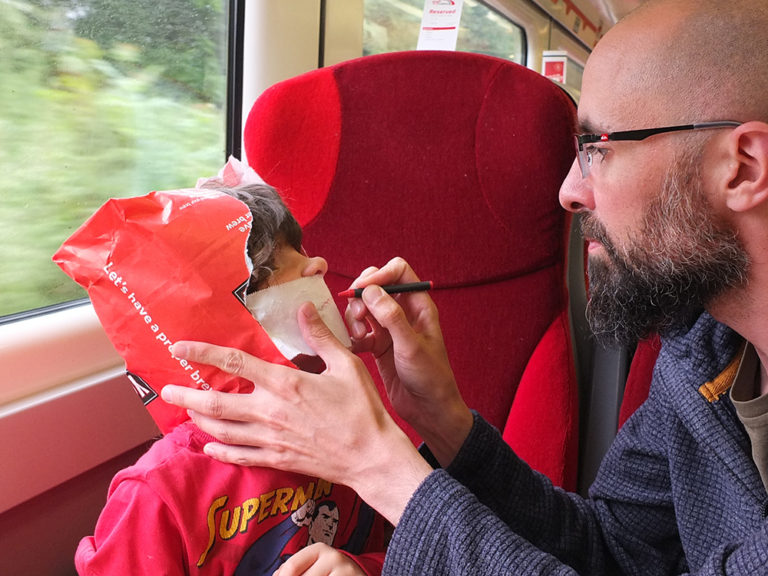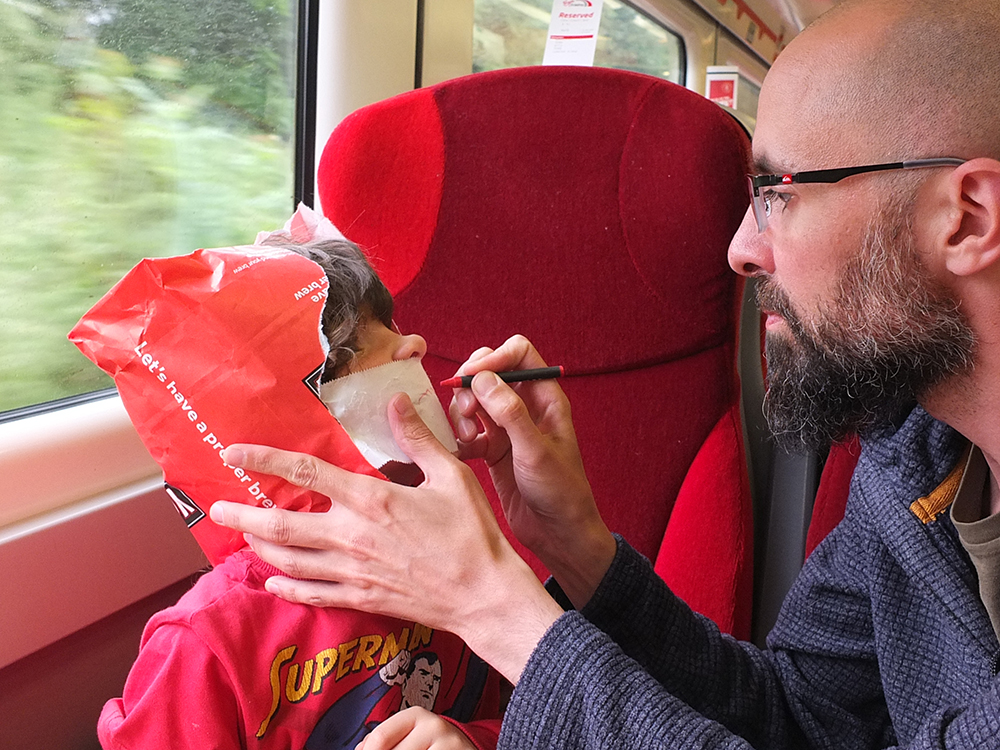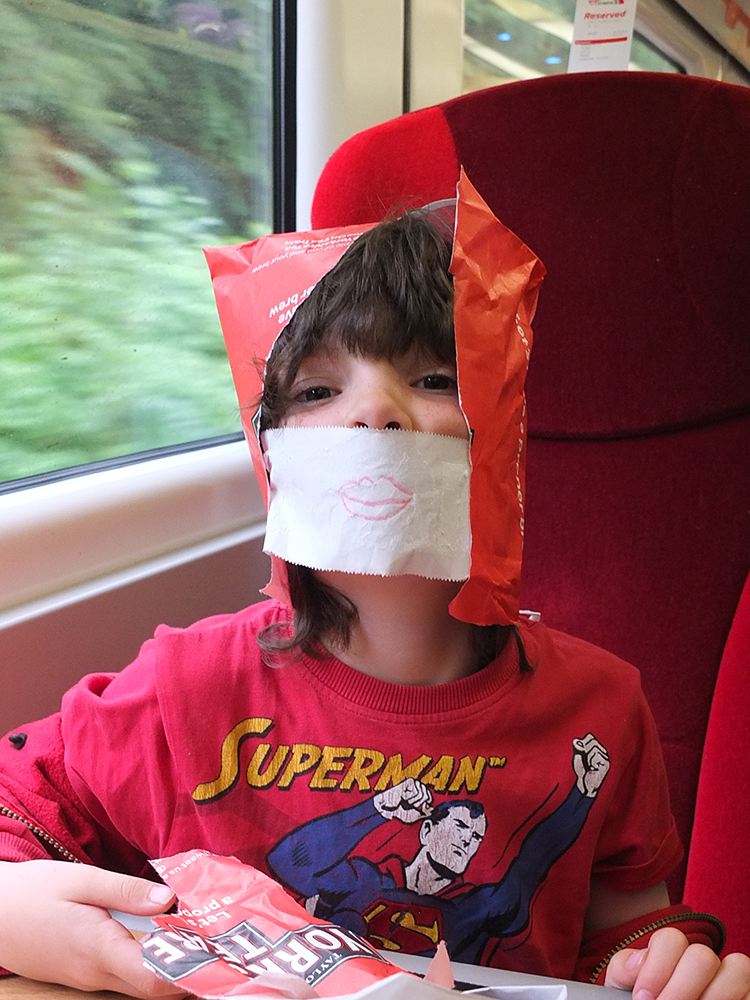 10:58 am. That's when the boredom kicked in. I marked it in my notebook out of amusement. We'd been on the train for three hours already, with another two to go and there's only so much you can do on a train, to be honest.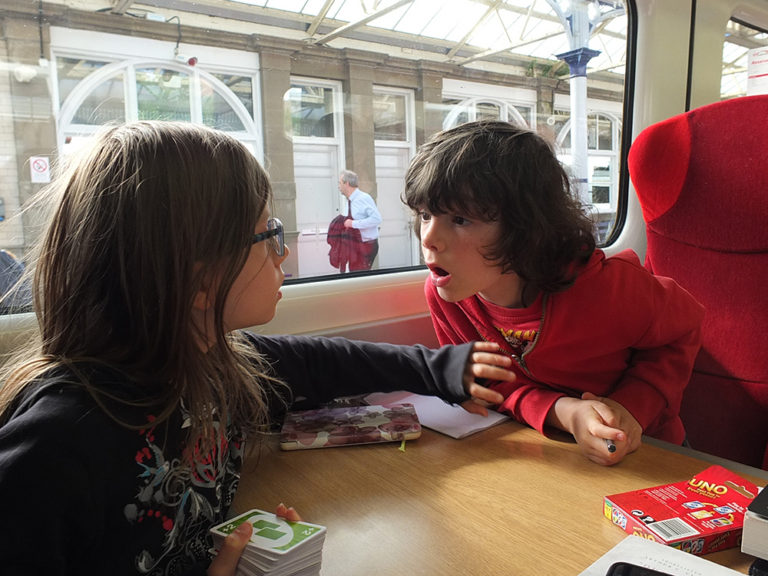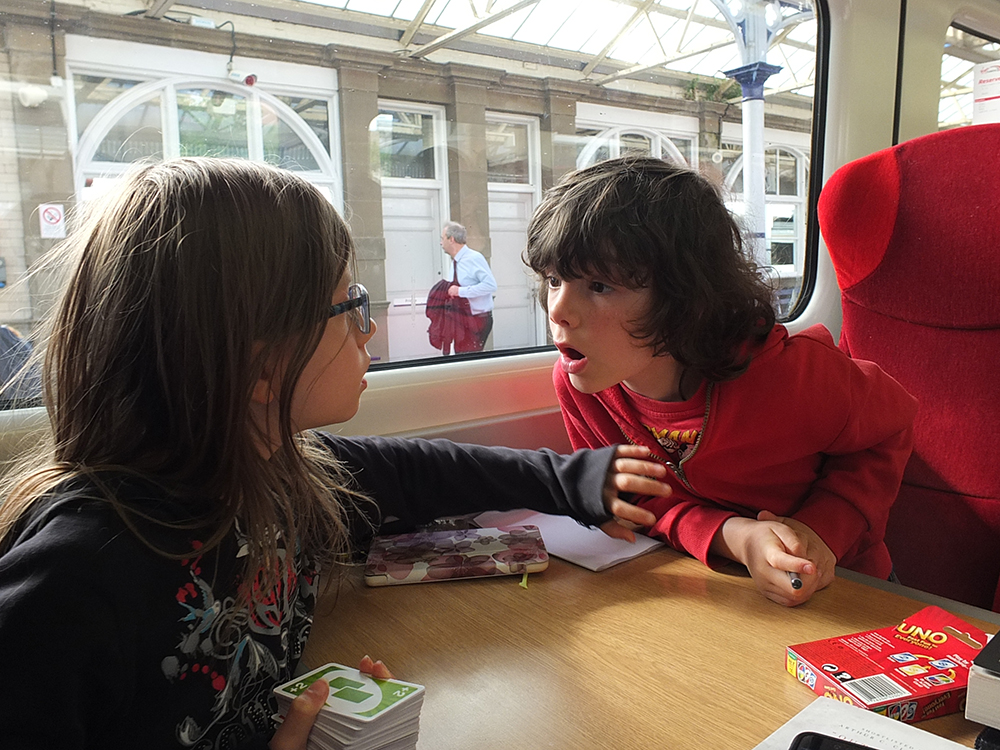 The rules of UNO came under question.
As an aside, they serve mojitos on board the Virgin Trains East Coast line.
My husband and I might have had one each after the 12 noon mark, purely medicinal, of course (and constrained by budget as they're nearly £5 each!)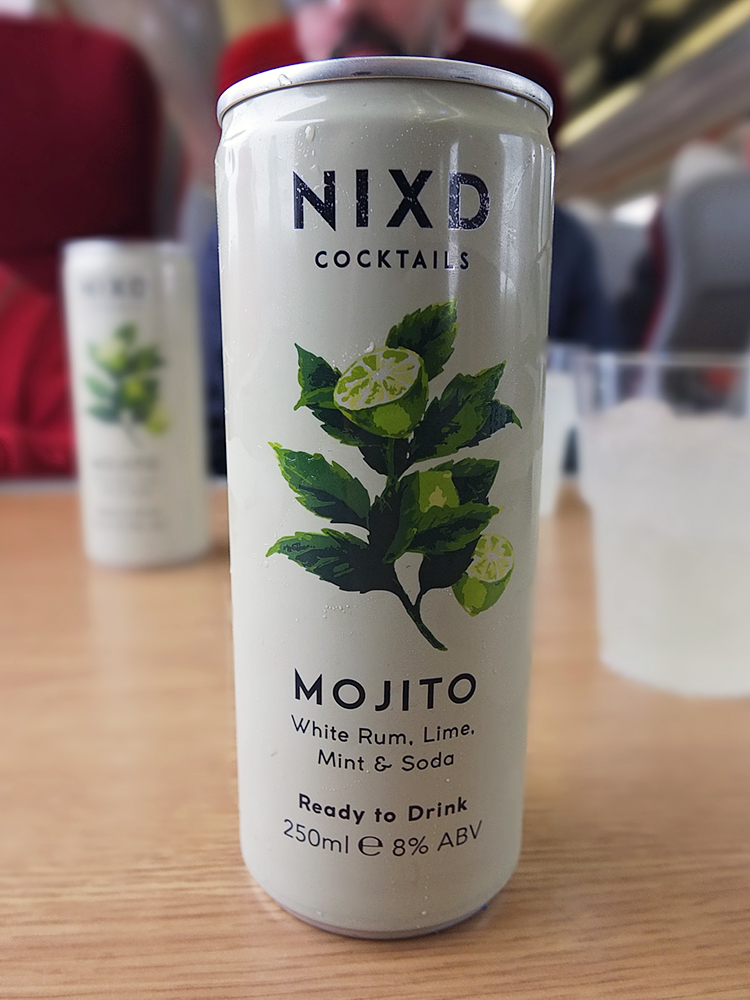 Disembarking in York to catch our next train, was, for me, instant chaos. I'm sure with experience my family and I will travel via train a bit more calmly but I confess I went into hyper-stressed-Mum mode in York, terrified that my kids were going to fall onto the train line or simply disappear. Life with small children isn't as relaxed on the mainland as it is in rural Shetland! I'm not used to there being so many people!
Still, this train journey was incredibly pleasant compared to the rest of them. The return leg was on one of the not yet refurbished trains and there was a rather loud (and not very kind to their work colleagues!) hen party on board. They were tame compared to the rowdy stag do we encountered on the train from Brussels to Rotterdam, and no where in the UK did a voice announce over the tannoy that pickpockets were in operation on the train, unlike on the continent. We didn't have table seating so it was a bit more difficult to manage the kids too. I'd definitely recomment reserving a table if you're travelling with young children.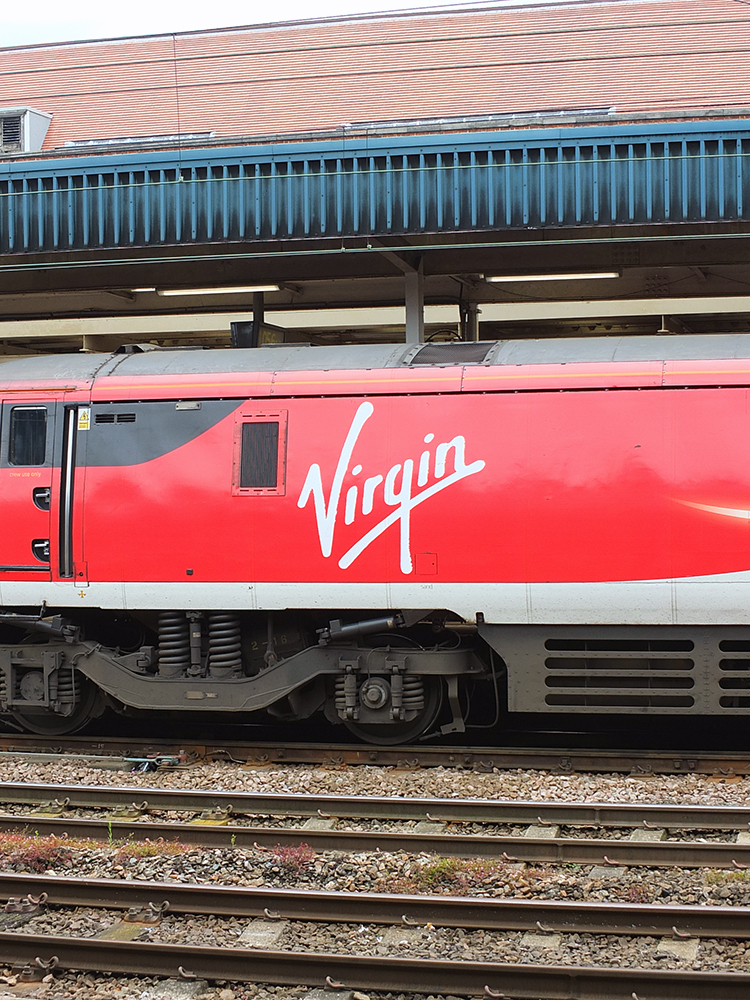 All in all it was a pleasant (if long!) train journey and despite a few hiccups (ie: me stressing out) I'd definitely travel on this train again.
Ticket prices for the five of us (three adults 16 years + and two children under 15) from Aberdeen to York, and then York to Doncaster (where the Virgin Trains East Coast line stops) cost approximately £1000, so it's not a terribly budget friendly way to travel, but it is cheaper than flying and much quicker than taking the bus.
Saying that, they have offers on all the time so it's worth checking out their website and booking well in advance.
For more information visit the Virgin Trains East Coast website.
Elizabeth's Kitchen Diary (and family) were guests of Virgin Trains East Coast. This is not a paid post and all thoughts and opinions expressed are our own.