Popcorn Shed is the UK's first super-premium gourmet popcorn brand. With 7 delicious flavours to choose from, there's something for every popcorn lover's taste. Don't forget to enter our giveaway to win a case so you can try it yourself!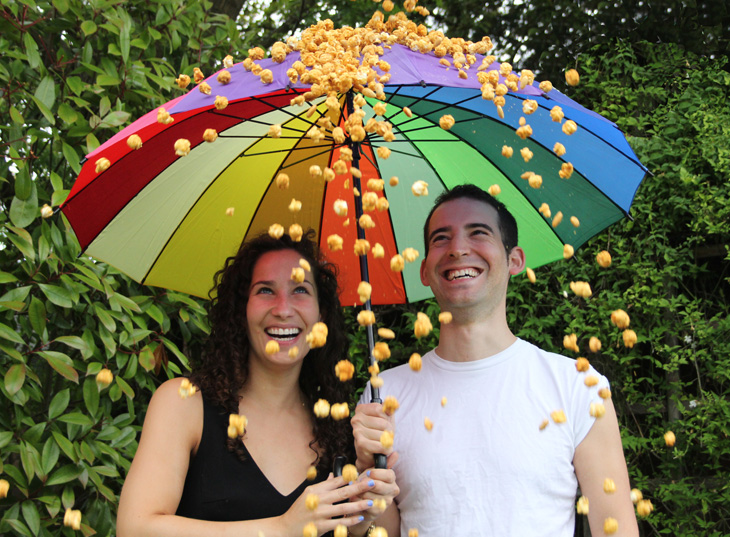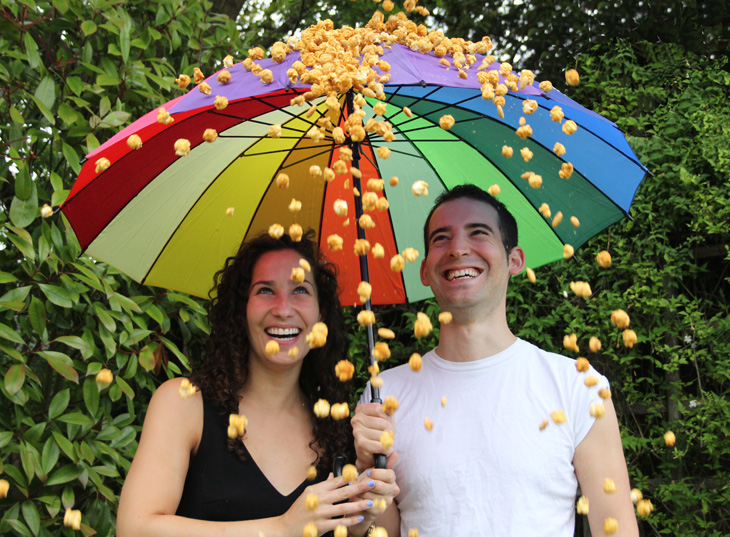 Award-Winning Gourmet Popcorn
I do love my popcorn, but I've always been pretty reserved with popcorn flavours. Traditional buttery salted popcorn tends to be my favourite, followed by caramel popcorn with plenty of salted peanuts for texture and contrast. I've always tended not to stray from these two flavours… until recently.
Popcorn Shed recently sent me a case of their flavoured gourmet popcorn to try, and I confess I was hesitant to try new-to-me flavours like Pop n' Choc (popcorn and chocolate, really?!), Pecan Pie, Berry-licious and Say Cheese!
Upon that first mouthful after tearing open the first bag I became a firm convert.
This popcorn is seriously amazing!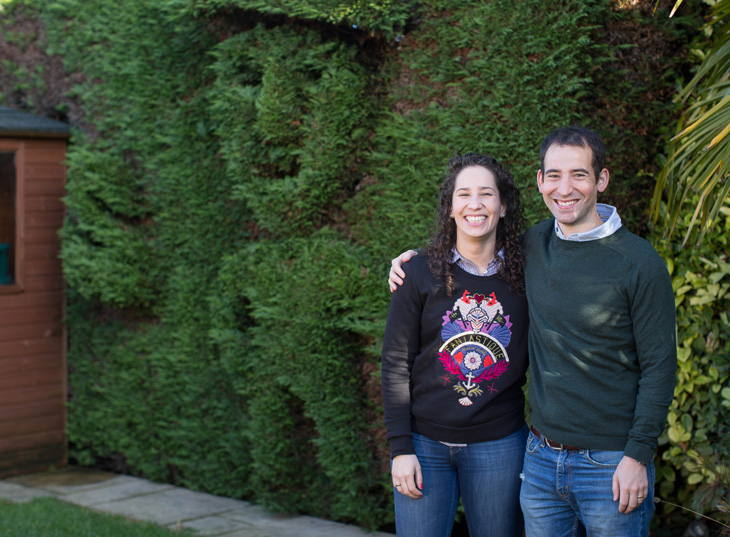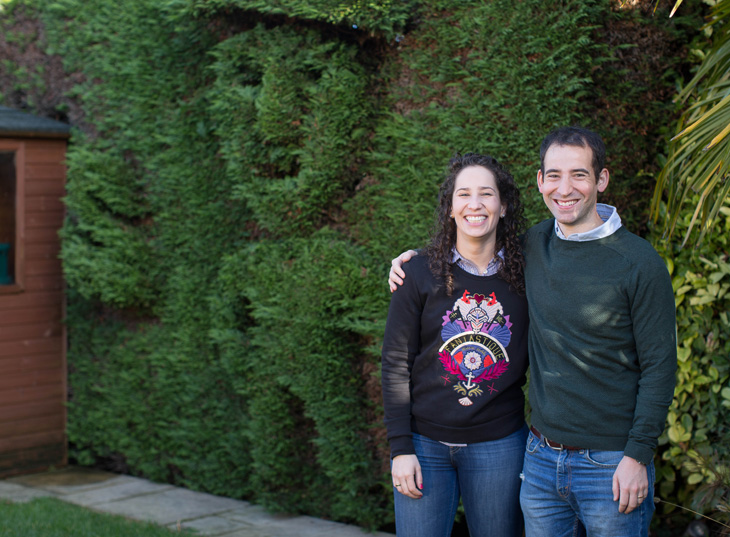 The Popcorn Shed story
Their story began in 2016, when cousins Laura Jackson and Sam Feller decided to fulfil a life-long dream, pack in their city jobs, and start their own business making the best popcorn in the world.
Lacking storage space where they lived, they stored everything in their garden shed – and Popcorn Shed was born. Their mission: to make the best popcorn in the world.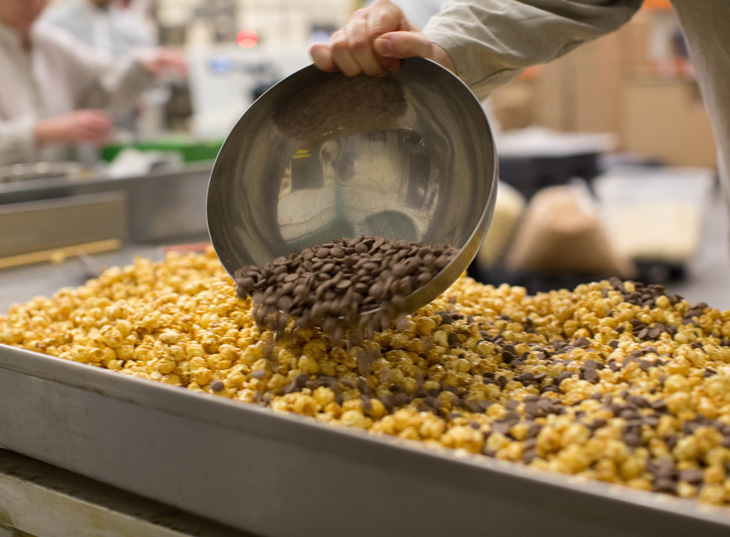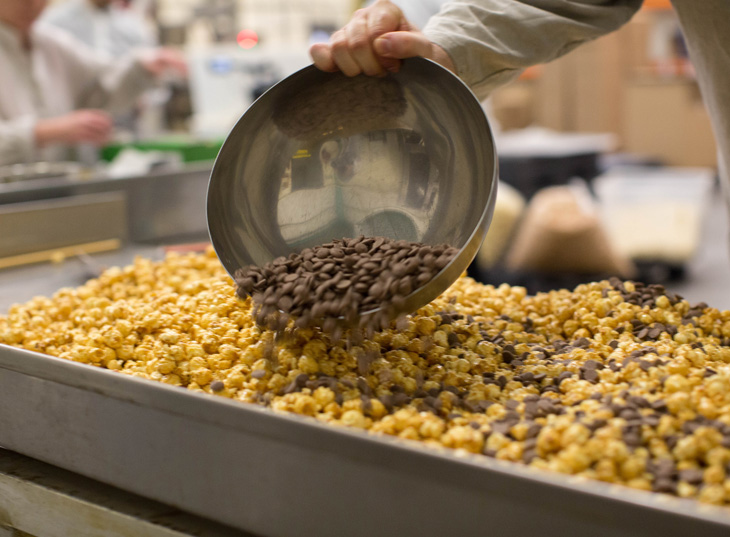 How do they make their popcorn?
Unlike their main competitors who use spray-on powdered flavourings, this popcorn is made using an artisan cooking process. A fresh caramel batch is made for each production run, and the popcorn is coated in this freshly made caramel before being scattered with melted chocolate, nuts and dried fruit.
The resulting popcorn has a deep, rich flavour and every single bite has a lovely texture and delicious crunch.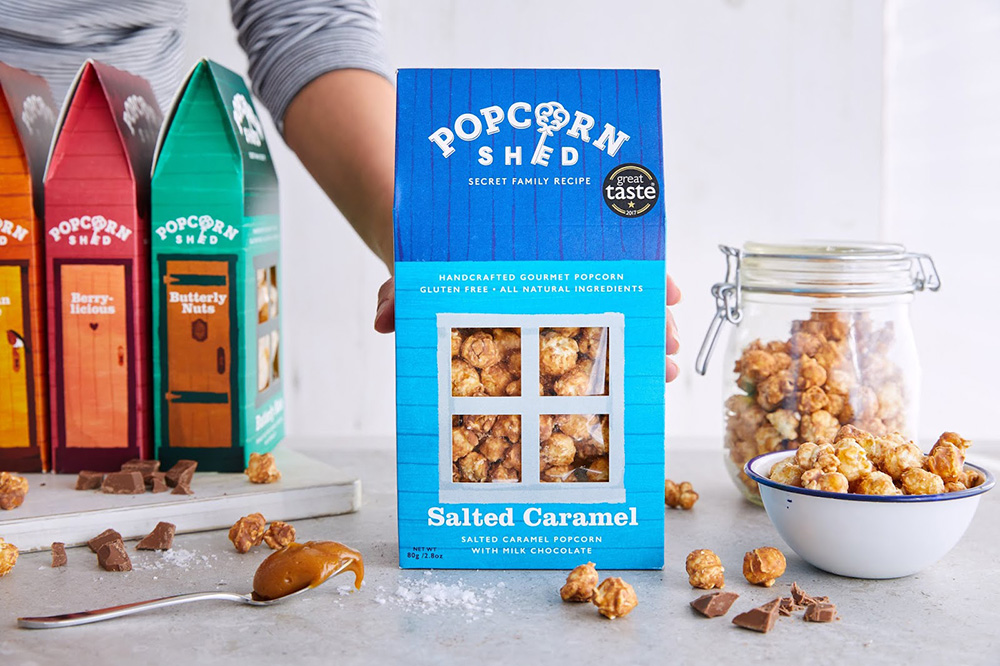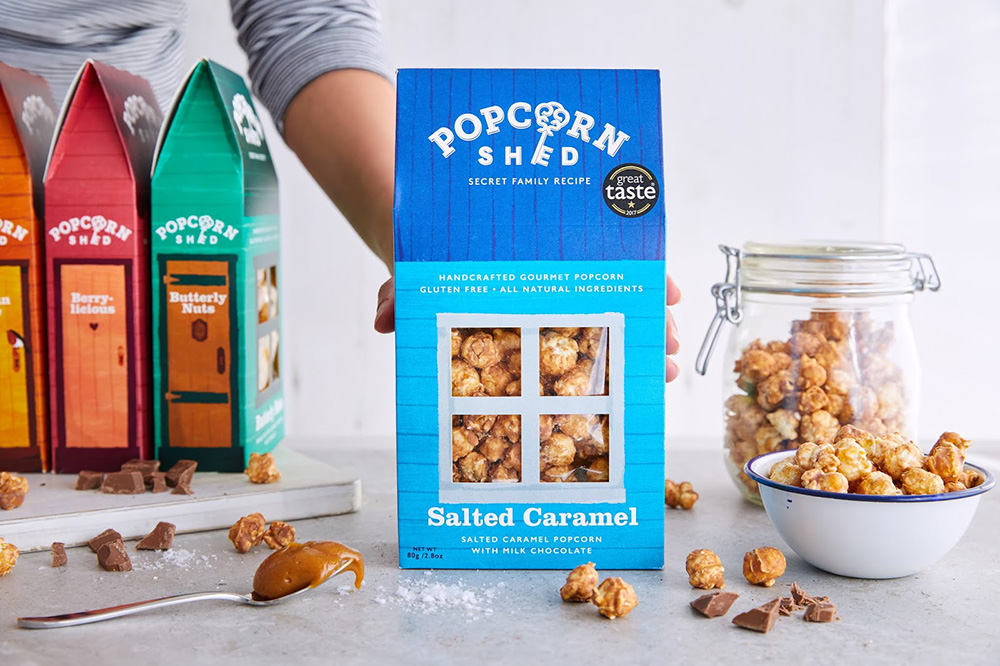 How many different flavours are there?
After testing over 100 flavours, they decided on a range of 7 different flavours:
Salted Caramel – sea-salted buttery popcorn
Pecan Pie – caramel with golden roasted pecans
Pop n' Choc – chocolate caramel with Belgian milk chocolate
Berry-licious – tart raspberry and dark chocolate
Butterly Nuts – peanut butter caramel with roasted peanuts
Say Cheese! – rich, ripe mature cheddar flavour
Sweet Cheesus – caramel and cheddar cheese

How much does it cost?
This popcorn is available in three different sizes:
28-gram grab-and-go bags. £18 for a case of 14 (2 of each flavour)
55-gram iconic shed cartons: £3.50
200-gram gift jar: £15
They also have a subscription service, limited edition flavours and cases of grab-and-go bags of each flavour.
Where can I buy their popcorn?
You can find a list of current stockists here which include the Co-op, Waitrose, Amazon and Ocado.
[amazon_link asins='B07DRK5B96,B07DRHQPGV,B07DRKMDCQ,B07DRPBXW2,B07DRN8BRJ,B07DRKGDJW,B07H2GL8FP,B07D19KGGF,B07K7V7PXJ' template='ProductCarousel' store='elizskitcdiar-21′ marketplace='UK' link_id='0b65340f-2f5b-41a9-9864-1f7329737018′]
Is their popcorn gluten free?
Yes!
To find out more, visit the Popcorn Shed website. You can also find them on Twitter, Instagram and Facebook.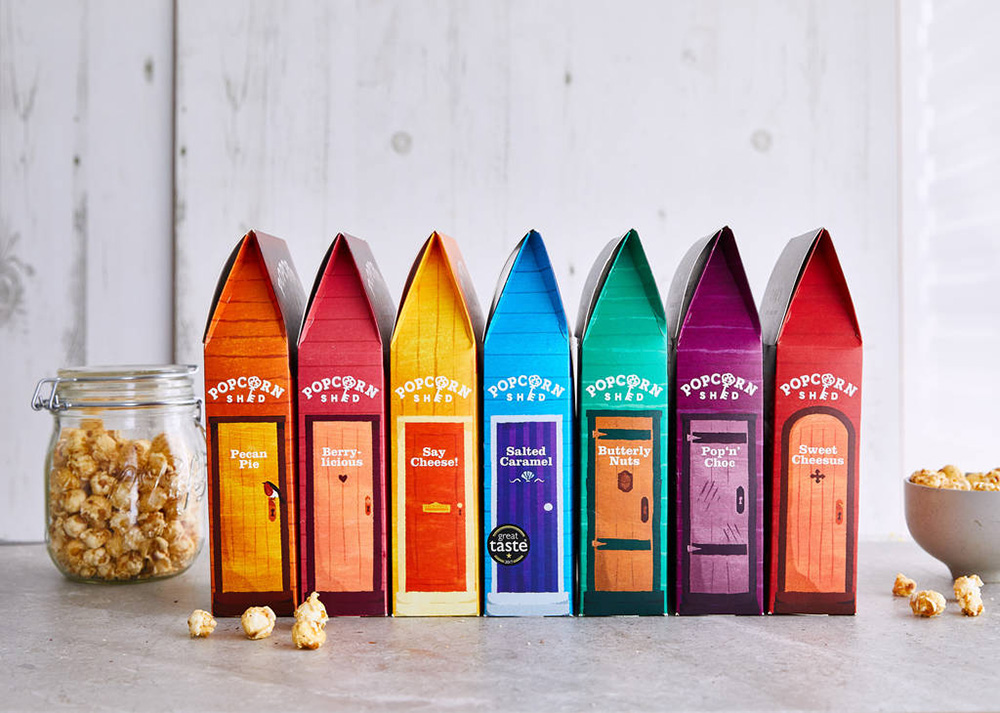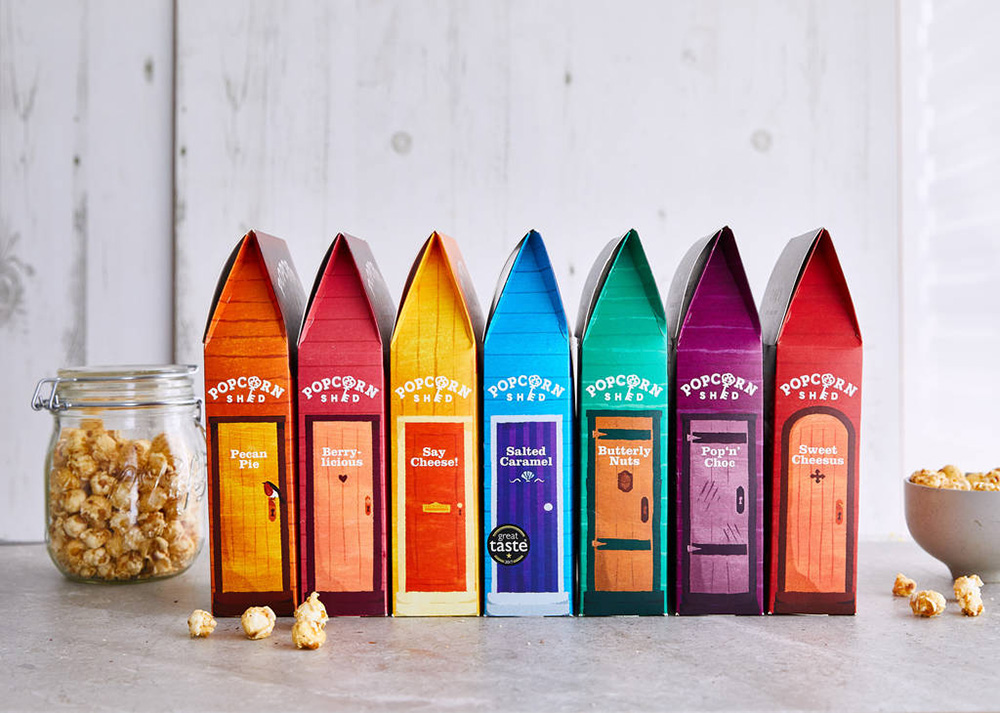 Popcorn Shed Snack Pack Bundle Giveaway
Popcorn Shed has very kindly offered one of my UK readers the chance to win one of their Snack Pack Bundles worth £18. To enter, simply fill out the Rafflecopter form below! You can find the full T&C's here. Giveaway ends 29 April 2019 at midnight (that's Sunday night/Monday morning).
Please note our new T&C's stipulate that daily tweets must be made from the Elizabeth's Kitchen Diary website (not the Rafflecopter widget URL!) and comments must be a minimum of 15 words. Entry into our giveaways will be deemed as acceptance of these Terms & Conditions.
Elizabeth's Kitchen Diary received a complimentary case of popcorn for review purposes. All thoughts and opinions expressed are our own. All photographs are from the Popcorn Shed website.