A sponsored post for biscuit brand Bahlsen and their new PiCK UP! biscuit.

As Crufts 2015 opens its doors today with parades of perfectly pampered pooches, another dog competition is launching nationwide, and anyone can get involved…
PiCK UP! biscuits contain chocolate so sacred they have to be ​protected by their very own Ninja Chihuahua – who is now on a nationwide hunt to find the final canine contestant to take part in his ​Dogs that Demand Respect, Ninja Apprentice Championships.
Competition is fierce; research reveals that three quarters of all dog owners claim that their dog has special skills, and an incredible ​ 66% of Londoners believe that their canine is more intuitive than their human partner!
The competition opens on Thursday the 5th of March on the PiCK UP! website, where dog owners can enter videos of their own talented ninja canines. Visit ​http://www.pickupbiscuits.co.uk/ for more information.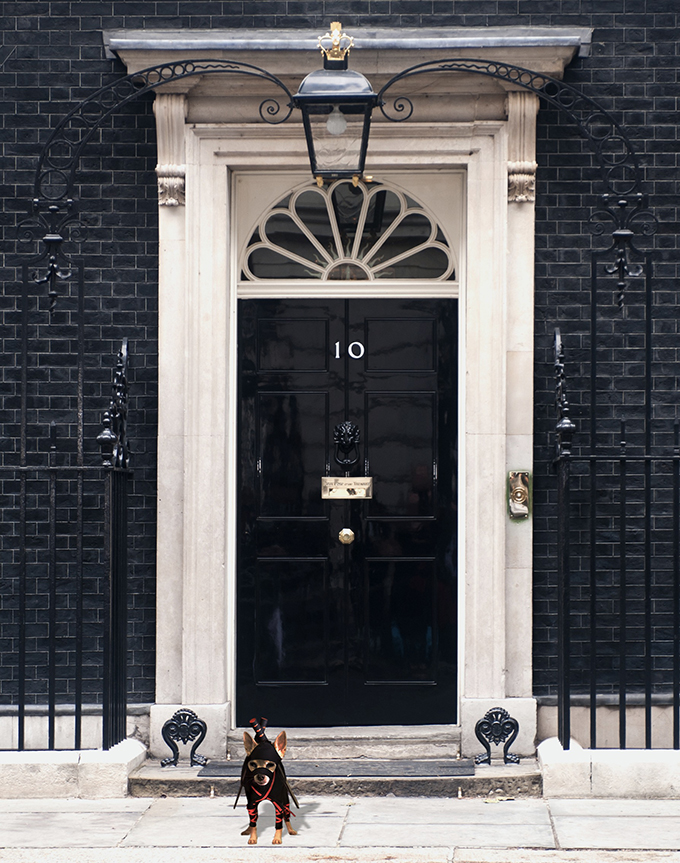 THE HARD FACTS:
➔ 70% of British adults, and 76% of Scottish adults, would trust a fictional dog over a current political leader
➔ Of the 'most trustworthy'candidates, 35% chose Lassie, 35% chose Gromit, 14% chose David Cameron, 7% chose Ed Miliband, 6% chose Nigel Farage and 3% chose Nick Clegg
➔ 73% of dog owners believe their dogs do have 'special skills'
➔ 66% of Londoners think their dog is more intuitive than their partner
DOGS THAT DEMAND RESPECT 2015:
Do you think your pooch has what it takes to be Britain's ninja dog? Does he or she have some serious ninja skills? Do you think s/he could protect the sacred chocolate? Have a look at the four finalists below, and if you think your dog could be the 5th share your video on the PiCK UP! Facebook page!
ABOUT PiCKUP!
Wanting more from your humble chocolate biscuit?Look no further – satisfying yet moreish,​ PiCK UP! biscuits​ , which burst onto the scene last year, are surprisingly and delightfully different to the usual biscuit bars you find on supermarket shelves…
The classic ​ PiCK UP! Milk Chocolate is a deliciously thick milk chocolate slab sandwiched between two crisp biscuits. More-chocolate-than-a-biscuit, munch on one ​yourself or share them with the entire family – but make sure they don't disrespect the chocolate. The PiCK UP! Ninja Chihuahua now also guards NEW ​ PiCK UP! Black 'N White – a sumptuous, silky smooth, thick slab of white chocolate perfectly complemented by two crisp chocolate flavoured biscuits.
PiCK UP! biscuits are available as a pack of five or as an individual biscuit bar from supermarkets and independent retailers nationwide. Each bar is individually wrapped to stay fresher for longer, allowing you to enjoy the perfect pick-me-up when on the run, at your desk or on the sofa.
Find PiCK UP on Facebook and Twitter. Don't forget to share a video of your own ninja dog onto their Facebook page – your pooch could be Britain's next ninja dog!

WIN A MONTH'S SUPPLY OF PiCKUP! BISCUITS!
HOW TO ENTER
For your chance to win a month's supply of PiCK UP biscuits enter using the Rafflecopter form below. Come back and tweet about the giveaway every day for more chances to win!
TERMS & CONDITIONS
This giveaway is open to UK entries only. Entrants must be age 18 or over. The winner will need to respond within 7 days of being contacted; failure to do this may result in another winner being selected.
The prize is offered and provided by Taste-PR. The prize is a month's supply of PiCKUP! biscuits. There is no cash alternative and the prize is not transferable.
There is no entry fee and no purchase necessary to enter this giveaway. The promoter (Elizabeth's Kitchen Diary) reserves the right to cancel or amend the giveaway and these terms and conditions without notice.
Entry into our giveaways will be deemed as acceptance of these terms and conditions.
If you need some help using Rafflecopter, here's a quick clip to show you how. Rafflecopter will pick the winner at random from all the entries received. I will be verifying entries and any automated entries or those who have claimed they have made the mandatory blog post comment and really haven't will be disqualified. It's mandatory!
Closing date is midnight on Monday 9 March 2015 (GMT) and the winner will be announced that day.
See my Giveaways page for other great giveaways!
If you want to be kept up to date on my recipes, occasional craft tutorials, adventure stories and giveaways then please subscribe to my weekly newsletter; it gets sent out every Monday morning if there is new content. Your email address won't be passed on to anyone, you will never be spammed and you are free to unsubscribe at any time, no questions asked. Make sure you confirm your subscription or you won't receive the newsletter – if it hasn't arrived check your junk mail folder.
[wysija_form id="1″]
Disclaimer: This is a sponsored post. All text, photos and giveaway provided by Taste PR. Elizabeth's Kitchen Diary received financial remuneration and a large selection of PiCKUP biscuits in exchange for this post.