A guest post by my husband, Leith, in collaboration with Into The Blue. 
I think most of us at one point or another during our childhood entertained the thought of becoming a pilot. Just to be up there soaring around like a bird paints a wonderful picture of freedom to me. So naturally, when my wife gifted me a flying lesson I jumped at the chance.
Elizabeth received the flying lesson herself last year as payment for a blog post she wrote and meant to take the lesson herself whilst she and a friend were cycling through Scotland. Unfortunately for her, life got in the way. When I say life I mean the train people who strike every now and then. The train strike happened to be on the day she had planned to travel to Perth for her lesson. Disappointed, she headed back home to Shetland and rescheduled the lesson for another time.
A few months later the lesson got booked for August this year and she'd planned to head down again but it's been a busy year for her travelling off the island several times and she decided she just wanted to stay home for a while. Seeing as I hadn't left the island much in the last few years she offered me the lesson. I think she also felt a little guilty leaving me to fend for myself and the children whilst she was away on her holidays business trips. Luckily for us we managed to find a few tins of baked beans on the shelf so we survived. What can I say, having a food blogger for a wife has meant my meagre cooking skills have atrophied somewhat over the last decade. So naturally, when my darling wife offered me a chance to escape the madness and go up there with the birds I decided there and then to take one for the team and say yes, thank you.
I waved goodbye to Elizabeth and the kids as I boarded the Northlink ferry and instantly felt alone. As much as I was looking forward to some me time, that emptiness every parent knows when they leave their children and spouse for a while began to fall upon me. But also as I'm sure every parent knows, time does wonderful things and half an hour later I was happily watching a film, sipping on my Merlot and thinking how wonderful it is being childfree!
The following day I checked my weather app as I travelled south towards Perth. It wasn't looking good. Heavy clouds and lightning were forecast for noon that day. No prizes for guessing what time my lesson was booked in for. I called ACS Aviation, the flight school my lesson was booked with, from the train to confirm that the lesson was still going to go ahead. I got the news I dreaded, all flights were cancelled that day due to the weather. Now if I'd lived nearby I would have just headed home, no big deal. I didn't live nearby. I live 12 hours by boat and over an hour by train away so I wasn't going to let any lightning spoil my trip. I told them I'd be there for my lesson regardless in the feeble hope that the weather would improve. It didn't.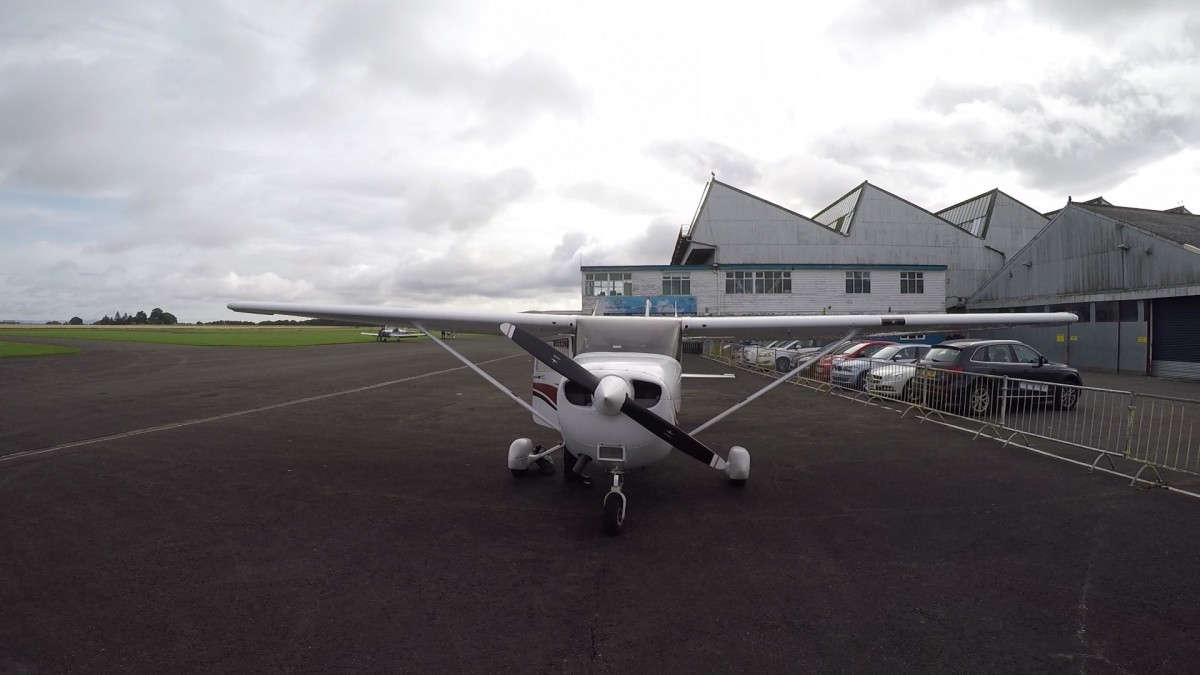 I arrived at the airport and was warmly welcomed by the crew at ACS. My instructor, Andrew, confirmed that there would probably be no flights that day but he kindly spent some time with me teaching me a few flight basics and showed me around and inside the Cessna 172, the aircraft I was due to fly.
AN UNEXPECTED EVENING IN PERTH, SCOTLAND
The team at ACS were kind enough to reschedule my lesson for the next morning and according to the forecast, I was hopeful I'd get to fly. They directed me to the nearby Sky Lodge, an accommodation unit for trainee pilots, and as luck would have it they had one room available. Things were looking up indeed. With the rest of the day to kill I headed back into Perth to explore the city. I had never given any thought to Perth before other than seeing it signposted driving up and down the M90 so I didn't really know what to expect. By the end of that day I'd already decided I want to take Elizabeth here for a short getaway. I found myself dining at a wonderfully cosy restaurant called Pig'Halle. The staff were very friendly and the food delicious.
What made Perth for me though was a place called The Venue. I stumbled upon this place by accident and almost walked past if it wasn't for a sign outside saying something along the lines of "Please watch your step, but if you do trip do so fabulously…" I had to investigate.
Inside I was met with smiling faces and a very neatly dressed gentleman who offered me a tour of the establishment. A fairly large place, consisting of a Whisky bar, a Rum bar and a Gin bar, not to mention the upstairs live venue room and a warm, inviting dining room, and several other rooms gloriously decorated with vintage furniture. I struck up a conversation with the friendly Gin bartender and found myself sitting at the beautiful copper plated bar. If I remember correctly there were around 200 different types of gin sitting up on the shelves. Up till that point in my life I had just thought gin was gin. I now see the light. Turns out I found a kindred soul within this bartender, we both share a passion for creating music. I never did catch his name but his band 'Flat Six' are playing on the 7th September at Perth Expo 2017. If you like Chris Cornell, mixed with a splash of Stone Temple Pilots and a measure of Nirvana then do check them out. Good luck guys!
FLYING OVER PERTH IN A CESSNA 172
I awoke the next day and peeked out the window. The skies looked pretty clear and I was hopeful. I may have shown up at the flight school half an hour early, yes I was excited and felt like a little kid taken to a toy shop by their parent.
Collecting my headset I began to setup the GoPro on my head, something my wife told me to take to film the experience, all the while trying not to wonder how much of an idiot I must have looked like. I followed Andrew around the Cessna as he began his inspection of the plane.
Now I have to admit I was starting to get a little nervous at this stage. I've been on a fair few commercial flights in my life and I do tend to suffer from vertigo when looking down at the ground so, so, so far below. Nevertheless, I kept feeling my excitement bubbling over and that far outweighed any sense of apprehension I had.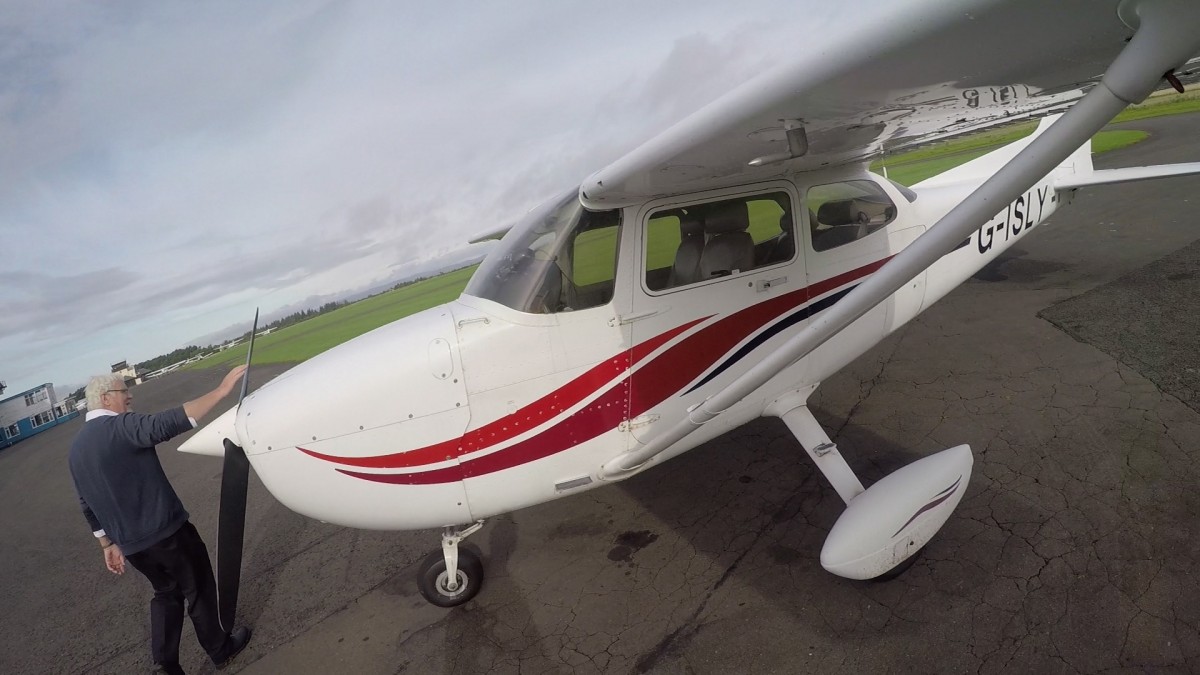 Outside inspection completed, Andrew started her up and told me to taxi to the fueling pump for, yes, fuel. Now if you drive a car you'll know the right foot belongs on the gas pedal and the left foot on the brake/clutch. In the Cessna 172, and any other plane as far as I'm aware, the right and left pedal control the rudder at the tail of the plane and is also connected to the front wheel.
Not only that but when you push down at the tips of the pedals it activates the brakes on main wheels on either side of the fuselage. From what I gathered I understood that not only do you use the front wheel to turn but you can also engage one brake effectively keeping that side of the plane still whilst opening up the throttle to swing the plane around for a tight turn.
I admit I felt like I was sitting in a car for the first time trying to remember what everything does. I can manage to say though, with a little bit of pride, that I did manage to keep the plane on the taxiway (apart from that bit after we landed and I managed to taxi off the runway and onto the grass, only one wheel though).
We stopped at the fueling pump and whilst fuelling up, had an interesting conversation about planes possibly blowing up due to sparks igniting the fuel vapours and about this one plane which somehow had its wing torn off in mid-flight. Luckily for the pilot, the plane had its own parachute! Usually in that sort of situation I'd have found myself dry mouthed and in need of the nearest bathroom but the casual, good natured way Andrew and the maintenance guy (sorry, didn't catch your name either, see above regarding being terrible with names) were talking put me at ease and had the effect of relaxing me before my virgin flight. Besides, what are the chances a wing would fall off right?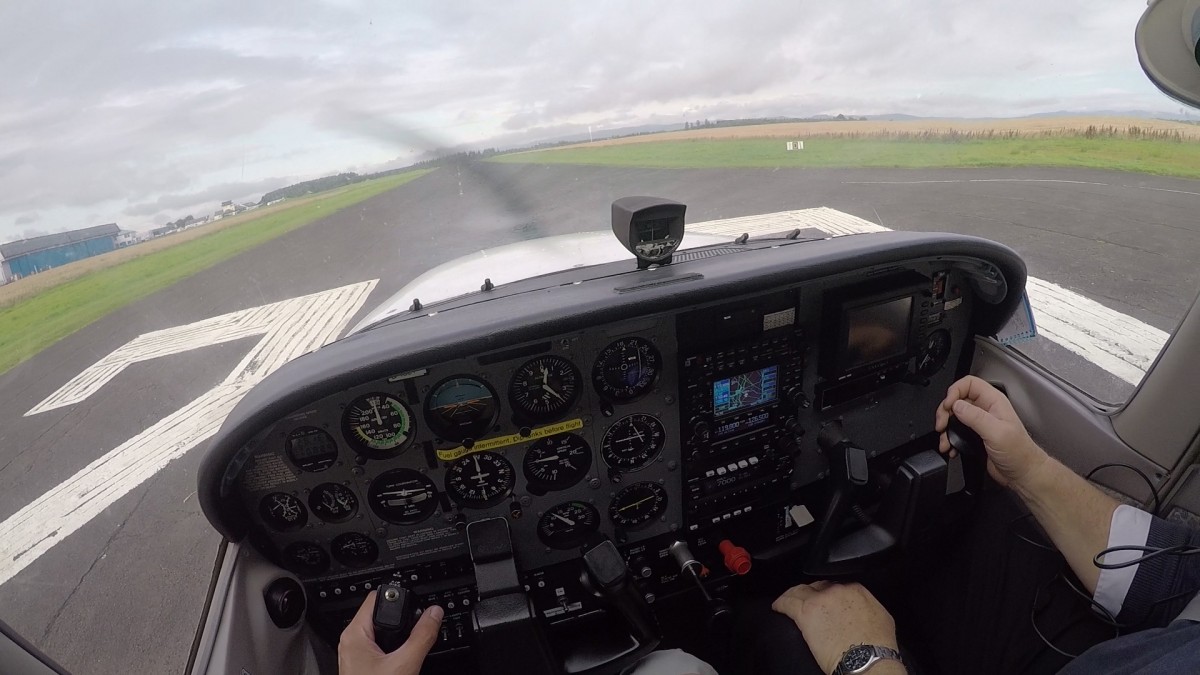 All fuelled up we started the engine again and began taxiing to the runway. Andrew took control as we reached the end of the runway and performed a very neat turn to bring us around, nose pointing the right way. This was it. Andrew had told me the day before that I would get to take off but I still couldn't believe that was about to happen. You always hear about how takeoffs and landings are the most dangerous aspects of flying so why on earth would a novice like me be entrusted to take off?? Having dual controls in the cockpit Andrew was always there to correct any mistakes I made so I threw caution to the wind and pushed the throttle knob all the way in. 'Knob to the metal' doesn't quite have the same ring to it but suffice it to say we were soon picking up speed. I had to keep reminding myself that turning the flight control with my hands had little effect as we were hurtling down the runway. It doesn't look like it on the video I took but I assure you it felt like I was zigzagging barely in control of the plane as I used my feet to try to keep the wheels on the asphalt.
"Coming up to 60 knots", I hear Andrew tell me as I see the end of the runway hurtling towards me, heart in my mouth. At just over 60 knots I pulled gently back on the controls and kept it there. For a split moment, nothing happened and visions of us helping the farmer plough the fields ahead flashed through my mind. And then there was instant bliss.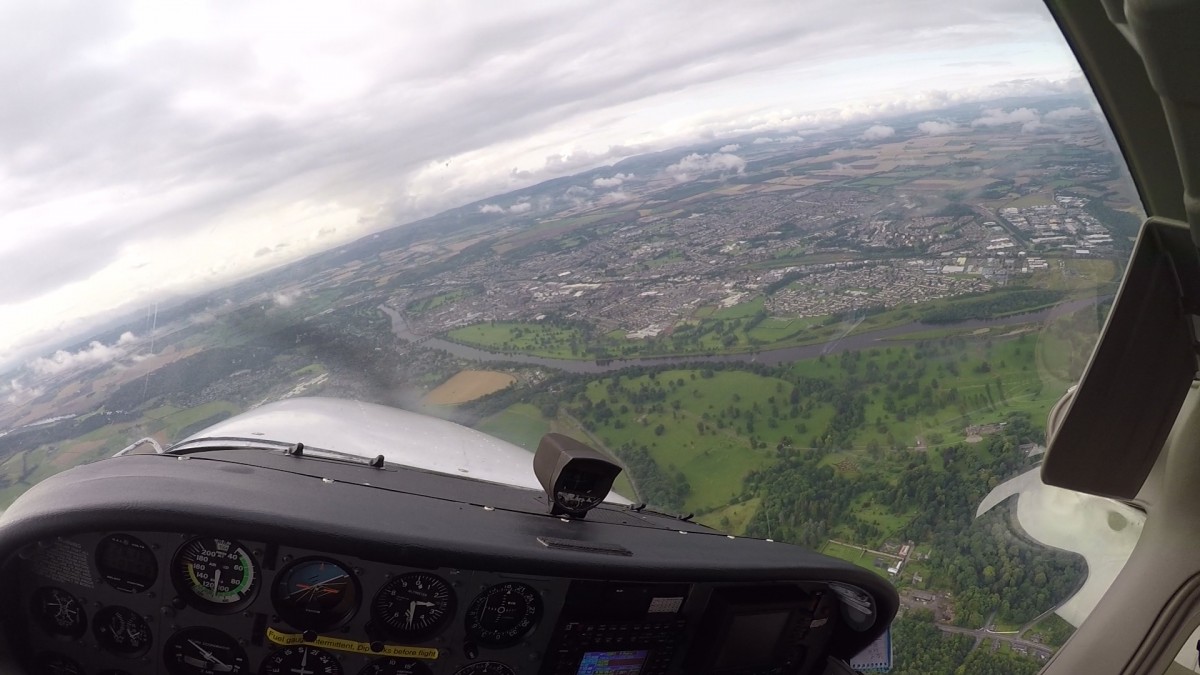 I felt a slight push into the seat and realised I had just taken off in an airplane! The feeling I had is indescribable and I'm afraid the best way I can put it is using the old cliché that flying gives you a very tangible sense of freedom. This feeling was to stay with me the rest of the flight and for hours after, that and a big, stupid grin on my face. For those brief moments, nothing else mattered. I had no past and no future. I was completely present and loving every moment.
I believe we climbed to around 2,500 feet and Andrew encouraged me to try a few manoeuvres. I practised rolling (wings dipping turn us left or right), pitching (changing the angle of the nose taking us higher and lower) and yawing (turning the rudder with my feet to move us side to side very much like a rudder in a boat which is where the term 'yaw' comes from I learnt).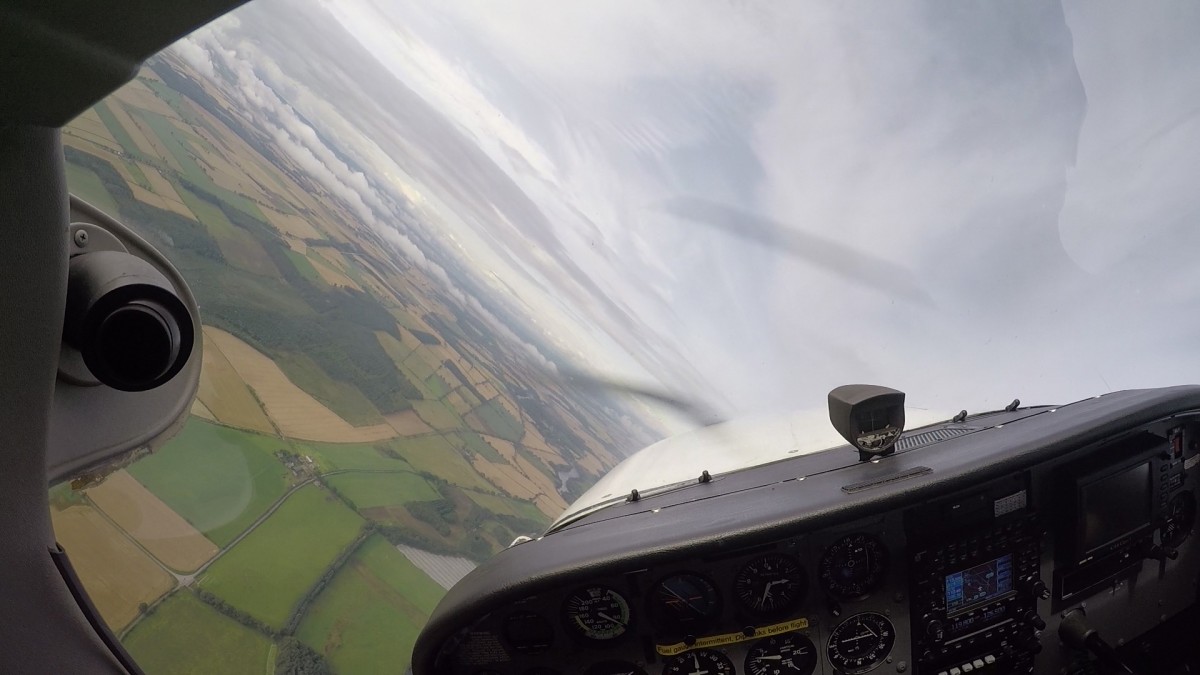 I have to say flying a plane is a lot easier than taxiing, at least to start with, but there are a few things that you need to keep in mind when turning. Rolling side to side will turn the plane but because the wing dips you'll also find yourself losing altitude to you need to adjust that by pulling back on the controls to change the pitch so as not to lose altitude. If you've ever played any computer flight simulations you'll have experienced this but something I didn't know was that before you make a turn you lead the turn by first yawing into that direction. This is something I had never heard of and therefore never tried on any simulation so I was very eager to try it. So, yaw into the turn, then roll towards that direction and keep the pitch up so as not to lose altitude. How hard can it be? Well, a little bit more tricky than I expected. I think I need to work on my footwork as when I began to yaw into the turn I hit the pedal a little harder than I perhaps should of and it felt like I was in a car for a second, skidding out of control. Fortunately, the plane corrected itself and there was never any sense of danger. Was a whole lot of fun though.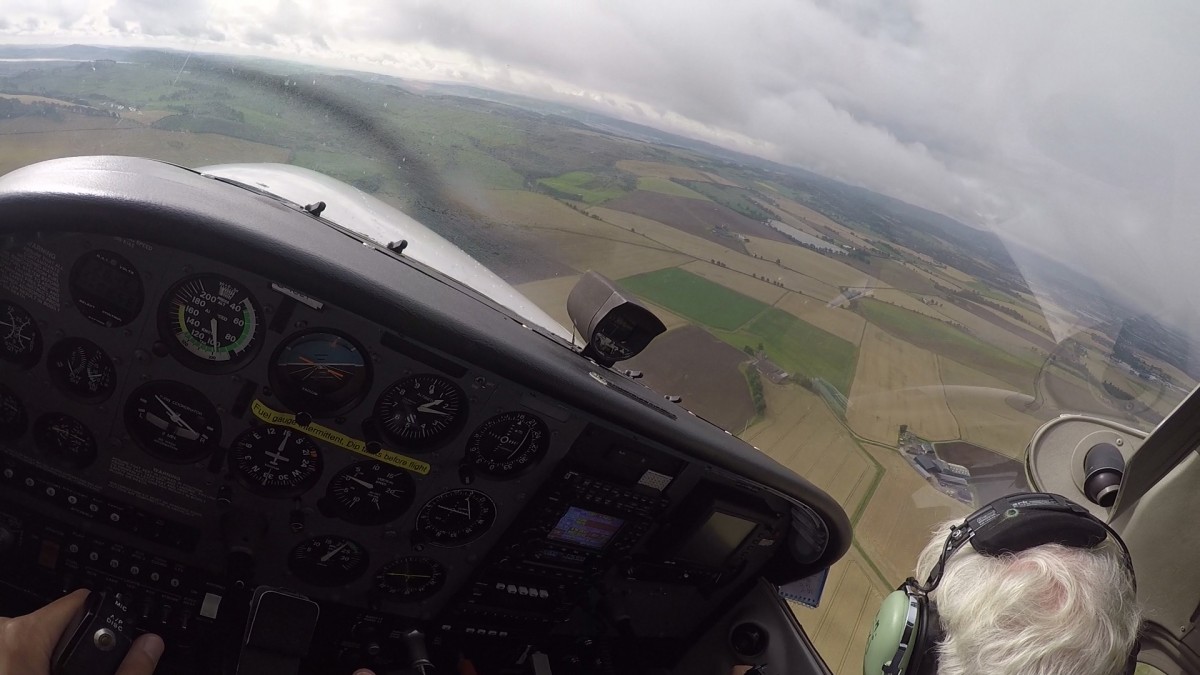 The first part of the flight was calm but the wind managed to find us and I found it a whole different ball game controlling the plane in those conditions, constantly correcting the roll, pitch and yaw as the wind did what it wanted with the little tin can we were flying. One moment I will probably never forget for the rest of my days is when I asked Andrew about the 'turbulence'. Now I put the word 'turbulence' in inverted commas only because of his reaction. "Turbulence? What turbulence?" he replied and laughed a good natured laugh. I realised then that what we were experiencing was nothing in compared to some of the high winds pilots have to deal with. What we were flying in was slight breeze according to Andrew so I dare not imagine flying in strong winds.
The whole flight lasted around 40 minutes but time slowed down for me and it felt like 5 minutes. I wanted to stay up there forever. We flew over wind turbines, followed a few valleys, did a flyby of Perth itself and even tried to locate one of Andrew's friends from the air! I was also curious to see what 2Gs would feel like, not the phone signal but rather the amount of gravity felt as you put your body through tight turns. Andrew banked to the left and pulled back on the controls. Instantly I felt my body pushed further back into the seat and experience what twice my weight felt like. I have to say I didn't think it would feel as forceful as it did and I would dread to think what it would feel like pulling 8 or 9 G in a sustained turn which is apparently common for fighter pilots. That's 8 or 9 times your own weight!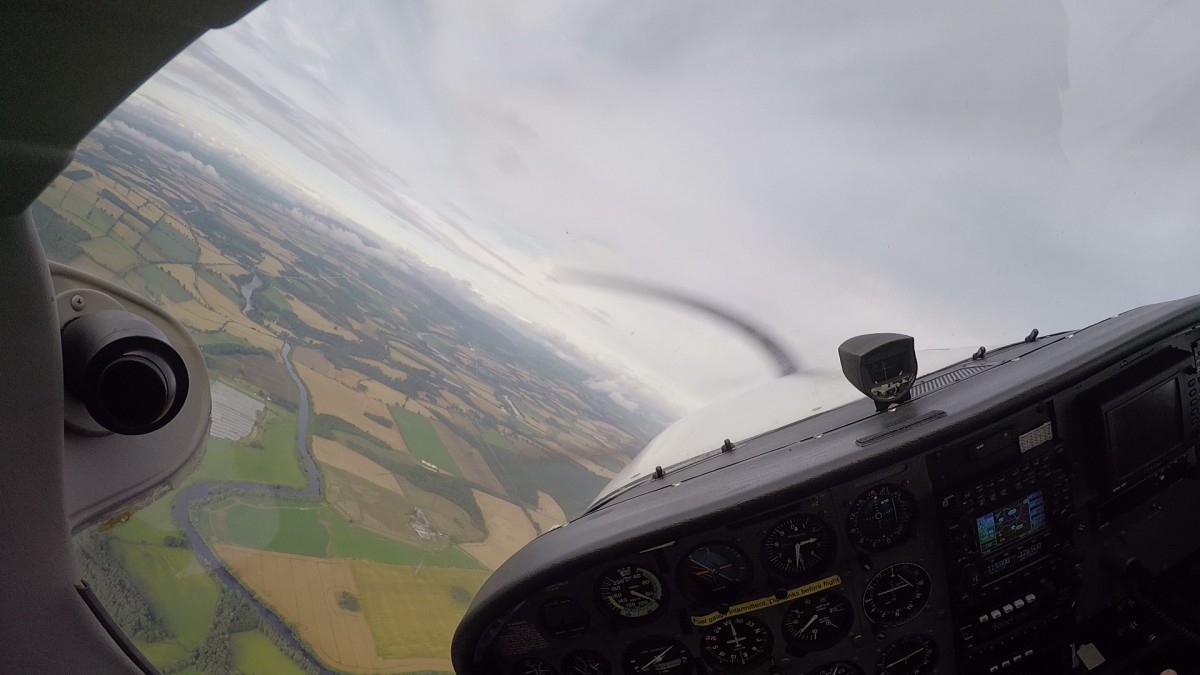 Sadly my time in the sky was drawing to an end and we began heading back toward the airport. At that moment I realised I had no idea where the airport was as my sense of direction leaves a lot to be desired, something I'll have to work on although Andrew did tell me that he's certain they keep moving the runways so I didn't feel too bad about it.
We began our descent to stay below the cloud cover so we could see the ground, and more importantly the runway. As we approached the turn toward the runway, Andrew tells me to hold on to the controls while he moves us into position to land. I gave no input on the controls but just felt what he was doing through them, an invaluable experience.
Then out of the blue, he told me to land the plane. "What?", my mouth may not have moved but the thought was there. Part of me wanted to politely decline so that we may both continue to live long, healthy lives but that would be no fun, declining that is. So I cautiously respond with the words, "I have control".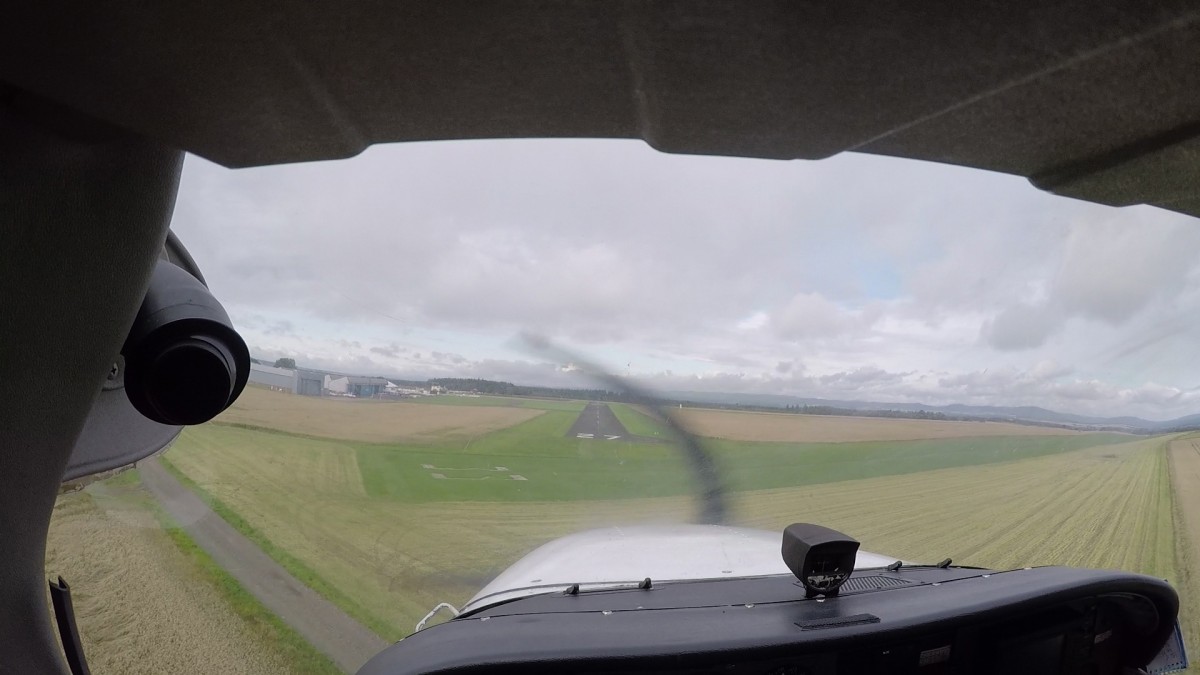 Now when I say I have control I was only concerned with the control stick, thankfully Andrew dealt with the throttle or I'm pretty sure I wouldn't be here today writing this. Nonetheless, it was an absolutely brilliant experience although a little terrifying.
At one point I thought we were going to land short in the field and then as we got closer I thought we would miss the landing zone and end up shooting off the runway. It was at this point I may have felt a slight sense of urgency and pushed forward a smidge too much on the controls. The result? Well, you can see for yourself on the video. All in all, though I wouldn't say it was too bad for my first semi assisted landing ever. I still want to know what that horrible buzzing alarm was telling me just before touchdown and I forgot to ask so if anyone knows please let me know in the comments below.
If you're ever stuck for an idea for a present I can't recommend this highly enough, unless of course, they have an intense fear of flying, then maybe a pair of socks would be a better option but you never know, it's such a beautiful experience they may have a whole new relationship with flying and learn to enjoy it!
I'd like to thank everyone at ACS Aviation in Perth for making me feel so welcome and especially to Andrew for lending me his time and enthusiasm for flying. And of course, thanks to my lovely wife for the experience of freedom from the kids of flight, even though she made me write this blog in return. If you've not done it yet, don't wait, book a lesson, get up there, you won't regret it. Happy flying and I hope to be up there again soon!

INTO THE BLUE: MAKING MEMORIES SINCE 1996
Into the Blue offer over 3000 Experience Days available by Gift Voucher. Their superb selection of activity and adventure days out are perfect gifts for men, women, family, friends and groups of all sizes. Flying lessons start from just £45 and available at airports all around the UK. Click here to find out more!
Elizabeth's Kitchen Diary received a complimentary flying lesson from Into The Blue. This is not a paid post and all thoughts and opinions expressed are our own. Flying experiences from Into the Blue start from £45.