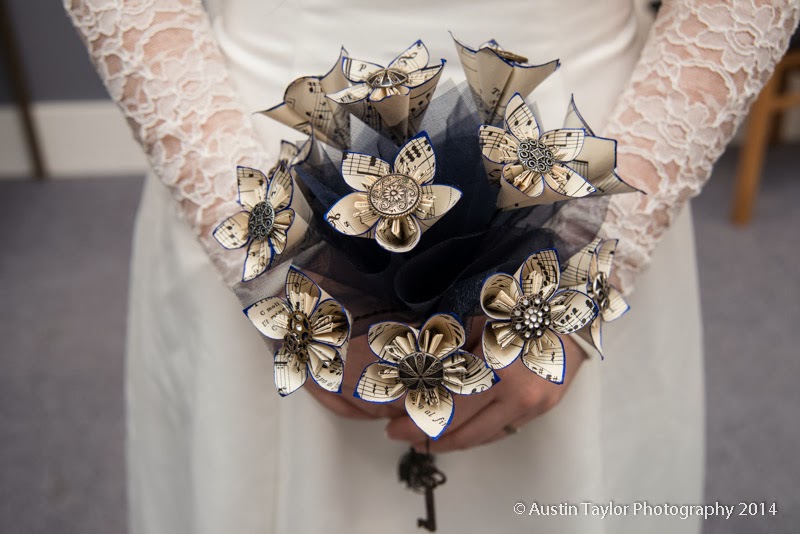 My regular readers may have noticed my blogging silence over the last few weeks. This is because I was very busy getting married! We recently had a small but special ceremony before heading to the Kveldsro Hotel in Lerwick, Shetland (a little group of islands in the middle of the North Sea) for a fantastic wedding reception, meal and overnight stay (restaurant review posted on Promote Shetland's brand new Taste of Shetland website – launched today!). Our wedding attire had a distinct Victorian/steampunk theme. You can see photos over at Austin Taylor Photography and the public online gallery. It took a lot of sewing, tailoring and creativity to make it all come together as it did, but I think the effort paid off well. It really was my dream come true. My husband looks simply dashing wearing a suit, monocle, pocket watch and a top hat adorned with steampunk goggles! Swoon!
This wedding theme came about because a) following a serious foot injury in May of 2013 I am now unable to wear high heels so I thought I'd wear the white Doc Marten style boots I'd purchased (and never wore) for a National Theatre of Scotland production instead and b) when dear daughter and I were designing and sewing her flower girl dress it became more and more Victorian in style. It was then we decided to go steampunk. I was so surprised when the rest of the wedding party were delighted with the idea! I had three weeks to prepare, hence my social media and blogging silence. My kitchen turned into a crafting and tailor shop! I requested some bespoke wedding favours by the talented Lucy over at Honeycat Cookies. You simply must see the steampunk cookies she made for us – they are miniature works of art!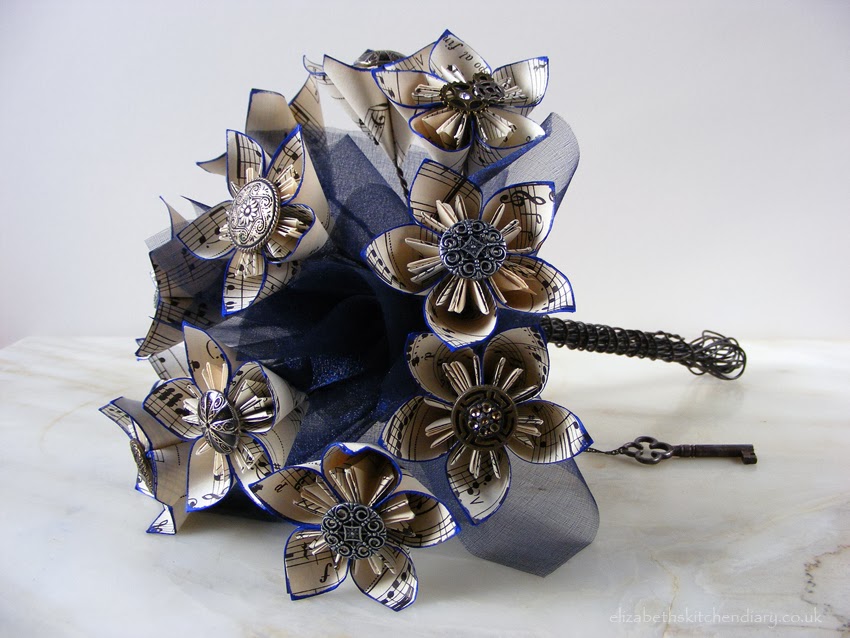 I didn't fancy a shop bought wedding bouquet. Given that most of the wedding accessories had been made by hand using upcycled and repurposed materials, I didn't think a shop bought bouquet would fit. So I made one! I drew inspiration from Google images and found a fantastic origami tutorial over at Folding Trees for Japanese kusudama. I used this as a starting point for the bouquet.
As with my DIY wire Christmas tree last December, I salvaged some more wire out of the burnt village bonfire and cleaned it up to make the stems. The gauze was given to me some years ago by a friend who thought I may one day find a use for it; the vintage key was a talisman given to me by another dear friend back in my teens which I've kept all these years, and the buttons were either saved in my button box or scrounged off a friend who also hoards buttons!
The paper for the flowers was nearly going to be a battered 1883 copy of Chopin's Waltzer, but I couldn't face cutting it so I used some 1970's German sheet music instead. The only thing specifically purchased for this project was the metallic sealer for a cost of £7, and that was only because I didn't want the rust on the wire to get on my dress.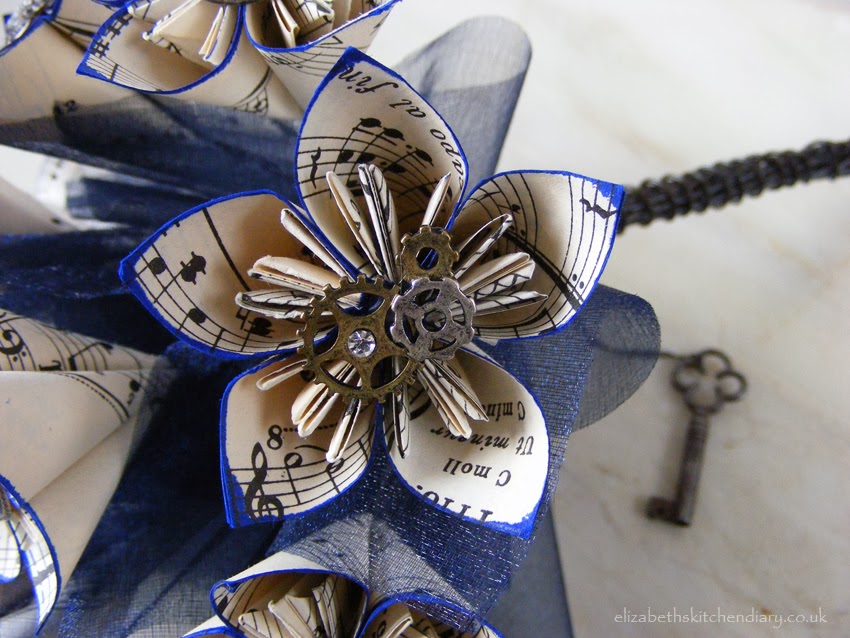 My father, visiting from the west coast of Canada for the wedding, had an ingenious way of twisting the salvaged wire for the bouquet stems. I thought it was so clever I had to video him doing it and share it with you! As this bouquet contains metal I wouldn't recommend tossing it over your shoulder to the waiting single ladies, as a traditional bride tends to do! However, since it is made from non-perishable components you can keep it forever!
So here you go, a tutorial so you can make your own steampunk wedding bouquet.  You could always change the paper to suit your own style, as well as the ink and gauze colours. You could also cover the entire handle in gauze and use some thin wire or string to keep it place, but I left mine bare as I liked the spiralling metal effect. The only limit is your imagination!
For the flower centres, you could use buttons, or earrings (as pictured directly above), beads, cogs, gears or anything you wish to make it your own. After all, it is your day! (Scroll down to the very bottom of this post for a Hotel Chocolat review – my wedding morning breakfast consisted of posh chocolate and champagne!)
How to make twisted wire wedding bouquet flower stems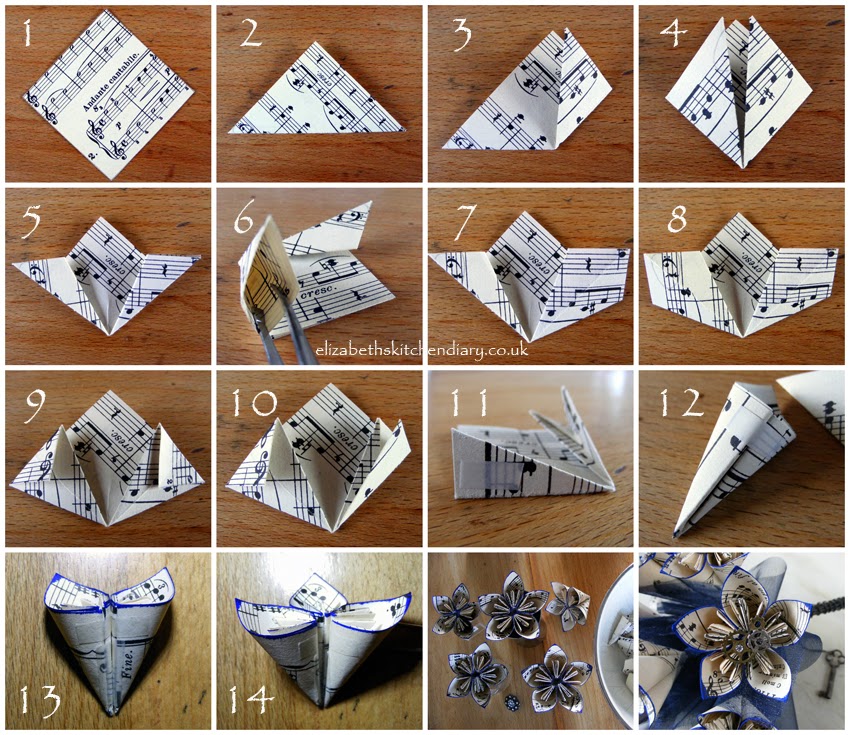 Steampunk Origami Wedding Bouquet
How to make a paper, wire and button steampunk wedding bouquet.
Supplies
60 x 7 cm paper squares
5mm thick double sided tape
PVA glue
ink pad in desired colour
12 vintage style buttons or cogs/gears
tweezers
13 lengths 60 cm long x 1 mm thick wire
1 can Plasti-kote metallic clear sealer
4 20 cm square coloured gauze
1 antique key
25 cm thin decorative chain
2 toothpicks
1 long knitting needle
4 twist ties, plastic coating removed to expose thin wire
Instructions (see photo above for visual aid)
1. Lay paper square flat on the table with the side you want showing on the inside of your flower facing downwards.
2. Fold the bottom corner to the top to make a triangle. Press the edge down firmly.
3. Fold the right corner up so that the point meets the middle corner point. Press edge firmly.
4. Repeat with the left corner, forming a square.
5. Fold the left and right points down halfway through the side edges. The top of the folded edges will line up on the top.
6. Using a pair of tweezers open the flaps on either side.
7. Press the flap flat
8. Repeat with the other side
9. Fold the tops of the flattened flaps down, making sure the creases in the centre line up.
10. Fold the flattened flaps in half, towards you.
11. Place a small piece of double sided tape on one side
12. Peel off the back of the double sided tape and gently bend the paper so that both flaps meet each other evenly. Three little petals will form on the inside. You could also add a piece of double sided tape down the centre seam for reinforcement if you wish.
13. Gently roll the top outside edge of the completely flower petal over an ink pad to colour. Leave to dry.
14. To form the flower, peel the back of the double sided tape off and gently press two flower petals together, ensuring the tops and bottoms are aligned.
15. Repeat with three more petals, forming a complete flower using five petals.
16. Sit each complete flower into a small container (a shot glass works well) so that they stay facing upwards.
17. Drop a little PVA glue into the centre of each flower, using a toothpick to make sure it touches all five petals on the inside.
18. Using a little more glue place a button or cog in the centre of the flower to cover the hole. Leave overnight to dry completely.
19. Following the video tutorial above, make 12 wire stems for the bouquet. You will notice, when you remove the wire from the drill chuck, the ends are still slightly open. Leave them like this.
20. Arrange the 12 stems together and wrap them together using the remaining length of wire.
21. Bend the stems into the desired position, trimming if required (see photo below).
22. Spray with three coats of metallic sealer, allowing it to dry between coats. Set aside.
23. Fold each square of gauze into half, twice, to form a small square. Pinch and twist the folded end and wrap with the thin wire take from a twist tie (see photo below).
24. Using a long, thin knitting needle, push the wire corner into the centre of the wire. You can use a drop of glue on the tip of the corner before inserting for reinforcement, if you wish.
25. Repeat with remaining three squares of gauze, and arrange as desired.
26. If you've aligned the flower petals correctly there will be a small hole in the bottom of each complete flower. Insert a wire stem into this hole, guiding one of the free ends into the centre and the other along the outside of the flower, between two petal edges. Use glue for reinforcement, if desired.
27. Repeat with remaining flowers.
28. Affix end of decorative chain to an antique key and then tie the open end of the chain to the top of the flower stems where they splay out.
29. Set in a sturdy vase until required!
Details
Prep time: Yield: 12 flower bouquet