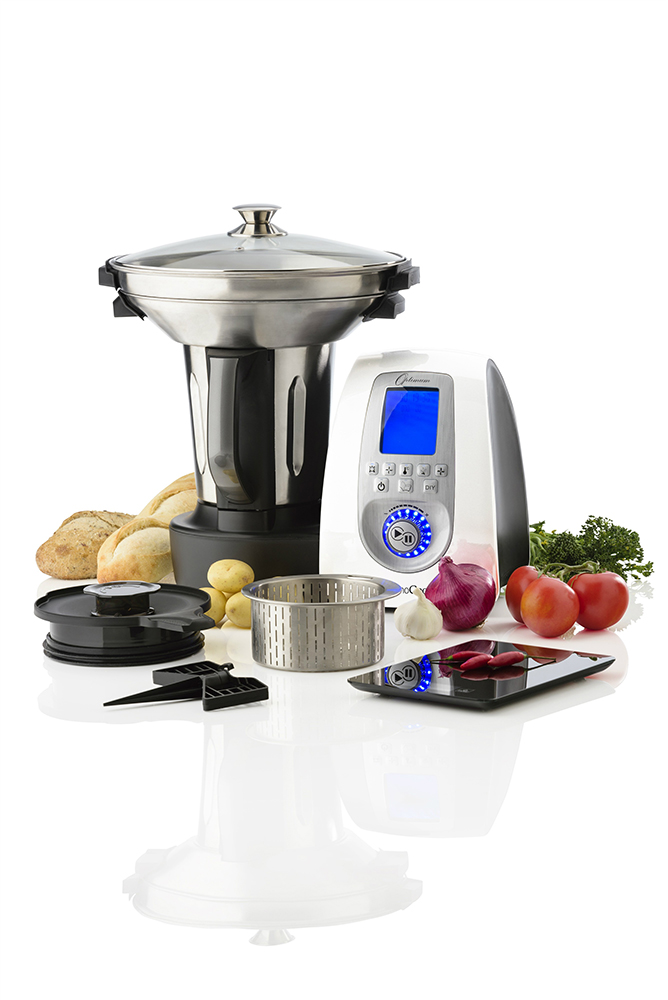 Christmas came early to Elizabeth's Kitchen this year.
At the end of November I took delivery of the latest kitchen appliance from Froothie – the Optimum ThermoCook, an all-in-one multi-purpose kitchen gadget – a professional cooking assistant. 
I have to confess that I've reached an age where I have to get my teenage son to explain to me, slowly, how new technological gadgets work. I get this feeling that I've only got a finite amount of brain capacity, and learning new things (which I'm still capable of, thankfully!) rewrites old stored data in the old central processing unit, if you get my drift. That'll explain why I forget so many things – appointments, where I put my glasses, etc.
So yes, I admit that when I opened the box and unpacked my new professional cooking assistant, I was at first slightly daunted by all the buttons, dials and components.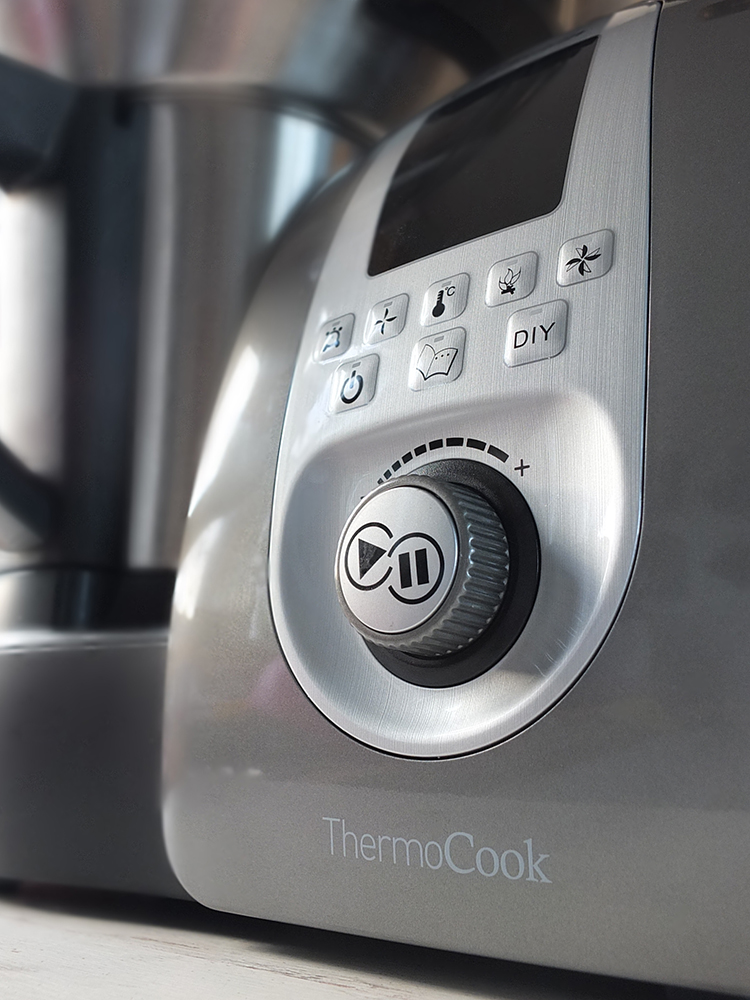 SO WHAT'S IN THE BOX?
a 2.0 litre multi-purpose stainless steel jug
a bowl lid with a handle that doubles as a measuring cup with 25, 50, 75 and 100 ml measures marked
a removable blade assembly with four sharp blades for chopping, mincing, crushing and grinding
a removable kneading shaft with a single paddle for kneading, stirring and mixing
a mixing tool which fits to the blade assembly for whipping, beating and stirring creamy mixtures
a very sturdy spatula
a stainless steel cooking basket for steaming, sieving, stewing or making side dishes
a 2.6 litre steamer which fits on top of the jug
a 3 litre steamer which fits on top of the small steamer
a glass lid for the steamers (it fits both)
a base unit with a large 70 x 50 mm LCD display
precision glass digital scales measuring in grams, fluid ounces and ml
WHAT ARE ALL THE BUTTONS FOR?
Timer – adjusts between 1 second and 12 hours
Speed – adjusts the speed of the blade assembly, kneading shaft or mixing tool between 1 and 10
Temperature – adjustable from 37 to 120 degrees Celcius
Heat Power – automatically changes to the temperature level, but you can change it if needed
Pulse – chop and mix at maximum speed by holding this button down
Stop/Cancel – brings you back to the start screen and standby mode
Menu – allows you to scroll between the 15 auto programs or three DIY functions
DIY – allows you to program your own custom settings for future use
Start/Pause Knob – press play to begin your desired program. This dial rotates allowing you to select desired settings for all of the above options.
SO WHAT CAN THE THERMOCOOK DO?
Everything! No seriously, besides babysitting, cleaning the windows and washing the dishes this machine can do almost everything! Pre-programmed settings include: smoothie, quick soup, thick soup, chop, saute, stir, knead, steam, stew, warm, reheat, boil, yogurt, rice and porridge and I've spent the last few weeks putting this appliance to the test, trying out the recipes included in the Thermocook e-book (available for free online ).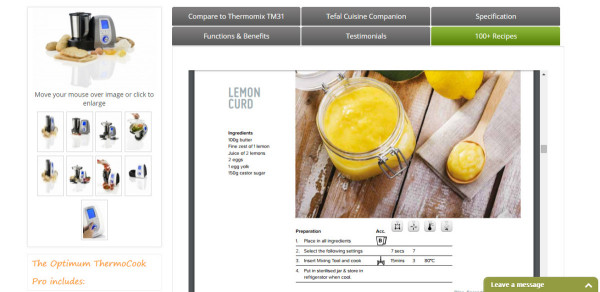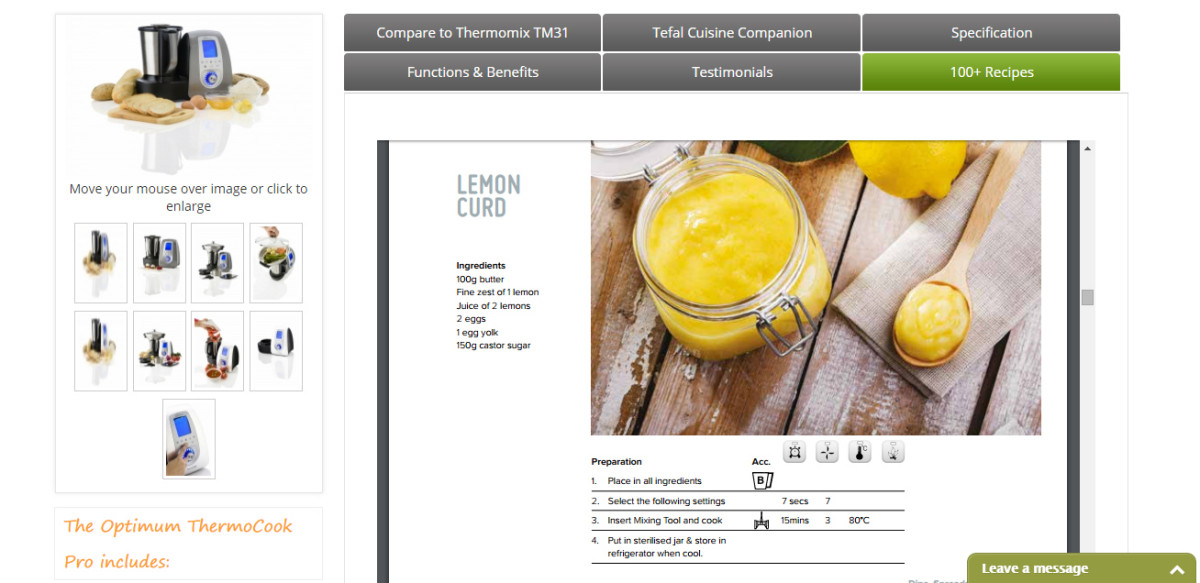 Have a look at the lemon curd recipe above. It only takes a few moments to interpret the new way of reading the Thermocook recipes – placing the stainless steel jug on the digital scales you measure out all your ingredients and pop the jug back onto the base unit. Select your settings using the button icons as your guide (ie: set the timer for 7 seconds at mixing speed 7.) This blends everything up nicely. Then, you add the stirring paddle, choose a longer time and a slower speed and the set the temperature for 80C, pop the lid on, press play and away you go! 15 minutes later you've got piping hot, gorgeously smooth lemon curd! Simply pour it into a hot, sterilised container and when it's cool pop it in the fridge.
So far in my Thermocook I've made cauliflower soup, a breakfast smoothie, bread dough, broad bean and Parmesan dip, lemon curd, icing sugar (true story! This machine is powerful enough to blitz granulated sugar into icing sugar! No more being caught out without enough icing sugar again!), melting moments cookies, anzac biscuits, peanut butter cookies (three different cookies for our family Christmas tree decorating party, pictured below), a pavlova (both the whipped egg whites and the whipped cream topping), ginger beer, mulled wine, porridge, hot chocolate, creamy polenta and a fish pie – including steaming and whipping the creamy potatoes for the pie, hard cooking the eggs and making a most delicious sauce.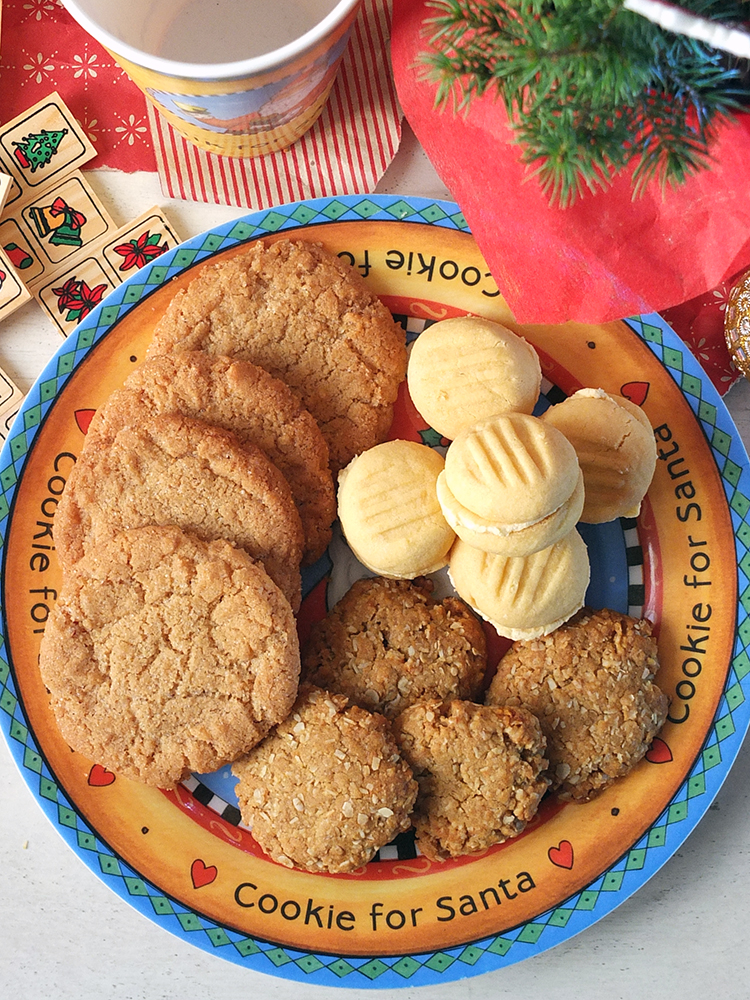 The only recipe fail I've had so far was trying to make mayonnaise, but I think I used a too high speed and/or poured the olive oil in too quickly.
I've gone from feeling apprehensive about using my new appliance to feeling rather excited about finding out what it is capable of! I think it'll come into its own when it comes to soups, sauces and gravies. Watch this space for recipes!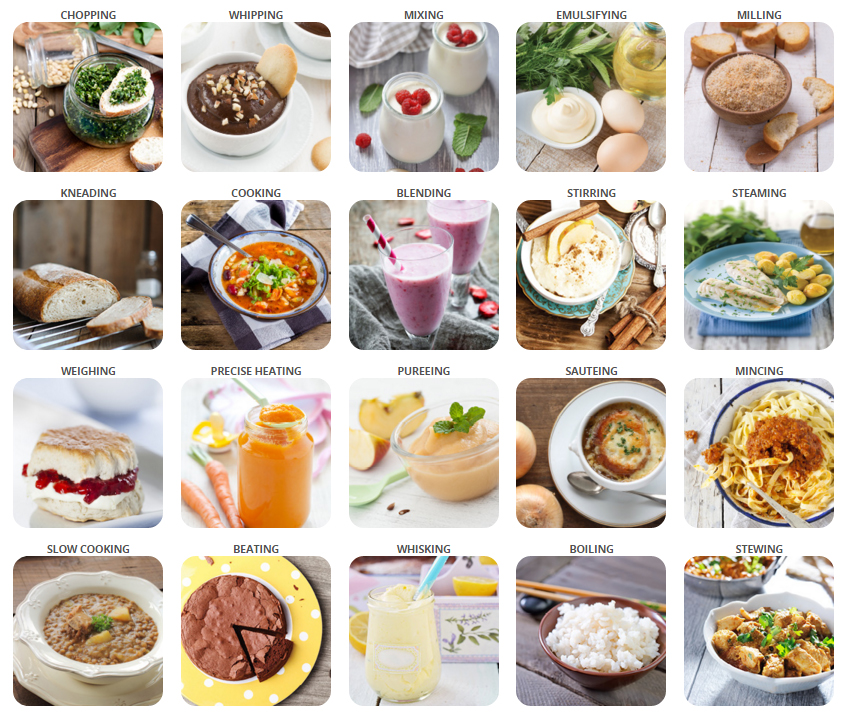 PROS
it has 20 different functions! Look at those images above – this machine can do all of that!
it does all the work for you when stirring soups, sauces and gravies. It makes the best lemon curd! Just plonk the ingredients in and let your professional cooking assistant do all the work.
it has that many functions that you could probably get rid of most of the appliances in your kitchen. This is everything all wrapped up into one.
it has a large jug which accommodates more dough than my bread machine does, meaning I can make bigger batches. As a family of five this is a good thing.
three steaming areas means I can steam an entire healthy meal in one go, from fish to vegetables and even desserts!
using the buttons is intuitive. Once you know what they're for using them is a cinch. It doesn't take long to learn how to use this machine.
when a cooking program has finished it will switch to the warm setting, so if you're out and about when it finishes, no worries!
preparing recipes takes a fraction of the time it used to. Creaming butter and sugar together to make cookies takes literally seconds!
it's very versatile. The only limit is your imagination!
CONS
the digital scale turns off too quickly, sometimes right in the middle of weighing something
the blade assembly doesn't reach all the way down to the bottom of the jug, so any ingredients under there don't always get mixed in. Some stirring with the spatula might be required.
it's pretty big and takes up a lot of counter space
the digital beep emitted when it is switched on and when you press the buttons is high pitched and rather unpleasant
the price. It is a more affordable option than its nearest rival, the Thermomix, but at £895 it is still a costly investment. Thankfully Froothie have a 30 day money back guarantee so if you find it's not to your liking you can send it back.
the jug is not dishwasher safe and you must take care when hand washing it not to get the bottom wet where the six electrical prongs are.
The Thermocook retails for £895, but there's a massive Christmas sale on just now – £346 off! The Optimum Thermocook could be yours for only £549, and remember, if during the first 30 days you decide it's not for you – just send it back!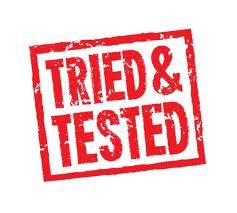 If you want to be kept up to date on my recipes, occasional craft tutorials, adventure stories and giveaways then please subscribe to my weekly newsletter; it gets sent out every Monday morning if there is new content. Your email address won't be passed on to anyone, you will never be spammed and you are free to unsubscribe at any time, no questions asked. Make sure you confirm your subscription or you won't receive the newsletter – if it hasn't arrived check your junk mail folder.
[wysija_form id="1″]
Elizabeth's Kitchen Diary is a Froothie ambassador, working with their Froothie Optimum 9400 blender,
Froothie Optimum 600 slow juicer and now their Optimum Thermocook: Multi-Function Cooking Appliance. These are affiliate links, meaning if you buy a blender, juicer or Thermocook through them we will earn a commission. This is not a paid post and all thoughts and opinions are our own.