"I am not a glutton. I am an explorer of food." –Erma Bombeck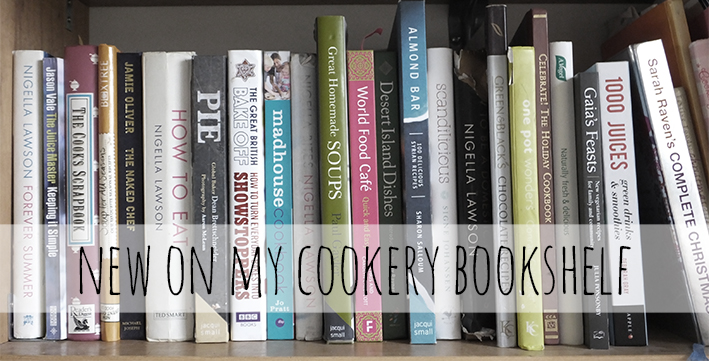 Much to my husband's frustration (as he has to keep building new shelves or moving piles books out of the way so he can get into the microwave or freezer!) I am a cookery book hoarder. Every time I browse our local charity shop I have a peek to see what books I might find (the best find yet was Nigella Lawson's How to Eat), and I am often gifted new books by friends, family and blog readers (true story!).
More frequently, these days, I am sent new releases direct from the publishers through the post. There are too many new releases and not enough time to write up a long and detailed review of each one, so I have started this 'New on my Cookery Bookshelf' round up to feature the best of them (and any other new finds I'd like to share with you all).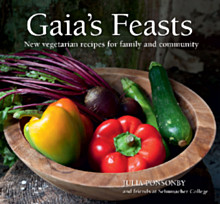 Gaia's Feasts: New Vegetarian Recipes for Family and Community by Julia Ponsonby, was published on the 4th of September this year. What first struck me with this book was that it was published by  Green Books, environmental publishers for over 21 years.
This book is the follow up to Julia's first cookbook, Gaia's Kitchen, the winner of the Gourmand World Cookbook 'Best Vegetarian Cookbook' award. It features an introduction to the Slow Food and Local Food movements (which I am a keen supporter of – see my Shop Local food blogging challenge) as well as a fantastic selection of vegetarian, vegan and gluten-free recipes for families and scaled up amounts for groups as large as 50 people.
Tempting recipes include quinoa goulash with blue cheese and leeks, La Gomera banana and chocolate marble cake, aduki bean pate and spring pesto with almonds and spicy leaves.
With its emphasis on enjoying, sharing and appreciating food in the most profound sense, this book will not only make you want to cook, it will make you want to cook for other people." – from the foreword by Hugh Fearnley-Whittingstall
Paperback RRP £19-99 Read More….
---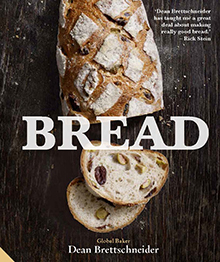 Bread by the award winning Global Baker Dead Brettschneider, is an irresistible collection of bread recipes from around the world. Featuring more than 60 recipes for rustic, healthy, savoury, sweet and festive breads this book is sure to appeal to all you artisan bread fans out there.
Stunningly photographed and presented (as was his previous Pie book) Brettschneider explains 11 basic 'know how' steps to making and baking bread, including all the stages from mixing and kneading by hand, fermenting and shaping and proofing, decorating, baking and cooling the final loaf. There's no reason why you can't make a perfect loaf every single time with this gorgeous book.
Published by Jacqui Small this book will be released on the 16th of October this year. You'll want to take this book to bed with you for a bit of night-time reading, savouring each and every page.
Dean Brettschneider has taught me a great deal about making really good bread. – Rick Stein
Hardback RRP £25.00 Read More…
---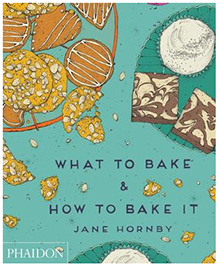 I confess that I am not usually a fan of photographed step-by-step instructions. I don't need to see photos of a bowl of flour, an egg cracked into it, of someone stirring the batter and spooning it into cupcake cases. They're usually completely unnecessary unless the recipe has a complicated technique where photographs can be a massive assistance.
However, Jane Hornby's new cookery book What to Bake & How to Bake It completely changes my opinion on step-by-step instructions. The aerial photographs in this book are beautiful works of art, a pleasure to look at and add to the whole recipe/baking experience.
Designed to take the guesswork out of baking this new book by Phaidon Press contains 50 delicious recipes with logical, foolproof, step-by-step photographs. Each photograph is accompanied by a detailed explanation, giving would-be-bakers (including children) the confidence to master the classics and expand their repertoire. I myself will be referring to this book time and time again. I've already baked the courgette cupcakes with mascarpone frosting (lovely) and look forward to trying other recipes including a wide selection of cakes, traybakes, brownies, cheesecakes and scones.
Baking is creative, scientific, a little bit magical and a lot of fun. – Jane Hornby
Hardback RRP £19-95 Read More…
---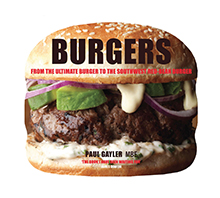 Another confession – when it comes to burgers I'm a little bit unadventurous. I've got a regular recipe I make and I rarely deviate from that formula, until now! I jumped at the chance to review a copy of Paul Gayler's new Burgers book, published by Jacqui Small, as I'd reviewed one of his previous releases – Great Homemade Soups and I refer back to that book frequently.
This new book, published in August 2014, contains 25 of Gayler's favourite burger recipes, from the big apple deli burger with Swiss cheese and barbecue coleslaw, the vegetarian feta club burger with coriander-avocado pesto, slow dried tomatoes and olive mayo to a bloody Mary burger with celeriac Waldorf and tabasco-cumin ketchup. In addition to the fantastic selection of burger recipes there is a basic burger bun recipe (I've made this – it was fab!) and a wide selection of sides, from sauces to coleslaws and pestos. There really is something for everyone in this book.
So far I've made the ploughman's burger with two cheeses, balsamic onion pickle and classic coleslaw. It was gorgeous! A huge portion – each burger is made from 200 grams of beef mince, but gorgeous nonetheless.
My only complaint is that the book itself is small and shaped like a burger. While this would make a fantastic Christmas stocking-stuffer for any burger lover in your life its unusual shape means it doesn't fit well on my bookshelf!
To order Burgers at the discounted price of £7.99 including p&p* (RRP: £9.99), telephone 01903 828503 or email mailorders@lbsltd.co.uk and quote the offer code APG198.  *UK ONLY – Please add £2.50 if ordering from overseas.
The book I have been waiting for. – James Martin
---
Carolyn Caldicott, author of one of my favourite cookery books World Food Cafe, has teamed up with her photographer husband Chris one again to create Bombay Lunchbox, a collection of sweet and savoury recipes for lunch, afternoon tea or any snack eaten between breakfast and dinner. It centres around the tiffin, the British Indian creation of eating something light in between breakfast and dinner, often served in a characteristic stainless steel tiered lunchbox (which is on my wish list!). Filled with mouthwatering spiced recipes and vintage photography this book will appeal to anyone who loves India and Indian food.
Recipes include a spicy paneer cheese toastie with mango chutney, some chickpea Dokla (bite-sized snacks tempered with toasted coconut and mustard seeds, and toasted mixed nut and potato pawa (dried flattened rice cakes).
To order Bombay Lunchbox, published by Francis Lincoln in August 2014, at the discounted price of £7.99 including p&p* (RRP: £9.99), telephone 01903 828503 or email mailorders@lbsltd.co.uk and quote the offer code APG196. *UK ONLY – Please add £2.50 if ordering from overseas.
Few dinners are thought to be complete without a curry on the table.
---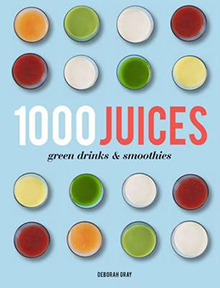 Yesterday evening I took delivery of a brand new swish Froothie Optimum 600 slow juicer. It is going to sit next to its companion, the Optimum 9400 blender on my kitchen counter top right between the refrigerator, where my lovely organic vegetable box produce gets kept, and the kitchen sink. I am now going to go juice mad with the new 1,000 Juices, Green Drinks and Smoothies book by Deborah Gray, published in October 2014.
This book is a one-stop-shop for everything juice and smoothie related, with quite literally 1000 different recipes and handy tips on choosing and using equipment (not that I'm biased or anything, but I do recommend Optimum range mentioned above!), how to source and prepare the best ingredients, nutritional highlights, information on health benefits and how to select the right juice or smoothie depending on how you are feeling.
This book is one of my favourite books on my cookery bookshelf and I've tried several of the recipes already. So simple to make – it's the ultimate fast food, and incredibly good for you. From banana smoothies, to the classic vanilla shake and a garlic and lemon shot, there really is something for every taste.
With a RRP of only £12-99 I think it's incredibly good value for the amount of information it contains. There are beautiful illustrations throughout, tempting you to get juicing right away.
The ability to make your own juices and smoothies means the recommended consumption of five fruit and veg a day is 'no longer a chore, but a joy'. – Deborah Gray
---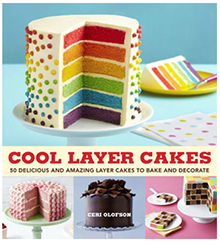 Cool Layer Cakes by Ceri Olofson, published by Apple Press this July is a collection of 50 delicious layer cakes from the show stopping rainbow cake (pictured on the cover), to a pinata cake, patchwork cakes and a glorious liquid gold stacked banana chocolate chip cake with salted caramel sauce, peanut butter frosting and peanut praline.
I can see a lot of work has gone into the making of this book but I feel the photography lets it down somewhat. It has a very amateur blogger feel to it, although there are some recipe gems hidden throughout.
The recipes include detailed instructions on how to make quite a wide variety of different show stopping cakes. This book would make a great gift for someone just getting into cake decorating, both for inspiration and instruction.
Paperback RRP £12-99 Read More…
---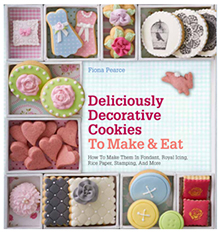 Deliciously Decorative Cookies by Fiona Pearce, also published by Apple Press this year, is similar to the Cool Layer Cakes book above in that it boasts 50 stylish, tasty treats to make and decorate, but there's something about the photography and the layout which is uninspiring. It doesn't make me want to reach out and pull the book off the shelf and start decorating cookies.
Most of the recipe instructions include ingredients not normally present in an every day cook's kitchen such as edible glue, piping gel, chocolate transfer sheets and a whole host of decorating tools. Ok, they're not present in my kitchen and I'm not about to spend a fortune on buying them either. This book would be ideal for those who are keen to start elaborate cookie decorating for some reason, but not for the every day home cook.
There are three cookie recipes included: chocolate, vanilla and gingerbread with many different techniques for decorating them.
Paperback RRP £12-99 Read More…
If you want to be kept up to date on my recipes, occasional craft tutorials, adventure stories and giveaways then please subscribe to my weekly newsletter; it gets sent out every Monday morning if there is new content. Your email address won't be passed on to anyone, you will never be spammed and you are free to unsubscribe at any time, no questions asked. Make sure you confirm your subscription or you won't receive the newsletter – if it hasn't arrived check your junk mail folder.
[wysija_form id="1″]
Elizabeth's Kitchen Diary was sent a complimentary copy of each of these books for review. All opinions expressed are our own. This is not a paid post. However, the Optimum links are affiliate links, meaning if you make a purchase through them I will earn a small commission.