A review of some new food products in Elizabeth's Kitchen!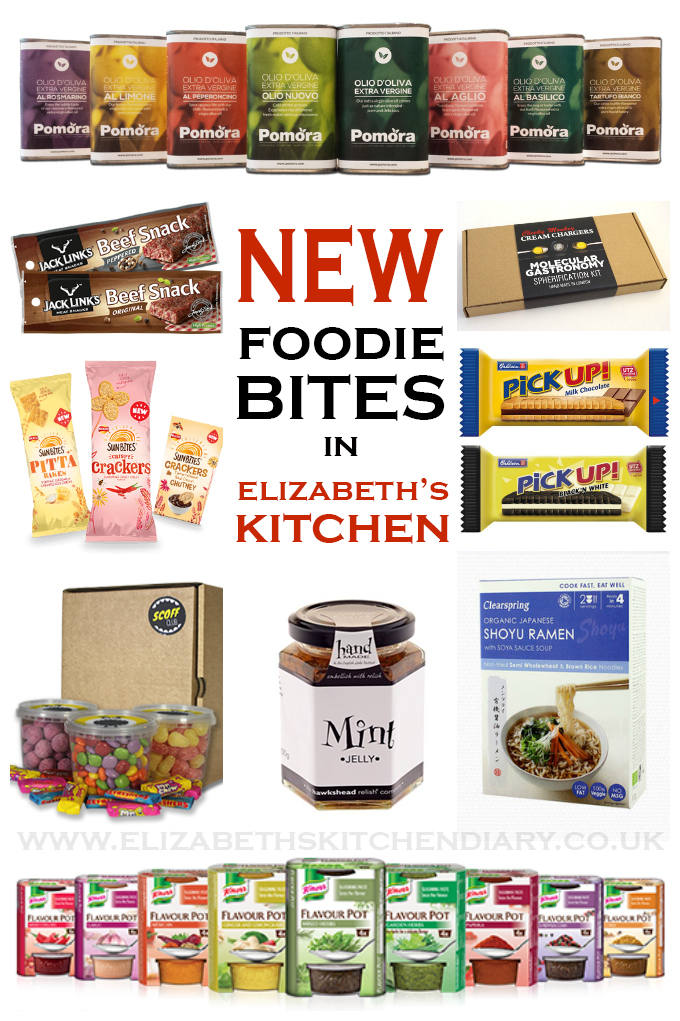 I love trying out new products, and one of the things I love about being a food blogger is that I often get sent new things to review. Below you will find a selection of items we've been sent over the last few months, and our thoughts on them!
With many thanks to all the companies mentioned for sending samples. If you would like us to try out your product, please Contact Us!
WALKERS SUN BITES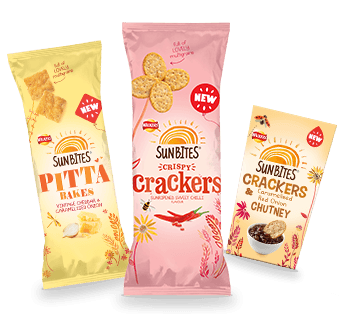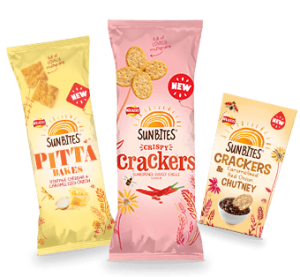 Walkers Sun Bites have come out with a new range of baked snack products: Crispy Crackers, Pitta Bakes and Crackers & Dip. We are all fans of the Sun Bites range in this household, with our children spending their tuck shop money at school on their delicious baked snacks.
The new oven baked snacks come in assorted flavours and we were sent the Crackers with Caramelised Red Onion Chutney,  Crispy Crackers in Cream Cheese & Chive and Pitta Bakes in Oven Roasted Onion & Rosemary.
The Crackers & Dip – Fantastic! The incredibly moreish multigrain crackers pair very well with the tangy dip. There is one serving of crackers and two servings of dip per box meaning if you are a keen dipper you've got plenty to work with. Failing that crack open a bag of Crispy Crackers and finish it off!
The Crispy Crackers in Cream Cheese and Chive are a great flavour combination, and again these did not fail to disappoint. Containing, on average, 30% less fat (there's only 110 kcal per bag!) they're easy on the waistband too. Delish!
The Pitta Bites, on the other hand – none of us cared for these, neither the flavour or the texture encouraged us to finish the bag. Think seasoned pitta bread that's been left out to dry, for days. Ah well, 2 out of 3 ain't bad!
The Crispy Crackers and Pitta Bakes retail at £1.89 for a bag of five, while the crackers and dip retails for £1.49
You can follow Walkers on Facebook and Twitter.
---

KNORR FLAVOUR POTS
Knorr Flavour Pots have just collected first prize in the Sauce & Seasoning category for this year's Product of the Year awards. The range features nine different tantalising flavours, including Mixed Herbs, Three Peppercorn, Curry, Garlic, Mixed Chillies, Garden Herbs, Ginger & Lemongrass, Paprika, and Mexican. Capturing the flavour and intense aroma of fresh herbs and spices, these convenient pots have been carefully created to enhance mealtimes and I have been working my way through them one by one over the last few weeks.
I first tried the Ginger & Lemongrass Flavour Pot in a fantastic and quick midweek dinner of Grilled Shetland Salmon with Ginger & Lemongrass. A Paprika one was added to some defrosted leftover chunky vegetable soup, with great success and the garlic, mixed herbs and garden herbs have all found their way into various tomato based pasta dishes.
These versatile little pots retail for between £1 to £1.50 depending on where you shop, and should be available in all large supermarket chains.
You can find recipe inspiration from Knorr on Facebook.
---
SCOFF CLUB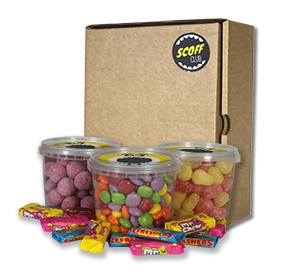 Love sweets? You'll love Scoff Club! Each month they send you a delicious assortment of hand picked retro sweeties right to your doorstep. From nostalgic favourites through to contemporary treats there is something in every box to delight everyone in the family.
Each box contains a selection of Jelly Tots, Sherbet Fountains, Black Jacks chews and Refreshers right through to Double, Drumstick and Chupa Chup lollies. From Parma Violets to Love Hearts and candy necklaces to Fizzers, Scoff Club will take you on a journey to sweet heaven, so get prepared to smack your lips for Bubble Gum Strips, say hello to your marshmallow and lick your lips for Sherbert Dips!
The only thing I wasn't so keen on with this box is the fact you don't get to pick the items that you really like, or refuse the ones you don't. There are a fair few really large, hard sweeties left that a) are a choking hazard for the children (I'm a worrier and don't like my children eating lollipops!) and b) us grown ups are worried about our fillings, so we left them.
Subscription prices range from £9.99 to £13.99 (500 gram box to a 1 kg box) and if you share a photo of your Scoff Box on Facebook you might win a Mega Box – five times the size of a regular Scoff box.
You can find Scoff Club on Facebook and Twitter.
---
JACK LINK'S BEEF SNACK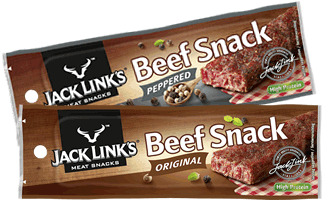 Did you know Jack Link's is the world's #1 authentic American meat snack brand? They've recently branched out into the UK market with the launch of its Beef Snack into Tesco Express stores.
Think beef jerky, but not as dry and chewy. They're not the prettiest of snacks, but they are really rather quite tasty. Made with New Zealand beef which is finely chopped, seasoned, slow cooked and smoked according to the Jack Link's family recipe they are packed full of protein (and nearly 7 grams per snack) make a great post workout snack or a low calorie (78 kcal per snack) snack to keep the tummy from grumbling in between meals!
Each 25 gram snack retails for £1.30 but you can visit their Facebook page to download a 50 p off voucher so you can try the beef snack yourself for only 80p.
---
POMORA OLIVE OIL


Pomora is a small UK-based start-up business offering US and UK readers the opportunity to adopt an olive oil tree from Italy and receive the oil from that tree throughout the year. This new company, with a focus on sustainability and growers getting a living wage, work with two independent Italian growers each with a long family history of growing olives: Antonio in Campania in southern Italy and Carmelo in Sicily.
Each quarter you will receive three tins of high quality olive oil from your tree – olio nuovo (new oil) in the Winter, flavoured oil in the Spring, extra virgin olive oil in the Summer and flavoured oil again in the Autumn.
Click here to read my full review of the oil including a bread machine focaccia recipe and GIVEAWAY to win a adoptive olive tree of your very own and the oil from that tree for one year.
---
CLEARSPRING JAPANESE SHOYU RAMEN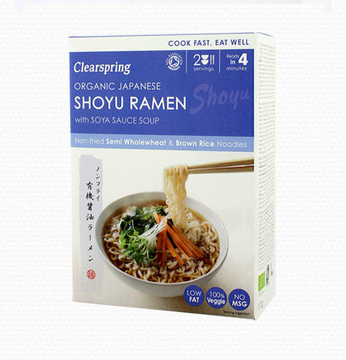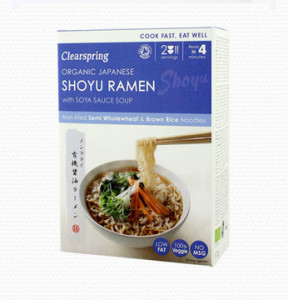 Looking for a quick, satisfying lunch idea? Clearspring to the rescue with their Organic Japanese Shoyu Ramen with Soya Sauce Soup! Simply add water and cook the non-fried semi wholewheat and brown rice noodles on the hob for 4 minutes before adding the sachet of liquid soup base (this provides a richer taste than a powdered variety) and topping with your favourite vegetables!
As a busy food blogger sometimes I've got too many deadlines to meet and not enough time to prepare lunch – this quick lunch idea has been a life saver!
A box with two servings retails at £4.29 and you can find Clearspring on Facebook and Twitter.
---
PiCK UP! BARS

I confess I'd never heard of PiCK UP! until they contacted me to review their new chocolate filled biscuit and now – I am hooked! Two perfectly crunchy biscuits sandwiching a delicious layer of milk chocolate (or chocolate biscuits sandwiching a layer of white chocolate) these yummy biscuits have become a regular part of my day. Coming in at only 144 kcal per snack they go really well with a steaming cup of hot chocolate in the evening!
Their biscuits are available in multipacks of five at most supermarkets.
You can find PiCK UP! on Facebook and Twitter.
---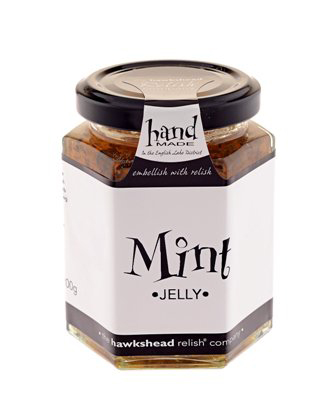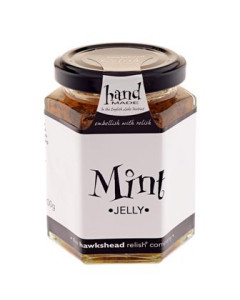 HAWKSHEAD RELISH – MINT JELLY
Would you believe that we were on holiday in the Lake District last summer, and we camped just a stone's throw from the village of Hawkshead? That's where we got all our provisions for our camping adventure (which is still to be blogged – oh why are there not more hours in the day!). We lunched there for my husband's birthday and had a wee wander around the shops, including the Hawkshead Relish shop.
Fast forward nearly a year and I'm interviewing a chap here in Shetland from Lancashire for A Taste of Shetland blog post and he hands me a basket filled with gorgeous Hawkshead Relish products, including a mint jelly. We had the mint jelly with a roast lamb last Sunday after a hiking adventure to the Muckle Roe Lighthouse, and I have to say – this mint jelly was the best mint jelly I have ever tasted! Gorgeous little flecks of mint are suspended in an apple jelly. Incredibly moreish – in fact, I'm going to have to roast another Shetland lamb leg soon so we can finish off the jar!
The 200 gram jar sells for £2.95 through their online shop. You can also find them on Twitter and Facebook.
---
OUR HOUSE OF SPICE MASALA CURRY BLEND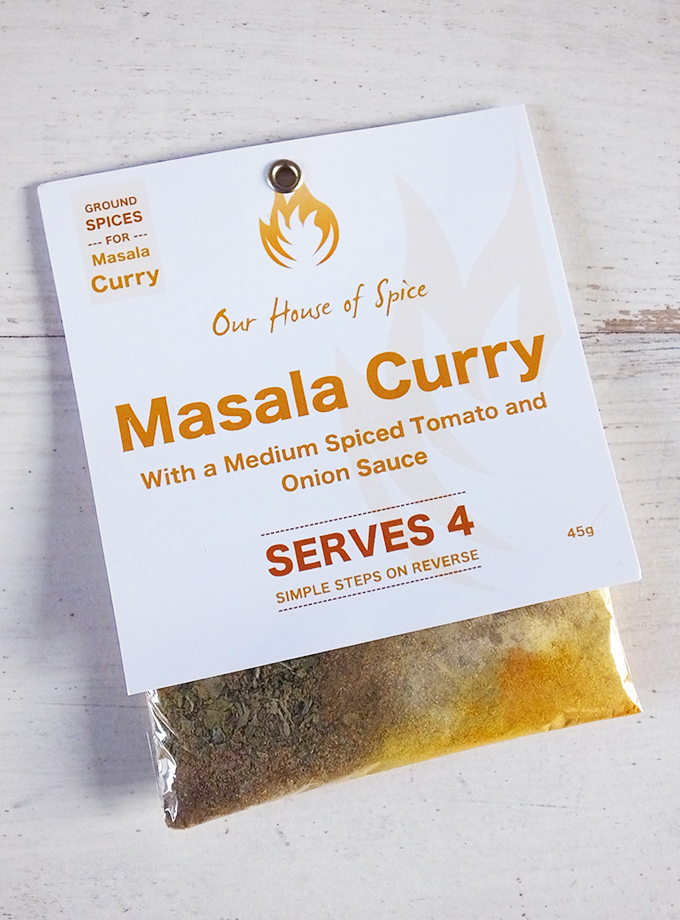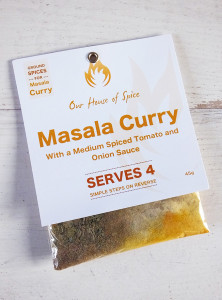 Cambridge based sisters Julia & Nadia have drawn inspiration from generations of family cooking to create their own unique range of Indian spice blends and frozen foods.
Their Masala Curry blend is a perfect blend of fenugreek, coriander, garlic, ginger, garam masala, turmeric, cumin, salt and chilli. I tried out their sachet in a butternut squash and chickpea curry, with great success – one of the best meals I've had a in a long time and virtually no effort to make!
You can find the recipe and read a full review of the product here.
Our House of Spice can be found on Twitter and Facebook and view their product range on their website.
---
MOLECULAR GASTRONOMY SPHERIFICATION KIT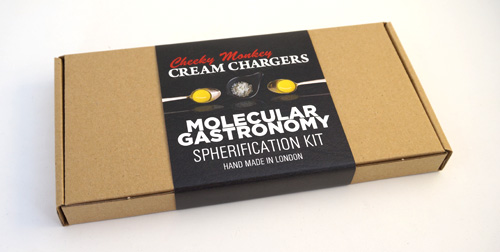 I admit it, I like to play with my food, and what better fun can you have with your food than combining food and chemistry to make little tiny spheres of yum!
Molecular gastronomy is very popular in all the high end restaurants, but kits can be quite costly. Cheeky Monkey comes to the rescue with their own Molecular Gastronomy Spherification Kit retailing at only £7.99! A full review and a giveaway post with plenty of photos of us testing the product out will be following soon, but I just wanted to give them a mention here.
For now, you can read more on their website.
---
If you want to be kept up to date on my recipes, occasional craft tutorials, adventure stories and giveaways then please subscribe to my weekly newsletter; it gets sent out every Monday morning if there is new content. Your email address won't be passed on to anyone, you will never be spammed and you are free to unsubscribe at any time, no questions asked. Make sure you confirm your subscription or you won't receive the newsletter – if it hasn't arrived check your junk mail folder.
[wysija_form id="1″]
Elizabeth's Kitchen Diary was sent review samples of all the products above, except for the Hawkshead Relish which was given to us by a Shetland shop owner. All opinions expressed are our own. This is not a paid post.